Abstract
This study aims to investigate the role of spatial and temporal physical, biological and biogeochemical gradients on sediment biogeochemistry along a macrotidal and Si-rich estuary. Scanning and biogeochemical analyses were performed in the inner, mid and outer Aulne Estuary (France) at four seasons. The inner estuary shows high diagenetic activity linked to fluid mud dynamics and river loads. The highest authigenic phosphorus (Aut-P) concentrations ever found in the literature are observed in the inner estuary (18 μmol g−1 PS sediment). This is explained by a combination of favorable factors, i.e. the high organic matter and nutrient loads, the reductive conditions, the freshwater properties (low pH, OH−, sulfate and Mg2+ concentrations), the increase of particle residence time by the upward convergence of particles due to residual currents, and allochthonous riverine Aut-P. We suggest that the high Si(OH)4 concentrations (>400 μM) may even increase Aut-P precipitation through the increase of Fe–P formation in these low salinity conditions. In the mid estuary, erosion–deposition dynamics dominate in point bars and lead to the succession of poor and rich organic and authigenic phosphorus layers, recording thus the seasonality of matter loads and its seasonal translocation from the inner estuary. In the outer estuary, deposition rates are high and constant and biogeochemical properties are characteristic of marine environments. The precipitation of Aut-P from free phosphate (PO4 3−) is lower than in the inner estuary and might be limited by higher Mg2+ concentrations in saline waters. This study highlights that small macrotidal estuaries, and especially their freshwater sediments, may constitute an important phosphorus sink through the precipitation of Aut-P. This precipitation could even be enhanced in fresh or brackish environments, thus increasing long term phosphorus storage and altering benthic fluxes of PO4 3− to the pelagic ecosystem.
Access options
Buy single article
Instant access to the full article PDF.
US$ 39.95
Tax calculation will be finalised during checkout.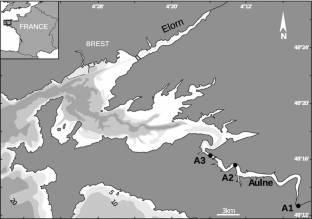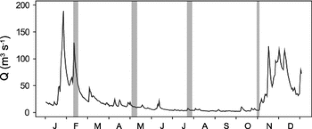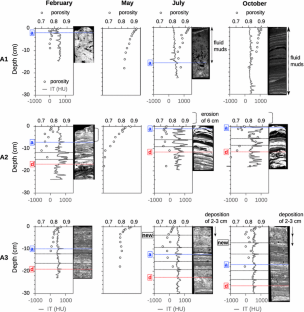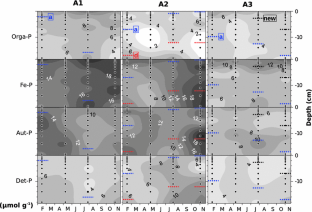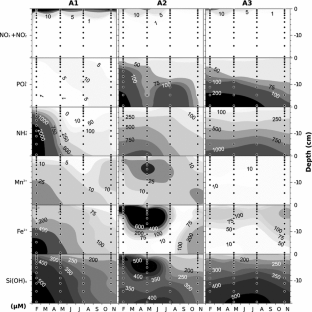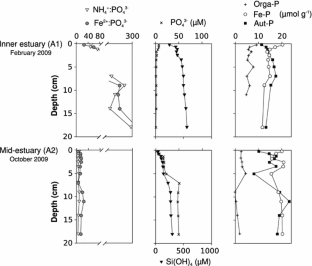 Notes
1.

Silicate (or orthosilicic acid) is noted Si(OH)4 for simplification and is mainly present as H4SiO4.

2.

Inorganic phosphate (or orthophosphate) is noted PO4 3− for simplification. The predominant forms are HPO4 2− and H2PO4 − in fresh and marine waters.

3.

CV is the coefficient of variation e.g. the standard deviation as a percentage of the mean.
References
Allen GP, Salomon JC, Bassoullet P, Du Penhoat Y, de Grandpré C (1980) Effects of tides on mixing and suspended sediment transport in macrotidal estuaries. Sediment Geol 26(1–3):69–90

Aller RC (1994) Bioturbation and remineralization of sedimentary organic matter: effects of redox oscillation. Chem Geol 114(3–4):331–345

Aller RC (2004) Conceptual models of early diagenetic processes: the muddy seafloor as an unsteady, batch reactor. J Mar Res 62:815–835

Aller RC, Mackin JE, Ullman WJ, Chen-Hou W, Shing-Min T, Jian-Cai J, Yong-Nian S, Jia-Zhen H (1985) Early chemical diagenesis, sediment-water solute exchange, and storage of reactive organic matter near the mouth of the Changjiang. East China Sea Cont Shelf Res 4(1/2):227–251

Aller RC, Heilbrun C, Panzeca C, Zhu Z, Baltzer F (2004) Coupling between sedimentary dynamics, early diagenetic processes, and biogeochemical cycling in the Amazon–Guianas mobile mud belt: coastal French Guiana. Mar Geol 208:331–360

Aminot A, Kérouel R, Coverly SC (2009) Nutrients in seawater using segmented flow analysis. In: Wurl O (ed) Practical guidelines for the analysis of seawater. CRC Press, Boca Raton, pp 143–178

Anderson FE, Black L, Watling LE, Mook W, Mayer LM (1981) A temporal and spatial study of mudflat erosion and deposition. J Sediment Res 51:729–736

Andrieux F, Aminot A (1997) A two-year survey of phosphorus speciation in the sediments of the Bay of Seine (France). Cont Shelf Res 17:1229–1245

Andrieux-Loyer F, Philippon X, Bally G, Kérouel R, Youenou A, Le Grand J (2008) Phosphorus dynamics and bioavailability in sediments of the Penzé Estuary (NW France): in relation to annual P-fluxes and occurrences of Alexandrium Minutum. Biogeochemistry 88(3):213–231

Anschutz P, Zhong S, Sundby B, Mucci A, Gobeil C (1998) Burial efficiency of phosphorus and the geochemistry of iron in continental margin sediments. Limnol Oceanogr 43(1):53–64

Aspila KI, Agemian H, Chau ASY (1976) A semi-automated method for the determination of inorganic, organic and total phosphate in sediments. Analyst 101(1200):187–197

Avilés A, Niell FX (2005) Pattern of phosphorus forms in a Mediterranean shallow estuary: effects of flooding events. Estuar Coast Shelf Sci 64(4):786–794

Bassoulet P (1979) Etude de la dynamique des sédiments en suspension dans l'estuaire de l'Aulne (rade de Brest). Ph.D. Thesis, Université de Bretagne Occidentale, Brest, France, p 136

Berner RA (1980) Early diagenesis: a theoretical approach. Princeton University Press, Princeton

Berner RA, Rao JL (1993) Phosphorus in sediments of the Amazon River and estuary: implications for the global flux of phosphorus to the sea. Geochim Cosmochim Acta 58(10):2333–2339

Beucher C, Treguer P, Corvaisier R, Hapette AM, Elskens M (2004) Production and dissolution of biosilica, and changing microphytoplankton dominance in the Bay of Brest (France). Mar Ecol Prog Ser 267:57–69

Cao X, Harris WG, Josan MS, Nair VD (2007) Inhibition of calcium phosphate precipitation under environmentally-relevant conditions. Sci Tot Environ 383:205–215

Caraco NF, Cole JJ, Likens GE (1989) Evidence for sulfate-controlled phosphorus release from sediments of aquatic systems. Nature 341:316–318

Cloern JE (2001) Our evolving conceptual model of the coastal eutrophication problem. Mar Ecol Prog Ser 210:223–253

Conley DJ (2000) Biogeochemical nutrient cycles and nutrient management strategies. Hydrobiologia 410:87–96

Conley DJ, Schelske CL, Stoermer EF (1993) Modification of the biogeochemical cycle of silica with eutrophication. Mar Ecol Prog Ser 101:179–192

Day JW (1989) Estuarine ecology. Wiley-Interscience, New York

De Montety L, Long B, Desrosiers G, Crémer J-F, Locat J, Stora G (2003) Utilisation de la scanographie pour l'étude des sédiments: influence des paramètres physiques, chimiques et biologiques sur la mesure des intensités tomographiques. Can J Earth Sci 40:937–948

de Vicente I, Cruz-Pizarro L, Rueda FJ (2010) Sediment resuspension in two adjacent shallow coastal lakes: controlling factors and consequences on phosphate dynamics. Aquat Sci 72(1):21–31

Dyer (1989) Estuarine flow interaction with topography—lateral and longitudinal effects in estuarine circulation. In: Neilson BJ, Kuo A, Brubaker J (ed) Estuarine circulation. Humana, Clifton

Findlay S, Howe K, Austin HK (1990) Comparison of detritus dynamics in two tidal freshwater wetlands. Ecology 71(1):288–295

Fontes MPF, Weed SB (1996) Phosphate adsorption by clays from Brazilian Oxisols: relationships with specific surface area and mineralogy. Geoderma 72:37–51

Froelich PN, Arthur MA, Burnett WC, Deakin M, Hensley V, Jahnke R, Kaul L, Kim KH, Roe K, Soutar A, Vathakanon C (1988) Early diagenesis of organic matter in Peru continental margin sediments: phosphorite precipitation. Mar Geol 80(3–4):309–343

Gagnoud M, Lajeunesse P, Desrosiers G, Long B, Dufour S, Labrie J, Mermillod-Blondin F, Stora G (2009) Litho- and biofacies analysis of postglacial marine mud using CT-scanning. Eng Geol 103:106–111

Gardner WS, McCarthy MJ (2009) Nitrogen dynamics at the sediment–water interface in shallow, sub-tropical Florida Bay: why denitrification efficiency may decrease with increased eutrophication. Biogeochemistry 95:185–198

Gehlen M, Van Raaphorst W (2002) The role of adsorption-desorption surface reactions in controlling interstitial Si(OH)4 concentrations and enhancing Si(OH)4 turn-over in shallow shelf seas. Cont Shelf Res 22(10):1529–1547

Gunnars A, Blomqvist S, Martinsson C (2004) Inorganic formation of apatite in brackish seawater from the Baltic Sea: an experimental approach. Mar Chem 91:15–26

Hartikainen H, Pitkänen M, Kairesalo T, Tuominen L (1996) Co-occurrence and potential chemical competition of phosphorus and silicon in lake sediment. Water Res 30(10):2472–2478

Hartzell J, Jordan T, Cornwell J (2010) Phosphorus burial in sediments along the salinity gradient of the Patuxent River, a subestuary of the Chesapeake Bay (USA). Estuar Coast 33:92–106

Howarth RW, Marino R (2006) Nitrogen as the limiting nutrient for eutrophication in coastal marine ecosystems: evolving views over three decades. Limnol Oceanogr 51(1):364–376

Howarth R, Chan F, Conley DJ, Garnier J, Doney SC, Marino R, Billen G (2011) Coupled biogeochemical cycles: eutrophication and hypoxia in temperate estuaries and coastal marine ecosystems. Front Ecol Environ 9(1):18–26

Hyacinthe C, Van Cappellen P (2004) An authigenic iron phosphate phase in estuarine sediments: composition, formation and chemical reactivity. Mar Chem 91(1–4):227–251

Jilbert T, Slomp CP, Gustafsson BG, Boer W (2011) Beyond the Fe–P-redox connection: preferential regeneration of phosphorus from organic matter as a key control on Baltic Sea nutrient cycles. Biogeosciences 8:1699–1720

Jordan TE, Cornwell JC, Boynton WR, Anderson JT (2008) Changes in phosphorus biogeochemistry along an estuarine salinity gradient: the iron conveyer belt. Limnol Oceanogr 53(1):172–184

Khalil K, Raimonet K, Laverman AM, Yan C, Andrieux-Loyer F, Viollier E, Deflandre E, Ragueneau O, Rabouille C (submitted) Spatial and temporal variability of sediment organic matter recycling in two temperate small estuaries

Koski-Vähälä J, Hartikainen H, Tallberg P (2001) Phosphorus mobilization from various sediment pools in response to increased pH and silicate concentration. J Environ Qual 30:546–552

Laruelle GG (2009) Quantifying nutrient cycling and retention in coastal waters at the global scale. Ph.D. Thesis, Utrecht University, Utrecht, Netherlands, p 226

Laverman A, Van Cappellen P, van Rotterdam-Los D, Pallud C, Abell J (2006) Potential rates and pathways of microbial nitrate reduction in coastal sediments. FEMS Microbiol Ecol 58:179–192

Lehtoranta J, Heiskanen A-S (2003) Dissolved iron:phosphate ratio as an indicator of phosphate release to oxic water of the inner and outer coastal Baltic Sea. Hydrobiologia 492(1–3):69–84

Lesourd S, Lesueur P, Brun-Cottan JC, Garnaud S, Poupinet N (2003) Seasonal variations in the characteristics of superficial sediments in a macrotidal estuary (the Seine inlet, France). Estuar Coast Shelf Sci 58(1):3–16

Lijklema L (1977) The role of iron in the exchange of phosphorus between water and sediments. In: Golterman HL (ed) Interactions between sediments and fresh water. Proceedings of International Symposium, Amsterdam, the Netherlands, 6–10 Sept. The Hague, the Netherlands, pp 313–317

Loucaides S, Michalopoulos P, Presti M, Koning E, Behrends T, Van Cappellen P (2010) Seawater-mediated interactions between diatomaceous silica and terrigenous sediments: results from long-term incubation experiments. Chem Geol 270:68–79

Louchouarn P, Lucotte M, Duchemin E, de Vernal A (1997) Early diagenetic processes in recent sediments of the Gulf of St-Lawrence: phosphorus, carbon and iron burial rates. Mar Geol 139:181–200

Matijević S, Bojanić N, Kušpilić G, Ninčević Gladan Z (2009) Seasonal variations of phosphorus species in sediment from the middle Adriatic Sea. Environ Earth Sci 59:853–866

Mayer LM, Gloss SP (1980) Buffering of silica and phosphate in a turbid river. Limnol Oceanogr 25(1):12–22

Mayer TD, Jarrell WM (2000) Phosphorus sorption during iron(II) oxidation in the presence of dissolved silica. Water Res 34(16):3949–3956

Michalopoulos P, Aller RC (2004) Early diagenesis of biogenic silica in the Amazon delta: alteration, authigenic clay formation, and storage. Geochim Cosmochim Acta 68(5):1061–1085

Michaud E, Desrosiers G, Long B, de Montety L, Crémer J-F, Pelletier E, Locat J, Gilbert F, Stora G (2003) Use of axial tomography to follow temporal changes of benthic communities in an unstable sedimentary environment (Ha!Ha! Bay, Saguenay Fjord). J Exp Mar Biol Ecol 285(286):265–282

Moreno S, Niell FX (2004) Scales of variability in the sediment chlorophyll content of the shallow Palmones River Estuary, Spain. Estuar Coast Shelf Sci 60(1):49–57

Nelson DM, Treguer P, Brzezinski MA, Leynaert A, Queguiner B (1995) Production and dissolution of biogenic silica in the ocean: revised global estimates, comparison with regional data and relationship to biogenic sedimentation. Global Biogeochem Cycle 9(3):359–372

Némery J, Garnier J (2006) Typical features of particulate phosphorus in the Seine estuary (France). Hydrobiologia 588:271–290

Nixon SW (1995) Coastal marine eutrophication: a definition, social causes, and future concerns. Ophelia 41:199–219

Postma (1967) Sediment transport and sedimentation in the estuarine environment. In: Estuaries. American Association for the Advancement of Science, Washington, pp 158–179

Prastka K, Sanders R, Jickells T (1998) Has the role of estuaries as sources or sinks of dissolved inorganic phosphorus changed over time? Results of a Kd study. Mar Pollut Bull 36(9):718–728

Psenner R, Bostrom B, Dinka M, Pettersson K, Pucsko R, Sager M (1988) Fractionation of phosphorus in suspended matter and sediments. Arch Hydrobiol Beih Ergebn Limnol 30:98–109

Querné J (2011) Invasion de Spartina alterniflora dans les marais de la rade de Brest. Comportement invasif et impact sur le cycle biogéochimique du silicium. Ph.D thesis, Université de Bretagne Occidentale, Brest, France, p 217

Ragueneau O, Lancelot C, Egorov V, Vervlimmeren J, Cociasu A, Déliat G, Krastev A, Daoud N, Rousseau V, Popovitchev V, Brion N, Popa L, Cauwet G (2002) Biogeochemical transformations of inorganic nutrients in the mixing zone between the Danube River and the North-Western Black Sea. Estuar Coast Shelf Sci 54(3):321–336

Raimonet (2011) Cycle benthique du silicium dans les estuaires: observations et modélisation à différentes échelles spatio-temporelles. Ph.D. Thesis, Université de Bretagne Occidentale, Brest, France, p 167

Raimonet M, Ragueneau O, Andrieux-Loyer F, Philippon X, Kerouel R, Le Goff M, Mémery L (2013) Spatio-temporal variability in benthic silica cycling in two macrotidal estuaries: causes and consequences for local to global studies. Estuar Coast Shelf Sci 119:31–43

Rao JL, Berner RA (1997) Time variations of phosphorus and sources of sediments beneath the Chang Jiang (Yangtze River). Mar Geol 139:95–108

Reimers CE, Ruttenberg KC, Canfield DE, Christiansen MB, Martin JB (1996) Porewater pH and authigenic phases formed in the uppermost sediments of the Santa Barbara Basin. Geochim Cosmochim Acta 60(21):4037–4057

Resing JA, Mottl MJ (1992) Determination of manganese in seawater using flow injection analysis with on-line preconcentration and spectrophotometric detection. Anal Chem 64(22):2682–2687

Ruttenberg KC (1992) Development of a sequential extraction method for different forms of phosphorus in marine sediments. Limnol Oceanogr 37(7):1460–1482

Ruttenberg KC, Berner RA (1993) Authigenic apatite formation and burial in sediments from non-upwelling, continental margin environments. Geochim Cosmochim Acta 57(5):991–1007

Sarradin P-M, Le Bris N, Le Gall C, Rodier P (2005) Fe analysis by the ferrozine method: adaptation to FIA towards in situ analysis in hydrothermal environment. Talanta 66(5):1131–1138

Seitzinger SP, Harrison JA, Dumont E, Beusen AHW, Bouwman AF (2005) Sources and delivery of carbon, nitrogen, and phosphorus to the coastal zone: An overview of global nutrient export from watersheds (NEWS) models and their application. Global Biogeochem Cycle 19(4):GB4S01–GB04S01

Sharp JH, Pennock JR, Church TM, Tramontano JM, Cifuentes LA (1984) The estuarine interaction of nutrients, organics, and metals: a case study in the Delaware Estuary. In: Kennedy VS (ed) The estuary as a filter. Academic Press, Orlando, pp 241–258

Slomp K, Epping E, Helder W, Van Raaphorst W (1996) A key role for iron-bound phosphorus in authigenic apatite formation in North Atlantic continental platform sediments. J Mar Res 54(6):1179–1205

Smetacek VS (1985) Role of sinking in diatom life-history cycles: ecological, evolutionary and geological significance. Mar Biol 84(3):239–251

Smith SV (1984) Phosphorus versus nitrogen limitation in the marine environment. Limnol Oceanogr 29:1149–1160

Soetaert K, Herman PMJ, Middelburg JJ, Heip C (1998) Assessing organic matter mineralization, degradability and mixing. J Mar Res 56(2):519–534

Soetaert K, Middelburg JJ, Herman PMJ, Buis K (2000) On the coupling of benthic and pelagic biogeochemical models. Earth-Sci Rev 51(1–4):173–201

Sundareshwar PV, Morris JT (1999) Phosphorus sorption characteristics of intertidal marsh sediments along an estuarine salinity gradient. Limnol Oceanogr 44(7):1693–1701

Sundby B, Gobeil C, Silverberg N, Mucci A (1992) The phosphorus cycle in coastal marine sediments. Limnol Oceanogr 37(6):1129–1145

Tallberg P, Tréguer P, Beucher C, Corvaisier R (2008) Potentially mobile pools of phosphorus and silicon in sediment from the Bay of Brest: interactions and implications for phosphorus dynamics. Estuar Coast Shelf Sci 76(1):85–94

Thibodeau B, Lehmann MF, Kowarzyk J, Mucci A, Gélinas Y, Gilbert D, Maranger R, Alkhatib M (2010) Benthic nutrient fluxes along the Laurentian Channel: impacts on the N budget of the St. Lawrence marine system. Estuar Coast Shelf Sci 90:195–205

Tréguer P, Le Corre P (1975) Manuel d'analyse des sels nutritifs dans l'eau de mer: utilisation de l'auto-analyseur Technicon II. Université de Bretagne Occidentale, Brest

Tuominen L, Hartikainen H, Kairesalo T, Tallberg P (1997) Increased bioavailability of sediment phosphorus due to silicate enrichment. Water Res 32(7):2001–2008

Tyson RV, Pearson TH (1991) Modern and ancient continental shelf anoxia: an overview. Geol Soc Lond 58:1–24

Violante A, Pigna M, Ricciardella Gianfreda (2002) Adsorption of phosphate on variable charge minerals and soils as affected by organic and inorganic ligands. Dev Soil Sci 28(1):279–295

Woodruff JD, Geyer WR, Sommerfield CK, Driscoll NW (2001) Seasonal variation of sediment deposition in the Hudson River estuary. Mar Geol 179(1–2):105–119

Yamada SS, D'Elia CF (1984) Silicic acid regeneration from estuarine sediment cores. Mar Ecol Prog Ser 18(1–2):113–118
Acknowledgments
This work was supported by the French National Program for Coastal Environment (PNEC-EC2CO), the Conseil Général du Finistère and the Ministère de l'Enseignement Supérieur et de la Recherche. We gratefully thank the R/V Côtes de la Manche crew, Manon Le Goff, Agnès Youenou, Christophe Rabouille, Bruno Bombled and Julien Queré for their valuable aid for cores sampling and processing, Erwan Amice and Robert Marc for their helpful assistance on board the Hésione (IUEM), Eric Legoff, Nicole Gouriou and Elisabeth Bruyant for their assistance at the hospital, Monique Briand for her help with figures, and Zosia Baumann for her language edition advices. We sincerely thank two reviewers and especially Tom Jilbert for his insightful critical comments and suggestions.
About this article
Cite this article
Raimonet, M., Andrieux-Loyer, F., Ragueneau, O. et al. Strong gradient of benthic biogeochemical processes along a macrotidal temperate estuary: focus on P and Si cycles. Biogeochemistry 115, 399–417 (2013). https://doi.org/10.1007/s10533-013-9843-3
Received:

Accepted:

Published:

Issue Date:
Keywords
Early diagenesis

Silicate

Phosphate

Authigenic phosphorus

Macrotidal

Estuary