Abstract
A mass balance of dissolved silica (DSi) based on daily measurements at the inflow and outflow of the Three Gorges Reservoir (TGR) in 2007 and a more precise budget, with inflow, outflow, primary production, biogenic silica (BSi) settlement, dissolution of BSi in the water column and flux of DSi at the sediment–water interface in the dry season (April) of 2007 were developed. We address the following question: How much does the Three Gorges Dam (TGD) affect silica transport in the TGR of the Changjiang River (Yangtze River)? The DSi varied from 71.1 to 141 μmol/l with an average of 108 μmol/l, and it ranged between 68.1 and 136 μmol/l, with an average of 107 μmol/l in inflow and outflow, respectively, in the TGR in 2007. The linear relationship of DSi between inflow and outflow water is significant (r = 0.87, n = 362, p < 0.01). Along the main stream of the TGR, the DSi concentration decreases with an average concentration of 84.0 μmol/l in the dry season. However, the stratification of DSi was not obvious in the main channel of the TGR in the dry season. The BSi is within the range of 0.04–5.00 μmol/l, with an average concentration of 2.1 μmol/l in the main channel of the TGR, while it is much higher in Xiangxi Bay (1.30–47.7 μmol/l, 13.1 μmol/l) than in the main stream of the TGR and the other bays. After the third filling of the TGR, approximately 3.8% of the DSi was retained by the TGR based on a 12-month monitoring scheme in 2007, which would slightly reduce nutrient fluxes of the Changjiang River to the East China Sea (2%). DSi was lost during January to June and November, whereas the additions of DSi were found during the other months in 2007. The budget results also indicate that there is a slight retention of DSi. The retention of DSi in the reservoir is approximately 2.9%, while BSi is approximately 44%. Compared with the total silica load, the retention of DSi and BSi in the reservoir is only 5.0% in the dry season. With its present storage capacity, the reservoir does not play an important role as a silica sink in the channel of the TGR. The DSi load is significantly related to discharge both in inflow and outflow waters (p < 0.01). DSi retention, to some extent, is the runoff change due to impoundment.
Access options
Buy single article
Instant access to the full article PDF.
US$ 39.95
Tax calculation will be finalised during checkout.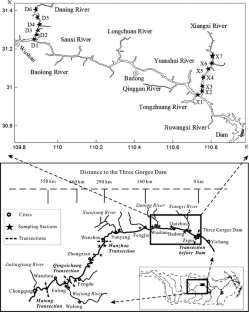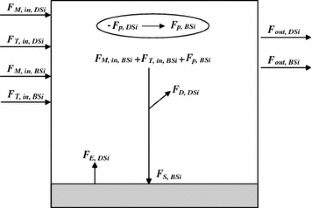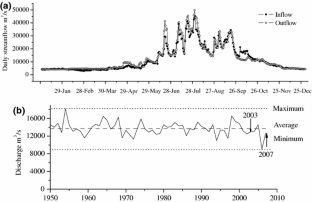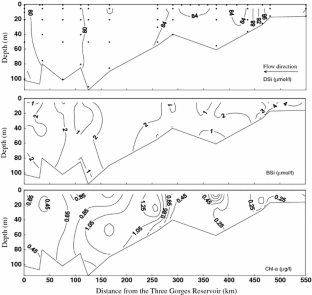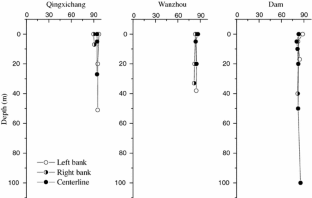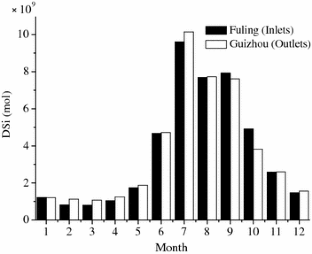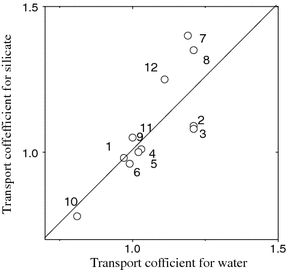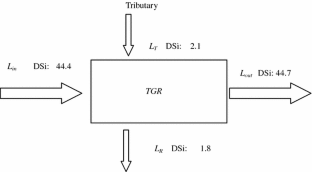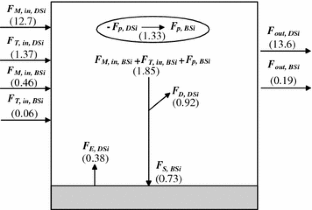 References
Beusen AHW, Bouwman AF, Dürr HH, Dekkers ALM, Hartmann J (2009) Global patterns of dissolved silica export to the coastal zone: results from a spatially explicit global model. Glob Biogeochem Cycles 23:13. doi:10.1029/2008GB003281

Billen G, Lancelot C, Meybeck M (1991) N, P and Si retention along the aquatic continuum from land to ocean. In: Mantoura RFC, Martin JM, Wollast R (eds) Ocean margin processes in global change. Wiley, Chichester, pp 19–44

Bouwman AF, Van Drecht G, Knoop JM, Beusen AHW, Meinardi CR (2005) Exploring changes in river nitrogen export the world's oceans, Glob Biogeochem Cycles 19. doi:10.1029/2004GB002314

Brzezinski MA (1985) The Si:C:N ratio of marine diatoms: inter-specific variability and the effect of some environmental variable. J Physiol 21:347–357

Canfield DE Jr, Bachmann RW (1981) Prediction of total phosphorus concentrations chlorophyll a, and Secchi depth in natural and artificial lakes. Can J Fish Aquat Sci 38:414–423

Caraco NF (1993) Disturbance of the phosphorus cycle: a case of indirect effects of human activity. Trends Ecol Evol 8:51–54

Chen HT, Zhang XQ, Mi TZ, Yu ZG (2007) Improvement and application of method for the measurement of biogenic silica in suspended matter. Acta Oceanol Sin 29(4):156–160

Chinese Encyclopedia Compilation Committee (1987) Chinese Encyclopedia Atmosphere, Marine and Hydrology Science. Chinese Encyclopedia Publishing House, Beijing, pp 345–347 (in Chinese)

Conley DJ (1997) Riverine contribution of biogenic silica to the oceanic silica budget. Limnol Oceanogr 42:774–777

Conley DJ (2002) Terrestrial ecosystems and the global biogeochemical silica cycle. Glob Biogeochem Cycles 16:1121. doi:10.1029/2002GB001894

Conley DJ, Schelske CL, Stoermer EF (1993) Modification of the biogeochemical cycle of silica with eutrophication. Mar Ecol Prog Ser 101:179–192

Conley DJ, Stalnacke P, Pitkanen H, Wilander A (2000) The transport and retention of dissolved silicate by rivers in Sweden and Finland. Limnol Oceanogr 45:1850–1853

Dai ZJ, Du JZ, Zhang XL, Su N, Li JF (2011) Variation of Rievrine material loads and environmental consequences on the Changjiang Estuary in recent decades (1955–2008). Environ Sci Technol 45:223–227

Dean WE, Gorham E (1998) Magnitude and significance of carbon burial in lakes, reservoirs, and peatlands. Geology 26:535–538

Degens ET, Kempe S, Richey JE (1991) Biogeochemistry of major world rivers. Scope Rep. 42. Wiley, New York

DeMaster DJ (1981) The supply and accumulation of the silica in the marine environment. Geochem Cosmochim Acta 45:1715–1732

Duan SW, Xu F, Wang LJ (2007) Long-term changes in nutrient concentrations of the Changjiang River and principal tributaries. Biogeochemistry 85:215–234

Dürr HH, Meybeck M, Hartmann J, Laruelle GG, Roubeix V (2011) Global spatial distribution of natural riverine silica inputs to the coastal zone. Biogeosciences 8:597–620. doi:10.5194/bg-8-597-2011

Friedl G, Teodoru C, Wehrli B (2004) Is the Iron Gate I reservoir on the Danube River a sink for dissolved silica? Biogeochemistry 68:21–32

Garnier J, Leporcq B, Sanchez N, Philippon X (1999) Biogeochemical mass-balance(C, N, P, Si) in three large reservoirs of the Seine Basin (France). Biogeochemistry 47:119–146

Goto N, Iwata T, Akatsuka T, Ishikawa M, Kihira M, Azumi H, Anbutsu K, Mitamura O (2007) Environmental factors which influence the sink of silica in the limnetic system of the large monomictic Lake Biwa and its watershed in Japan. Biogeochemistry 84(3):285–295

Guo HB (2008) Study of silicon distribution, budget and circle in the Three Gorges Reservoir. MD Disseertation, Ocean University of China, p 52

Halim Y (1991) The impact of human alterations of the hydrological cycle on ocean margins. In: Mantoura RFC, Martin JM, Wollast R (eds) Ocean margin processes in global change. Wiley, Chichester, pp 301–327

Hartmann J, Jansen N, Dürr HH, Harashima A, Okubo K, Kempe S (2010) Predicting riverine dissolved silica fluxes to coastal zones from a hyperactive region and analysis of their first-order controls. Int J Earth Sci 99(1):207–230

Huang ZL and Li YL (2006) Water quality prediction and water environmental carrying capacity calculation for Three Gorges Reservoir. China WaterPower Press, Beijing, p18 (in Chinese)

Humborg C, Ittekkot V, Cociasu A, Bodungen BV (1997) Effect of Danube river dam on Black Sea biogeochemistry and ecosystem structure. Nature 386:385–388

Humborg C, Conley DJ, Rahm L, Wulff F, Cociasu A, Ittekkot V (2000) Silicon retention in river basins: far-reaching effects on biogeochemistry and aquatic food webs in coastal marine environments. Ambio 29:45–50

Humborg C, Blomqvist S, Avsan E, Bergensund Y, Smedberg E (2002) Hydrological alterations with river damming in northern Sweden: implications for weathering and river biogeochemistry. Glob Biogeochem Cycles 16(3):1039. doi:10.1029/2000GB001369

Humborg C, Pastuszak M, Aigars J, Siegmund H, Morth C-M, Ittekkot V (2006) Decreased silica land-sea fluxes through damming in the Baltic Sea catchment—significance of particle trapping and hydrological alterations. Biogeochemistry 77:265–281

Ittekot V, Unger D, Humborg C, Tac An N (2006) The perturbed silicon cycle. In: Ittekot V et al (eds) The silicon cycle. Island Press, Washington, pp 245–252

Jiang FH, Wang XL, Shi XX, Zhu CJ, Han XR, Zhang L (2002) Benthic exchange rate and flux of dissolved silicate at the sediment–water interface in Jiaozhou Bay. J Ocean Univ Qingdao 32(6):1012–1018

Li MT, Chen HQ (2001) Changes of dissolved silicate flux from the Changjiang River into sea and its influence since late 50 years. China Environ Sci 21(3):1–5 in Chinese

Li JX, Liao WG, Huang ZL (2002) Prediction of the impact of Three Gorges Project on water flow and water quality in the reservoir. Water Resour Hydropower Eng 33:22–26 (in Chinese)

Li MT, Xu KX, Watanabe M, Chen ZY (2007) Long-term variations in dissolved silicate, nitrogen, and phosphorus flux from the Yangtze River into the East China Sea and impacts on estuarine ecosystem. Estuar, Coast Shelf Sci 71:3–12

Liu SM, Zhang J, Chen HT, Wu Y, Xiong H, Zhang ZF (2003) Nutrients in the Changjiang and its tributaries. Biogeochemistry 62(1):1–18

Liu SM, Zhang J, Li RX (2005) Ecological significance of biogenic silica in the East China Sea. Mar Ecol Prog Ser 290:15–26

Luo WS, Tan G (2000) Three gorges reservoir Xiangxihe Bay water quality prognosis. Int J Hydroelectr Energy 18 (4):46–8 (in Chinese)

McGinnis DF, Bocaniov S, Teodoru C, Friedl G, Lorke A, Wüest A (2006) Silica retention in the Iron Gate I reservoir on the Danube River: the role of side bays as nutrient sinks. River Res Appl 22:441–456

Milliman J (1997) Blessed dams or damned dams. Nature 386:325–327

Milliman JD, Quraishee GS, Beg MNA (1984) Sediment discharge from the Indus River to the ocean: Past, present and future. In: Haq BU, Milliman JD (eds) Marine geology and oceanography of the Arabian Sea. Van Nostrand Reinhold, New York, pp 65–70

Mortlock RA, Froelich PN (1989) A simple method for the rapid determination of biogenic opal in pelagic marine sediments. Deep Sea Res 36:1415–1426

Nilsson C, Reidy CA, Dynesius M, Revenga C (2005) Fragmentation and flow regulation of the world's large river systems. Science 308:405–408

Perran L, Cook M, Aldridge KT, Lamontagne S, Brookes JD (2010) Retention of nitrogen, phosphorus and silicon in a large semi-arid riverine lake system. Biogeochemistry 99(1–3):49–63

Ragueneau O, Treguer P (1994) Determination of biogenic silica in coastal waters: applicability and limits of the alkaline digestion method. Mar Chem 45:43–51

Ragueneaua O, Savoye N, Yolanda DA, Cottenc J, Tardiveaua B, Leynaerta A (2005) A new method for the measurement of biogenic silica in suspended matter of coastal waters: Using Si:Al ratios to correct for the mineral interference. Cont Shelf Res 25:697–710

Rahm L, Conley D, Sanden P, Wulff F, Stålnacke P (1996) Time series analysis of nutrient inputs to the Baltic Sea and changing DSi:DIN ratios. Mar Ecol Prog Ser 130:221–228

Ran XB, Zhigang Yu, Yao QZ, Chen HT, Mi TZ (2010) Major ion geochemistry and nutrient behavior in the mixing zone of the Changjiang (Yangtze) River and its tributaries in the Three Gorges Reservoir. Hydrol Process 24:2481–2495

Ran XB, Yu ZG, Chen HT, Zhang XQ, Guo HB. Silicon transport of Changjiang River: could the Three Gorges Reservoir be a filter? submitted to J Ocean Univ China

Redfield AC, Ketchum BH, Richards FA (1963) The influence of organism on the composition of seawater. In: MN Hill et al. (eds) The Sea, Vol 2. Wiley Interscience, New York pp 26–77

Ren JL, Zhang J, Luo JQ, Pei XK, Jiang ZX (2001) Improved fluorimetric determination of dissolved aluminium by micelle-enhanced lumogallion complex in natural waters. Analyst 126:698–702

Sferratore A, Billen G, Garnier J, Smedberg E, Humborg C, Rahm L (2008) Modelling nutrient fluxes from sub-arctic basins: comparison of pristine vs. dammed rivers. J Mar Syst 73(3/4):236–249

Shi DM (1999) Analysis of relationship between soil and water loss and flood disasters in Yangtze River basin. J Soil Water Conserv 5(1):1–7 in Chinese

Smith SV, Swaney DP, Talaue-Mcmanus L, Bartley JD, Sandhei PT, McLaughlin CJ, Dupra VC, Crossland CJ, Buddemeier RW, Maxwell BA, Wulff F (2003) Humans, hydrology, and the distribution inorganic nutrient loading to the ocean. Bioscience 53(3):235–245

State environmental protection administration of China (2002) The analyzing method for water and wastewater vol 120–124. China Environment Science Press, Beijing, p 670 (in Chinese)

Syvitskl JPM, Vörösmarty CJ, Kettner AJ, Green P (2005) Impact of humans on the flux of terrestrial sediment to the global coastal ocean. Science 308:376–380

Teodoru C, Wehrli B (2005) Retention of sediments and nutrients in the Iron Gate I reservoir on the Danube River. Biogeochemistry 76:539–565

Teodoru C, McGinnis DE, Wuest A, Wehrli B (2006) Nutrient retention in the Danube's Iron Gate Reservoir. EOS 87:390–391

Tréguer P, Nelson DM, Van Bennekom AJ, Demaster DJ, Leynaert A, Queguiner B (1995) The silica balance in the world ocean: a reestimate. Science 268:375–379

Triplett LD, Engstrom DR, Conley DJ, Schellhaass SM (2008) Silica fluxes and trapping in two contrasting natural impoundments of the upper Mississippi River. Biogeochemistry 87:217–230

Turner RE, Rabalais NN (1994) Coastal eutrophication near the Mississippi River Delta. Nature 68:619–621

Vollenweider RA, Kerekes J (1980) The loading concept as a basis for controlling eutrophication philosophy and preliminary results of the OECD Programme on eutrophication. Progr Water Technol 12:5–18

Vörösmarty CJ (1997) The storage and aging of continental runoff in large reservoir systems of the world. Ambio 26:210–219

Whaby SD, Bishara NF (1980) The effect of River Nile on Mediterranean water before and after the construction of the High Dam at Aswan. In: Matin IM, Burton JD, Eisma D (eds) River inputs to ocean systems. United Nations, New York, pp 311–318

Wu JG, Huang JH, Han XG, Xie ZQ, Gao XM (2003) Three-Gorge dam-experiment in habitat fragmentation? Science 300:1239–1240

Yang SL, Zhang J, Zhu J, Smith JP, Dai SB, Gao A, Li P (2005) Impact of dams on Yangtze River sediment supply to the sea and delta intertidal wetland response. J Geophys Res 110:F03006. doi:10.1029/2004JF000271

Yang SL, Zhang J, Xu XJ (2007) Influence of the Three Gorges Dam on downstream delivery of sediment and its environmental implications Yangtze River. Geophys Res Lett 34:L10401. doi:10.1029/2007GL029472

Ye XW (2002) Biogenic silica in the Jiaozhou Bay. MD Disseertation, Ocean University of China, Qingdao, p 22

Yin HF, Liu GR, Pi JG, Chen GJ, Li CG (2007) On the river–lake relationship of the middle Yangtze reaches. Geomorphology 85(3/4):197–207

Zhang J, Zhang ZF, Liu SM, Wu Y, Xiong H, Chen HT (1999) Human impacts on the large world rivers: would the Changjiang (Yangtze River) be an illustration? Glob Biogeochem Cycles 13:1099–1105
Acknowledgments
This study was financially supported by the Natural Science Foundation of China (Project No. 40976044 and 30490232) and Natural Science Foundation of Shandong (Project No. ZR2010DM006). We would like to thank Bochao Xu, Ye Qiao, Haitao Zheng, Xiang Wang and Jiangping Tao for their help in the field sampling. We would also like to thank Zuhua Chen (Ministry of Water Resources of the People's Republic of China) for providing the basic discharge data.
About this article
Cite this article
Ran, X., Yu, Z., Yao, Q. et al. Silica retention in the Three Gorges Reservoir. Biogeochemistry 112, 209–228 (2013). https://doi.org/10.1007/s10533-012-9717-0
Received:

Accepted:

Published:

Issue Date:
Keywords
Biogenic silica

Dissolved silicate

Retention

Three Gorges Reservoirs