Abstract
Biological soil crusts (BSCs) are thought to be important in the fertility of arid lands as gateways for carbon (C) and nitrogen (N). Studies on the Colorado Plateau have shown that an incomplete internal N cycle operates in BSCs that results in significant exports of dissolved organic N, ammonia and nitrate into the bulk soil through percolating water, thus mechanistically explaining their role as a N gateway. It is not known if this pattern is found in other arid regions. To examine this, we measured rates of major biogeochemical N-transformations in a variety of BSCs collected from the Colorado Plateau and the Mojave, Sonoran and Chihuahuan Deserts. Dinitrogen fixation and aerobic ammonia oxidation were prominent transformations at all sites. We found anaerobic ammonia oxidation (anammox) rates to be below the detection limit in all cases, and at least 50-fold smaller than rates of N2-fixation, making it an irrelevant process for these BSCs. Heterotrophic denitrification was also of little consequence for the flow of N, with rates at least an order of magnitude smaller than those of N2-fixation. Thus we could confirm that despite the demonstrable differences in microbial community composition and soil material, BSCs from major biogeographic regions in arid North America displayed a remarkably consistent pattern of internal N cycling. The implications for arid land fertility drawn from previous studies in the Colorado Plateau appear applicable to BSCs across other arid regions of the Southwestern United States.
Access options
Buy single article
Instant access to the full article PDF.
USD 39.95
Price excludes VAT (USA)
Tax calculation will be finalised during checkout.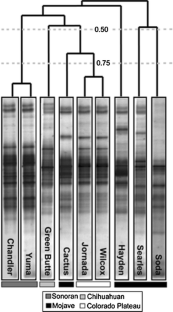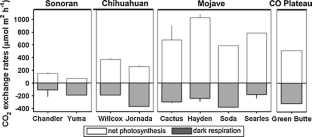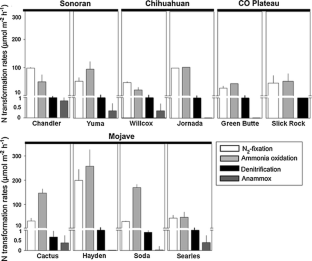 References
Abed RMM, Al Kharusi S, Schramm A, Robinson MD (2010) Bacterial diversity, pigments and nitrogen fixation of biological desert crusts from the Sultanate of Oman. FEMS Microbiol Ecol 72:418–428

Aguilar AJ, Huber-Sannwald E, Belnap J, Smart DR, Moreno JTA (2009) Biological soil crusts exhibit a dynamic response to seasonal rain and release from grazing with implications for soil stability. J Arid Environ 73:1158–1169

Altschul S, Madden T, Schaffer A, Zhang JH, Zhang Z, Miller W, Lipman D (1998) Gapped blast and psi-blast: a new generation of protein database search programs. FASEB J 12:102

Bailey MJ (1994) Description of the ecoregions of the US. USDA Forest Service, Washington DC

Barger NN, Belnap J, Ojima DS, Mosier A (2005) NO gas loss from biologically crusted soils in Canyonlands National Park, Utah. Biogeochemistry 75:373–391

Belnap J (2002) Nitrogen fixation in biological soil crusts from Southeast Utah, USA. Biol Fertil Soils 35:128–135

Belnap J, Gillette DA (1998) Vulnerability of desert biological soil crusts to wind erosion: the influences of crust development, soil texture, and disturbance. J Arid Environ 39:133–142

Belnap J, Phillips SL, Miller ME (2004) Response of desert biological soil crusts to alterations in precipitation frequency. Oecologia 141:306–316

Beraldi-Campesi H, Hartnett HE, Anbar A, Gordon GW, Garcia-Pichel F (2009) Effect of biological soil crusts on soil elemental concentrations: implications for biogeochemistry and as traceable biosignatures of ancient life on land. Geobiology 7:348–359

Cable JM, Huxman TE (2004) Precipitation pulse size effects on Sonoran desert soil microbial crusts. Oecologia 141:317–324

Evans RD, Johansen JR (1999) Microbiotic crusts and ecosystem processes. Crit Rev Plant Sci 18:183–225

Evans RD, Lange OL (2001) Biological soil crusts and ecosystem nitrogen and carbon dynamics. In: Belnap J, Lange OL (eds) Biological soil crusts: structure, function, and management. Springer, Berlin, pp 263–279

Garcia-Pichel F, Belnap J (1996) Microenvironments and microscale productivity of cyanobacterial desert crusts. J Phycol 32:774–782

Garcia-Pichel F, Lopez-Cortes A, Nübel U (2001) Phylogenetic and morphological diversity of cyanobacteria in soil desert crusts from the Colorado plateau. Appl Environ Microbiol 67:1902–1910

Garcia-Pichel F, Wade BD, Farmer JD (2002) Jet-suspended, calcite-ballasted cyanobacterial waterwarts in a desert spring. J Phycol 38(3):420–428

Garcia-Pichel F, Johnson SL, Youngkin D, Belnap J (2003) Small-scale vertical distribution of bacterial biomass and diversity in biological soil crusts from arid lands in the Colorado plateau. Microb Ecol 46:312–321

Groffmann PM, Tiedje JM (1989) Denitrification in north temperate forest soils—spatial and temporal patterns at the landscape and seasonal scales. Soil Biol Biochem 21:613–620

Gundlapally SR, Garcia-Pichel F (2006) The community and phylogenetic diversity of biological soil crusts in the Colorado plateau studied by molecular fingerprinting and intensive cultivation. Microb Ecol 52:345–357

Hardy RWF, Burns RC, Holsten RD (1973) Applications of the acetylene-ethylene assay for measurement of nitrogen fixation. Soil Biol Biochem 5:47–81

Harper KT, Belnap J (2001) The influence of biological soil crusts on mineral uptake by associated vascular plants. J Arid Environ 47:347–357

Hooper DU, Johnson L (1999) Nitrogen limitation in dryland ecosystems: responses to geographical and temporal variation in precipitation. Biogeochemistry 46:247–293

Jeffries DL, Link SO, Klopatek JM (1993) CO2 fluxes of cryptogamic crusts: response to dehydration. New Phytol 125:391–396

Jetten MSM, Strous M, van de Pas-Schoonen KT, Schalk J, van Dongen U, van de Graaf AA, Logemann S, Muyzer G, van Loosdrecht MCM, Kuenen JG (1998) The anaerobic oxidation of ammonium. FEMS Microbiol Rev 22:421–437

Johnson SL, Budinoff CR, Belnap J, Garcia-Pichel F (2005) Relevance of ammonium oxidation within biological soil crust communities. Environ Microbiol 7:1–12

Johnson SL, Neuer S, Garcia-Pichel F (2007) Export of nitrogenous compounds due to incomplete cycling within biological soil crusts of arid lands. Environ Microbiol 9:680–689

Lajtha K, Schlesinger WH (1986) Plant response to variations in nitrogen availability in a desert shrubland community. Biogeochemistry 2:29–37

Lange OL (2001) Photosynthesis of soil-crust biota as dependent on environmental factors. In: Belnap J, Lange OL (eds) Biological soil crusts: structure, function, and management. Ecological studies, vol 150. Springer, Berlin, pp 217–240

MacMahon JA (1987) Disturbed lands and ecological theory. In: Jordan W (ed) Restoration ecology: a synthetic approach to ecological research. Cambridge University Press, New York

McCalley CK, Sparks JP (2008) Controls over nitric oxide and ammonia emissions from Mojave desert soils. Oecologia 156:871–881

McCalley CK, Sparks JP (2009) Abiotic gas formation drives loss from a desert ecosystem. Science 326:837–840

McClain ME, Boyer EW, Dent CL, Gergel SE, Grimm NB, Groffman PM, Hart SC, Harvey JW, Johnston CA, Mayorga E, McDowell WH, Pinay G (2003) Biogeochemical hotspots and hot moments at the interface of terrestrial and aquatic ecosystems. Ecosystems 6:301–312

Minitab (2006) Minitab statistical software, release 15 for Windows. State College, PA

Muyzer G, Teske A, Wirsen CO, Jannasch HW (1995) Phylogenetic-relationships of Thiomicrospira species and their identification in deep-sea hydrothermal vent samples by denaturing gradient gel-electrophoresis of 16s rDNA fragments. Arch Microbiol 164:165–172

Nagy ML, Perez A, Garcia-Pichel F (2005) The prokaryotic diversity of biological soil crusts in the Sonoran desert (Organ Pipe Cactus National Monument, AZ). FEMS Microbiol Ecol 54:233–245

Nohrstedt H-O (1983) Conversion factor between acetylene reduction and nitrogen fixation in soil: effect of water content and nitrogenase activity. Soil Biol Biochem 15:275–279

Nübel U, Garcia-Pichel F, Kuhl M, Muyzer G (1999) Quantifying microbial diversity: morphotypes, 16S rRNAgenes, and carotenoids of oxygenic phototrophs in microbial mats. Appl Environ Microbiol 65:422–430

Peterjohn WT (1991) Denitrification: enzyme content and activity in desert soils. Soil Biol Biochem 23:845–855

Peterjohn WT, Schlesinger WH (1990) Nitrogen loss from deserts in the Southwestern United States. Biogeochemistry 10:67–79

Rothrock MJ, Garcia-Pichel F (2005) Microbial diversity of benthic mats along a tidal desiccation gradient. Environ Microbiol 7:593–601

Soule T, Anderson I, Johnson SL, Bates S, Garcia-Pichel F (2009) Archaeal populations in biological soil crusts from arid lands in North America. Soil Biol Biochem 41:2069–2074

Thamdrup B, Dalsgaard T (2002) Production of N-2 through anaerobic ammonium oxidation coupled to nitrate reduction in marine sediments. Appl Environ Microbiol 68:1312–1318

van de Graaf AA, Mulder A, Debruijn P, Jetten MSM, Robertson LA, Kuenen JG (1995) Anaerobic oxidation of ammonium is a biologically mediated process. Appl Environ Microbiol 61:1246–1251

Walvoord MA, Phillips FM, Stonestrom DA, Evans RD, Hartsough PC, Newman BD, Striegl RG (2003) A reservoir of nitrate beneath desert soils. Science 302:1021–1024

Yeager CM, Kornosky JL, Morgan RE, Cain EC, Garcia-Pichel F, Housman DC, Belnap J, Kuske CR (2007) Three distinct clades of cultured heterocystous cyanobacteria constitute the dominant N-2-fixing members of biological soil crusts of the Colorado plateau, USA. FEMS Microbiol Ecol 60:85–97
Acknowledgments
We thank personnel at Jornada LTER for allowing sample collection. The Jornada Experimental Range is administered by the USDA-ARS and is a Long Term Ecological Research site funded by the National Science Foundation. We also thank Scott Bates and Hugo Beraldi for their assistance in sample collection and Ruth Potrafka for her assistance in the laboratory. This work was supported by USDA-NRI grant 2007-35107-18299 and NSF grant 020671 to Ferran Garcia-Pichel.
About this article
Cite this article
Strauss, S.L., Day, T.A. & Garcia-Pichel, F. Nitrogen cycling in desert biological soil crusts across biogeographic regions in the Southwestern United States. Biogeochemistry 108, 171–182 (2012). https://doi.org/10.1007/s10533-011-9587-x
Received:

Accepted:

Published:

Issue Date:

DOI: https://doi.org/10.1007/s10533-011-9587-x
Keywords