Abstract
The OSPAR Eutrophication Strategy requires assessment of eutrophication to be based on the ecological consequences of nutrient enrichment and not just on nutrient enrichment alone, i.e. finding reliable evidence for accelerated growth of algae and higher forms of plant life caused by anthropogenic nutrient enrichment, leading to undesirable disturbance. Fully flushed marine waters of England and Wales (salinity >30) were assessed against OSPAR's harmonised criteria of nutrient concentration and ratios, chlorophyll concentrations, phytoplankton indicator species, macrophytes, dissolved oxygen (DO) levels, incidence of fish kills and changes in the zoobenthos, using region specific thresholds. None of the thirteen assessment areas, including six nutrient enriched areas, exhibited evidence for undesirable disturbance. This paper details the methods and the overall outcome of the assessment. It presents evidence that undesirable disturbance caused by nutrient enrichment was not detected in English and Welsh marine waters assessed under the OSPAR procedure. The main reasons for the lack of eutrophication problems, such as the underwater light climate limiting the accelerated growth of algae, which might otherwise result from nutrient enrichment, are discussed.
Access options
Buy single article
Instant access to the full article PDF.
USD 39.95
Price excludes VAT (USA)
Tax calculation will be finalised during checkout.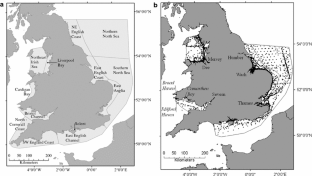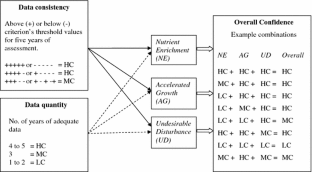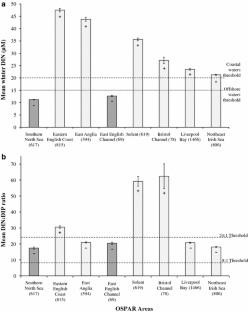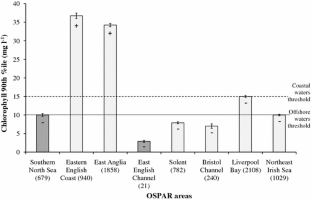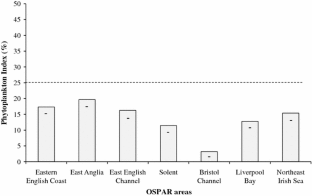 References
Aitchison J (1986) The statistical analysis of compositional data, monographs on statistics and applied probability. Chapman & Hall, London

Allen JI, Smyth TJ, Siddorn JR et al (2008) How well can we forecast high biomass algal bloom events in a eutrophic coastal sea? Harmful Algae 8(1):70–76

Best MA, Wither AW, Coates S (2007) Dissolved oxygen as a physico-chemical supporting element in the Water Framework Directive. Mar Pollut Bull 55(1–6):53–64

Borja Á, Franco J, Pérez V (2000) A marine biotic index to establish the ecological quality of soft-bottom benthos within European estuarine and coastal environments. Mar Pollut Bull 40(12):1100–1114

Bricker SB, Clement CG, Pirhalla DE et al (1999) National Estuarine Eutrophication Assessment: effects of nutrient enrichment in the nation's estuaries. NOAA National Ocean Service, Special Projects Office, Silver Spring

Bricker SB, Ferreira JG, Simas T (2003) An integrated methodology for assessment of estuarine trophic status. Ecol Model 169:39–60

Bricker S, Longstaff B, Dennison W et al (2007) Effects of nutrient enrichment in the nation's estuaries: a decade of change. NOAA coastal ocean program decision analysis series no. 26. National Centers for Coastal Ocean Science, Silver Spring

Burkholder JM, Glasgow HB, Deamer-Melia NJ et al (2001) Species of the toxic Pfiesteria complex, and the importance of functional type in data interpretation. Environ Health Perspect 109(5):667–679

Carpenter SR, Caraco NF, Correll DL et al (1998) Non-point pollution of surface waters with phosphorous and nitrogen. Ecol Appl 8(3):559–568

CEC (2000) Council Directive 2000/60/EC of the European Parliament and of the Council of 23 October 2000 establishing a framework for Community action in the field of water policy. Off J Eur Commun L327:1–73

CEC (2006) Council Directive 2006/113/EC of the European Parliament and of the Council of 12 December 2006 on the quality required of shellfish waters. Off J Eur Commun L376:1–7

Clarke KR, Warwick RM (1994) Change in marine communities: an approach to statistical analysis and interpretation. Natural Environmental Research Council, Plymouth

Cloern JE (2001) Our evolving conceptual model of the coastal eutrophication problem. Mar Ecol Prog Ser 210:223–253

Codling ID, Ashley SJ (1992) Development of a biotic index for the assessment of pollution status of marine benthic communities. Water Research Council Report No. SR 2995, Marlow

Conley DJ, Carstensen J, Vaquer-Sunyer R, Duarte CM (2009) Ecosystem thresholds with hypoxia. Hydrobiologia 629:21–29

Dahl E, Tangen K (1993) 25 years experience with Gyrodynium aureolum in Norwegian waters. In: Smayda TJ, Shimizu Y (eds) Toxic phytoplankton blooms in the sea. Elsevier, New York

de Jonge VN, Elliott M (2001) Eutrophication. In: Steele JH (ed) Encyclopedia of ocean sciences. Academic Press, Oxford, pp 852–870

de Jonge VN, Elliott M, Orive E (2002) Causes, historical development, effects and future challenges of a common environmental problem: eutrophication. Hydrobiologia 475(476):1–19

Devlin MJ, Painting S, Best M (2007a) Setting nutrient thresholds to support an ecological assessment based on nutrient enrichment, potential primary production and undesirable disturbance. Mar Pollut Bull 55:1–6

Devlin MJ, Best M, Coates D et al (2007b) Establishing boundary classes for the classification of UK marine waters using phytoplankton communities. Mar Pollut Bull 55:91–103

Devlin MJ, Barry J, Mills DK et al (2008) Relationships between suspended particulate material, light attenuation and Secchi depth in UK marine waters. Estuar Coast Shelf Sci 79:429–439

Devlin MJ, Barry J, Mills DK et al (2009) Estimating the diffuse attenuation coefficient from optically active constituents in UK marine waters. Estuar Coast Shelf Sci 82:73–83

Duarte CM (2009) Coastal eutrophication research: a new awareness. Hydrobiologia 629:263–269

Duarte CM, Conley DJ, Carstensen J, Sánchez-Camacho M (2009) Return to Neverland: shifting baselines affect eutrophication restoration targets. Estuar Coasts 32:29–36

ECJ (2009) European Court of Justice ruling of 10 December 2009 Case C-390/09 Commission v United Kingdom and Northern Ireland. European Court Report I-0000

Fehling J, Davidson K, Bolch C, Tett P (2006) Seasonality of Pseudo-nitzschia spp. (Bacillariophyceae) in western Scottish waters. Mar Ecol Prog Ser 323:91–105

Foden J, Sivyer DB, Mills DK et al (2008) Spatial and temporal distribution of chromophoric dissolved organic matter (CDOM) fluorescence and its contribution to light attenuation in UK waterbodies. Estuar Coast Shelf Sci 79:707–717

Food Hygiene (England) Regulations (2006) Statutory instruments 14 2006 (Anon.). Corporate Author: Great Britain. Publisher: TSO (The Stationery Office Ltd), p 39

Fryer RJ, Nicholson MD (1999) Using smoothers for comprehensive assessments of contaminant time series in marine biota. ICES J Mar Sci 56:779–790

Geider RJ, La Roche J (2002) Redfield revisited: variability of C:N:P in marine microalgae and its biochemical basis. Eur J Phycol 37(1):1–17

Geider RJ, MacIntyre HL, Kana TM (1998) A dynamic regulatory model of phytoplanktonic acclimation to light, nutrients, and temperature. Limnol Oceanogr 43(4):679–694

Gibson CE, Stewart BM, Gowen RJ (1997) A synoptic study of nutrients in the north-west Irish Sea. Estuar Coast Shelf Sci 45:27–38

Gillbricht M (1988) Phytoplankton and nutrients in the Helgoland region. Helgol Meeresunters 42:435–467

Gowen RJ, Stewart BM (2005) The Irish Sea: nutrient status and phytoplankton. J Sea Res 54:36–50

Gowen RJ, Hydes DJ, Mills DK et al (2002) Assessing trends in nutrient concentrations in coastal shelf seas: a case study in the Irish Sea. Estuar Coast Shelf Sci 54(6):927–939

Gowen RJ, Tett P, Kennington K et al (2008) The Irish Sea: is it eutrophic? Estuar Coast Shelf Sci 76(2):239–254

House WA, Jickells TD, Edwards AC et al (1998) Reactions of phosphorus with sediments in fresh and marine waters. Soil Use Manag 14(Suppl):139–146

Hydes D, Mills D, Heath M (2007) Impacts of climate change on nutrient enrichment in marine climate change impacts annual report card 2007. In: Buckley PJ, Dye SR, Baxter JM (eds) Online summary reports, MCCIP, Lowestoft. http://www.mccip.org.uk

Kennington K, Shammon TM, Kraberg A et al (2003) The distribution of nutrient and phytoplankton in the eastern Irish Sea during 2001. R&D Tech Rep E1049/TR5. Environment Agency, R&D Dissemination Centre, c/o WRc Swindon

Kennington K, Wither A, Shammon TM et al (2004) The distribution of nutrient and phytoplankton in the eastern Irish Sea during 2002. R&D Tech Rep E1049/TR6. Environment Agency, R&D Dissemination Centre, c/o WRc Swindon

Kennington K, Wither A, Shammon TM et al (2005) The distribution of nutrient and phytoplankton in the north-eastern Irish Sea during 2003. R&D Tech Rep E1049/TR7. Environment Agency, R&D Dissemination Centre, c/o WRc Swindon

Künitzer A, Basford D, Craeymeersch JA et al (1992) The benthic infauna of the North Sea: species distribution and assemblages. ICES J Mar Sci 49:127–143

Lancelot C, Billen G, Sournia A et al (1987) Phaeocystis blooms and nutrient enrichment in the continental coastal zones of the North Sea. Ambio 16:38–46

Law R, Hustwayte G, Sims D (2005) Monitoring of the quality of the marine environment, 2002–2003. Science Series Aquatic Environment Monitoring Report 57. Cefas, Lowestoft

Marine Environment Monitoring Group (Cefas) (2004) UK National Marine Monitoring Programme—second report (1999–2001). Cefas, p 138. http://www.defra.gov.uk/environment/marine/documents/science/merman/nmmp1.pdf

Martin JL, Hanke AR, LeGresley MM (2009) Long term phytoplankton monitoring, including harmful algal blooms, in the Bay of Fundy, eastern Canada. J Sea Res 61(1–2):76–83

McQuatters-Gollop A, Raitsos DE, Edwards M et al (2007) A long-term chlorophyll data set reveals regime shift in North Sea phytoplankton biomass unconnected to nutrient trends. Limnol Oceanogr 52(2):635–648

Mills DK, Laane RWPM, Rees JM et al (2003) SmartBuoy: a marine environmental monitoring buoy with a difference. In: Building the European capacity in Operational Oceanography. Proceedings of the 3rd international conference on EuroGOOS conference, 3–6 Dec 2002, Oceanography Series, vol 69. Elsevier, Athens, pp 311–316

Nixon SW (1995) Coastal marine eutrophication: a definition, social causes, and future concerns. Ophelia 41:199–219

Nixon SW (2009) Eutrophication and the macroscope. Hydrobiologia 629:5–19

Nixon SW, Gunby A, Ashley SJ et al (1995) Development and testing of General Quality Assessment schemes: dissolved oxygen and ammonia in estuaries. R&D Tech Project Record PR 469/15/HO. Environment Agency, R&D Dissemination Centre, c/o WRc Swindon

OSPAR Commission (2003) OSPAR integrated report 2003 on the eutrophication status of the OSPAR maritime area based upon the first application of the Comprehensive Procedure. OSPAR Eutrophication Series, publication 189/2003. OSPAR Commission, London

OSPAR Commission (2005) Common procedure for the identification of the eutrophication status of the OSPAR maritime area. Agreement 2005-3. OSPAR Commission, London, p 36

OSPAR Commission (2008) Second OSPAR integrated report on the eutrophication status of the OSPAR maritime area. OSPAR Eutrophication Series, publication 372/2008. OSPAR Commission, London, p 107

Painting S, Devlin MJ, Rogers S et al (2005) Assessing the suitability of OSPAR EcoQOs for eutrophication vs ICES criteria for England and Wales. Mar Pollut Bull 50:569–1584

Painting SJ, Devlin MJ, Malcolm MJ et al (2007) Assessing the impact of nutrient enrichment in estuaries: susceptibility to eutrophication. Mar Pollut Bull 55(1–6):74–90

Rogers S, Allen J, Balson P, Boyle R et al (2003) Typology for the Transitional and Coastal Waters for UK and Ireland (Contractors: Aqua-fact International Services Ltd, BGS, CEFAS, IECS, JNCC). Funded by Scotland and Northern Ireland Forum for Environmental Research, Edinburgh and Environment Agency of England and Wales. SNIFFER Contract ref: WFD07 (230/8030), 94 pp

Ruddick KG, Gons HJ, Rijkeboer M et al (2001) Optical remote sensing of chlorophyll a in case 2 waters by use of an adaptive two-band algorithm with optimal error properties. Appl Opt 40:3575–3585

Scanlan CM, Foden J, Wells E et al (2007) The monitoring of opportunistic macroalgal blooms for the water framework directive. Mar Pollut Bull 55(1–6):162–171

Stiff MJ, Cartwright NG, Crane RI (1992) Environmental quality standards for dissolved oxygen. R&D Note NR2415/1/4226. Environment Agency, R&D Dissemination Centre, c/o WRc Swindon

Tett P (1987) Plankton. In: Baker J, Wolff WJ (eds) Biological survey of estuaries and coasts. Cambridge University Press, Cambridge

Tett P, Heaney SI, Droop MR (1985) The Redfield ratio and phytoplankton growth rate. J Mar Biol Assoc UK 65:487–504

Tett P, Gowen R, Grantham B et al (1986) The phytoplankton ecology of the Firth of Clyde sea-lochs Striven and Fyne. Proc R Soc Edinb B 90:223–238

Tett P, Hydes D, Sanders R (2003) Influence of nutrient biogeochemistry on the ecology of North-West European shelf seas. In: Schimmield G, Black K (eds) Biogeochemistry of marine systems. Academic Press Ltd, Sheffield

Tett P, Gowen RJ, Mills DK et al (2007) Defining and detecting undesirable disturbance in the context of marine eutrophication. Mar Pollut Bull 55(1–6):282–297

Tett P, Carreira C, Mills DK et al (2008) Use of a Phytoplankton Community Index to assess the health of coastal waters. ICES J Mar Sci 65:1475–1482

UKTAG (2008) UK environmental standards and conditions; phase 2. Final Report 2008 UK Technical Advisory Group on the Water Framework Directive. http://www.wfduk.org/UK_Environmental_Standards/

Wasmund N, Andrushaitis A, Łysiak-Pastuszak E et al (2001) Trophic status of the south-eastern Baltic Sea: a comparison of coastal and open areas. Estuar Coast Shelf Sci 53:849–864

Worrall F, Burt TP (2001) Inter-annual controls on nitrate export from an agricultural catchment—how much land-use change is safe? J Hydrol 243(3–4):228–241

Zonneveld C (1998) A cell-based model for the chlorophyll a to carbon ratio in phytoplankton. Ecol Model 113(1–3):55–70
About this article
Cite this article
Foden, J., Devlin, M.J., Mills, D.K. et al. Searching for undesirable disturbance: an application of the OSPAR eutrophication assessment method to marine waters of England and Wales. Biogeochemistry 106, 157–175 (2011). https://doi.org/10.1007/s10533-010-9475-9
Received:

Accepted:

Published:

Issue Date:

DOI: https://doi.org/10.1007/s10533-010-9475-9
Keywords
Accelerated growth

Eutrophication

Assessment criteria

Marine

OSPAR

Undesirable disturbance