Abstract
Wetlands are often highly effective nitrogen (N) sinks. In the Lake Waco Wetland (LWW), near Waco, Texas, USA, nitrate (NO −3 ) concentrations are reduced by more than 90% in the first 500 m downstream of the inflow, creating a distinct gradient in NO −3 concentration along the flow path of water. The relative importance of sediment denitrification (DNF), dissimilatory NO −3 reduction to ammonium (DNRA), and N2 fixation were examined along the NO −3 concentration gradient in the LWW. "Potential DNF" (hereafter potDNF) was observed in all months and ranged from 54 to 278 μmol N m−2 h−1. "Potential DNRA" (hereafter potDNRA) was observed only in summer months and ranged from 1.3 to 33 μmol N m−2 h−1. Net N2 flux ranged from 184 (net denitrification) to −270 (net N2 fixation) μmol N m−2 h−1. Nitrogen fixation was variable, ranging from 0 to 426 μmol N m−2 h−1, but high rates ranked among the highest reported for aquatic sediments. On average, summer potDNRA comprised only 5% (±2% SE) of total NO −3 loss through dissimilatory pathways, but was as high as 36% at one site where potDNF was consistently low. Potential DNRA was higher in sediments with higher sediment oxygen demand (r 2 = 0.84), and was related to NO −3 concentration in overlying water in one summer (r 2 = 0.81). Sediments were a NO −3 sink and accounted for 50% of wetland NO −3 removal (r 2 = 0.90). Sediments were an NH +4 source, but the wetland was often a net NH +4 sink. Although DNRA rates in freshwater wetlands may rival those observed in estuarine systems, the importance of DNRA in freshwater sediments appears to be minor relative to DNF. Furthermore, sediment N2 fixation can be extremely high when NO −3 in overlying water is consistently low. The data suggest that newly fixed N can support sustained N transformation processes such as DNF and DNRA when surface water inorganic N supply rates are low.
Access options
Buy single article
Instant access to the full article PDF.
US$ 39.95
Tax calculation will be finalised during checkout.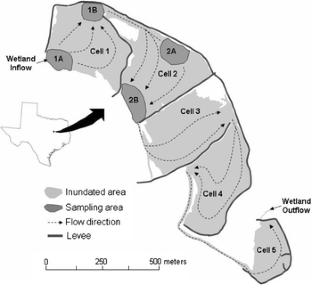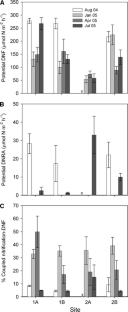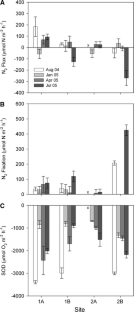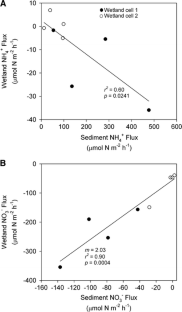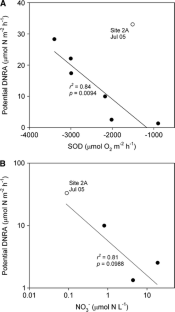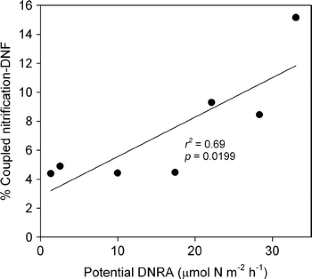 References
An S, Gardner WS (2002) Dissimilatory nitrate reduction to ammonium (DNRA) as a nitrogen link, versus denitrification as a sink in a shallow estuary (Laguna Madre/Baffin Bay, Texas). Mar Ecol Prog Ser 237:41–50

An S, Gardner WS, Kana T (2001) Simultaneous measurement of denitrification and nitrogen fixation using isotope pairing with membrane inlet mass spectrometry. Appl Environ Microbiol 67:1171–1178

An S, Joye SB (2001) Enhancement of coupled denitrification by benthic photosynthesis in shallow subtidal estuarine sediments. Limnol Oceanogr 46:62–74

Bonin P, Omnes P, Chalamet A (1998) Simultaneous occurrence of denitrification and nitrate ammonification in sediments of the French Mediterranean Coast. Hydrobiologia 389:169–182

Bowden WB (1987) The biogeochemistry of nitrogen in freshwater wetlands. Biogeochemistry 4:313–348

Brettar I, Rheinheimer G (1991) Denitrification in the central Baltic – evidence for H2S-oxidation as the motor of denitrification at the oxic–anoxic interface. Mar Ecol Prog Ser 77:157–169

Brunet RC, Garcia-Gil LJ (1996) Sulfide-induced dissimilatory nitrate reduction to ammonia in anaerobic freshwater sediments. FEMS Microbiol Ecol 21:131–138

Burgin AJ, Hamilton SK (2007) Have we overemphasized denitrification in aquatic ecosystems: a review of nitrate removal pathways. Front Ecol Environ 5:89–96

Clesceri LS, Greenberg AE, Eaton AD (eds) (1998) Standard methods for the analysis of water and wastewater, 20th edn. American Public Health Association, Washington, DC

Eyre BD, Rysgaard S, Dalsgaard T, Christensen PB (2002) Comparison of isotope pairing and N2/Ar methods for measuring denitrification rates – assumptions, modifications, and implications. Estuaries 25:1077–1087

Fulweiler RW, Nixon SW, Buckley BA, Granger SL (2007) Reversal of the net dinitrogen gas flux in coastal marine sediments. Nature 448:180–182

Gardner WS, Bootsma HA, Evans C, St. John PA (1995) Improved chromatographic analysis of 15N:14N in ammonium or nitrate for isotope addition experiments. Marine Chem 48:271–282

Gardner WS, McCarthy MJ, An S, Sobolev D, Sell KS, Brock D (2006) Nitrogen fixation and dissimilatory nitrate reduction to ammonium (DNRA) support nitrogen dynamics in Texas estuaries. Limnol Oceanogr 51:558–568

Howarth RW, Marino R, Lane J, Cole JJ (1988) Nitrogen fixation in freshwater, estuarine, and marine ecosystems. 1. Rates and importance. Limnol Oceanogr 33:669–687

Howarth RW, Billen G, Swaney D, Townsend A, Jaworski N, Lajtha K, Downing JA, Elmgren R, Caraco N, Jordan T, Berendse F, Freney J, Kudeyarov V, Murdoch P, Zhao-Liang Z (1996) Regional nitrogen budgets and riverine N and P fluxes for the drainages to the North Atlantic Ocean: natural and human influences. Biogeochemistry 35:75–139

Jenkins MC, Kemp M (1984) The coupling of nitrification and denitrification in two estuarine sediments. Limnol Oceanogr 29:609–619

Kana TM, Darkangelo C, Hunt MD, Oldham GB, Bennet GE, Cornwell JC (1994) Membrane inlet mass spectrometer for rapid high-precision determination of N2, O2, and Ar in environmental water samples. Anal Chem 66:4166–4170

King D, Nedwell DB (1985) The influence of nitrate concentration upon end-products of nitrate dissimilation by bacteria in anaerobic salt marsh sediment. FEMS Microbiol Ecol 31:23–28

Laverman AM, Van Cappellen P, van Rotterdam-Los D, Pallud C, Abell J (2006) Potential rates and pathways of microbial nitrate reduction in coastal sediments. FEMS Microbiol Ecol 58:179–192

Lavrentyev PJ, Gardner WS, Yang L (2000) Effects of the zebra mussel on nitrogen dynamics and the microbial community at the sediment–water interface. Aquat Microb Ecol 21:187–194

McCarthy MJ, Gardner WS, Lavrentyev PJ, Moats KM, Jochem FJ, Klarer DM (2007a) Effects of hydrological flow regime on sediment–water interface and water column nitrogen dynamics in a Great Lakes coastal wetland (Old Woman Creek, Lake Erie). J Great Lakes Res 33:219–231

McCarthy MJ, Lavrentyev PJ, Yang L, Zhang L, Chen Y, Boqiang Q, Gardner WS (2007b) Nitrogen dynamics and microbial food web structure during a summer cyanobacterial bloom in a subtropical, shallow, well-mixed, eutrophic lake (Lake Taihu, China). Hydrobiologia 581:195–207

Megonigal JP, Hines ME, Visscher PT (2003) Anaerobic metabolism: linkages to trace gases and aerobic processes. In: Schlesinger WH (ed) Biogeochemistry, vol 8. Elsevier, Oxford

Mitsch WJ, Gosselink JG (2000) Wetlands, 3rd edn. Wiley

Mitsch WJ, Day JW, Gilliam JW, Groffman PM, Hay DL, Randall GW, Wang N (2001) Reducing nitrogen loading to the Gulf of Mexico from the Mississippi River basin: strategies to counter a persistent ecological problem. BioScience 51:373–388

Mitsch WJ, Day JW, Zhang L, Lane RR (2005) Nitrate-nitrogen retention in wetlands in the Mississippi River basin. Ecol Eng 24:267–278

Mulder A, van de Graaf AA, Robertson LA, Kuenen JG (1995) Anaerobic ammonium oxidation discovered in a denitrifying fluidized bed reactor. FEMS Microbiol Ecol 16:177–184

Nielsen LP (1992) Denitrification in sediment determined from nitrogen isotope pairing. FEMS Microbiol Ecol 86:357–362

Nowlin WH, Evarts JL, Vanni MJ (2005) Release rates and potential fates of nitrogen and phosphorus from sediments in a eutrophic reservoir. Freshwater Biol 50:301–322

Paerl HW (1997) Coastal eutrophication and harmful algal blooms: importance of atmospheric deposition and groundwater as 'new' nitrogen and other nutrient sources. Limnol Oceanogr 42:1154–1165

Poe AC, Piehler MF, Thompson SP, Paerl HW (2003) Denitrification in a constructed wetland receiving agricultural runoff. Wetlands 23:817–826

Rabalais NN, Turner RE, Wiseman WJ (2002) Gulf of Mexico hypoxia, a.k.a 'the dead zone'. Annu Rev Ecol Syst 33:235–263

Risgaard-Petersen N (2003) Coupled nitrification-denitrification in autotrophic and heterotrophic estuarine sediments: on the influence of benthic microalgae. Limnol Oceanogr 48:93–105

Risgaard-Petersen N, Jensen K (1997) Nitrification and denitrification in the rhizosphere of the aquatic macrophyte Lobelia dortmanna L. Limnol Oceanogr 42:529–537

Rysgaard S, Risgaard-Petersen N, Sloth NP (1996) Nitrification, denitrification, and nitrate ammonification in sediments of two coastal lagoons in Southern France. Hydrobiologia 329:133–141

Scott JT, Doyle RD (2006) Coupled photosynthesis and heterotrophic bacterial biomass production in a nutrient-limited wetland periphyton mat. Aquat Microb Ecol 45:69–77

Scott JT, Doyle RD, Filstrup CT (2005) Periphyton nutrient limitation and nitrogen fixation potential along a wetland nutrient-depletion gradient. Wetlands 25:439–448

Scott JT, Doyle RD, Back JA, Dworkin SI (2007) The role of N2 fixation in alleviating N limitation in wetland metaphyton: enzymatic, isotopic, and elemental evidence. Biogeochemistry 84:207–218

Seitzinger SP (1988) Denitrification in freshwater and coastal marine ecosystems: ecological and geochemical significance. Limnol Oceanogr 33:702–724

Tiedje JM (1988) Ecology of denitrification and dissimilatory nitrate reduction to ammonium. In: Zehnder AJB (ed) Biology of anaerobic microorganisms. Wiley, New York

Thornthwaite CW, Mather JR (1957) The water balance, publications in climatology, vol. X, no. 3. Drexel Institute of Technology, Centerton

Tomaszek JA, Gardner WS, Johengen TH (1997) Denitrification in sediments of a Lake Erie coastal wetland (Old Woman Creek, Huron, Ohio, USA). J Great Lakes Res 23:403–415

White JR, Reddy KR (1999) Influence of nitrate and phosphorus loading on denitrifying enzyme activity in Everglades wetland soils. Soil Sci Soc Am J 63:1945–1954

Whitmire SL, Hamilton SK (2005) Rapid removal of nitrate and sulfate in freshwater wetland sediments. J Environ Qual 34:2062–2071
Acknowledgements
This study was funded by the Texas Water Resources Institute and the United States Geological Survey as part of the National Institutes for Water Research program (TAES grant no. 570251 to J.T. Scott at Baylor University) and by the National Science Foundation (Grant OCE-0350651 to W.S. Gardner at The University of Texas). The project was also partially funded by a Folmar Graduate Student Research Grant and Gardner Graduate Student Research Grant provided to J.T. Scott by the Baylor University Department of Biology. The authors thank James Newman for his assistance in sampling efforts.
About this article
Cite this article
Scott, J.T., McCarthy, M.J., Gardner, W.S. et al. Denitrification, dissimilatory nitrate reduction to ammonium, and nitrogen fixation along a nitrate concentration gradient in a created freshwater wetland. Biogeochemistry 87, 99–111 (2008). https://doi.org/10.1007/s10533-007-9171-6
Received:

Accepted:

Published:

Issue Date:
Keywords
DNRA

Coupled nitrification–denitrification

Sediment N transformation

N2 fixation

Sediment nutrient flux