Abstract
Wind is a key abiotic factor that influences the dynamics of arid and semiarid systems. We investigated two basic relationships on vegetation manipulation (grass cover reduction) plots at the Jornada Experimental Range in southern New Mexico: (1) wind erosion rates (horizontal mass flux and dust emission) versus vegetative cover, and (2) nutrient loss versus vegetative cover. The results indicate that wind erosion rates and nutrient loss by dust emission are strongly affected by plant cover; however, the importance of shrubs and grasses in reducing dust flux may not be equal. The dramatic increase of wind erosion between 75% grass cover reduction and 100% grass cover reduction suggests that sparsely distributed mesquites are relatively ineffective at reducing wind erosion and nutrient loss compared to grasses. Comparisons of nutrients between surface soils and wind blown dust indicate that aeolian transport is a major cause for the loss of soil nutrients in susceptible environments. We found that increased aeolian flux over three windy seasons (March 2004–July 2006) removed up to 25% of total organic carbon (TOC) and total nitrogen (TN) from the top 5 cm of soil, and about 60% of TOC and TN loss occurred in the first windy season (March–July 2004). The balance between net loss of nutrients by aeolian processes and the addition of nutrients by biotic processes changed from negative (net loss) to positive (net accumulation) between 50% grass cover reduction and 25% grass cover reduction. The estimated lifetime of surface soil TOC and TN of about 10 years on the plot with 100% grass cover reduction indicates that impacts of wind erosion on soil resources can occur on very short timescales.
This is a preview of subscription content, log in to check access.
Access options
Buy single article
Instant access to the full article PDF.
US$ 39.95
Price includes VAT for USA
Subscribe to journal
Immediate online access to all issues from 2019. Subscription will auto renew annually.
US$ 199
This is the net price. Taxes to be calculated in checkout.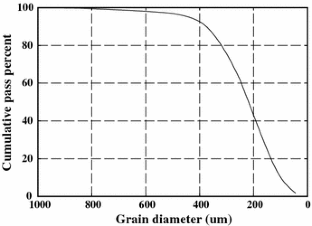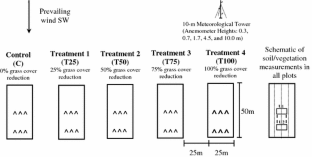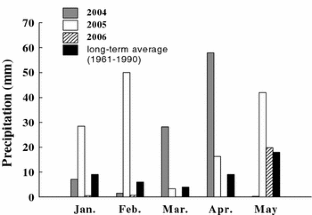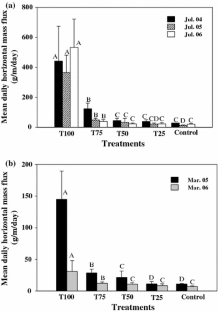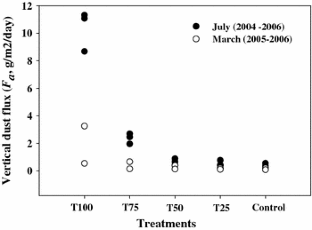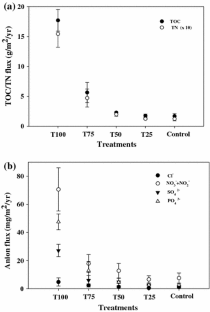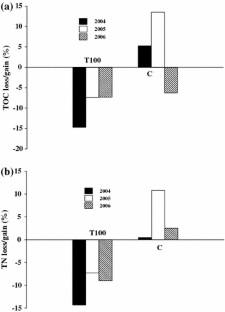 References
Allred KW (1996) Vegetative changes in New Mexico rangelands. New Mexico J Sci 36:168–231

Breed CS, McCauley JF (1986) Use of dust storm observations on satellite images to identify areas of vulnerable to severe wind erosion. Climate Change 9:243–258

Buffington LC, Herbel CH (1965) Vegetation changes on a semidesert grassland range from 1858–1964. Ecol Monogr 35:139–164

Bulloch HE Jr, Neher RE (1977) Soil survey of Dona County area, New Mexico. Soil Conserv. Serv., U. S. Dep. of Agric., Washington, DC

Chadwick OA, Derry LA, Vitousek PM, Huebert BJ, Hedin LO (1999) Changing sources of nutrients during four million years of ecosystem development. Nature 397:491–497

Cihacek LJ, Sweeney MD, Deibert EJ (1993) Characterization of wind erosion sediments in the Red river valley of North Dakota. J Environ Qual 22:305–310

Coppinger KD, Reiners WA, Burke IC, Olson RK (1991) Net erosion on a sagebrush steppe landscape as determined by cesium-137 distribution. Soil Sci Soc Am J 55:254–258

Fryberger SG, Dean G (1979) Dune forms and wind regimes. In: Mckee ED (ed) A study of global sand seas. Geological Survey Professional Paper 1052, pp 137–169

Fryrear DW (1986) A field dust sampler. J Soil Water Conserv 41:117–120

Gehrke C, Johanson U, Callaghan TV, Chadwick D, Robinson CH (1995) The impact of enhanced ultraviolet-B radiation on litter quality and decomposition processes in Vaccinium leaves from the subarctic. Oikos 72:213–222

Gibbens RP, McNeely RP, Havstad KM, Beck RF, Nolen B (2005) Vegetation changes in the Jornada Basin from 1858–1998. J Arid Environ 61:651–668

Gillette DA, Fryrear DW, Gill TE, Ley T, Cahill TA, Gearhart EA (1997) Relation of vertical flux of particles smaller than 10 μm to aeolian horizontal mass flux at Owens Lake. J Geophys Res 102:26009–26015

Gillette DA, Herrick JE, Herbert GA (2006) Wind characteristics of mesquite streets in the northern Chihuahuan Desert, New Mexico, USA. Enviro Fluid Mech 6:241–275

Gillette DA, Passi R (1988) Modeling of dust emission caused by wind erosion. J Geophys Res 93:14223–14242

Gillette DA, Pitchford AM (2004) Sand flux in the northern Chichuhuan desert, New Mexico, USA, and the influence of mesquite-dominated landscapes. J Geophys Res 109:F04003

Griffin DW, Garrison VH, Herman JR, Shinn EA (2001) African desert dust in the Caribbean atmosphere: microbiology and public health. Aerobiologia 17:203–213

Helm P, Breed CS (1999) In: Breed CS, Reheis M (eds) Desert winds: monitoring wind-related surface processes in Arizona, New Mexico, and California. United States Government Printing Office, Washington, DC, pp 30–51

Hennessy JT, Kies B, Gibbens RP, Tromble JM (1986) Soil sorting by forty-five years of wind erosion on a southern New Mexico Range. Soil Sci Soc Am J 50:319–394

Lancaster N, Baas A (1998) Influence of vegetation cover on sand transportation by wind: field studies at Owens Lake, California. Earth Surf Process Landforms 23:69–82

Larney FJ, Bullock MS, Janzen HH, Ellert BH, Olson ES (1998) Wind erosion effects on nutrient redistribution and soil productivity. J Soil Water Conserv 53(2):133–140

Leys J, McTainsh G (1994) Soil loss and nutrient decline by wind erosion-cause for concern. Aust J Soil Water Conserv 7(3):30–40

Liu M, Westphal DL (2001) A study of the sensitivity of simulated mineral dust production to model resolution. J Geophys Res-Atmos 106:18099–18112

Marshall JK (1971) Drag measurements in roughness arrays of varying density and distribution. Agric Meteorol 8:269–292

Noy-Meir I (1985) Desert ecosystem structure and function. In: Evenari M et al (ed) Hot deserts and arid shrublands. Elsevier Science Publisher, Amsterdam, pp 93–103

Okin GS (2004) Stochastic modeling of desert dust emission: bridging the scale gap. Geol Soc Am Abstracts with Programs 36(2):48

Okin GS (2005) Dependence of wind erosion and dust emission on surface heterogeneity: Stochastic modeling. J Geophys Res-Atmos 110:D11280

Okin GS (2007) Wind erosion in the presence of vegetation. J Geophy Res-Earth Surface (in press)

Okin GS, Gillette DA (2001) Distribution of vegetation in wind-dominated landscapes: implications for wind erosion modeling and landscape processes. J Geophys Res 106:9673–9683

Okin GS, Mahowald NM, Chadwick OA, Artaxo PE (2004) The impact of desert dust on the biogeochemistry of phosphorus in terrestrial ecosystems. Global Biogeochem Cycles 18(2), 10.1029/2003GB002145

Okin GS, Murray B, Schlesinger WH (2001) Degradation of sandy arid shrubland environments: observations, process modeling, and management implications. J Arid Environ 47(2):123–144

Pauli F (1964) Soil fertility problem in arid and semi-arid lands. Nature 204:1286–1288

Peterjohn WT, Schlesinger WH (1990) Nitrogen loss from deserts in the southwestern United States. Biogeochemistry 10:67–79

Raupach MR, Gillette DA, Leys FJ (1993) The effect of roughness elements on wind erosion threshold. J Geophys Res-Atmos 98:3023–3029

Reheis M (2003) Dust deposition in Nevada, California, and Utah, 1984–2002. Open-File Report 03-138. US Geological Survey, Denver, CO

Schlesinger WH, Pilmanis AM (1998) Plant–soil interactions in deserts. Biogeochemistry 42:169–187

Schlesinger WH, Raikes AF, Hartley AE, Cross AF (1996) On the spatial pattern of soil nutrients in desert ecosystems. Ecology 77:364–374

Schlesinger WH, Reynolds J, Cunningham G, Huenneke L, Jarrell W, Virginia R, Whitford W (1990) Biological feedbacks in global desertification. Science 247:1043–1048

Schlesinger WH, Ward TJ, Anderson J (2000) Nutrient losses in runoff from grassland and shrubland habitats in southern New Mexico: II. Field plots. Biogeochemistry 49:69–86

Shao Y, Raupach MR (1992) The overshoot and equilibration of saltation. J Geophys Res 97:20559–20564

Shao Y, Raupach MR, Findlater PA (1993) The effects of saltation bombardment on the entrainment of dust by wind. J Geophys Res 98:12719–12726

Sokolik IN, Toon OB (1996) Direct radiative forcing by anthropogenic airborne mineral aerosols. Nature 381:681–683

West NE, Skujins J (1977) The nitrogen cycle in North American cold-winter semi-desert ecosystems. Oecol Plantarum 12:45–53

Wiggs GFS, Livingstone I, Thomas DSG, Bullard JE (1994) Effect of vegetation removal on airflow patterns and dune dynamics in the southwest Kalahari Desert. Land Degrad Rehabil 5:13–24
Acknowledgments
We thank Jacquie Hui, Mike Abrams, Emilee Carpenter, Melissa Castiano, Fang Liu, Tom Zhao, Lixin Wang, and Chuanhui Gu for their assistance in the field, laboratory analysis and data processing. Headquarters of the JER staff Eddie Garcia, Rob Dunlap and David Thatcher provided invaluable assistance during the field study time. Some of the wind and precipitation data were provided by the Jornada LTER Weather Station. We also appreciate the anonymous reviewers for their comments on this manuscript. This research was funded by the NSF-Ecosystems studies grant # 0316320. It was further supported by the NSF-LTER Grant DEB-0080412.
About this article
Cite this article
Li, J., Okin, G.S., Alvarez, L. et al. Quantitative effects of vegetation cover on wind erosion and soil nutrient loss in a desert grassland of southern New Mexico, USA. Biogeochemistry 85, 317–332 (2007). https://doi.org/10.1007/s10533-007-9142-y
Received:

Accepted:

Published:

Issue Date:
Keywords
Aeolian processes

Deserts

Soil nitrogen

Soil carbon

Vegetation cover

Wind erosion

Windblown sediment