Abstract
The biodegradation and biosorption efficiency of an indigenous siderophores-producing bacterial community on azo dyes with immobilization in chitosan beads was evaluated in this study. 13 bacterial strains were isolated from textile wastewater streams. The bacterial strains were tested for the production of siderophores as well as their ability to decolorize toxic azo dyes in aqueous solution. Both qualitatively and quantitatively, all of the strains displayed high siderophores productivity. Furthermore, they displayed remarkable decolorization efficiency for azo dyes (Acid Black 1 and Reactive Black 5) in both free and immobilized form. The immobilization process was found not only to enhance the decolorization but also the degradation of azo dyes by the bacterial isolates. In a SEM micrograph, bacterial strains were immobilized, and the pores in chitosan bead to be trapped and adsorbed for dyes from synthetic wastewater. The extent of dye compounds degradation were examined using UV–visible and FTIR spectrophotometers on treated water samples and dye absorbed beads. After 72 h of incubation, the UV–visible analysis revealed that the bacterial community could significantly reduce both azo dyes in wastewater by 90% at 300 mgL−1 dyes initial concentration. FTIR study confirmed the bonds of these dyes were broken to form less toxic chemicals via the bacterial community immobilized in chitosan beads. The immobilized bacterial community thus demonstrated effective approach of azo dye biosorption and biodegradation.
Access options
Buy single article
Instant access to the full article PDF.
US$ 39.95
Tax calculation will be finalised during checkout.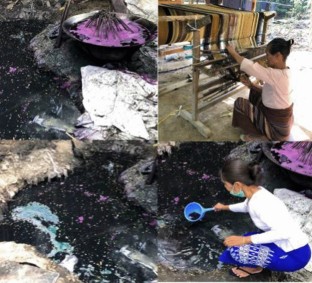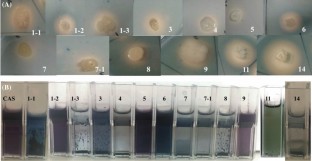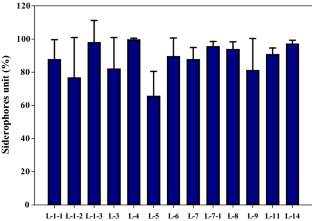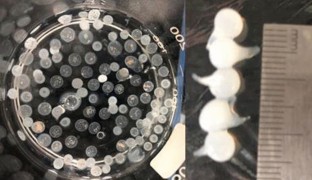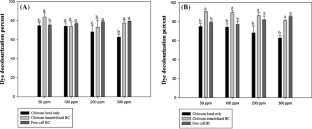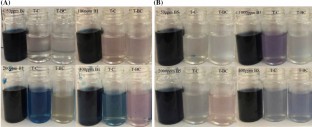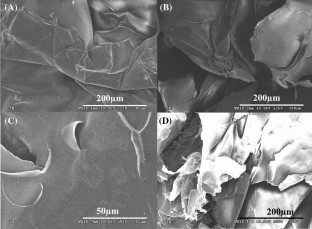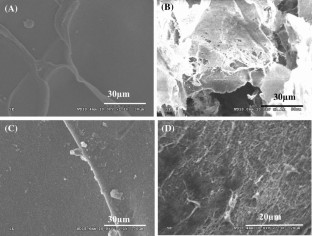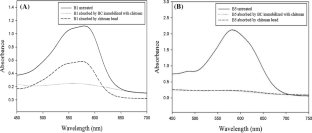 Data availability
All data and materials are included in this article.
References
Ahmed E, Holmström SJ (2014) Siderophores in environmental research: roles and applications. Microb Biotechnol 7(3):196–208. https://doi.org/10.1111/1751-7915.12117

APHA, AWWA, WEF, (2012) Standard methods for examination of water and wastewater. 22nd edn. Washington: American Public Health Association; 1360 pp. ISBN 978-087553-013-0

Asad S, Amoozegar M, Pourbabaee AA, Sarbolouki M, Dastgheib S (2007) Decolorization of textile Azo dyes by newly isolated halophilic and halotolerant bacteria. Bioresour Technol 98:2082–2088. https://doi.org/10.1016/j.biortech.2006.08.020

Bajpai P (2004) Biological bleaching of chemical pulps. Crit Rev Biotechnol 24(1):1–58

Braud A, Jézéquel K, Léger MA, Lebeau T (2006) Siderophore production by using free and immobilized cells of two pseudomonads cultivated in a medium enriched with Fe and/or toxic metals (Cr, Hg, Pb). Biotechnol Bioeng 94(6):1080–1088. https://doi.org/10.1002/bit.20937

Carmen Z, Daniela S (2012) Textile organic dyes–characteristics, polluting effects and separation/elimination procedures from industrial effluents–a critical overview. Organic pollutants ten years after the Stockholm convention-environmental and analytical update, InTech Rijeka, Croatia.

Cetinus SA, Oztop HN (2000) Immobilization of catalase on chitosan film. Enzyme Microb Technol 26:497–501

Chen KC, Wu JY, Huang CC, Liang YM, Hwang SCJ (2003) Decolorization of Azo dye using PVA-immobilized microorganisms. J Biotechnol 101(3):241–252

Chen J, Wang Q, Hua Z, Du G (2007) Research and application of biotechnology in textile industries in China. Enzyme Microb Technol 40(7):1651–1655

Dao KHT, Hamer KE, Clark CL, Harshman LG (1999) Pyoverdine production by Pseudomonas aeruginosa exposed to metals or an oxidative stress agent. Ecol Appl 9:441–448

DuraÂn L, Costell E (1999) Perception of taste. Physico-chemical and psychophonic aspects. Food Sci Technol Int 5:299–309

Eberhardt AM, Pedroni V, Volpe M, Ferreira ML (2004) Immobilization of catalase from Aspergillus niger on inorganic and biopolymeric supports for H2O2 decomposition. Appl Catal B 47:153–163

Fierro S, del Pilar S-S, Copalcua C (2008) Nitrate and phosphate removal by chitosan immobilized Scenedesmus. Bioresour Technol 99(5):1274–1279

Georgiou D, Aivasidis A (2006) Decoloration of textile wastewater by means of a fluidized-bed loop reactor and immobilized anaerobic bacteria. J Hazard Mater 135(1–3):372–377

Ghadi A, Mahjoub S, Tabandeh F, Talebnia F (2014) Synthesis and optimization of chitosan nanoparticles: potential applications in nanomedicine and biomedical engineering. Caspian J Intern Med 5(3):156

Goodell MA, Rosenzweig M, Kim H, Douglas Marks F, DeMaria MaryAnn, Paradis G, Stephen GA, Colin A, Sieff RM, C, Paul Johnson R, (1997) Dye efflux studies suggest that hematopoietic stem cells expressing low or undetectable levels of CD34 antigen exist in multiple species. Nat Med 3(12):1337–1345

Green FJ (1990) Sigma-Aldrich handbook of stains, dyes, and indicators, Aldrich Chemical Co. LLC.

Hall TA (1999) BioEdit: a user-friendly biological sequence alignment editor and analysis program for Windows 95/98/NT. Nucleic acids symposium series. Information Retrieval Ltd., London, pp c1979–c2000

Karnwal A (2019) Textile azo dye decolorization and detoxification using bacteria isolated from textile effluents. BioTechnol 100(4):373–385

Khan R, Banerjee UC (2010) Decolorization of Azo dyes by immobilized bacteria. In: Erkurt HA (ed) Biodegradation of Azo dyes. Heidelberg 73–84

Khan S, Malik A (2016) Degradation of reactive black 5 dye by a newly isolated bacterium Pseudomonas entomophila BS1. Can J Microbiol 62(3):220–232

Khan Z, Jain K, Soni A, Madamwar D (2014) Microaerophilic degradation of sulphonated Azo dye - Reactive red 195 by bacterial consortium AR1 through co-metabolism. Int Biodeterior Biodegradation 94:167–175. https://doi.org/10.1016/j.ibiod.2014.07.002

Kurade MB, Waghmode TR, Xiong JQ, Govindwar SP, Jeon BH (2019) Decolorization of textile industry effluent using immobilized consortium cells in upflow fixed bed reactor. J Clean Prod 213:884–891

Le-Tien C, Millette M, Mateescu MA, Lacroix M (2004) Modified alginate and chitosan for lactic acid bacteria immobilization. Biotechnol Appl Biochem 39:347–354. https://doi.org/10.1042/BA20030158

Lucas MS, Peres JA (2007) Degradation of reactive black 5 by Fenton/UV-C and ferrioxalate/H2O2/solar light processes. Dyes Pigm 74(3):622–629

Mahmoud MS, Mostafa MK, Mohamed SA, Sobhy NA, Nasr M (2017) Bioremediation of red Azo dye from aqueous solutions by Aspergillus niger strain isolated from textile wastewater. J Environ Chem Eng 5:547–554. https://doi.org/10.1016/j.jece.2016.12.030

Marimuthu S, Antonisamy A, Malayandi S, Rajendran K, Tsai P, Pugazhendhi AJ, Ponnusamy VP (2020) Silver nanoparticles in dye effluent treatment: a review on synthesis, treatment methods, mechanisms, photocatalytic degradation, toxic effects and mitigation of toxicity. J Photochem Photobiol B Biol 205(12):111823

Martins SCS, Martins CM, Fiúza LMCG, Santaella ST (2013) Immobilization of microbial cells: a promising tool for treatment of toxic pollutants in industrial wastewater. Afr J Biotechnol 12(28):4412–4418

Michalska J, Piński A, Żur J, Mrozik A (2020) Selecting bacteria candidates for the bioaugmentation of activated sludge to improve the aerobic treatment of landfill leachate. Water 12(1):140

Milagres AM, Machuca A, Napoleao D (1999) Detection of siderophore production from several fungi and bacteria by a modification of chrome azurol S (CAS) agar plate assay. J Microbiol Methods 37(1):1–6

Minussi RC, De Moraes SG, Pastore GM, Duran N (2001) Biodecolorization screening of synthetic dyes by four white-rot fungi in a solid medium: possible role of siderophores. Lett Appl Microbiol 33(1):21–25

Mrudula S, Shyam N (2012) Immobilization of Bacillus megaterium MTCC 2444 by Ca-alginate entrapment method for enhanced alkaline protease production. Braz Arch Biol 55(1):135–144

Oghenerobor Benjamin Akpor (2018) Dye decolouration by immobilized and free bacterial cells at different glucose concentration. Res J Environ Sci 12:33–40

Pande S, Ghosh SK, Nath S, Praharaj S, Jana S, Panigrahi S, Pal T (2006) Reduction of methylene blue by thiocyanate: kinetic and thermodynamic aspects. J Colloid Interface Sci 299(1):421–427

Park J, Chang H (2000) Microencapsulation of microbial cells. Biotechnol Adv 18(4):303–319

Pérez-Calderón J, Santos MV, Zaritzky N (2018) Reactive RED 195 dye removal using chitosan coacervated particles as bio-sorbent: analysis of kinetics, equilibrium and adsorption mechanisms. J Environ Chem Eng 6(5):6749–6760. https://doi.org/10.1016/j.jece.2018.10.039

Rajkumar M, Ae N, Prasad MNV, Freitas H (2010) Potential of siderophore-producing bacteria for improving heavy metal phytoextraction. Trends Biotechnol 28:142–149

Roy DC, Biswas SK, Saha AK, Sikdar B, Rahman M, Roy AK, Prodhan ZH, Tang SS (2018) Biodegradation of crystal violet dye by bacteria isolated from textile industry effluents. PeerJ 6:e5015. https://doi.org/10.7717/peerj.5015

Sah S, Singh R (2015) Siderophore: structural and functional characterisation–A comprehensive review. Agriculture 61(3):97–114

Saratale RG, Saratale GD, Chang JS, Govindwar SP (2011) Bacterial decolorization and degradation of Azo dyes: a review. J Taiwan Inst Chem Eng 42(1):138–157

Schwyn B, Neilands J (1987) Universal chemical assay for the detection and determination of siderophores. Anal Biochem 160(1):47–56

Sekomo CB, Rousseau DPL, Saleh SA, Lens PNL (2012) Heavy metal removal in duckweed and algae ponds as a polishing step for textile wastewater treatment. Ecol Eng 44:102–110

Shah PD, Dave SR, Rao MS (2012) Enzymatic degradation of textile dye reactive orange 13 by newly isolated bacterial strain Alcaligenes faecalis PMS-1. Int Biodeterior Biodegradation 69:41–50. https://doi.org/10.1016/j.ibiod.2012.01.002

Sharma A, Johri BN (2003) Combat of iron-deprivation through a plant growth promoting fluorescent Pseudomonas strains GRP3A in mung bean (Vigna radiata L. Wilzeck). Microbiol Res 158:77–81

Sharma KP, Sharma S, Singh PK, Kumar S, Grover R, Sharma PK (2007) A comparative study on characterization of textile wastewaters (untreated and treated) toxicity by chemical and biological tests. Chemosphere 69:48–54

Sharma B, Menon S, Mathur S, Kumari N, Sharma V (2020) Decolorization of malachite green dye from aqueous solution using biosurfactant-stabilized iron oxide nanoparticles: process optimization and reaction kinetics. Int J Environ Sci Technol 12:1–22

Shentu J, Wu J, Song W, Jia Z (2005) Chitosan microspheres as immobilized dye affinity support for catalase adsorption. Int J Biol Macromol 3:42–46

Suteu D, Zaharia C, Bilba D, Muresan R, Popescu A, Muresan A (2009) Decolorization waste waters from the textile industry-physical methods, chemical methods. Industria Textila 60(5):254–263

Thomas M, Barbusiński K, Kliś S, Szpyrka E, Chyc M (2018) Synthetic textile wastewater treatment using potassium ferrate (VI)–Application of Taguchi method for optimisation of experiment. Fibres Text East Eur 263(129):104–109. https://doi.org/10.5604/01.3001.0011.7313

Tony BD, Goyal D, Khanna S (2009) Decolorization of direct red 28 by mixed bacterial culture in an up-flow immobilized bioreactor. J Ind Microbiol Biotechnol 36:955–960

Verma ML, Kumar S, Das A, Randhawa JS, Chamundeeswari M (2019) Enzyme immobilization on chitin and chitosan-based supports for biotechnological applications. In: Crini G, Lichtfouse E (eds) Sustainable Agriculture Reviews, vol 35. Springer, Cham https://doi.org/10.1007/978-3-030-16538-3_4

Vikrant K, Giri BS, Raza N, Roy K, Kim K, Rai BN (2018) Recent advancements in bioremediation of dye: current status and challenges. Bioresour Technol 253:355–367

Wang RC, Fan KS, Chang JS (2009) Removal of acid dye by ZnFe2O4/TiO2- immobilized granular activated carbon under visible light irradiation in a recycle liquid–solid fluidized bed. J Taiwan Inst Chem Eng 40:533–540

Wu FC, Tseng RL, Juang RS (2001) Enhanced abilities of highly swollen chitosan beads for color removal and tyrosinase immobilization. J Hazard Mater 81:167–177

Yaseen DA, Scholz M (2016) Shallow pond systems planted with Lemna minor treating Azo dyes. Ecol Eng 94:295–305

Zaharia C, Suteu D, Muresan A, Muresan R, Popescu A (2009) Textile wastewater treatment by homogenous oxidation with hydrogen peroxide. Environ Eng Manage J 8(6):1359–1369

Zang J, Jia S, Liu Y, Wu S, Zhang Y (2012) A facile method to prepare chemically cross-linked and efficient polyvinyl alcohol/chitosan beads for catalase immobilization. Catal Commun 27:73–77

Zhou Y, Lu J, Zhou Y, Liu Y (2019) Recent advances for dyes removal using novel adsorbents: a review. Environ Pollut 252:352–365
Funding
Authors are thankful to the financial support by the Research Start-Up Funds from Hainan University in China (KYQD_ZR2017212).
Ethics declarations
Conflict of interest
We declare that we have no financial and personal relationships with other people or organizations that can inappropriately influence our work; there is no professional or other personal interest of any nature or kind in any product, service and/or company that could be construed as influencing the position presented in this paper.
Additional information
Publisher's Note
Springer Nature remains neutral with regard to jurisdictional claims in published maps and institutional affiliations.
About this article
Cite this article
Win, T.T., Swe, T.M., Ei, H.H. et al. An evaluation into the biosorption and biodegradation of azo dyes by indigenous siderophores-producing bacteria immobilized in chitosan. Biodegradation 32, 697–710 (2021). https://doi.org/10.1007/s10532-021-09961-y
Received:

Accepted:

Published:

Issue Date:
Keywords
Azo dyes

Chitosan

Immobilization

Siderophores

Textile