Abstract
Oil spills cause severe environmental and economic impacts, so the use of bioremediation techniques has been widely studied to solve this problem. Due to its complex composition, the oil prevents the full action of microorganisms, and in this way, the microbial consortium encapsulation technique is an innovation in the use of bacteria and biomass in the face of possible oil degradation, with the possibility of overcoming techniques such as bio-enhancement and biostimulation in the face of factors such as nutrient availability, oxygenation and temperature. Therefore, this work aims to produce capsules containing microbiological consortium and analyze its characteristics using the techniques TGA, DSC, FESEM, viable cell count, emulsification index and surface tension, in order to propose the best conditions to be applied. TGA and DSC results showed that the capsules have thermal stability in the range of 25–40 °C. Viable cell counts were more effective in capsules containing 1% (w/v) sodium alginate, and the emulsification index showed a large increase (80%) from day 5, as well as surface tension had a large drop (48%) in the same period. The increase in the emulsification index is caused by the increase in the production of biosurfactants (amphipathic molecules) by the bacteria consortium and this offers a greater contact between the microorganisms and the oil, providing best conditions for the degradation of oil. Therefore, all analyzes showed excellent results for future application in oil spills.
Access options
Buy single article
Instant access to the full article PDF.
US$ 39.95
Tax calculation will be finalised during checkout.
Subscribe to journal
Immediate online access to all issues from 2019. Subscription will auto renew annually.
US$ 79
Tax calculation will be finalised during checkout.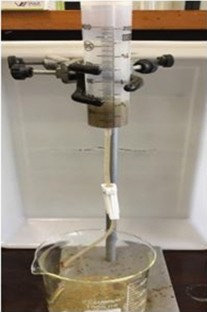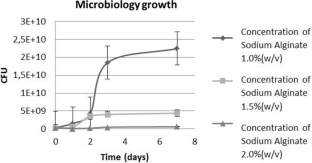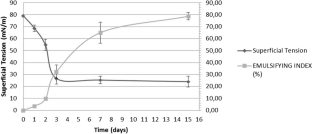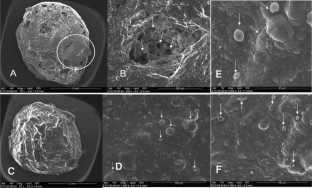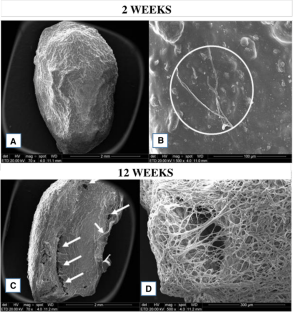 References
Alwadani N, Fatehi P (2018) Synthetic and lignin-based surfactants: challenges and opportunities. Carbon Resour Convers 1(2):126–138. https://doi.org/10.1016/j.crcon.2018.07.006

Anbinder PS, Deladino L, Navarro AS, Amalvy JI, Martino MN (2011) Yerba mate extract encapsulation with alginate and chitosan systems: interactions between active compound encapsulation polymers. J Encapsul Adsorpt Sci 01(04):80–87. https://doi.org/10.4236/jeas.2011.14011

Bento FM, Camargo FAO, Okeke BC, Frankenberger WT (2005) Comparative bioremediation of soils contaminated with diesel oil by natural attenuation, biostimulation and bioaugmentation. Bioresour Technol 96(9):1049–1055. https://doi.org/10.1016/j.biortech.2004.09.008

Camylla CS, Adrielly SADA, Gabriela FDF, de Almeida AF, Janice ID, Ana KDCLL (2018) Biosurfactant production by Bacillus subtilis UFPEDA 86 using papaya (Carica papaya L.) waste as substrate: viability studies and pH influence of the culture medium. Afr J Biotechnol 17(30):928–937. https://doi.org/10.5897/ajb2018.16408

Cao Y, Xu Z, Ling N, Yuan Y, Yang X, Chen L, Shen B, Shen Q (2012) Isolation and identification of lipopeptides produced by B. subtilis SQR 9 for suppressing Fusarium wilt of cucumber. Sci Hortic 135:32–39. https://doi.org/10.1016/j.scienta.2011.12.002

Cunha, M. C. A. (2017). Execução de ensaios microbiológicos nas áreas alimentar, ambiental e técnica em contexto empresarial. Faculdade de Ciências da Universidade do Porto. https://repositorio-aberto.up.pt/bitstream/10216/110649/2/250459.pdf

Davoodi SM, Miri S, Taheran M, Brar SK, Galvez-Cloutier R, Martel R (2020) Bioremediation of unconventional oil contaminated ecosystems under natural and assisted conditions: a review. Environ Sci Technol 54(4):2054–2067. https://doi.org/10.1021/acs.est.9b00906

De Araújo Etchepare M, Fernanda M, Cáceres De Menezes S, Ribas Barreto A, Cavalheiro CP, Ragagnin De Menezes C (2015) Microencapsulation of probiotics by extrusion method associated with electrostatic interactions. Sci Nat. https://doi.org/10.5902/2179-460X19718

de Melo, I. S., & Costa, F. G. (2005). Desenvolvimento de uma formulação granulada a base de Trichoderma harzianum para o controle de fitopatógenos. https://ainfo.cnptia.embrapa.br/digital/bitstream/CNPMA/5823/1/comunicado_31.pdf

de Araújo Etchepare M, Raddatz GC, de Moraes Flores ÉM, Zepka LQ, Jacob-Lopes E, Barin JS, Ferreira Grosso CR, de Menezes CR (2016) Effect of resistant starch and chitosan on survival of Lactobacillus acidophilus microencapsulated with sodium alginate. LWT 65:511–517. https://doi.org/10.1016/j.lwt.2015.08.039

dos Santos JJ, Maranho LT (2018) Rhizospheric microorganisms as a solution for the recovery of soils contaminated by petroleum: A review. J Environ Manag 210(2018):104–113. https://doi.org/10.1016/j.jenvman.2018.01.015

Gazori T, Khoshayand MR, Azizi E, Yazdizade P, Nomani A, Haririan I (2009) Evaluation of alginate/chitosan nanoparticles as antisense delivery vector: formulation, optimization and in vitro characterization. Carbohydr Polym 77(3):599–606. https://doi.org/10.1016/j.carbpol.2009.02.019

Ghiuţă I, Cristea D, Croitoru C, Kost J, Wenkert R, Vyrides I, Anayiotos A, Munteanu D (2018) Characterization and antimicrobial activity of silver nanoparticles, biosynthesized using Bacillus species. Appl Surf Sci 438:66–73. https://doi.org/10.1016/j.apsusc.2017.09.163

Gomes MB, Gonzales-Limache EE, Sousa STP, Dellagnezze BM, Sartoratto A, Silva LCF, Gieg LM, Valoni E, Souza RS, Torres APR, Sousa MP, De Paula SO, Silva CC, Oliveira VM (2018) Exploring the potential of halophilic bacteria from oil terminal environments for biosurfactant production and hydrocarbon degradation under high-salinity conditions. Int Biodeterior Biodegrad 126:231–242. https://doi.org/10.1016/j.ibiod.2016.08.014

Han X, Woycechowsky KJ (2017) Encapsulation and controlled release of protein guests by the Bacillus subtilis lumazine synthase capsid. Bioc 56(47):6211–6220. https://doi.org/10.1021/acs.biochem.7b00669

Klein S, Avrahami R, Zussman E, Beliavski M, Tarre S, Green M (2012) Encapsulation of pseudomonas sp. ADP cells in electrospun microtubes for atrazine bioremediation. J Ind Microb Biotechnol 39(11):1605–1613. https://doi.org/10.1007/s10295-012-1164-3

Kumari A, Kaur R, Kaur R (2019) A review on fate and remediation techniques of oil spills. Int J Res Pharm Sci 10(1):111–116. https://doi.org/10.26452/ijrps.v10i1.1786

Lee C, Hong S, Noh J, Lee J, Yoon SJ, Kim T, Kim H, Kwon BO, Lee H, Ha SY, Ryu J, Kim JJ, Kwon KK, Yim UH, Khim JS (2019) Comparative evaluation of bioremediation techniques on oil contaminated sediments in long-term recovery of benthic community health. Environ Pollut 252:137–145. https://doi.org/10.1016/j.envpol.2019.05.100

Léonard L, Degraeve P, Gharsallaoui A, Saurel R, Oulahal N (2014) Design of biopolymeric matrices entrapping bioprotective lactic acid bacteria to control Listeria monocytogenes growth: comparison of alginate and alginate-caseinate matrices entrapping Lactococcus lactis subsp. lactis cells. Food Control 37(1):200–209. https://doi.org/10.1016/j.foodcont.2013.09.041

Logeshwaran P, Megharaj M, Chadalavada S, Bowman M, Naidu R (2018) Petroleum hydrocarbons (PH) in groundwater aquifers: an overview of environmental fate, toxicity, microbial degradation and risk-based remediation approaches. Environ Technol Innov 10:175–193. https://doi.org/10.1016/j.eti.2018.02.001

Lopes, S. P. (2016). Desenvolvimento e caracterização de cápsulas probióticas contendo Lactobacillus Rhamnosus. Universidade Federal Rural de Pernambuco. http://www.tede2.ufrpe.br:8080/tede2/handle/tede2/7039

Maia P, Santos V, Ferreira A, Luna M, Silva T, Andrade R, Campos-Takaki G (2018) An efficient bioemulsifier-producing Bacillus subtilis UCP 0146 isolated from mangrove sediments. Colloids Interfaces 2(4):58. https://doi.org/10.3390/colloids2040058

Martinez RCR, Alvarenga VO, Thomazini M, Fávaro-Trindade CS, Sant' Ana ADS (2016) Assessment of the inhibitory effect of free and encapsulated commercial nisin (Nisaplin®), tested alone and in combination, on Listeria monocytogenes and Bacillus cereus in refrigerated milk. LWT 68:67–75. https://doi.org/10.1016/j.lwt.2015.12.027

Mendis HC, Thomas VP, Schwientek P, Salamzade R, Chien J-T, Waidyarathne P, Kloepper J, De La Fuente L (2018) Strain-specific quantification of root colonization by plant growth promoting rhizobacteria Bacillus firmus I-1582 and Bacillus amyloliquefaciens QST713 in non-sterile soil and field conditions. PLoS ONE 13(2):e0193119. https://doi.org/10.1371/journal.pone.0193119

Miri S, Naghdi M, Rouissi T, Kaur Brar S, Martel R (2019) Recent biotechnological advances in petroleum hydrocarbons degradation under cold climate conditions: a review. Crit Rev Environ Sci Technol 49(7):553–586. https://doi.org/10.1080/10643389.2018.1552070

Mohapatra S, Maity S, Dash HR, Das S, Pattnaik S, Rath CC, Samantaray D (2017) Bacillus and biopolymer: prospects and challenges. Biochem Biophys Rep 12(May):206–213. https://doi.org/10.1016/j.bbrep.2017.10.001

Muller, D. (2012). Incorporação de polímeros intrinsecamente condutores em nanofibras de celulose bacteriana. Universidade Federal de Santa Catarina.

Mulligan CN (2005) Environmental applications for biosurfactants. Environ Pollut 133(2):183–198. https://doi.org/10.1016/j.envpol.2004.06.009

Mulligan CN, Yong RN (2004) Natural attenuation of contaminated soils. Environ Int 30(4):587–601. https://doi.org/10.1016/j.envint.2003.11.001

Murado MA, Vázquez JA, Rial D, Beiras R (2011) Dose-response modelling with two agents: application to the bioassay of oil and shoreline cleaning agents. J Hazard Mater 185(2–3):807–817. https://doi.org/10.1016/j.jhazmat.2010.09.092

Nogueira Felix AK, Martins JJL, Lima Almeida JG, Giro MEA, Cavalcante KF, Maciel Melo VM, Loiola Pessoa OD, Ponte Rocha MV, Rocha Barros Gonçalves L, Saraiva de Santiago Aguiar R (2019) Purification and characterization of a biosurfactant produced by Bacillus subtilis in cashew apple juice and its application in the remediation of oil-contaminated soil. Colloids Surf B 175:256–263. https://doi.org/10.1016/j.colsurfb.2018.11.062

Pasukamonset P, Kwon O, Adisakwattana S (2016) Alginate-based encapsulation of polyphenols from Clitoria ternatea petal flower extract enhances stability and biological activity under simulated gastrointestinal conditions. Food Hydrocoll 61:772–779. https://doi.org/10.1016/j.foodhyd.2016.06.039

Pérez-Chabela ML, Lara-Labastida R, Rodriguez-Huezo E, Totosaus A (2013) Effect of spray drying encapsulation of thermotolerant lactic acid bacteria on meat batters properties. Food Bioprocess Technol 6(6):1505–1515. https://doi.org/10.1007/s11947-012-0865-y

Perfumo A, Banat IM, Marchant R (2018) Going green and cold: biosurfactants from low-temperature environments to biotechnology applications. Trends Biotechnol 36(3):277–289. https://doi.org/10.1016/j.tibtech.2017.10.016

Pethkar AV, Paknikar KM (2003) Thiosulfate biodegradation—silver biosorption process for the treatment of photofilm processing wastewater. Process Biochem 38(6):855–860. https://doi.org/10.1016/S0032-9592(02)00054-7

Presentato A, Cappelletti M, Sansone A, Ferreri C, Piacenza E, Demeter MA, Crognale S, Petruccioli M, Milazzo G, Fedi S, Steinbüchel A, Turner RJ, Zannoni D (2018) Aerobic growth of Rhodococcus aetherivorans BCP1 using selected naphthenic acids as the sole carbon and energy sources. Front Microb 9:1–15. https://doi.org/10.3389/fmicb.2018.00672

Quijada-Garrido I, Iglesias-González V, Mazón-Arechederra JM, Barrales-Rienda JM (2007) The role played by the interactions of small molecules with chitosan and their transition temperatures. Glass-forming liquids: 1,2,3-propantriol (glycerol). Carbohydr Polym 68(1):173–186. https://doi.org/10.1016/j.carbpol.2006.07.025

Rovina F, Ehrhardt DD, Tambourgi EB (2018) Utilização do resíduo da casca de laranja para produção de biossurfactantes por Bacillus subtilis. Sci Plena. https://doi.org/10.14808/sci.plena.2018.044201

Stojanovic R, Belscak-Cvitanovic A, Manojlovic V, Komes D, Nedovic V, Bugarski B (2012) Encapsulation of thyme (Thymus serpyllum L.) aqueous extract in calcium alginate beads. J Sci Food Agric 92(3):685–696. https://doi.org/10.1002/jsfa.4632

Sundaramurthy A, Sundramoorthy AK (2018) Polyelectrolyte capsules preloaded with interconnected alginate matrix: an effective capsule system for encapsulation and release of macromolecules. Int J Biol Macromol 107:2251–2261. https://doi.org/10.1016/j.ijbiomac.2017.10.096

Tackie-Otoo BN, Ayoub Mohammed MA, Yekeen N, Negash BM (2020) Alternative chemical agents for alkalis, surfactants and polymers for enhanced oil recovery: research trend and prospects. J Pet Sci Eng 187:106828. https://doi.org/10.1016/j.petrol.2019.106828

Vassia, C. S. (2011). Thermal, chemical and physical behavior of wood and charcoal from eucalyptus urophylla X eucalyptus grandis at different ages Universidade Federal de Lavras. http://repositorio.ufla.br/jspui/handle/1/2933

Vouidibio Mbozo AB, Kobawila SC, Anyogu A, Awamaria B, Louembe D, Sutherland JP, Ouoba LII (2017) Investigation of the diversity and safety of the predominant Bacillus pumilus sensu lato and other Bacillus species involved in the alkaline fermentation of cassava leaves for the production of Ntoba Mbodi. Food Control 82:154–162. https://doi.org/10.1016/j.foodcont.2017.06.018

Ward E, Kim EA, Panushka J, Botelho T, Meyer T, Kearns DB, Ordal G, Blair DF (2019) Organization of the flagellar switch complex of Bacillus subtilis. J Bacteriol 201(8):1–22. https://doi.org/10.1128/JB.00019-19

Wei X, Liao X, Cai J, Zheng Z, Zhang L, Shang T, Fu Y, Hu C, Ma L, Zhang R (2017) Effects of Bacillus amyloliquefaciens LFB112 in the diet on growth of broilers and on the quality and fatty acid composition of broiler meat. Anim Prod Sci 57(9):1899. https://doi.org/10.1071/AN16119

Zhao F, Han S, Zhang Y (2020) Comparative studies on the structural composition, surface/interface activity and application potential of rhamnolipids produced by Pseudomonas aeruginosa using hydrophobic or hydrophilic substrates. Bioresour Technol 295:122269. https://doi.org/10.1016/j.biortech.2019.122269
Acknowledgements
This study was financed in part by the Coordenação de Aperfeiçoamento de Pessoal de Nivel Superior—Brasil (CAPES)—Finance Code 001 and we thanks to Institute of Petroleum and Natural Resources—PUCRS and Graduate Program in Materials Technology and Engineering—PGETEMA—PUCRS by technological support.
Ethics declarations
Conflict of interest
The authors declare that they have no conflict of interest.
Research involving human and animal participants
This article does not contain any studies with human participants or animals performed by any of the authors.
Additional information
Publisher's Note
Springer Nature remains neutral with regard to jurisdictional claims in published maps and institutional affiliations.
Supplementary Information
Below is the link to the electronic supplementary material.
About this article
Cite this article
Faria, D., Machado, G.D., de Abreu Lang, R. et al. Production and analysis of capsules containing microorganisms consortiated for future application in petroleum bioremediation. Biodegradation (2021). https://doi.org/10.1007/s10532-021-09956-9
Received:

Accepted:

Published:
Keywords
Capsules

Oil

Spills

Degradation

Metabolism