Abstract
Escalated production of plastic, their worldwide distribution and persistent nature finally results into their environmental accumulation causing severe threats to the ecological environment and biotic health. Thus, development of suitable measurements for environmental remediation of plastic may be an urgent issue in this plastic age. Some recent reviews have categorized the microbial species able to degrade different plastic polymers and the different factors effecting bio-degradation of plastic are poorly understood. This review comprehensively discusses bio-degradation of traditional and biodegradable plastic polymers both in natural and biological environment (gut microbes and fungi) to understand different factors regulating their degradation, and also shows how degradation of plastic polymers under abiotic factors influence subsequent biological degradation. Different physicochemical modifications like - breaking large polymers into small fragments by pre-treatment, functional groups enrichment, identifying potent microbial species (consortia) and engineering microbial enzymes might be crucial for bio-degradations of plastic. Effects of micro/nanoplastic and other chemical intermediates, formed during the bio-degradation of plastic, on species composition, abundance, growth, metabolism and enzymatic systems of microbes involved in the bio-degradation of plastic should be determined in future research.
Access options
Buy single article
Instant access to the full article PDF.
US$ 39.95
Tax calculation will be finalised during checkout.
Subscribe to journal
Immediate online access to all issues from 2019. Subscription will auto renew annually.
US$ 79
Tax calculation will be finalised during checkout.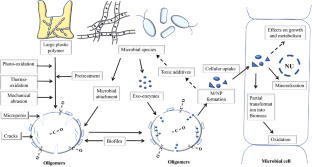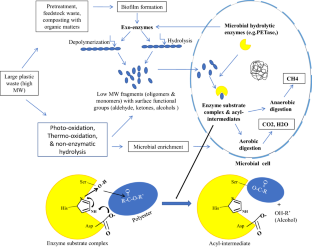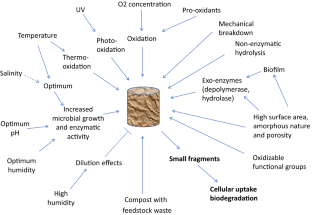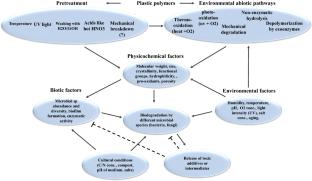 References
Abou-Zeid DM, Müller RJ, Deckwer WD (2001) Degradation of natural and synthetic polyesters under anaerobic conditions. J Biotechnol 86:113–126

Abraham A, Park H, Choi O, Sang BI (2020) Anaerobic co-digestion of bioplastics as a sustainable mode of waste management with improved energy production—a review. Bioresour Technol. https://doi.org/10.1016/j.biortech.2020.124537

Akutsu-Shigeno Y, Adachi Y, Yamada C, Toyoshima K, Nomura N, Uchiyama H, Nakajima-Kambe T (2006) Isolation of a bacterium that degrades urethane compounds and characterization of its urethane hydrolase. Appl Microbiol Biotechnol 70(4):422

Al Hosni AS, Pittman JK, Robson GD (2019) Microbial degradation of four biodegradable polymers in soil and compost demonstrating polycaprolactone as an ideal compostable plastic. Waste Manag 97:105–114

Albertsson AC, Andersson SO, Karlsson S (1987) The mechanism of biodegradation of polyethylene. Polym Degrad Stab 18(1):73–87

Alexander M (1981) Biodegradation of chemicals of environmental concern. Science 211(4478):132–138

Ameen F, Moslem M, Hadi S, Al-Sabri AE (2015) Biodegradation of Low Density Polyethylene (LDPE) by Mangrove fungi from the red sea coast. Prog Rubber Plast Recycl Technol 31(2):125–143

Andrady AL (2011) Microplastics in the marine environment. Mar Pollut Bull 62(8):1596–1605

Arefian M, Tahmourespour A, Zia M (2020) Polycarbonate biodegradation by newly isolated Bacillus strains. Arch Environ Prot 46:14–20

Aswale P, Ade A (2008) Assessment of the biodegradation of polythene. Bioinfolet 5:239

Auta HS, Emenike CU, Jayanthi B, Fauziah SH (2018) Growth kinetics and biodeterioration of polypropylene microplastics by Bacillus sp. and Rhodococcus sp. Isolated from mangrove sediment. Mar Pollut Bull 127:15–21

Awasthi S, Srivastava N, Singh T, Tiwary D, Mishra PK (2017) Biodegradation of thermally treated low density polyethylene by fungus Rhizopus oryzae NS 5. 3 Biotech 7(1):73

Bahl S, Dolma J, Singh JJ, Sehgal S (2021) Biodegradation of plastics: a state of the art review. Mater Today Proc 39:31–34

Bano K, Kuddus M, Zaheer R, Zia M, Khan QF, Gupta M, Aliev G (2017) Microbial enzymatic degradation of biodegradable plastics. Curr Pharm Biotechnol 18(5):429–440

Billen P, Khalifa L, Van Gerven F, Tavernier S, Spatari S (2020) Technological application potential of polyethylene and polystyrene biodegradation by macro-organisms such as mealworms and wax moth larvae. Sci Total Environ 735:139521

Bombelli P, Howe CJ, Bertocchini F (2017) Polyethylene bio-degradation by caterpillars of the wax moth Galleria mellonella. Curr Biol 27(8):R292–R293

Bouwmeester H, Hollman PC, Peters RJ (2015) Potential health impact of environmentally released micro-and nanoplastics in the human food production chain: experiences from nanotoxicology. Environ Sci Technol 49(15):8932–8947

Boyandin AN, Prudnikova SV, Karpov VA, Ivonin VN, Đỗ NL, Nguyễn TH, Lê TMH, Filichev NL, Levin AL, Filipenko ML, Volova TG (2013) Microbial degradation of polyhydroxyalkanoates in tropical soils. Int Biodeterior Biodegrad 83:77–84

Brandon AM, Gao SH, Tian R, Ning D, Yang SS, Zhou J, Wu WM, Criddle CS (2018) Biodegradation of polyethylene and plastic mixtures in mealworms (larvae of Tenebrio molitor) and effects on the gut microbiome. Environ Sci Technol 52(11):6526–6533

Brennecke D, Duarte B, Paiva F, Caçador I, Canning-Clode J (2016) Microplastics as vector for heavy metal contamination from the marine environment. Estuar Coast Shelf Sci 178:189–195

Brodin M, Vallejos M, Opedal MT, Area MC, Chinga-Carrasco G (2017) Lignocellulosics as sustainable resources for production of bioplastics—a review. J Clean Prod 162:646–664

Cai L, Wang J, Peng J, Wu Z, Tan X (2018) Observation of the degradation of three types of plastic pellets exposed to UV irradiation in three different environments. Sci Total Environ 628:740–747

Caruso G (2019) Microplastics as vectors of contaminants. Mar Pollut Bull 146:921–924

Cassone BJ, Grove HC, Elebute O, Villanueva SM (1922) LeMoine CM (2020) Role of the intestinal microbiome in low-density polyethylene degradation by caterpillar larvae of the greater wax moth Galleria mellonella. Proc Royal Soc B 287:20200112

Castilla-Cortázar I, Más-Estellés J, Meseguer-Dueñas JM, Ivirico JE, Marí B, Vidaurre A (2012) Hydrolytic and enzymatic degradation of a poly (ε-caprolactone) network. Polym Degrad Stab 97(8):1241–1248

Catto AL, Montagna LS, Almeida SH, Silveira RM, Santana RM (2016) Wood plastic composites weathering: effects of compatibilization on biodegradation in soil and fungal decay. Int Biodeterior Biodegrad 109:11–22

Chaudhary AK, Vijayakumar RP (2019) Studies on biological degradation of polystyrene by pure fungal cultures. Environ Dev Sustain 22:4495–4508

Coenen TMM, Aughton P, Verhagen H (1997) Safety evaluation of lipase derived from Rhizopus oryzae: summary of toxicological data. Food Chem Toxicol 35(3–4):315–322

Crabbe JR, Campbell JR, Thompson L, Walz SL, Schultz WW (1994) Biodegradation of a colloidal ester-based polyurethane by soil fungi. Int Biodeterior Biodegrad 33(2):103–113

Danso D, Chow J, Streit WR (2019) Plastics: environmental and biotechnological perspectives on microbial degradation. Appl Environ Microbiol 85(19):e01095

Das MP, Kumar S (2014) Microbial deterioration of low density polyethylene by Aspergillus and Fusarium sp. Int J Chem Tech Res 6(1):299–305

Das G, Bordoloi NK, Rai SK, Mukherjee AK, Karak N (2012) Biodegradable and biocompatible epoxidized vegetable oil modified thermostable poly(vinyl chloride): thermal and performance characteristics post biodegradation with Pseudomonas aeruginosa and Achromobacter sp. J Hazard Mater 209–210:434–442

Deguchi T, Kitaoka Y, Kakezawa M, Nishida T (1998) Purification and characterization of a nylon-degrading enzyme. Appl Environ Microbiol 64(4):1366–1371

Divya D, Gopinath LR, Merlin Christy P (2015) A review on current aspects and diverse prospects for enhancing biogas production in sustainable means. Renew Sust Energ Rev 42:690–699

Dong Y, Gao M, Song Z, Qiu W (2020) Microplastic particles increase arsenic toxicity to rice seedlings. Environ Pollut 259:113892

El-Shafei HA, El-Nasser A, Kansoh NH, Ali AM (1998) Biodegradation of disposable polyethylene by fungi and Streptomyces species. Polym Degrad Stab 62(2):361–365

Emadian SM, Onay TT, Demirel B (2017) Biodegradation of bioplastics in natural environments. Waste management 59:526–536

Eriksen M, Lebreton LC, Carson HS, Thiel M, Moore CJ, Borerro JC, Galgani F, Ryan PG, Reisser J (2014) Plastic pollution in the world's oceans: more than 5 trillion plastic pieces weighing over 250,000 tons afloat at sea. PloS one 9(12):e111913

Friedrich J, Zalar P, Mohorčič M, Klun U, Kržan A (2007) Ability of fungi to degrade synthetic polymer nylon-6. Chemosphere 67(10):2089–2095

Fujisawa M, Hirai H, Nishida T (2001) Degradation of polyethylene and nylon-66 by the laccase-mediator system. J Polym Environ 9(3):103–108

Gajendiran A, Krishnamoorthy S, Abraham J (2016) Microbial degradation of low-density polyethylene (LDPE) by Aspergillus clavatus strain JASK1 isolated from landfill soil. 3 Biotech 6(1):52

Geyer R (2020) Production, use, and fate of synthetic polymers. Plastic waste and recycling. Academic Press, Cambridge, pp 13–32

Geyer R, Jambeck JR, Law KL (2017) Production, use, and fate of all plastics ever made. Sci Adv 3(7):e1700782

Gu JD (2003) Microbiological deterioration and degradation of synthetic polymeric materials: recent research advances. Int Biodeterior Biodegrad 52(2):69–91

Harper CA (2006) Handbook of plastics technologies: the complete guide to properties and performance. McGraw-Hill Education, New York

Hassan MW, Ali U, Ur Rehman F, Najeeb H, Sohail M, Irsa B, Muzaffar Z, Chaudhry MS (2016) Evaluation of standard loose plastic packaging for the management of Rhyzopertha dominica (F.)(Coleoptera: Bostrichidae) and Tribolium castaneum (Herbst)(Coleoptera: Tenebriondiae). J Insect Sci 16(1):91

Herberz T, Barlow CY, Finkbeiner M (2020) Sustainability assessment of a single-use plastics ban. Sustainability 12(9):3746

https://www.plasticseurope.org/application/files/8016/1125/2189/AF_Plastics_the_facts-WEB-2020-ING_FINAL.pdf

Huang Y, Zhao Y, Wang J, Zhang M, Jia W, Qin X (2019) LDPE microplastic films alter microbial community composition and enzymatic activities in soil. Environ Pollut 254:112983

Hung CS, Zingarelli S, Nadeau LJ, Biffinger JC, Drake CA, Crouch AL, Barlow DE, Russell JN, Crookes-Goodson WJ (2016) Carbon catabolite repression and Impranil polyurethane degradation in Pseudomonas protegens strain Pf-5. Appl Environ Microbiol 82(20):6080–6090

Iiyoshi Y, Tsutsumi Y, Nishida T (1998) Polyethylene degradation by lignin-degrading fungi and manganese peroxidase. J Wood Sci 44(3):222–229

Isangedighi IA, David GS, Obot OI (2020) Plastic waste in the aquatic environment: impacts and management. Analysis of nanoplastics and microplastics in food. CRC Press, Boca Raton, pp 15–43

Jang S, Kikuchi Y (2020) Impact of the insect gut microbiota on ecology, evolution, and industry. Curr Opin Insect Sci. https://doi.org/10.1016/j.cois.2020.06.004

Jeon HJ, Kim MN (2016) Isolation of mesophilic bacterium for biodegradation of polypropylene. Int Biodeterior Biodegrad 115:244–249

Kathiresan K (2003) Polythene and plastics-degrading microbes from the mangrove soil. Rev Biol Trop 51(3–4):629–633

Khatoon N, Naz I, Ali MI, Ali N, Jamal A, Hameed A, Ahmed S (2014) Bacterial succession and degradative changes by biofilm on plastic medium for wastewater treatment. J Basic Microbiol 54(7):739–749

Kim HS, Yang HS, Kim HJ (2005) Biodegradability and mechanical properties of agro-flour–filled polybutylene succinate biocomposites. J Appl Polym Sci 97(4):1513–1521

Kim HR, Lee HM, Yu HC, Jeon E, Lee S, Li J, Kim DH (2020) Biodegradation of polystyrene by Pseudomonas sp. isolated from the gut of superworms (larvae of Zophobas atratus). Environ Sci Technol 54(11):6987–6996

Ko JH, Xu Q, Jang YC (2015) Emissions and control of hydrogen sulfide at landfills: a review. Crit Rev Environ Sci Technol 45(19):2043–2083

Kolb SA, O'Loughlin EJ, Gsell TC (2019) Characterization of phthalate-degrading bacteria from Asian carp microbiomes and riverine sediments. Int Biodeterior Biodegrad 143:104727

Krueger MC, Seiwert B, Prager A, Zhang S, Abel B, Harms H, Schlosser D (2017) Degradation of polystyrene and selected analogues by biological Fenton chemistry approaches: opportunities and limitations. Chemosphere 173:520–528

Kunlere IO, Fagade OE, Nwadike BI (2019) Biodegradation of low density polyethylene (LDPE) by certain indigenous bacteria and fungi. Int J Environ Stud 76(3):428–440

Kurniawati T, Indrati R, Sardjono S (2014) Isolation of Rhizopus oryzae from rotten fruit and its potency for lactic acid production in glucose medium with and without addition of calcium carbonate. Agritech 34(2):170–176

Lee A, Liew MS (2020) Tertiary recycling of plastics waste: an analysis of feedstock, chemical and biological degradation methods. J Mater Cycles Waste Manag. https://doi.org/10.1007/s10163-020-01106-2

León-Santiesteban H, Bernal R, Fernández FJ, Tomasini A (2008) Tyrosinase and peroxidase production by Rhizopus oryzae strain ENHE obtained from pentachlorophenol‐contaminated soil. J Chem Technol Biotechnol Int Res Process Environ Clean Technol 83(10):1394–1400

Li L, Zhou Q, Yin N, Tu C, Luo Y (2019) Uptake and accumulation of microplastics in an edible plant. Chin Sci Bull 64(9):928–934

Liu B, He L, Wang L, Li T, Li C, Liu H, Luo Y, Bao R (2018) Protein crystallography and site-direct mutagenesis analysis of the poly (ethylene terephthalate) hydrolase PETase from Ideonella sakaiensis. ChemBioChem 19(14):1471–1475

Lou Y, Ekaterina P, Yang SS, Lu B, Liu B, Ren N, Corvini PFX, Xing D (2020) Biodegradation of polyethylene and polystyrene by greater wax moth larvae (Galleria mellonella L.) and the effect of co-diet supplementation on the core gut microbiome. Environ Sci Technol 54(5):2821–2831

Lucas N, Bienaime C, Belloy C, Queneudec M, Silvestre F, Nava-Saucedo J-E (2008) Polymer biodegradation: mechanisms and estimation techniques—a review. Chemosphere 73(4):429–442

Lwanga EH, Thapa B, Yang X, Gertsen H, Salánki T, Geissen V, Garbeva P (2018) Decay of low-density polyethylene by bacteria extracted from earthworm's guts: a potential for soil restoration. Sci Total Environ 624:753–757

Mathur G, Mathur A, Prasad R (2011) Colonization and degradation of thermally oxidized high-density polyethylene by Aspergillus niger (ITCC No. 6052) isolated from plastic waste dumpsite. Bioremediation journal 15(2):69–76

Matjašič T, Simčič T, Medvešček N, Bajt O, Dreo T, Mori N (2020) Critical evaluation of biodegradation studies on synthetic plastics through a systematic literature review. Sci Total Environ. https://doi.org/10.1016/j.scitotenv.2020.141959

Mercogliano R, Avio CG, Regoli F, Anastasio A, Colavita G, Santonicola S (2020) Occurrence of microplastics in commercial seafood under the perspective of the human food chain. A review. J Agric Food Chem 68(19):5296–5301

Mohan AJ, Sekhar VC, Bhaskar T, Nampoothiri KM (2016) Microbial assisted high impact polystyrene (HIPS) degradation. Bioresour Technol 213:204–207

Moharir RV, Kumar S (2019) Challenges associated with plastic waste disposal and allied microbial routes for its effective degradation: a comprehensive review. J Clean Prod 208:65–76

Muhonja CN, Makonde H, Magoma G, Imbuga M (2018) Biodegradability of polyethylene by bacteria and fungi from Dandora dumpsite Nairobi-Kenya. PloS one 13(7):e0198446

Mukherjee K, Tribedi P, Chowdhury A, Ray T, Joardar A, Giri S, Sil AK (2011) Isolation of a Pseudomonas aeruginosa strain from soil that can degrade polyurethane diol. Biodegradation 22(2):377–388

Müller RJ, Schrader H, Profe J, Dresler K, Deckwer WD (2005) Enzymatic degradation of poly (ethylene terephthalate): rapid hydrolyse using a hydrolase from T. fusca. Macromol Rapid Commun 26(17):1400–1405

Munier B, Bendell LI (2018) Macro and micro plastics sorb and desorb metals and act as a point source of trace metals to coastal ecosystems. PLoS One 13(2):e0191759

Murphy CA, Cameron JA, Huang SJ, Vinopal RT (1996) Fusarium polycaprolactone depolymerase is cutinase. Appl Environ Microbiol 62(2):456–460

Narancic T, O'Connor KE (2019) Plastic waste as a global challenge: are biodegradable plastics the answer to the plastic waste problem? Microbiology 165(2):129–137

Ojha N, Pradhan N, Singh S, Barla A, Shrivastava A, Khatua P, Rai V, Bose S (2017) Evaluation of HDPE and LDPE degradation by fungus, implemented by statistical optimization. Sci Rep 7(1):1–13

Oluwasina OO, Olaleye FK, Olusegun SJ, Oluwasina OO, Mohallem ND (2019) Influence of oxidized starch on physicomechanical, thermal properties, and atomic force micrographs of cassava starch bioplastic film. Int J Biol Macromol 135:282–293

Paço A, Duarte K, da Costa JP, Santos PS, Pereira R, Pereira ME, Freitas AC, Duarte AC, Rocha-Santos TA (2017) Biodegradation of polyethylene microplastics by the marine fungus Zalerion maritimum. Sci Total Environ 586:10–15

Park SY, Kim CG (2019) Biodegradation of micro-polyethylene particles by bacterial colonization of a mixed microbial consortium isolated from a landfill site. Chemosphere 222:527–533

Pathak VM (2017) Review on the current status of polymer degradation: a microbial approach. Bioresour Bioprocess 4:15

Peng BY, Su Y, Chen Z, Chen J, Zhou X, Benbow ME, Criddle CS, Wu WM, Zhang Y (2019) Biodegradation of polystyrene by dark (Tenebrio obscurus) and yellow (Tenebrio molitor) mealworms (Coleoptera: Tenebrionidae). Environ Sci Technol 53(9):5256–5265

Peng BY, Li Y, Fan R, Chen Z, Chen J, Brandon AM, Criddle CS, Zhang Y, Wu WM (2020) Biodegradation of low-density polyethylene and polystyrene in superworms, larvae of Zophobas atratus (Coleoptera: Tenebrionidae): broad and limited extent depolymerization. Environ Pollut 266:115206

Rech CR, da Silva Brabes KC, e Silva BEB, Bittencourt PRS, Koschevic MT, da Silveira TFS, Martines MAU, Caon T, Martelli SM (2020) Biodegradation of eugenol-loaded polyhydroxybutyrate films in different soil types. Case Stud Chem Environ Eng 2:100014

Restrepo-Flórez JM, Bassi A, Thompson MR (2014) Microbial degradation and deterioration of polyethylene—a review. Int Biodeterior Biodegrad 88:83–90

Ronkvist ÅM, Xie W, Lu W, Gross RA (2009) Cutinase-catalyzed hydrolysis of poly (ethylene terephthalate). Macromolecules 42(14):5128–5138

Russell JR, Huang J, Anand P, Kucera K, Sandoval AG, Dantzler KW, Hickman D, Jee J, Kimovec FM, Koppstein D, Marks DH (2011) Biodegradation of polyester polyurethane by endophytic fungi. Appl Environ Microbiol 77(17):6076–6084

Salleh AB, Musani R, Basri M, Ampon K, Yunus WMZ, Razak CNA (1993) Extra-and intra-cellular lipases from a thermophilic Rhizopus oryzae and factors affecting their production. Can J Microbiol 39(10):978–981

Sangale MK, Shahnawaz M, Ade AB (2019) Potential of fungi isolated from the dumping sites mangrove rhizosphere soil to degrade polythene. Sci Rep 9(1):1–11

Santo M, Weitsman R, Sivan A (2013) The role of the copper-binding enzyme–laccase–in the biodegradation of polyethylene by the actinomycete Rhodococcus ruber. Int Biodeterior Biodegrad 84:204–210

Sen SK, Raut S (2015) Microbial degradation of low density polyethylene (LDPE): a review. J Environ Chem Eng 3(1):462–473

Shabbir S, Faheem M, Ali N, Kerr PG, Wang L-F, Kuppusamy S, Li Y (2020) Periphytic biofilm: an innovative approach for biodegradation of microplastics. Sci Total Environ 717:137064

Shah AA, Hasan F, Hameed A, Ahmed S (2008) Biological degradation of plastics: a comprehensive review. Biotechnol Adv 26(3):246–265

Sheikh N, Akhavan A, Ataeivarjovi E (2013) Radiation grafting of styrene on starch with high efficiency. Radiat Phys Chem 85:189–192

Shinkafi SA, Adamu US, Tanyi ST (2014) Production of laccases by fungi isolated from soil in sokoto. Niger J Microbiol Res 10:5923

Sivan A (2011) New perspectives in plastic biodegradation. Curr Opin Biotechnol 22(3):422–426

Soleimani Z, Gharavi S, Soudi M, Moosavi-Nejad Z (2020) A survey of intact low-density polyethylene film biodegradation by terrestrial Actinobacterial species. Int Microbiol 24:65–73

Song Y, Qiu R, Hu J, Li X, Zhang X, Chen Y, Wu WM, He D (2020) Biodegradation and disintegration of expanded polystyrene by land snails Achatina fulica. Sci Total Environ 746:141289

Stapleton PA (2019) Toxicological considerations of nano-sized plastics. AIMS Environ Sci 6(5):367

Tang ZL, Kuo TA, Liu HH (2017) The study of the microbes degraded polystyrene. Adv Technol Innov 2:13–17

Taniguchi I, Yoshida S, Hiraga K, Miyamoto K, Kimura Y, Oda K (2019) Biodegradation of PET: current status and application aspects. ACS Catal 9(5):4089–4105

Thushari GGN, Senevirathna JDM (2020) Plastic pollution in the marine environment. Heliyon 6(8):e04709

Tokiwa Y, Suzuki T (1977) Hydrolysis of polyesters by lipases. Nature 270(5632):76–78

Tokiwa Y, Calabia BP, Ugwu CU, Aiba S (2009) Biodegradability of plastics. Int J Mol Sci 10(9):3722–3742

Tolinski M (2011) Plastics and sustainability: towards a peaceful coexistence between bio-based and fossil fuel-based plastics. Wiley, Hoboken

Tribedi P, Sarkar S, Mukherjee K, Sil AK (2012) Isolation of a novel Pseudomonas sp. from soil that can efficiently degrade polyethylene succinate. Environ Sci Pollut Res 19(6):2115–2124

Tsuji H, Miyauchi S (2001) Poly (L-lactide): VI effects of crystallinity on enzymatic hydrolysis of poly (L-lactide) without free amorphous region. Polym Degrad Stab 71(3):415–424

United Nations Environment Program (2018) SINGLE-USE PLASTICS: a roadmap for sustainability. United Nations Environment Program, Nairobi

Urbanek AK, Rymowicz W, Mirończuk AM (2018) Degradation of plastics and plastic-degrading bacteria in cold marine habitats. Appl Microbiol Biotechnol 102(18):7669–7678

Van Soest JJ, Hulleman SHD, De Wit D, Vliegenthart JFG (1996) Crystallinity in starch bioplastics. Ind Crops Prod 5(1):11–22

Venkatesh S, Mahboob S, Govindarajan M, Al-Ghanim KA, Ahmed Z, Al-Mulhm N, Gayathri R, Vijayalakshmi S (2021) Microbial degradation of plastics: sustainable approach to tackling environmental threats facing big cities of the future. J King Saud Univ Sci 33:101362

Venkiteshwaran K, Benn N, Seyedi S, Zitomer D (2019) Methane yield and lag correlate with bacterial community shift following bioplastic anaerobic co-digestion. Bioresour Technol Rep 7:100198

Volke-Sepúlveda T, Saucedo‐Castañeda G, Gutiérrez‐Rojas M, Manzur A, Favela‐Torres E (2002) Thermally treated low density polyethylene biodegradation by Penicillium pinophilum and Aspergillus niger. J Appl Polym Sci 83(2):305–314

Wang S, Lydon KA, White EM, Grubbs JB 3rd, Lipp EK, Locklin J, Jambeck JR (2018) Biodegradation of Poly(3-hydroxybutyrate- co-3-hydroxyhexanoate) Plastic under Anaerobic Sludge and Aerobic seawater conditions: gas evolution and microbial diversity. Environ Sci Technol 52:5700–5709

Wang K, Li J, Zhao L, Mu X, Wang C, Wang M, Xue X, Qi S, Wu L (2020a) Gut microbiota protects honey bees (Apis mellifera L.) against polystyrene microplastics exposure risks. J Hazard Mater 402:123828

Wang Z, Xin X, Shi X, Zhang Y (2020b) A polystyrene-degrading Acinetobacter bacterium isolated from the larvae of Tribolium castaneum. Sci Total Environ 726:138564–65

Webb JS, Nixon M, Eastwood IM, Greenhalgh M, Robson GD, Handley PS (2000) Fungal colonization and biodeterioration of plasticized polyvinyl chloride. Appl Environ Microbiol 66(8):3194–3200

Woo S, Song I, Cha HJ (2020) Fast and facile biodegradation of polystyrene by the gut microbial flora of Plesiophthalmusdavidis larvae. Appl Environ Microbiol 86(18):e01361

Yamada-Onodera K, Mukumoto H, Katsuyaya Y, Saiganji A, Tani Y (2001) Degradation of polyethylene by a fungus, Penicillium simplicissimum YK. Polym Degrad Stab 72(2):323–327

Yang HS, Yoon JS, Kim MN (2004) Effects of storage of a mature compost on its potential for biodegradation of plastics. Polym Degrad Stab 84(3):411–417

Yang J, Yang Y, Wu WM, Zhao J, Jiang L (2014) Evidence of polyethylene biodegradation by bacterial strains from the guts of plastic-eating waxworms. Environ Sci Technol 48(23):13776–13784

Yang Y, Yang J, Wu WM, Zhao J, Song Y, Gao L, Yang R, Jiang L (2015) Biodegradation and mineralization of polystyrene by plastic-eating mealworms: part 2. Role of gut microorganisms. Environ Sci Technol 49(20):12087–12093

Yang SS, Wu WM, Brandon AM, Fan HQ, Receveur JP, Li Y, Wang ZY, Fan R, McClellan RL, Gao SH, Ning D (2018) Ubiquity of polystyrene digestion and biodegradation within yellow mealworms, larvae of Tenebrio molitor Linnaeus (Coleoptera: Tenebrionidae). Chemosphere 212:262–271

Yang L, Gao J, Liu Y, Zhuang G, Peng X, Wu WM, Zhuang X (2021) Biodegradation of expanded polystyrene and low-density polyethylene foams in larvae of Tenebrio molitor Linnaeus (Coleoptera: Tenebrionidae): broad versus limited extent depolymerization and microbe-dependence versus independence. Chemosphere 262:127818

Yanto DHY, Krishanti NPRA, Ardiati FC, Anita SH, Nugraha IK, Sari FP, Laksana RPB, Sapardi S, Watanabe T (2019) Biodegradation of styrofoam waste by ligninolytic fungi and bacteria. IOP Conference Series: Earth and Environmental Science. IOP Publishing, Bristol

Yoon MG, Jeon HJ, Kim MN (2012) Biodegradation of polyethylene by a soil bacterium and AlkB cloned recombinant cell. J Bioremed Biodegrad 3(4):1–8

Yuan J, Ma J, Sun Y, Zhou T, Zhao Y, Yu F (2020) Microbial degradation and other environmental aspects of microplastics/plastics. Sci Total Environ 715:136968

Zhang X, Pi H, Guo S, Fu J (2016) Influence of ultraviolet absorbers on the ultravioletirradiation behaviour of rigid poly vinyl chloride. Plast Rubber Compos 45(8):352–361

Zoungranan Y, Lynda E, Dobi-Brice KK, Tchirioua E, Bakary C, Yannick DD (2020) Influence of natural factors on the biodegradation of simple and composite bioplastics based on cassava starch and corn starch. J Environ Chem Eng 8(5):1043969
Funding
We would like to acknowledge the CSIR–JRF grant to the first author (File No. 08/155(0075)/2019-EMR-I) and FRPDF scheme, Presidency University, Kolkata, India. Authors are also grateful to DST-SERB, Govt. of India for funding research project ((EEQ/2018/000275) to the corresponding author. We are thankful to DST-FIST for sponsoring Infrastructural facility to DLS (SR/FST/ LSI-560/2013(C))We are thankful to DST-FIST for sponsoring Infrastructural facility to DLS (SR/FST/ LSI-560/2013(C)).
Ethics declarations
Conflict of interest
The authors declare that they have no conflict of interest to disclose.
Ethical Approval
This study does not need any ethical approval.
Additional information
Publisher's Note
Springer Nature remains neutral with regard to jurisdictional claims in published maps and institutional affiliations.
About this article
Cite this article
Maity, S., Banerjee, S., Biswas, C. et al. Functional interplay between plastic polymers and microbes: a comprehensive review. Biodegradation (2021). https://doi.org/10.1007/s10532-021-09954-x
Received:

Accepted:

Published:
Keywords
Bio-degradation

Pre-treatment

Functional groups

Biotic-abiotic factors

Microbial enzymes

Composting