Abstract
The influence of soil environmental factors such as aeration on the ecology of microorganisms involved in the mineralization and degradation of the popular soil-applied pre-emergent herbicide, metolachlor is unknown. To address this knowledge gap, we utilized DNA-based stable isotope probing (SIP) where soil microcosms were incubated aerobically or anaerobically and received herbicide treatments with unlabeled metolachlor or 13C-metolachlor. Mineralization of metolachlor was confirmed as noted from the evolution of 14CO2 from 14C-metolachlor-treated microcosms and clearly demonstrated the efficient utilization of the herbicide as a carbon source. Terminal restriction fragment length polymorphisms (T-RFLP) bacterial community profiling performed on soil DNA extracts indicated that fragment 307 bp from aerobic soil and 212 bp from anaerobic soil were detected only in the herbicide-treated (both unlabeled metolachlor and 13C-metolachlor) soils when compared to the untreated control microcosms. T-RFLP profiles from the ultracentrifugation fractions illustrated that these individual fragments experienced an increase in relative abundance at a higher buoyant density (BD) in the labeled fractions when compared to the unlabeled herbicide amendment fractions. The shift in BD of individual T-RFLP fragments in the density-resolved fractions suggested the incorporation of 13C from labeled herbicide into the bacterial DNA and enabled the identification of organisms responsible for metolachlor uptake from the soil. Subsequent cloning and 16S rRNA gene sequencing of the 13C-enriched fractions implicated the role of organisms closely related to Bacillus spp. in aerobic mineralization and members of Acidobacteria phylum in anaerobic mineralization of metolachlor in soil.
Access options
Buy single article
Instant access to the full article PDF.
US$ 39.95
Tax calculation will be finalised during checkout.
Subscribe to journal
Immediate online access to all issues from 2019. Subscription will auto renew annually.
US$ 79
Tax calculation will be finalised during checkout.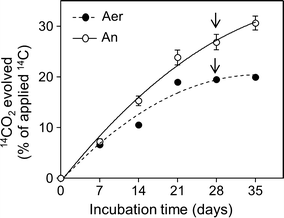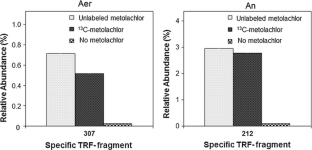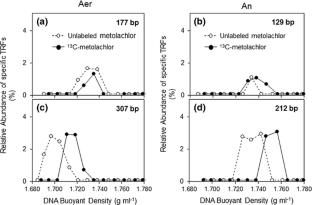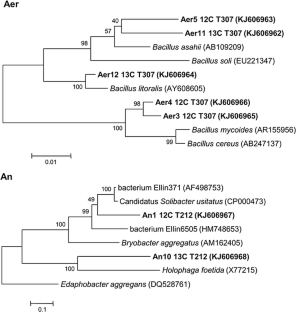 References
Anderson RTR-VJ, Gaw CV, Lovley DR (1998) Anaerobic benzene oxidation in the Fe(III) reduction zone of petroleum-contaminated aquifers. Environ Sci Technol 32(9):1222–1229

Anderson I, Held B, Lapidus A, Nolan M et al (2012) Genome sequence of the homoacetogenic bacterium Holophaga foetida type strain (TMBS4T). Stand Genomic Sci 6(2):174–184

Benson DAK-MI, Lipman DJ, Ostell J, Sayers EW (2011) GenBank. Nucleic Acids Res. https://doi.org/10.1093/nar/gks1195

Birnie GD, Rickwood D (1978) Centrifugal separations in molecular and cell biology. Butterworths, Boston

Blothe MAD, Kostka JE, Göschel K, Drake HL, Küsel K (2008) pH gradient-induced heterogeneity of Fe(III)-reducing microorganisms in coal mining-associated lake sediments. Appl Environ Microbiol 74(4):1019–1029

Borodina ECM, McDonald IR, Murrell JC (2005) Use of DNA-stable isotope probing and functional gene probes to investigate the diversity of methyl chloride-utilizing bacteria in soil. Environ Microbiol 7(9):1318–1328

Buckley DH, Huangyutitham V, Hsu SF, Nelson TA (2007) Stable isotope probing with 15N achieved by disentangling the effects of genome G+C content and isotope enrichment on DNA density. Appl Environ Microbiol 73(10):3189–3195

Cole JR, Wang Q, Cardenas E, Fish J, Chai B, Farris RJ, Tiedje JM (2009) The Ribosomal Database Project: improved alignments and new tools for rRNA analysis. Nucleic Acids Res 37(1):141–145

Cupples AM (2011) The use of nucleic acid based stable isotope probing to identify the microorganisms responsible for anaerobic benzene and toluene biodegradation. J Microbiol Methods 85(2):83–91

Cupples AM, Sims GK (2007) Identification of in situ 2, 4-dichlorophenoxyacetic acid-degrading soil microorganisms using DNA-stable isotope probing. Soil Biol Biochem 39(1):232–238

Dumont MG, Murrell JC (2005) Stable isotope probing—linking microbial identity to function. Nat Rev Microbiol 3(6):499–504

Dzantor EK, Felsot AS (1991) Microbial responses to large concentrations of herbicides in soil. Environ Toxicol Chem 10(5):649–655

Elsayed OF, Maillard E, Vuilleumier S, Imfeld G (2014) Bacterial communities in batch and continuous-flow wetlands treating the herbicide S-metolachlor. Sci Total Environ 499:327–335

Extoxnet (2000) Extension Toxicology Network, Pesticide information profile: metolachlor

Jehmlich N, Schmidt F, Von Bergen M, Richnow HH, Vogt C (2008) Protein-based stable isotope probing (Protein-SIP) reveals active species within anoxic mixed cultures. ISME J 2(11):1122–1133

Johnson TA, Ellsworth TR, Hudson RJM, Sims GK (2013) Diffusion limitation for atrazine biodegradation in soil. Adv Microbiol 03(05):412

Kanissery RG, Sims GK (2014) Bioavailability of metolachlor and glyphosate in aerobic and anaerobic soils. University of Illinois at Urbana-Champaign, Urbana

Kasai Y, Takahata Y, Manefield M, Watanabe K (2006) RNA-based stable isotope probing and isolation of anaerobic benzene-degrading bacteria from gasoline-contaminated groundwater. Appl Environ Microbiol 72(5):3586–3592

Kollman W, Segawa R (2000) Pest Chemistry Database: Environmental Hazards Assessment Program. California Department of Pesticide Regulation, Sacramento

Krause A, Hancock WG, Minard RD, Freyer AJ, Honeycutt RC, LeBaron HM, Paulson DL, Liu S, Bollag JM (1985) Microbial transformation of the herbicide metolachlor by a soil actinomycete. J Agric Food Chem 33(4):584–589

Krutz LJ, Gentry TJ, Senseman SA, Pepper IL, Tierney DP (2006) Mineralisation of atrazine, metolachlor and their respective metabolites in vegetated filter strip and cultivated soil. Pest Manag Sci 62(6):505–514

Kunapuli U, Lueders T, Meckenstock RU (2007) The use of stable isotope probing to identify key iron-reducing microorganisms involved in anaerobic benzene degradation. ISME J 1(7):643–653

Leewis MC, Uhlik O, Leigh MB (2016) Synergistic processing of biphenyl and benzoate: carbon flow through the bacterial community in polychlorinated-biphenyl-contaminated soil. Sci Rep. https://doi.org/10.1038/srep22145

Liu SY, Zhang R, Bollag JM (1988) Biodegradation of metolachlor in a soil perfusion experiment. Biol Fertil Soils 5(4):276–281

Liu SY, Zheng Z, Zhang R, Bollag JM (1989) Sorption and metabolism of metolachlor by a bacterial community. Appl Environ Microbiol 55(3):733–740

Liu WT, Marsh TL, Cheng H, Forney LJ (1997) Characterization of microbial diversity by determining terminal restriction fragment length polymorphisms of genes encoding 16S rRNA. Appl Environ Microbiol 63(11):4516–4522

Lueders T, Wagner B, Claus P, Friedrich MW (2004) Stable isotope probing of rRNA and DNA reveals a dynamic methylotroph community and trophic interactions with fungi and protozoa in oxic rice field soil. Environ Microbiol 6(1):60–72

Lueders T, Dumont MG, Bradford L, Manefield M (2016) RNA-stable isotope probing: from carbon flow within key microbiota to targeted transcriptomes. Curr Opin Biotechnol 41:83–89

Manefield M, Whiteley AS, Griffiths RI, Bailey MJ (2002) RNA stable isotope probing, a novel means of linking microbial community function to phylogeny. Appl Environ Microbiol 68(11):5367–5373

Meadow JF, Altrichter AE, Kembel SW, Moriyama M et al (2014) Bacterial communities on classroom surfaces vary with human contact. Microbiome 2(1):1–7

Miller JL (1992) Degradation of atrazine, metolachlor, and primsulfuron in soil from four depths in a dothan loamy sand. North Carolina State University, Raleigh

Osborn AM, Moore ER, Timmis KN (2000) An evaluation of terminal-restriction fragment length polymorphism (T-RFLP) analysis for the study of microbial community structure and dynamics. Environ Microbiol 2(1):39–50

Radajewski S, Ineson P, Parekh NR, Murrell JC (2000) Stable-isotope probing as a tool in microbial ecology. Nature 403:646–649

Radajewski S, Webster G, Reay DS, Morris SA, Ineson P, Nedwell DB, Murrell JC (2002) Identification of active methylotroph populations in an acidic forest soil by stable-isotope probing. Microbiology 148(8):2331–2342

Rice PJ (1996) The persistence, degradation, and mobility of metolachlor in soil and the fate of metolachlor and atrazine in surface water, surface water/sediment, and surface water/aquatic plant systems. Iowa State University, Ames

Rice PJ, Anderson TA, Coats JR (2002) Degradation and persistence of metolachlor in soil: effects of concentration, soil moisture, soil depth, and sterilization. Environ Toxicol Chem 21(12):2640–2648

Sambrook J, Russell DW (2001) Molecular cloning: a laboratory manual. Cold Spring Harbor Laboratory Press, New York

Saxena A, Zhang RW, Bollag JM (1987) Microorganisms capable of metabolizing the herbicide metolachlor. Appl Environ Microbiol 53(2):390–396

Shaffer E, Sims GK, Cupples A, Smyth C, Chee-Sanford J, Skinner A (2010) Atrazine biodegradation in a Cisne soil exposed to a major spill. Int J Soil Sediment Water 3(2):5

Si Y, Takagi K, Iwasaki A, Zhou D (2009) Adsorption, desorption and dissipation of metolachlor in surface and subsurface soils. Pest Manage Sci 65:956–962

Sims GK (2008) Stable isotope probing to investigate microbial function in soil. Recent Res Dev Soil Sci 2:64–85

Sims GK, Kanissery RG (2012) Factors controlling herbicide transformation under anaerobic conditions. Environ Res J. 6:355–373

Slepecky RA, Hemphill HE (2006) The genus Bacillus—nonmedical. The Prokaryotes. Springer, US, pp 530–562

Stackebrandt E, Frederiksen W, Garrity GM et al (2002) Report of the ad hoc committee for the re-evaluation of the species definition in bacteriology. Int J Syst Evol Microbiol 52(3):1043–1047

Tamura K, Dudley J, Nei M, Kumar S (2007) MEGA4: molecular evolutionary genetics analysis (MEGA) software version 4.0. Mol Biol Evol 24(8):1596–1599

Tiedje JM, Sexstone AJ, Parkin TB, Revsbech NP, Shelton DR (1984) Anaerobic processes in soil. Plant Soil 76:197–212

Tor JM, Xu C, Stucki MJ, Wander MM, Sims GK (2000) Trifluralin degradation under microbiologically induced nitrate and Fe(III) reducing conditions. Environ Sci Technol 34(15):3148–3152

U.S. Environmental protection agency (2012) Pesticides Industry Sales and Usage 2008–2012 Market Estimates—'https://www.epa.gov/pesticides/pesticides-industry-sales-and-usage-2008-2012-market-estimates'

U.S. Geographical Survey (2015) Estimated annual agricultural pesticide use. Pesticide National Synthesis Project—' https://water.usgs.gov/nawqa/pnsp/usage/maps/compound_listing.php'

Wang YS, Liu JC, Chen WC, Yen JH (2008) Characterization of acetanilide herbicides degrading bacteria isolated from tea garden soil. Microb Ecol 55(3):435–443

Ward NL, Challacombe JF, Janssen PH, Henrissat B et al (2009) Three genomes from the phylum Acidobacteria provide insight into the lifestyles of these microorganisms in soils. Appl Environ Microbiol 75(7):2046–2056

Welsh A, Chee-Sanford JC, Connor LM, Löffler FE, Sanford RA (2014) Refined NrfA phylogeny improves PCR-based nrfA gene detection. Appl Environ Microbiol 80(7):2110–2119

Zhang J, Zheng JW, Liang B, Wang CH, Cai S, Ni YY, He J, Li SP (2011) Biodegradation of chloroacetamide herbicides by Paracoccus sp. FLY-8 in vitro. J Agric Food Chem 59(9):4614–4621
Electronic supplementary material
Below is the link to the electronic supplementary material.
About this article
Cite this article
Kanissery, R.G., Welsh, A., Gomez, A. et al. Identification of metolachlor mineralizing bacteria in aerobic and anaerobic soils using DNA-stable isotope probing. Biodegradation 29, 117–128 (2018). https://doi.org/10.1007/s10532-017-9817-6
Received:

Accepted:

Published:

Issue Date:
Keywords
Metolachlor herbicide

Stable isotope probing

Mineralization

Aerobic

Anaerobic