Abstract
A novel cellulolytic bacterium was isolated from the forest soil of KNU University campus. Through 16S rRNA sequence matching and morphological observation it was identified as Nocardiopsis sp. KNU. This strain can utilize a broad range of cellulosic substrates including: carboxymethyl cellulose (CMC), avicel, xylan, cellobiose, filter paper and rice straw by producing a large amount of thermoalkalotolerant endoglucanase, exoglucanase, xylanase and glucoamylase. Optimal culture conditions (Dubos medium, 37°C, pH 6.5 and static condition) for the maximal production of the cellulolytic enzymes were determined. The activity of cellulolytic and hemicelluloytic enzymes produced by this strain was mainly present extracellularly and the enzyme production was dependent on the cellulosic substrates used for the growth. Effect of physicochemical conditions and metal additives on the cellulolytic enzymes production were systematically investigated. The cellulases produced by Nocardiopsis sp. KNU have an optimal temperature of 40°C and pH of 5.0. These cellulases also have high thermotolerance as evidenced by retaining 55–70% activity at 80°C and pH of 5.0 and alkalotolerance by retaining >55% of the activity at pH 10 and 40°C after 1 h. The efficiency of fermentative conversion of the hydrolyzed rice straw by Saccharomyces cerevisiae (KCTC-7296) resulted in 64% of theoretical ethanol yield.
Access options
Buy single article
Instant access to the full article PDF.
US$ 39.95
Tax calculation will be finalised during checkout.
Subscribe to journal
Immediate online access to all issues from 2019. Subscription will auto renew annually.
US$ 79
Tax calculation will be finalised during checkout.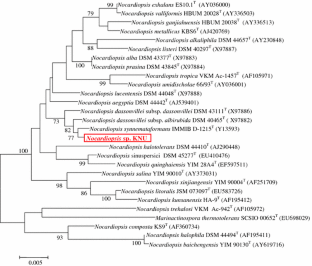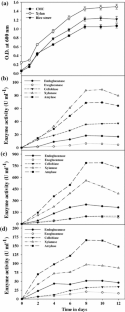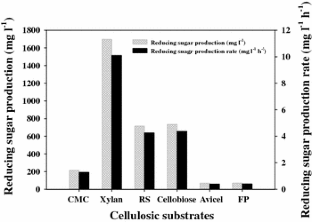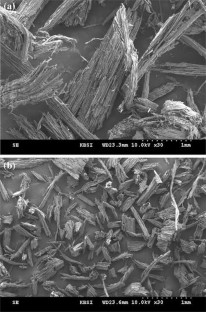 References
Abd El-Nasser NH, Ali AM, Keera AA (2010) Xylanase production by Streptomyces Lividans (NRC) and it's application on waste paper. Aust J Basic Appl Sci 4:1358–1368

Adsul MG, Bastawde KB, Varma AJ, Gokhale DV (2007) Strain improvement of Penicillium janthinellum NCIM-1171 for increased cellulase production. Bioresour Technol 98:1467–1473

Alani F, Anderson WA, Moo-Young M (2008) New isolate of Streptomyces sp. with novel thermoalkalotolerant cellulases. Biotechnol Lett 30:123–126

APHA (1995) Standard methods for the examination of water and wastewater. American Public Health Association, New York, USA

Demirbas A (2007) Progress and recent trends in biofuels. Prog Energy Combustion Sci 33:1–18

Dixit VS, Pant A (2000) Hydrocarbon degradation and protease production by Nocardiopsis sp. NCIM 5124. Lett Appl Microbiol 30:67–69

Evtushenko LI, Taran VV, Akimov VN, Kroppenstedt RM, Tiedje JM, Stackebrandt E (2000) Nocardiopsis tropica sp. nov., Nocardiopsis trehalosi sp. nov., nom. rev. and Nocardiopsis dassonvillei subsp. albirubida subsp. nov., comb. nov. Int J Syst Evol Microbiol 50:73–81

George S, Ahmad A, Rao M (2001) Studies on carboxymethyl cellulase produced by an alkalothermophilic actinomycete. Bioresour Technol 77:171–175

Goldemberg J (2007) Ethanol for a sustainable energy future. Science 315:808–810

Haki GD, Rakshit SK (2003) Developments in industrially important thermostable enzymes: a review. Bioresour Technol 89:17–34

Hall TA (1999) BioEdit: a user friendly biological sequence alignment editor and analysis program for Windows 95/98/NT. Nucleic Acids Symp Ser 41:95–98

Jang HD, Chen KS (2003) Production and characterization of thermostable cellulases from Streptomyces transformant T3-1. World J Microbiol Biotechnol 19:263–268

Kapdan LK, Kargi F (2006) Biohydrogen production from waste materials. Enzyme Microbial Technol 38:569–582

Kim TH, Lee YY (2005) Pretreatment of corn stover by soaking in aqueous ammonia. Appl Biochem Biotechnol 124:1119–1132

Kim J, Yun S (2006) Discovery of cellulose as a smart material. Macromolecules 39:4202–4206

Kumar S, Tamura K, Nei M (2004) MEGA3: integrated software for molecular evolutionary genetics analysis and sequence alignment. Brief Bioinform 5:150–163

Kumar R, Singh S, Singh OV (2008) Bioconversion of lignocellulosic biomass: Biochemical and molecular perspectives. J Ind Microbiol Biotechnol 35:377–391

Lima A, Nascimento R, Bon E, Coelho R (2005) Streptomyces drozdowiczii cellulase production using agro-industrial by-products and its potential use in the detergent and textile industries. Enzyme Microbial Technol 37:272–277

Lo YC, Bai MD, Chen WM, Chang JS (2008) Cellulosic hydrogen production with a sequencing bacterial hydrolysis and dark fermentation strategy. Bioresour Technol 99:8299–8303

Lo YC, Saratale GD, Chen WM, Bai MD, Chang JS (2009) Isolation of cellulose-hydrolytic bacteria and applications of the cellulolytic enzymes for cellulosic biohydrogen production. Enzyme Microbial Technol 44:417–425

Mabee WE, Gregg DJ, Saddler JN (2005) Assessing the emerging biorefinery sector in Canada. Appl Biochem Biotechnol 123:765–778

McCarthy AJ (1987) Lignocellulose degrading actinomycetes. FEMS Microbiol Rev 46:145–163

McCarthy AJ, Edwin P, Paul B (1985) Studies on the extracellular xylanase activity of some thermophilic actinomycetes. Appl Microbiol Biotechnol 21:238–244

Medda A, Chandra AK (1980) New strains of Bacillus licheniformis and Bacillus coagulans producing thermostable alpha amylase at active and alkaline pH. J Appl Bacteriol 48:47–58

Miller GL (1959) Use of dinitrosalicylic acid reagent for determination of reducing sugar. Anal Chem 31:426–428

Mitsuiki S, Sakai M, Moriyama Y, Goto M, Furukawa K (2002) Purification and some properties of a keratinolytic enzyme from an alkaliphilic Nocardiopsis sp. TOA-1. Biosci Biotechnol Biochem 66:164–167

Moreira KA, Porto TS, Teixeira MFS, Porto ALF, Filho JLL (2003) New alkaline protease from Nocardiopsis sp.: partial purification and characterization. Process Biochem 39:67–72

Nitisinprasert S, Temmes A (1991) The characteristics of a new non-spore-forming cellulolytic mesophilic anaerobe strain CMC126 isolated from municipal sewage sludge. J Appl Bacteriol 71:154–161

Ragauskas AJ, Williams CK, Davison BH, Britovsek G, Cairney J, Eckert CA et al (2006) The path forward for biofuels and biomaterials. Science 311:484–489

Saratale GD, Chen SD, Lo YC, Saratale RG, Chang JS (2008) Outlook of biohydrogen production from lignocellulosic feedstock using dark fermentation—a review. J Sci Ind Res 67:962–979

Saratale GD, Saratale RG, Lo YC, Chang JS (2010) Multicomponent cellulase production by Cellulomonas biazotea NCIM-2550 and their applications for cellulosic biohydrogen production. Biotechnol Prog 26:406–416

Stamford TLM, Stamford NP, Coelho LCBB, Araújo JM (2001) Production and characterization of a thermostable α-amylase from Nocardiopsis sp. endophyte of yam bean. Bioresour Technol 76:137–141

Swan RR, Dekker EG (1996) Seed germination studies. Purification and properties of amylase from cotyledons of germinating peas. Biochim Biophys Acta 122:77–86

Thompson JD, Gibson TJ, Plewniak F, Jeanmougin F, Higgins DG (1997) The CLUSTAL X windows interface: exible strategies for multiple sequence alignment aided by quality analysis tools. Nucleic Acids Res 25:4876–4882

Tsujibo H, Sakamoto T, Nishino N, Hasegawa T, Ina Y, Mor I (1990) Purification and properties of three types of xylanases produced by an alkalophilic actinomycete. J Appl Bacteriol 69:398–405

Tsujibo H, Kubota T, Yamamoto M, Miyamoto K, Inamori Y (2003) Characterization of chitinase genes from an alkaliphilic actinomycete, Nocardiopsis prasina OPC-131. Appl Environ Microbiol 69:894–900

Viikari L, Alapuranen M, Puranen T, Vehmaanperä J, Siika-Aho M (2007) Thermostable enzymes in lignocellulose hydrolysis. Adv Biochem Eng Biotechnol 108:121–145

Walker D, Ledesma P, Delgado OD, Breccia JD (2006) High endo-β-1, 4-d-glucanase activity in a broad pH range from the alkali-tolerant Nocardiopsis sp. SES28. World J Microbiol Biotechnol 22:761–764

Yassin F, Rainey FA, Burghardt J, Gierth D, Ungerechts J, Lux I et al (1997) Description of Nocardiopsis synnemataformans sp. nov., Elevation of Nocardiopsis alba subsp. prasina to Nocardiopsis prasina comb. nov., and Designation of Nocardiopsis antarctica and Nocardiopsis alborubida as Later Subjective Synonyms of Nocardiopsis dassonvillei. Int J Syst Bacteriol 47:983–988

Zhang YHP, Himmel ME, Mielenz JR (2006) Outlook for cellulase improvement: screening and selection strategies. Biotechnol Adv 24:452–481
Acknowledgments
This work was supported by the Korea Research Foundation Grant funded by the Korean Government (MOEHRD, Basic Research Promotion Fund) (KRF-2008-314-F00014). The authors would like to acknowledge the technical help from Prof. Kim M. D., Mr. Yoo J. G. and Mr. Woo Chang, Kangwon National University, South Korea. One of the author (GDS) would like to thank to Prof. S. P. Govindwar, Head, Department of Biochemistry, Shivaji University, India for their support and encouragement.
About this article
Cite this article
Saratale, G.D., Oh, S.E. Production of thermotolerant and alkalotolerant cellulolytic enzymes by isolated Nocardiopsis sp. KNU. Biodegradation 22, 905–919 (2011). https://doi.org/10.1007/s10532-010-9450-0
Received:

Accepted:

Published:

Issue Date:
Keywords
Nocardiopsis sp. KNU

Cellulose hydrolysis

Thermoalkalotolerant cellulase

Xylanase

Rice straw

Ethanol fermentation