Abstract
The main objective of this work was to evaluate the influence of incubating conditions on the specific methanogenic activity (SMA) test in order to harmonize the test protocol. For this serum bottles were incubated with anaerobic sludge (from UASB reactor treating domestic sewage) in factorial planned experiments which assessed the influence of the temperature, substrate concentration, food/microorganism (F/M) ratio, presence of yeast extract in the medium, as well as type of carbon and nutrient solution. The results showed that the tested methane measuring methods (volumetric with biogas characterization, volumetric with gas wash in alkaline solution, and manometric by using the OxiTop® system) presented a similar performance. The maintenance of a small gaseous phase volume (e.g. 10% of the total volume) resulted in higher SMA values; and the ideal substrate concentration for the SMA test ranged from 0.5 to 3.0 gCOD/l since higher acetate concentration caused sludge inhibition. The suggested temperature for the test is 35°C and the best F/M ratio varied from 0.125 to 0.750 gCOD/gVS, and this seemed to be the most influent parameter for the SMA test. Finally tests performed with nutrient solution complemented by yeast extract resulted in the highest SMA values.
Access options
Buy single article
Instant access to the full article PDF.
USD 39.95
Price includes VAT (USA)
Tax calculation will be finalised during checkout.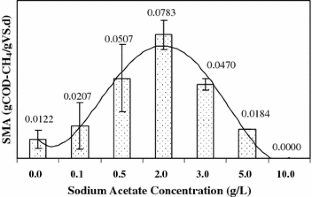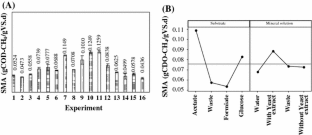 References
Alves, RGCM, Belli-Filho P, Philippi LS, Henn A, Monteiro LWS (2005) Digestores Anaeróbios para Tratamento de Dejetos Suínos—Avaliação de Partida para Diferentes Configurações de Reatores. In: XXIII Congresso de Engenharia Sanitária e Ambiental, Campo Grande, MS, pp 1–5

Aquino SF, Chernicharo CAL (2005) Acúmulo de ácidos graxos voláteis (AGVs) em reatores anaeróbios sob condições de estresse: causas e estratégias de controle. Eng San Amb 10:152–161

Aquino SF, Chernicharo CAL, Foresti E, Florêncio L, Montegia LO (2007) Metodologias para determinação da atividade metanogênica específica (AME) em lodos anaeróbios. Eng San Amb 12:192–201

Araújo JC (1995) Caracterização e evolução do biofilme em reator anaeróbio de leito fluidificado alimentado com esgoto sanitário sintético. Dissertation, University of São Paulo

Borja R, Sanchez E, Weiland P (1996) Influence of ammonia concentration on thermophilic anaerobic digestion of cattle manure in upflow anaerobic sludge blanket (UASB) reactors. Process Biochem 31:477–483

Chernicharo CAL (1997) Reatores anaeróbios. Universidade Federal de Minas Gerais, Belo Horizonte

Cohen A (1991) Effects of some industrial chemicals on methanogenic activity measured by sequential automated methanometry. In: VI international symposium on anaerobic digestion. São Paulo, pp 1–5

Colleran E, Concannon F, Golden T, Geochegan F, Crumlish B, Killilea E, Henry M, Coates J (1991) Use of a methanogenic activity tests to characterize anaerobic biodegradability and determine toxicity thresholds against trophic groups and species. In: VI international symposium on anaerobic digestion, São Paulo, pp 15–20

Dolfing J (1986) Granulation in UASB reactor. In: Seminário Internacional sobre Tratamento Anaeróbio em Países Tropicais, São Paulo, pp 1–5

Dolfing J, Bloemen WGBM (1985) Activity measured as a tool to characterize the microbial composition of methanogenic environments. J Microbiol Methods 4:45–47

Drumond FB, Werkema MCC, Aguiar S (1996) Análise de variância: comparação de várias situações. Fundação Christiano Ottoni, Universidade Federal de Minas Gerais, Belo Horizonte

Estrada-Vazquez C, Macarie H, Takayuri-Kato M (2001) Resistencia a la exposición al oxígeno de lodos anaerobios suspendidos. INCI 26:547–553

Ghangrekar MM, Asolekar SR, Ranganathan KR, Joshi SG (1996) Experience with UASB reactor start-up under different operating conditions. Water Sci Technol 34:421–428

Guerrero L, Chamy R, Jeison D, Montalvo S (2005) Influence of sulfate concentration and pH on anaerobic treatment of tannery wastewaters. Dissertation, Frederico Santa Maria, Technical University

Hartley K, Lant P (2006) Eliminating non-renewable CO2 emissions from sewage treatment: an anaerobic migrating bed reactor pilot plant study. Biotechnol Bioeng 95:384–398

Helsel DR, Hirsch RM (2002) Statistical methods in water resources. In: Techniques of water resources investigations series, book 4, chapter A3, US Geological Survey

James A, Chernicharo CAL, Campos CMM (1990) The development of a new methodology for the assessment of specific methanogenic activity. Water Res 24:813–825

Jawed M, Tare V (1999) Microbial composition assessment of anaerobic biomass through methanogenic activity tests. Water SA 25:345–350

Jing-Song W, Yong-You H, Chun W (2005) Comparing the effect of bioflocculant with synthetic polymers on enhancing granulation in UASB reactors for low-strength wastewater treatment. Water SA 31:177–182

Kalyuzhnyi SV, Sklyar VI, Davlyatshina MA, Parshina SN, Simankova MV, Kostrikina NA, Nozhevnikova AN (1996) Organic removal and microbiological features of UASB-reactor under various organic loading rates. Bioresour Technol 55:47–54

Kruskal WH, Wallis WA (1952) Use of ranks in one-criterion variance analysis. J Am Stat Assoc 47:583–621

Leitão RC (2004) Robustness of UASB reactors treating sewage under tropical conditions. Thesis, Wageningen University

Lema JM, Soto M, Mendez R (1991) Inhibition/toxicity on the anaerobic digestion process caused by the presence of NaCl and other sea salts. In: VI international symposium on anaerobic digestion, São Paulo

Monteggia LO (1997) Proposta de metodologia para avaliação do parâmetro "atividade metanogênica específica". In: XIX Congresso de Engenharia Sanitária e Ambiental, Foz do Iguaçu

Montgomery D, Runger G (2003) Estatística Aplicada e Probabilidade para Engenheiros. LTC—Livros Técnicos e Científicos Editora S.A, Rio de Janeiro

Muxi L, Zunino L, Tarlera S, Soubes M (1991) Evaluation of an inoculum for anaerobic digestion. In: VI international symposium on anaerobic digestion, São Paulo

Penna JA (1994) Estudo da metodologia do teste de atividade metanogênica específica. Thesis, Universidade de São Paulo

Poetsch PB, Koetz PR (1998) Sistema de determinação da atividade metanogênica específica de lodos anaeróbios. Rev Bras Agrocienc 4:161–165

Santos HR (2001) Aplicação de coagulantes no afluente de reator anaeróbio de leito expandido alimentado com esgoto sanitário. Dissertation, Universidade de São Paulo

Siegel S, Castellan NJ Jr (1988) Nonparametric statistics for the behavioral sciences, 2nd edn. McGraw-Hill, New York

Silva ALB, Louzada AG, Lube LM, Gonçalves RF, Cassini STA (2005) Comportamento da biomassa metanogênica de lodo de reator UASB tratando esgoto sanitário e lodo de descarte de biofiltros aerados submersos. In: XXIII Congresso Brasileiro de Engenharia Sanitária e Ambiental, Campo Grande

Silveira ICT, Monteggia LO, Bonatto D, Henriques JAP (2000) Monitoramento de biomassa anaeróbia presente em reatores de baixa carga: técnicas convencionais x técnicas da biologia molecular. In: XXVII Congresso Interamericano de Engenharia Sanitária e Ambiental, Porto Alegre

Snedocor GW, Cochran WG (1989) Statistical methods, 8th edn. Iowa State University Press, Ames

Soto M, Méndez R, Lema JM (1993) Methanogenic and non-methanogenic activity tests: theoretical basis and experimental set up. Water Res 27:1361–1376

Speece RE (1996) Anaerobic biotechnology for industrial wastewaters. Archae Press, Nashville

Valcke D, Verstraete W (1983) A practical method to estimate the acetoclastic methanogenic biomass in anaerobic sludges. J Water Pollut Control Fed 55:1192–1196
Acknowledgments
The authors thank CNPq, Fapemig and CAPES for granting master and post-doctor degree scholarships and resources for the development of this research.
About this article
Cite this article
Souto, T.F., Aquino, S.F., Silva, S.Q. et al. Influence of incubation conditions on the specific methanogenic activity test. Biodegradation 21, 411–424 (2010). https://doi.org/10.1007/s10532-009-9311-x
Received:

Accepted:

Published:

Issue Date:
Keywords
Specific methanogenic activity (SMA)

Anaerobic digestion

Reactor control operation

Wastewater treatment