Abstract
Biodegradation of glyphosate in sod-podzol soil by both the indigenous micro flora and the introduced strain Ochrobactrum anthropi GPK 3 was studied with respect to its sorption and mobility. The experiments were carried out in columns simulating the vertical soil profile. Soil samples studied were taken from soil horizons 0–10, 10–20, and 20–30 cm deep. It was found out that the most of the herbicide (up to 84%) was adsorbed by soil during the first 24 h; the rest (16%) remained in the soluble fraction. The adsorbed glyphosate was completely extractable by alkali. No irreversible binding of glyphosate was observed. By the end of the experiment (21st day), glyphosate was only found in extractable fractions. The comparison of the effect of the introduced O. anthropi GPK 3 and indigenous microbial community on the total toxicant content (both soluble and absorbed) in the upper 10 cm soil layer showed its reduction by 42% (21 mg/kg soil) and 10–12% (5 mg/kg soil), respectively. Simultaneously, 14–18% glyphosate moved to a lower 10–20 cm layer. Watering (that simulated rainfall) resulted in a 20% increase of its content at this depth; 6–8% of herbicide was further washed down to the 20–30 cm layer. The glyphosate mobility down the soil profile reduced its density in the upper layer, where it was available for biodegradation, and resulted in its concentration in lower horizons characterized by the absence (or low level) of biodegradative processes. It was shown for the first time how the herbicide biodegradation in soil can be increased manifold by introduction of the selected strain O. anthropi GPK 3.
Access options
Buy single article
Instant access to the full article PDF.
US$ 39.95
Tax calculation will be finalised during checkout.
Subscribe to journal
Immediate online access to all issues from 2019. Subscription will auto renew annually.
US$ 79
Tax calculation will be finalised during checkout.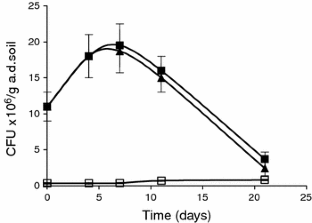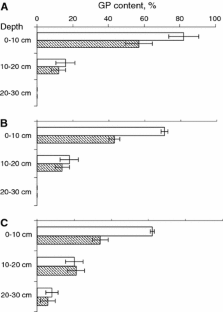 References
Araujio ASF, Monteiro RTR, Abarceli RB (2003) Effect of glyphosate on the microbial activity of two Brazilian soils. Chemosphere 52:799–804

Balthazor TM, Hallas LE (1986) Glyphosate-degrading microorganisms from industrial activated sludge. Appl Environ Microbiol 51:432–434

Barrett KA, McBride MB (2007) Phosphate and glyphosate mobility in soil columns amended with Roundup. Soil Sci 172:17–26

Dick RE, Quinn JP (1995) Glyphosate-degrading isolates from environmental samples: occurrence and pathways of degradation. Appl Microbiol Biotecnol 43:545–550

Dousset S, Chauvin C, Durlet P, Thevenot M (2004) Transfer of hexazinone and glyphosate through undisturbed soil columns in soils under Christmas tree cultivation. Chemosphere 57:265–272

Eberbach P (1998) Applying non-steady-state compartmental analysis to investigate the simultaneous degradation of soluble and sorbed glyphosate (N-(phosphonomethyl)glycine) in four soils. Pestic Sci 52:229–240

Eberbach P (1999) Influence of incubation temperature on the behavior of triethylamine-extractable glyphosate (N-phosphonomethylglycine) in four soils. J Agric Food Chem 47:2459–2467

Ermakova IT, Shushkova TV, Leontievsky AA (2008) Microbial degradation of organophosphonates by soil bacteria. Microbiology 77:615–620 (translated from Mikrobiologiya)

Getenga M, Kengara FO (2004) Mineralization of glyphosate in compost-amended soil under controlled condition. Bull Environ Contam Toxicol 72:266–275

Gimsing AL, Borggaard OK (2002) Effect of phosphate on the adsorption of glyphosate on soils, clay minerals and oxides. Int J Environ Anal Chem 82:545–552

Gimsing AL, Borggaard OK, Bang M (2004) Influence of soil composition on adsorption of glyphosate and phosphate by contrasting Danish surface soils. Eur J Soil Sci 55:183–191

Glass R (1987) Adsorption of glyphosate in soil and clay minerals. J Agric Food Chem 35:497–500

Jaworski EG (1972) Mode of action of N-phosphonomethylglycine: inhibition of aromatic amino acid biosynthesis. J Agric Food Chem 20:1195–1198

Morillo E, Undabeytia T, Maqueda C, Ramos A (2000) Glyphosate adsorption on soil of different characteristics. Influence of copper addition. Chemosphere 40:103–107

Piccolo A, Celano G, Conte P (1996) Adsorption of glyphosate by humic substances. J Agric Food Chem 44:2442–2446

Roy DN, Konar SK, Banerjee S, Charles DA, Thompson DG, Prasad RP (1989) Uptake and persistence of the herbiside in fruit of wild blue-berry and raspberry. Can J For Res 19:842–847

Rueppel M, Brightwell B, Schaefer J, Marcel J (1977) Metabolism and degradation of glyphosate in soil and water. J Agric Food Chem 25:517–528

Sorensen SR, Schultz A, Jacobsen OS, Aamand J (2006) Sorption, desorption and mineralization of the herbicides glyphosate and MCPA in samples from two Danish soil and subsurface profiles. Environ Pollut 141:184–194

Sprankle P, Meggitt WF, Penner D (1975) Adsorption, mobility, and microbial degradation of glyphosate in the soil. Weed Sci 23:229–234

Strange-Hansen R, Holm PE, Jacobsen OS, Jacobsen CS (2004) Sorption, mineralization and mobility of N-(phosphonomethyl)glycine (glyphosate) in five different types of gravel. Pest Manag Sci 60:570–578

Torstensson L (1985) Behavior of glyphosate in soil and its degradation. In: Grossbard E, Atkinson D (eds) The herbicide glyphosate. Butterworths, London, pp 137–149

Veiga F, Zapata JM, Marcos MLF, Alvarez E (2001) Dynamics of glyphosate and aminomethylphosphonic acid in a forest soil in Galicia, north-west Spain. Sci Total Environ 271:135–144

Vereecken H (2005) Mobility and leaching of glyphosate: a review. Pest Manag Sci 61:1139–1151
Acknowledgments
The work was supported by the International Science & Technology Center, project no. 1892.2, and Ministry of Education and Science of Russian Federation, project "Development of Scientific Potential of the Higher School" (2.1.1.9227).
About this article
Cite this article
Shushkova, T., Ermakova, I. & Leontievsky, A. Glyphosate bioavailability in soil. Biodegradation 21, 403–410 (2010). https://doi.org/10.1007/s10532-009-9310-y
Received:

Accepted:

Published:

Issue Date:
Keywords
Biodegradation

Glyphosate

Mobility

Ochrobactrum anthropi

Sorption