Abstract
Seed production areas (SPAs) are critical infrastructure for ecological restoration, particularly in fragmented landscapes where wildland seed crops are unavailable or wildland harvest is unsustainable. SPAs are useful for a wide range of species that are amenable to cultivation. Despite increasing research on SPAs, their value for biodiversity conservation has yet to be comprehensively described. Here, we highlight the key benefits of SPAs to biodiversity conservation. First, SPAs allow restoration to be conducted on a much greater scale than could be accomplished with wildland-harvested seed, thus protecting key biodiversity assets from harvest pressures. Second, the native seed production industry adds to the base of stakeholders who are invested in restoring and enhancing biodiversity. Third, SPAs provide novel opportunities for research and public exposure to native biodiversity. We also describe how cultivation can alter plant fitness compared to wildland plants, which acts as a multiplier to their conservation implications. SPAs could lead to two interrelated negative consequences that generate risks for taxonomic and genetic diversity at multiple scales: (1) SPAs can cause and multiply negative genetic legacies as a result of cultivation practices, and (2) SPA progenies can numerically and genetically dominate wildland plant populations. Nevertheless, SPA cultivation offers an opportunity to genetically diversify SPA-derived populations for success in restoration and enlarge the pool of species available for restoration, thus mitigating or solving some of these risks. Targeted government policies toward SPAs, additional research, and sound SPA management are necessary to minimize genetic risks and taxonomic redundancy, and also to maximize the conservation benefits of SPAs.
Access options
Buy single article
Instant access to the full article PDF.
USD 39.95
Price includes VAT (USA)
Tax calculation will be finalised during checkout.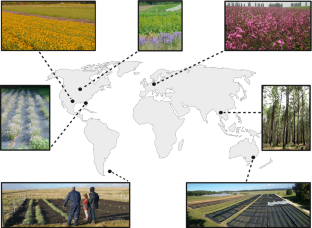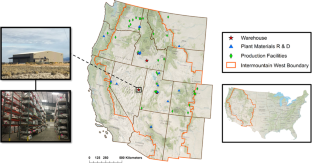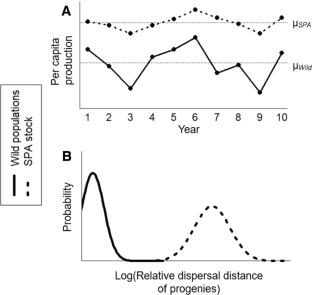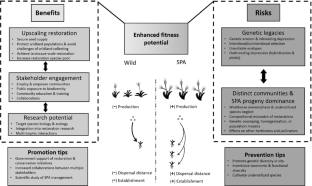 References
Aavik T, Edwards PJ, Holderegger R, Graf R, Billeter R (2012) Genetic consequences of using seed mixtures in restoration: a case study of a wetland plant Lychnis flos-cuculi. Biol Conserv 145:195–204. https://doi.org/10.1016/j.biocon.2011.11.004

Aavik T, Bosshard D, Edwards PJ, Holderegger R, Billeter R (2014) Fitness in naturally occurring and restored populations of a grassland plant Lychnis flos-cuculi in a Swiss agricultural landscape: fitness in natural and sown plant populations. Restor Ecol 22:98–106. https://doi.org/10.1111/rec.12020

Abbandonato H, Pedrini S, Pritchard HW, De Vitis M, Bonomi C (2018) Native seed trade of herbaceous species for restoration: a European policy perspective with global implications. Restor Ecol 26:820–826. https://doi.org/10.1111/rec.12641

Barak RS, Williams EW, Hipp AL, Bowles ML, Carr GM, Sherman R, Larkin DL (2017) Restored tallgrass prairies have reduced phylogenetic diversity compared with remnants. J Appl Ecol 54:1080–1090. https://doi.org/10.1111/1365-2664.12881

Basey AC, Fant JB, Kramer AT (2015) Producing native plant materials for restoration: 10 rules to collect and maintain genetic diversity. Native Plants J 16:37–53. https://doi.org/10.3368/npj.16.1.37

Baughman OW, Agneray AC, Forister ML, Kilkenny FF, Espeland EK, Fiegener R, Horning ME, Johnson RC, Kaye TN, Ott J, St Clair JB, Leger EA (2019) Strong patterns of intraspecific variation and local adaptation in Great Basin plants revealed through a review of 75 years of experiments. Ecol Evol 9:6259–6275. https://doi.org/10.1002/ece3.5200

Bossdorf O, Richards CL, Pigliucci M (2008) Epigenetics for ecologists. Ecol Lett 11:106–115. https://doi.org/10.1111/j.1461-0248.2007.01130.x

Bradshaw CJA (2012) Little left to lose: deforestation and forest degradation in Australia since European colonization. J Plant Ecol 5:109–120. https://doi.org/10.1093/jpe/rtr038

Breed MF, Stead MG, Ottewell KM, Gardner MG, Lowe AJ (2013) Which provenance and where? Seed sourcing strategies for revegetation in a changing environment. Conserv Genet 14:1–10. https://doi.org/10.1007/s10592-012-0425-z

Broadhurst LM (2013) A genetic analysis of scattered yellow box trees (Eucalyptus melliodora A. Cunn. ex Schauer, Myrtaceae) and their restored cohorts. Biol Conserv 161:48–57. https://doi.org/10.1016/j.biocon.2013.02.016

Broadhurst LM, Lowe A, Coates DJ, Cunningham SA, McDonald M, Vesk PA, Yates C (2008) Seed supply for broadscale restoration: maximizing evolutionary potential. Evol Appl 1:587–597. https://doi.org/10.1111/j.1752-4571.2008.00045.x

Broadhurst LM, Jones TA, Smith FS, North T, Guja L (2016) Maximizing seed resources for restoration in an uncertain future. Bioscience 66:73–79. https://doi.org/10.1093/biosci/biv155

Broadhurst LM, Hopley T, Li L, Begley J (2017) A genetic assessment for seed production areas (SPAs) for restoration. Conserv Genet 18:1257–1266. https://doi.org/10.1007/s10592-017-0977-z

Broadhurst LM, Waters C, Coates DJ (2018) Native seed for restoration: a discussion of key issues using examples from the flora of southern Australia. Rangel J 39:487–498. https://doi.org/10.1071/RJ17055

Brudvig LA (2011) The restoration of biodiversity: where has research been and where does it need to go? Am J Bot 98:549–558. https://doi.org/10.3732/ajb.1000285

Bucharova A, Michalski S, Hermann JM, Heveling K, Durka W, Hölzel N, Kollmann J, Bossdorf O (2017) Genetic differentiation and regional adaptation among seed origins used for grassland restoration: lessons from a multispecies transplant experiment. J Appl Ecol 54:127–136. https://doi.org/10.1111/1365-2664.12645

Bucharova A, Bossdorf O, Hölzel N, Kollmann J, Prasse R, Durka W (2019) Mix and match: regional admixture provenancing strikes a balance among different seed-sourcing strategies for ecological restoration. Conserv Genet 20:7–17. https://doi.org/10.1007/s10592-018-1067-6

Bullock JM, Bonte D, Pufal G, da Silva CC, Chapman DS, García C, García D, Matthysen E, Delgado MM (2018) Human-mediated dispersal and the rewiring of spatial networks. Trends Ecol Evol 33:958–970. https://doi.org/10.1016/j.tree.2018.09.008

Camhi AL, Perrings C, Butterfield B, Wood T (2019) Market-based opportunities for expanding native seed resources for restoration: a case study on the Colorado Plateau. J Environ Manag 252:109644. https://doi.org/10.1016/j.jenvman.2019.109644

Cevallos D, Bede-Fazekas A, Tanács E, Szitár K, Halassy M, Kövendi-Jakó A, Török K (2020) Seed transfer zones based on environmental variables better reflect variability in vegetation than administrative units: evidence from Hungary. Restor Ecol 28:911–918. https://doi.org/10.1111/rec.13150

Chang H, Alexander HM, Mutegi E, Snow AA (2018) Habitat restoration and native grass conservation: a case study of switchgrass (Panicum virgatum). Restor Ecol 26:506–515. https://doi.org/10.1111/rec.12599

Chivers IH, Jones TA, Broadhurst LM, Mott IW, Larson SR (2016) The merits of artificial selection for the development of restoration-ready plant materials of native perennial grasses. Restor Ecol 24:174–183. https://doi.org/10.1111/rec.12323

Cuneo P, Gibson-Roy P, Fifield G, Broadhurst LM, Berryman T, Crawford A, Freudenberger D (2018) Restoring grassy woodland diversity through direct seeding: insights from six 'best-practice' case studies in southern Australia. Ecol Manag Restor 19:124–135. https://doi.org/10.1111/emr.12315

Dedefo K, Derero A, Tesfaye Y, Muriuki J (2017) Tree nursery and seed procurement characteristics influence on seedling quality in Oromia, Ethiopia. For Trees Livelihoods 26:96–110. https://doi.org/10.1080/14728028.2016.1221365

Delpratt J, Gibson-Roy P (2015) Sourcing seed for grassland restoration. In: Williams N, Marshall A, Morgan J (eds) Land of sweeping plains: managing and restoring the grasslands of south-eastern Australia. CSIRO Publishing, Clayton, pp 285–330

De Vitis M, Abbandonato H, Dixon KW, Laverack G, Bonomi C, Pedrini S (2017) The European native seed industry: characterization and perspectives in grassland restoration. Sustainability 9:1682. https://doi.org/10.3390/su9101682

Dolan RW, Marr DL, Schnabel A (2008) Capturing genetic variation during ecological restorations: an example from Kankakee Sands in Indiana. Restor Ecol 16:386–396. https://doi.org/10.1111/j.1526-100X.2007.00318.x

Drenovsky RE, Thornhill ML, Knestrick MA, Dlugos DM, Svejcar TJ, James JJ (2016) Seed production and seedling fitness are uncoupled from maternal plant productivity in three aridland bunchgrasses. Rangel Ecol Manag 69:161–168. https://doi.org/10.1016/j.rama.2016.01.003

Dunne RA, Dunne CG (2003) Trends in the western native plant seed industry since 1990. Native Plants J 4:88–94. https://doi.org/10.3368/npj.4.2.88

Durka W, Michalski SG, Berendzen KW, Bossdorf O, Bucharova A, Hermann JM, Hölzel N, Kollmann J (2017) Genetic differentiation within multiple common grassland plants supports seed transfer zones for ecological restoration. J Appl Ecol 54:116–126. https://doi.org/10.1111/1365-2664.12636

Dyer AR, Knapp EE, Rice KJ (2016) Unintentional selection and genetic changes in native perennial grass populations during commercial seed production. Ecol Restor 34:39–48. https://doi.org/10.3368/er.34.1.39

Ellis EC, Goldewijk KK, Siebert S, Lightman D, Ramankutty N (2010) Anthropogenic transformation of the biomes, 1700 to 2000. Glob Ecol Biogeogr 19:589–606. https://doi.org/10.1111/j.1466-8238.2010.00540.x

Ensslin A, Sandner TM, Matthies D (2011) Consequences of ex situ cultivation of plants: genetic diversity, fitness and adaptation of the monocarpic Cynoglossum officinale L. in botanic gardens. Biol Conserv 144:272–278. https://doi.org/10.1016/j.biocon.2010.09.001

Ensslin A, van de Vyver A, Vanderborght T, Godefroid S (2018) Ex situ cultivation entails high risk of seed dormancy loss on short-lived wild plant species. J Appl Ecol 55:1145–1154. https://doi.org/10.1111/1365-2664.13057

Espeland EK, Hammond D (2013) Maternal effects on growth and competitive ability in a commonly used restoration species. Native Plants J 14:231–242. https://doi.org/10.3368/npj.14.3.231

Espeland EK, Emery NC, Mercer KL, Woolbright SA, Kettenring KM, Gepts P, Etterson JR (2017) Evolution of plant materials for ecological restoration: insights from the applied and basic literature. J Appl Ecol 54:102–115. https://doi.org/10.1111/1365-2664.12739

Evans MEK, Dennehy JJ (2005) Germ banking: bet-hedging and variable release from egg and seed dormancy. Q Rev Biol 80:431–451. https://doi.org/10.1086/498282

Fenner M (2000) Seeds: the ecology of regeneration in plant communities, 2nd edn. CABI Publishing, Wallingford

Gibson A, Nelson CR, Rinehart S, Archer V, Eramian A (2019) Importance of considering soils in seed transfer zone development: evidence from a study of the native Bromus marginatus. Ecol Appl 29:e01835. https://doi.org/10.1002/eap.1835

Gibson-Roy P (2010) Reconstructing new populations of the endangered Rutidosis leptorrhynchoides (button wrinklewort) at two sites in south-western Victoria. Australas Plant Conserv 19:13–14

Gibson-Roy P (2018) Restoring grassy ecosystems: feasible or fiction? An inquisitive Australian's experience in the USA. Ecol Manag Restor 19:11–25. https://doi.org/10.1111/emr.12327

Gibson-Roy P, McDonald T (2014) Reconstructing grassy understories in south-eastern Australia: interview with Paul Gibson-Roy. Ecol Manag Restor 15:111–122. https://doi.org/10.1111/emr.12116

Gibson-Roy P, Moore G, Delpratt J, Gardner J (2010) Expanding horizons for herbaceous ecosystem restoration: the Grassy Groundcover Restoration Project. Ecol Manag Restor 11:176–186. https://doi.org/10.1111/j.1442-8903.2010.00547.x

Gustafson DJ, Gibson DJ, Nickrent DL (2001) Characterizing three restored Andropogon gerardii Vitman (big bluestem) populations established with Illinois and non-Illinois seed: established plants and their offspring. In: Bernstein NP, Ostrander LJ (eds) Proceedings of the seventeenth North American Prairie Conference. Northern Iowa Area Community College, Mason City, IA, pp 118–124

Haase DL, Davis AS (2017) Developing and supporting quality nursery facilities and staff are necessary to meet global forest and landscape restoration needs. Reforesta 4:69–93. https://doi.org/10.21750/REFOR.4.06.45

Han L, Love K, Peace B, Broadhurst LM, England N, Li L, Bush D (2020) Origin of planted Eucalyptus benthamii trees in Camden NSW: checking the effectiveness of circa situm conservation measures using molecular markers. Biodivers Conserv 29:1301–1322. https://doi.org/10.1007/s10531-020-01936-4

Hancock N, Gibson-Roy P, Driver M, Broadhurst LM (2020) The Australian native seed survey report. Australian Network for Plant Conservation, Canberra

Harris JA, Hobbs RJ, Higgs E, Aronson J (2006) Ecological restoration and global climate change. Restor Ecol 14:170–176. https://doi.org/10.1111/j.1526-100X.2006.00136.x

Henderson R (2017) Of checks, balances, and seed production. Prairie Promoter 30:6–8

Hufford KM, Mazer SJ (2003) Plant ecotypes: genetic differentiation in the age of ecological restoration. Trends Ecol Evol 18:147–155. https://doi.org/10.1016/S0169-5347(03)00002-8

Jackson LL (1992) The role of ecological restoration in conservation biology. In: Hall CA (ed) Conservation biology: the theory and practice of nature conservation, preservation, and management. Springer, New York, pp 433–451

Jalonen R, Valette M, Boshier D, Duminil J, Thomas E (2018) Forest and landscape restoration severely constrained by a lack of attention to the quantity and quality of tree seed: insights from a global survey. Conserv Lett 11:e12424. https://doi.org/10.1111/conl.12424

Jiménez-Alfaro B, Frischie S, Stolz J, Gálvez-Ramírez C (2020) Native plants for greening Mediterranean agroecosystems. Nat Plants 6:209–214. https://doi.org/10.1038/s41477-020-0617-3

Jones TA (2013) When local isn't best. Evol Appl 6:1109–1118. https://doi.org/10.1111/eva.12090

Jones TA (2019) Native seeds in the marketplace: meeting restoration needs in the Intermountain West, United States. Rangel Ecol Manag 72:1017–1029. https://doi.org/10.1016/j.rama.2019.07.009

Jones TA, Robins JG (2011) Appropriate use of genetic manipulation for the development of restoration plant materials. In: Lüttge UE, Beyschlag W, Büdel B, Francis D (eds) Progress in botany, vol 72. Springer, Berlin, pp 249–264

Jones TA, Monaco TA, Rigby CW (2015) The potential of novel native plants materials for the restoration of novel ecosystems. Elementa 3:e000047. https://doi.org/10.12952/journal.elementa.000047

Kaulfuß F, Reisch C (2019) Restoration of grasslands using commercially produced seed mixtures: genetic variation within and among natural and restored populations of three common grassland species. Conserv Genet 20:373–384. https://doi.org/10.1007/s10592-018-01138-0

Kareiva P, Watts S, McDonald R, Boucher T (2007) Domesticated nature: shaping landscapes and ecosystems for human welfare. Science 316:1866–1869. https://doi.org/10.1126/science.1140170

Kettle CJ, Ennos RA, Jaffré T, Gardner M, Hollingsworth PM (2008) Cryptic genetic bottlenecks during restoration of an endangered tropical conifer. Biol Conserv 141:1953–1961. https://doi.org/10.1016/j.biocon.2008.05.008

Kirmer A, Valkó O, Török P, Tóthmérész B, Tischew S, Kapocsi I, Radócz S, Miglécz T, Tóth K, Klemen A, Deák B (2015) Large-scale grassland restoration: high diversity seeding and knowledge transfer of regional seed propagation to Hungary. Debrecen University Press, Debrecen

Knapp EE, Dyer AR (1998) When do genetic considerations require special approaches to ecological restoration? In: Fieldler PL, Kareiva PM (eds) Conservation biology for the coming decade. Chapman and Hall, New York, pp 345–363

Kramer AT, Wood TE, Frischie S, Havens K (2018) Considering ploidy when producing and using mixed-source native plant materials for restoration. Restor Ecol 26:13–19. https://doi.org/10.1111/rec.12636

Ladouceur E, Jiménez-Alfaro B, Marin M, De Vitis M, Abbandonato H, Iannetta PPM, Bonomi C, Pritchard HW (2018) Native seed supply and the restoration species pool. Conserv Lett 11:e12381. https://doi.org/10.1111/conl.12381

Laikre L, Schwartz MK, Waples RS, Ryman N, GeM Working Group (2010) Compromising genetic diversity in the wild: unmonitored large-scale release of plants and animals. Trends Ecol Evol 25:520–529. https://doi.org/10.1016/j.tree.2010.06.013

Leger EA, Baughman OW (2014) What can natural selection tell us about restoration? Finding the best seed sources for use in disturbed systems. In: Kirmer A, Kiehl K (eds) Guidelines for native seed production and grassland restoration. Cambridge Scholars, Newcastle, pp 14–36

Leimu R, Fischer M (2008) A meta-analysis of local adaptation in plants. PLoS ONE 3:e4010. https://doi.org/10.1371/journal.pone.0004010

León-Lobos P, Bustamante-Sánchez MA, Nelson CR, Alarcón D, Hasbún R, Way M, Pritchard HW, Armesto JJ (2020) Lack of adequate seed supply is a major bottleneck for effective ecosystem restoration in Chile: friendly amendment to Bannister et al. (2018). Restor Ecol 28:277–281. https://doi.org/10.1111/rec.13113

Mainz AK, Wieden M (2019) Ten years of native seed certification in Germany: a summary. Plant Biol 21:383–388. https://doi.org/10.1111/plb.12866

Maunder M, Havens K, Guerrant EO Jr, Falk DA (2004) Ex situ methods: a vital but underused set of conservation resources. In: Guerrant EO, Havens K, Maunder M (eds) Ex situ plant conservation. Island Press, Washington, DC, pp 389–408

McCallum KP, Lowe AJ, Breed MF, Paton DC (2018) Spatially designed revegetation: why the spatial arrangement of plants should be as important to revegetation as they are to natural systems. Restor Ecol 26:446–455. https://doi.org/10.1111/rec.12690

McCallum KP, Breed MF, Paton DC, Lowe AJ (2019) Clumped planting arrangements improve seed production in a revegetated eucalypt woodland. Restor Ecol 27:638–646. https://doi.org/10.1111/rec.12905

Meissen JC, Galatowitsch SM, Cornett MW (2015) Risks of overharvesting seed from native tallgrass prairies. Restor Ecol 23:882–891. https://doi.org/10.1111/rec.12295

Mejnartowicz L (1996) Cisovka: the relic population of Abies alba and its relationship to man-made silver-fir stands in Białowieża primeval forest. Acta Soc Bot Pol 65:319–328. https://doi.org/10.5586/asbp.1996.049

Merritt DJ, Dixon KW (2011) Restoration seed banks: a matter of scale. Science 332:424–425. https://doi.org/10.1126/science.1203083

Millennium Ecosystem Assessment (2005) Ecosystems and human well-being: current state and trends. Findings of the condition and trends working group. In: Hassan R, Scholes R, Ash N (eds) Millennium ecosystem assessment series. Island Press, Washington, DC

Moreira da Silva AP, Schweizer D, Rodrigues-Marques H, Cordeiro-Teixeira AM, Nascente dos Santos TVM, Sambuichi RHR, Badari CG, Gaudare U, Brancalion PHS (2017) Can current native tree seedling production and infrastructure meet an increasing forest restoration demand in Brazil? Restor Ecol 25:509–515. https://doi.org/10.1111/rec.12470

Mortlock W (2000) Local seed for revegetation. Where will all that seed come from? Ecol Manag Restor 1:93–101. https://doi.org/10.1046/j.1442-8903.2000.00029.x

Muir JP, Pitman WD, Smith FS, Lloyd-Reilley J, Shadow RA (2018) Challenges to developing native legume seed supplies: the Texas experience as a case study. Native Plants J 19:224–238. https://doi.org/10.3368/npj.19.3.224

Mutegi E, Stottlemyer AL, Snow AA, Sweeney PM (2014) Genetic structure of remnant populations and cultivars of switchgrass (Panicum virgatum) in the context of prairie conservation and restoration. Restor Ecol 22:223–231. https://doi.org/10.1111/rec.12070

Nagel R, Durka W, Bossdorf O, Bucharova A (2019) Rapid evolution in native plants cultivated for ecological restoration: not a general pattern. Plant Biol 21:551–558. https://doi.org/10.1111/plb.12901

Neff D, Kettle C, Gotor E (2019) Costs of tree seed and seedling supply systems. The cost of integrating genetic diversity into forest landscape restoration. Biodiversity International, Rome, p 42

Nevill PG, Tomlinson S, Elliott CP, Espeland EK, Dixon KW, Merritt DJ (2016) Seed production areas for the global restoration challenge. Ecol Evol 6:7490–7497. https://doi.org/10.1002/ece3.2455

Nevill PG, Cross AT, Dixon KW (2018) Ethical seed sourcing is a key issue in meeting global restoration targets. Curr Biol 28:R1378–R1379. https://doi.org/10.1016/j.cub.2018.11.015

Nyoka BI, Roshetko J, Jamnadass R, Muriuki J, Kalinganire A, Lillesø JPB, Beedy T, Cornelius J (2015) Tree seed and seedling supply systems: a review of the Asia, Africa and Latin America models. Small-Scale For 14:171–191. https://doi.org/10.1007/s11842-014-9280-8

Oduor AMO, Leimu R, van Kleunen M (2016) Invasive plant species are locally adapted just as frequently and at least as strongly as native plant species. J Ecol 104:957–968. https://doi.org/10.1111/1365-2745.12578

Pedrini S, Dixon KW (2020) International principles and standards for native seeds in ecological restoration. Restor Ecol 28:S286–S303. https://doi.org/10.1111/rec.13155

Pedrini S, Gibson-Roy P, Trivedi C, Gálvez-Ramírez C, Hardwick K, Shaw N, Frischie S, Laverack G, Dixon KW (2020) Collection and production of native seeds for ecological restoration. Restor Ecol 28:S228-238. https://doi.org/10.1111/rec.13190

Peppin DL, Fulé PZ, Lynn JC, Mottek-Lucas AL, Hull Sieg C (2010) Market perceptions and opportunities for native plant production on the Southern Colorado Plateau. Restor Ecol 18:113–124. https://doi.org/10.1111/j.1526-100X.2010.00656.x

Perring MP, Standish RJ, Price JN, Craig MD, Erickson TE, Ruthrof KX, Whiteley AS, Valentine LE, Hobbs RJ (2015) Advances in restoration ecology: rising to the challenges of the coming decades. Ecosphere 6:1–25. https://doi.org/10.1890/ES15-00121.1

Prober SM, Byrne M, McLean EH, Steane DA, Potts BM, Vaillancourt RE, Stock WD (2015) Climate-adjusted provenancing: a strategy for climate-resilient ecological restoration. Front Ecol Evol 3:65. https://doi.org/10.3389/fevo.2015.00065

Ramírez-Soto A, Villa-Bonilla B, Lucio-Palacio CR, Libreros LL, Sánchez-Velásquez LR, Inzunza ER (2018) Mexico's official reforestation programs are shrinking and narrowing its vision at a higher financial expense. For Policy Econ 94:32–34. https://doi.org/10.1016/j.forpol.2018.06.006

Roach DA, Wulff RD (1987) Maternal effects in plants. Ann Rev Ecol Syst 18:209–235. https://doi.org/10.1146/annurev.es.18.110187.001233

Saxhaug KF, Jungers JM, Hegeman AD, Wyse DL, Sheaffer CC (2020) Cultivation of native plants for seed and biomass yield. Agron J 112:1815–1827. https://doi.org/10.1002/agj2.20195

Schmidt IB, de Urzedo DI, Piña-Rodrigues FCM, Vieira DLM, de Rezende GM, Sampaio AB, Junqueira RGP (2019) Community-based native seed production for restoration in Brazil–the role of science and policy. Plant Biol 21:389–397. https://doi.org/10.1111/plb.12842

Schmidt LA, Gilpin AM, Cook JM, Rymer P, Gibson-Roy P, Craigie S, Power SA (2020) Restoration of native wildflower patches in agronomic settings for diverse and healthy pollinator populations. Australas Plant Conserv 28:17–19

Selbo SM, Snow AA (2005) Flowering phenology and genetic similarity among local and recently introduced populations of Andropogon gerardii in Ohio. Restor Ecol 13:441–447. https://doi.org/10.1111/j.1526-100X.2005.00055.x

Suraj PG, Nagabhushana K, Kamalakannan R, Varghese M (2019) Impact of fertility variation on genetic diversity and phenotypic traits in second generation seed production areas and clonal seed orchards of Eucalyptus camaldulensis. Silvae Genet 68:29–40. https://doi.org/10.2478/sg-2019-0006

Tangmitcharoen S, Takaso T, Siripatanadilox S, Tasen W, Owens JN (2006) Behavior of major insect pollinators of teak (Tectona grandis L. f.): a comparison of clonal seed orchard versus wild trees. For Ecol Manag 222:67–74. https://doi.org/10.1016/j.foreco.2005.10.041

Tischew S, Youtie B, Kirmer A, Shaw N (2011) Farming for restoration: building bridges for native seeds. Ecol Restor 29:219–222. https://doi.org/10.3368/er.29.3.219

Turner KG, Huang DI, Cronk QCB, Rieseberg LH (2018) Homogenization of populations in the wildflower, Texas bluebonnet (Lupinus texensis). J Hered 109:152–161. https://doi.org/10.1093/jhered/esx094

de Urzedo DI, Fisher R, Piña-Rodrigues FCM, Freire JM, Junqueira RGP (2019) How policies constrain native seed supply for restoration in Brazil. Restor Ecol 27:768–774. https://doi.org/10.1111/rec.12936

de Urzedo DI, Piña-Rodrigues FCM, Feltran-Barbieri R, Junqueira RGP, Fisher R (2020) Seed networks for upscaling forest landscape restoration: is it possible to expand native plant sources in Brazil? Forests 11:259. https://doi.org/10.3390/f11030259

Vander Mijnsbrugge K, Bischoff A, Smith B (2010) A question of origin: where and how to collect seed for ecological restoration. Basic Appl Ecol 11:300–311. https://doi.org/10.1016/j.baae.2009.09.002

Vasemägi A, Gross R, Paaver T, Koljonen ML, Nilsson J (2005) Extensive immigration from compensatory hatchery releases into wild Atlantic salmon population in the Baltic Sea: spatio-temporal analysis over 18 years. Heredity 95:76–83. https://doi.org/10.1038/sj.hdy.6800693

Vidal CY, Naves RP, Viani RAG, Rodrigues RR (2020) Assessment of the nursery species pool for restoring landscapes in southeastern Brazil. Restor Ecol 28:427–434. https://doi.org/10.1111/rec.13096

Weeks AR, Sgrò CM, Young AG, Frankham R, Mitchell NJ, Miller KA, Byrne M, Coates DJ, Eldridge MDB, Sunnucks P, Breed MF, James EA, Hoffmann AA (2011) Assessing the benefits and risks of translocations in changing environments: a genetic perspective. Evol Appl 4:709–725. https://doi.org/10.1111/j.1752-4571.2011.00192.x

White N, Gibson-Roy P, Cook JM (2017) Plant–pollinator interactions within a seed production area for native grassland restoration. In: Johnson SN (ed) Invertebrate ecology of Australasian grasslands. Proceedings of the ninth ACGIE. Western Sydney University, Hawkesbury, pp 22–25

White A, Fant JB, Havens K, Skinner M, Kramer AT (2018) Restoring species diversity: assessing capacity in the U.S. native plant industry. Restor Ecol 26:605–611. https://doi.org/10.1111/rec.12705

Wilcock C, Neiland R (2002) Pollination failure in plants: why it happens and when it matters. Trends Plant Sci 7:270–277. https://doi.org/10.1016/S1360-1385(02)02258-6

Winkler DE, Massatti R (2020) Unexpected hybridization reveals the utility of genetics in native plant restoration. Restor Ecol 28:1047–1052. https://doi.org/10.1111/rec.13189
Acknowledgements
Comments from two anonymous reviewers greatly improved the previous version of the manuscript. We thank the following individuals and organizations for providing images used in Fig. 1: F. Ross, S. and A. Felton (Falklands Conservation), Native American Seed (Junction, TX), Prairie Moon Nursery (Winona, MN), A. Kareen (Verband deutscher Wildsamen und Wildpflanzenproduzenten), T. Zinn, S. Tangmitcharoen, and Ernst Seed (Meadville, PA). Special thanks to C. Carpenter and S. Lindholm for assistance with Fig. 3, and S. Flamand for editing.
Funding
No funding was received to assist with the preparation of this manuscript.
Ethics declarations
Conflict of interest
The authors declare that they have no conflict of interest to disclose.
Additional information
Publisher's Note
Springer Nature remains neutral with regard to jurisdictional claims in published maps and institutional affiliations.
Communicated by Eckehard G. Brockerhoff.
Supplementary Information
Below is the link to the electronic supplementary material.
About this article
Cite this article
Zinnen, J., Broadhurst, L.M., Gibson-Roy, P. et al. Seed production areas are crucial to conservation outcomes: benefits and risks of an emerging restoration tool. Biodivers Conserv 30, 1233–1256 (2021). https://doi.org/10.1007/s10531-021-02149-z
Received:

Revised:

Accepted:

Published:

Issue Date:
Keywords
Ecological restoration

Ex situ conservation

Human-vectored dispersal

Native plant materials

Plant materials

Seed orchard

Workhorse species