Abstract
Ants can shape vegetation as seed dispersers and ecosystem engineers. When anthills are long-lasting, they are known to change soil and vegetation characteristics. However, it is unclear whether plant species traits and species composition vary between ant guilds and between parts of individual anthills. We compared different aspects of soil and vegetation (composition, seedling abundance, and functional traits) between anthills and the surrounding mesophilous pasture in Czechia. This pasture hosts eight ant species, which belong to both seed dispersers and non-dispersers. Where feasible, we divided anthills into centres and margins for the analyses. Anthills (area 90.5–4051.7 cm2; 5–19 plant species) displayed different and more heterogeneous (less similar within anthill plot type) vegetation composition when compared to the surrounding area, with more seedlings and several species restricted to anthills. Further, anthills were more functionally diverse and exhibited several differences in traits, both at the community and intraspecific level. Anthill centres had higher surface temperatures in hot sunny days, higher levels of phosphorus and pH than margins, while margins had higher moisture and carbon content than surrounding vegetation. Further, anthill vegetation differed between ant guilds with more myrmecochorous species found at nests of seed dispersers. Overall heterogeneity in this mesophilous pasture was enhanced by the presence of anthills. Further, the anthills themselves are heterogeneous due to variable sizes, persistence, and differences between their centres and margins on long-lasting anthills. Anthills can thus enhance plant diversity by maintaining disturbed microsites and enhancing the growth of seedlings and less competitive plants.
Access options
Buy single article
Instant access to the full article PDF.
US$ 39.95
Tax calculation will be finalised during checkout.
Subscribe to journal
Immediate online access to all issues from 2019. Subscription will auto renew annually.
US$ 119
Tax calculation will be finalised during checkout.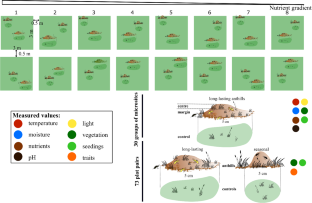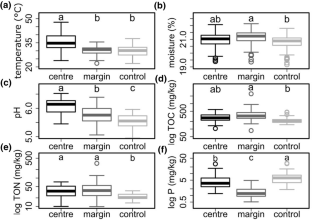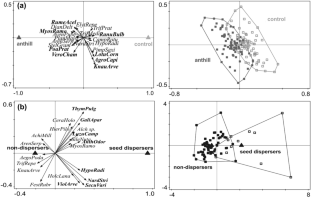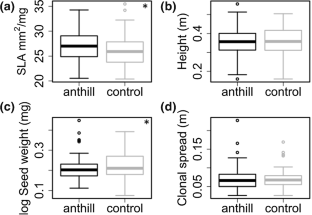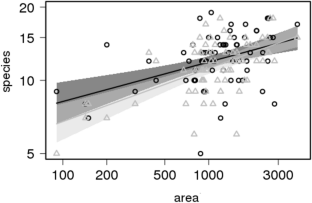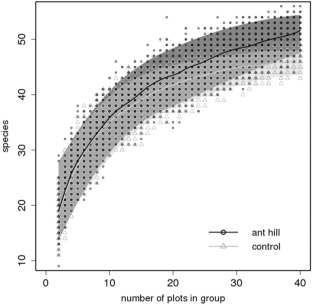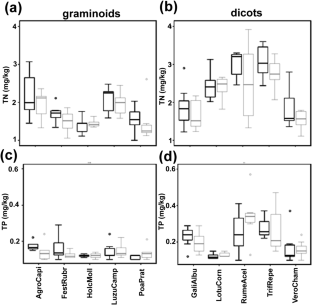 Data availability
Primary data are included as electronic supplementary material.
References
Barton BJ, Kirschbaum CD, Bach CE (2009) The impacts of ant mounds on sedge meadow and shrub carr vegetation in a prairie fen. Nat Areas J 29:293–300. https://doi.org/10.3375/043.029.0308

Bates D, Mächler M, Bolker B, Walker S (2015) Fitting linear mixed-effects models using lme4. J Stat Softw 67:1–48. https://doi.org/10.18637/jss.v067.i01

Beattie AJ, Culver DC (1983) The nest chemistry of two seed-dispersing ant species. Oecologia 56:99–103. https://doi.org/10.1007/BF00378223

Blomqvist MM, Olff H, Blaauw MB, Bongers T, Van Der Putten WH (2000) Interactions between above- and belowground biota: importance for small-scale vegetation mosaics in a grassland ecosystem. Oikos 90:582–598. https://doi.org/10.1034/j.1600-0706.2000.900316.x

Cammeraat ELH, Risch AC (2008) The impact of ants on mineral soil properties and processes at different spatial scales. J Appl Entomol 132:285–294. https://doi.org/10.1111/j.1439-0418.2008.01281.x

Coenen-Stass D, Schaarschidt B, Laprecht I (1980) Temperature distribution and calorimetric determination of heat production in the nest of the wood ant, Formica polyctena (Hymenoptera, Formicidae). Ecology 61:238–244. https://doi.org/10.2307/1935180

Danihelka J, Chrtek J, Kaplan Z (2012) Checklist of vascular plants of the Czech Republic. Preslia 84:647–811

Dauber J, Wolters V (2000) Microbial activity and functional diversity in the mounds of three different ant species. Soil Biol Biochem 32:93–99. https://doi.org/10.1016/S0038-0717(99)00135-2

Dauber J, Rommeler A, Wolters V (2006) The ant Lasius flavus alters the viable seed bank in pastures. Eur J Soil Biol 42:S157–S163. https://doi.org/10.1016/j.ejsobi.2006.06.002

De Almeida T, Blight O, Mesléard F, Bulot A, Provost E, Dutoit T (2020) Harvester ants as ecological engineers for Mediterranean grassland restoration: impacts on soil and vegetation. Biol Conserv 245:108547. https://doi.org/10.1016/j.biocon.2020.108547

Dean WRJ, Milton SJ, Klotz S (1997) The role of ant nest-mounds in maintaining small-scale patchiness in dry grasslands in Central Germany. Biodivers Conserv 6:1293–1307. https://doi.org/10.1023/A:1018313025896

Dostál P, Březnová M, Kozlíčková V, Herben T, Kovář P (2005) Ant-induced soil modification and its effect on plant below-ground biomass. Pedobiologia 49:127–137. https://doi.org/10.1016/j.pedobi.2004.09.004

Ehrle A, Andersen AN, Levick SR, Schumacher J, Trumbore SE, Michalzik B (2017) Yellow-meadow ant (Lasius flavus) mound development determines soil properties and growth responses of different plant functional types. Eur J Soil Biol 81:83–93. https://doi.org/10.1016/j.ejsobi.2017.06.006

Farji-Brener AG, Lescano MN (2017) Refuse dumps from leaf-cutting ant nests reduce the intensity of above-ground competition among neighboring plants in a Patagonian steppe. Acta Oecol 85:136–140. https://doi.org/10.1016/j.actao.2017.10.009

Farji-Brener AG, Werenkraut V (2017) The effects of ant nests on soil fertility and plant performance: a meta-analysis. J Anim Ecol 86:866–877. https://doi.org/10.1111/1365-2656.12672

Fibich P, Vítová A, Macek P, Lepš J (2013) Establishment and spatial associations of recruits in meadow gaps. J Veg Sci 24:496–505. https://doi.org/10.1111/j.1654-1103.2012.01486.x

Folgarait P (1998) Ant biodiversity to ecosystem functioning: a review. Biodivers Conserv 7:1121–1244. https://doi.org/10.1023/A:1008891901953

Folgarait P, Perelman S, Gorosito N, Pizzio R, Fernández J (2002) Effects of Camponotus punctulatus ant on plant community composition and soil properties across land-use histories. Plant Ecol 163:1–13. https://doi.org/10.1023/A:1020323813841

Frouz J (2000) The effect of nest moisture on daily temperature regime in the nests of Formica polyctena wood ants. Insectes Soc 47:229–235. https://doi.org/10.1007/PL00001708

Frouz J, Jílková V (2008) The effect of ants on soil properties and processes (Hymenoptera: Formicidae). Myrmecol News 11:191–199

Frouz J, Kalcik J, Cudlin P (2005) Accumulation of phosphorus in nests of red wood ants Formica s. str. Ann Zool Fennici 42:269–275

Gómez C, Espadaler X (1998) Myrmecochorous dispersal distances: a world survey. J Biogeogr 25:573–580. https://doi.org/10.1046/j.1365-2699.1998.2530573.x

Gorb S, Gorb E, Sindarovskaya Y (1997) Interaction between the non-myrmecochorous herb Galium aparine and the ant Formica polyctena. Plant Ecol 131:215–221. https://doi.org/10.1023/A:1009789202189

Grime JP (1988) The C-S-R model of primary plant strategies—origins, implications and tests. In: Gottlieb LD, Jain SK (eds) Plant evolutionary biology. Springer, Dordrecht

Herben T, Chytrý M, Klimešová J (2016) A quest for species-level indicator values for disturbance. J Veg Sci 27:628–636. https://doi.org/10.1111/jvs.12384

Holec M, Frouz J (2006) The effect of two ant species Lasius niger and Lasius flavus on soil properties in two contrasting habitats. Eur J Soil Biol 42:213–217. https://doi.org/10.1016/j.ejsobi.2006.07.033

Holec M, Frouz J, Pokorný R (2006) The influence of different vegetation patches on the spatial distribution of nests and the epigeic activity of ants (Lasius niger) on a spoil dump after brown coal mining (Czech Republic). Eur J Soil Biol 42:158–165. https://doi.org/10.1016/j.ejsobi.2005.12.005

Hölldobler B, Wilson EO (1990) The ants. Harvard University Press, Heidelberg

Howe HF, Smallwood J (1982) Ecology of seed dispersal. Annu Rev Ecol Evol Syst 13:201–228

Jarešová I, Kovář P (2004) Interactions between ants and plants during vegetation succession in the abandoned ore-washery sedimentation basin in Chvaletice. In: Kovář P (ed) Natural recovery of human-made deposits in landscape (biotic interactions and ore/ash–slag artificial ecosystems). Academia, Prague

Jones CG, Lawton JH, Shachak M (1994) Organisms as ecosystem engineers. Oikos 69:373–386. https://doi.org/10.2307/3545850

Kelemen A, Lazzaro L, Besnyoi V, Albert ÁJ, Konečná M, Dobay G, Memelink I, Adamec V, Götzenberger L, De Bello F, Le Bagousse-Pinguet Y, Lepš J (2015) Net outcome of competition and facilitation in a wet meadow changes with plant's life stage and community productivity. Preslia 87:347–361

King TJ (1977a) The plant ecology of ant-hills in calcareous grasslands: II Succession on the mounds. J Ecol 65:257–278. https://doi.org/10.2307/2259078

King TJ (1977b) The plant ecology of ant-hills in calcareous grasslands: I. Patterns of species in relation to ant-hills in Southern England. J Ecol 65:235–256. https://doi.org/10.2307/2259077

King TJ (1977c) The plant ecology of ant-hills in calcareous grasslands: III. Factors affecting the population sizes of selected species. J Ecol 65:279–315. https://doi.org/10.2307/2259079

King TJ (1981) Ant-hill vegetation in acidic grasslands in the Gower Peninsula, South Wales. New Phytol 88:559–571. https://doi.org/10.1111/j.1469-8137.1981.tb04100.x

Kleyer M, Bekker RM, Knevel IC, Bakker JP, Thompson K, Sonnenschein M, Poschlod P, Van Groenendael JM, Klimeš L, Klimešová J, Klotz S, Rusch GM, Hermy M, Adriaens D, Boedeltje G, Bossuyt B, Dannemann A, Endels P, Götzenberger L, Hodgson JG, Jackel AK, Kühn I, Kunzmann D, Ozinga WA, Römermann C, Stadler M, Schlegelmilch J, Steendam HJ, Tackenberg O, Wilmann B, Cornelissen JHC, Eriksson O, Garnier E, Peco B (2008) The LEDA traitbase: a database of life-history traits of Northwest European flora. J Ecol 96:1266–1274

Klimešová J, Danihelka J, Chrtek J, de Bello F, Herben T (2017) CLO-PLA: a database of clonal and bud-bank traits of the Central European flora. Ecology 98:1179. https://doi.org/10.1002/ecy.1745

Klotz S, Kühn I, Durka W (eds) (2002) BIOLFLOR - Eine datenbank zu biologisch-ökologischen merkmalen der gefäßpflanzen in Deutschland. Schriftenreihe für Vegetationskunde 38. Bundesamt für Naturschutz, Bonn

Konečná M, Štech M, Lepš J (2018): Myrmecochory. www.pladias.cz

Kopáček J, Borovec J, Hejzlar J, Porcal P (2001) Spectrophotometric determination of iron, aluminum, and phosphorus in soil and sediment extracts after their nitric and perchloric acid digestion. Commun Soil Sci Plant Anal. 32:1431–⁠1443. https://doi.org/10.1081/CSS-100104203

Kovář P, Kovářová M, Dostál R, Herben T (2001) Vegetation of ant-hills in a mountain grassland: effects of mound history and of dominant ant species. Plant Ecol 156:215–227. https://doi.org/10.1023/A:1012648615867

Kovář P, Vojtíšek P, Zentsová I (2013) Ants as ecosystem engineers in natural restoration of human made habitats. J Landsc Ecol 6:18–31. https://doi.org/10.2478/v10285-012-0061-9

Laliberte E, Legendre P (2010) A distance-based framework for measuring functional diversity from multiple traits. Ecology 91:299–305. https://doi.org/10.1890/08-2244.1

Leite PAM, Carvalho MC, Wilcox BP (2018) Good ant, bad ant? Soil engineering by ants in the Brazilian Caatinga differs by species. Geoderma 323:65–73. https://doi.org/10.1016/j.geoderma.2018.02.040

Lenoir L (2009) Effects of ants on plant diversity in semi-natural grasslands. Arthropod Plant Interact 3:163–172. https://doi.org/10.1007/s11829-009-9066-7

Oostermeijer JGB (1989) Myrmecochory in Polygala vulgaris L., Luzula campestris (L.) DC. and Viola curtisii Forster in a Dutch dune area. Oecologia 78:302–311. https://doi.org/10.1007/BF00379102

R Core Team (2019) R: A language and environment for statistical computing. R Foundation for Statistical Computing, Vienna, Austria. https://www.R-project.org/.

Raunkiaer C (1934) The life forms of plants and statistical plant geography. Oxford University Press, London

Rosengren R, Fortelius W, Lindstrom K, Luther A (1987) Phenology and causation of nest heating and thermoregulation in red wood ants of the Formica rufa group studied in coniferous forest habitats in southern Finland. Ann Zool Fennici 24:147–155

Rothanzl J, Kotoučouvá M, Hrabinová I, Plačková I, Herben T (2007) Genetic differentiation of Agrostis capillaris in a grassland system with stable heterogeneity due to terricolous ants. J Ecol 95:197–207. https://doi.org/10.1111/j.1365-2745.2006.01181.x

Rudolphi J (2009) Ant-mediated dispersal of asexual moss propagules. Bryologist 112:73–79. https://doi.org/10.1639/0007-2745-112.1.73

Sádlo J, Chytrý M, Pergl J, Pyšek P (2018) Plant dispersal strategies: a new classification based on the multiple dispersal modes of individual species. Preslia 90:1–22. https://doi.org/10.23855/preslia.2018.001

Schütz M, Kretz C, Dekoninck L, Iravani M, Risch AC (2008) Impact of Formica exsecta Nyl. on seed bank and vegetation patterns in a subalpine grassland ecosystem. J Appl Entomol 132:295–305. https://doi.org/10.1111/j.1439-0418.2008.01293.x

Sebastià MT, Puig L (2008) Complex vegetation responses to soil disturbances in mountain grassland. Plant Ecol 199:77–88. https://doi.org/10.1007/s11258-008-9413-2

Seifert B (2018) The Ants of Central and North Europe. Lutra Verlags – und Vertriebsgesellschaft, Tauer, Germany

Sernander R (1906) Entwurf einer Monographie der europäischen Myrmekochoren. K Sven vetenskapsakademiens Handl 41:1–410

Šmilauer P, Lepš J (2014) Multivariate analysis of ecological data using Canoco 5. Cambridge University Press, Cambridge

ter Braak C, Šmilauer P (2012) Canoco reference manual and user's guide: software of ordination (version 5.0). Microcomputer Power (Ithaca, NY)

Wu H, Lu X, Wu D, Yin X (2010) Biogenic structures of two ant species Formica sanguinea and Lasius flavus altered soil C, N and P distribution in a meadow wetland of the Sanjiang Plain, China. Appl Soil Ecol 46:321–328. https://doi.org/10.1016/j.apsoil.2010.10.011

Zhao M, Yu Y, Shi Y, Mou X, Degen A (2020) Mound-building ant increases the proportion of Gramineae in above-ground vegetation and soil seed bank in alpine meadows. J Veg Sci 31:867–876. https://doi.org/10.1111/jvs.12907
Acknowledgements
Miloslav Trojan is gratefully acknowledged for help with experiment establishment and maintaining, Lebeda family for toleration of our experiment on their pasture and Marie Trojanová, Adam Dressler, Nina Fahs and Markéta Applová for help with data collection. Further we thank Nicholas Alexander Pardikes for editing our English and Jan Dressler for being the first reader. We also thank Martina Lisnerová for her help with the scheme of the experimental design in program Inkscape. The research was supported by the Czech Science Foundation—GACR 20-02901S.
Funding
The research was supported by the Czech Science Foundation – GACR 20-02901S.
Ethics declarations
Conflict of interest
The authors declare that they have no conflict of interest.
Additional information
Publisher's Note
Springer Nature remains neutral with regard to jurisdictional claims in published maps and institutional affiliations.
Communicated by Nigel E. Stork.
Supplementary Information
Below is the link to the electronic supplementary material.
About this article
Cite this article
Konečná, M., Blažek, P., Fibich, P. et al. Anthills as habitat islands in a sea of temperate pasture. Biodivers Conserv 30, 1081–1099 (2021). https://doi.org/10.1007/s10531-021-02134-6
Received:

Revised:

Accepted:

Published:

Issue Date:
Keywords
Ecosystem engineers

Ant guilds

Myrmecochory

Disturbances

Heterogeneity

Functional traits