Abstract
Captive breeding for conservation is widely used to prevent extinction, however these programs face many challenges due to small population size, founder effects, lack of migration and potential adaptation to captivity. Together these influence how selection, genetic drift and gene flow shape the genetic makeup of small populations, so examining these in a captive setting is valuable for appropriate biodiversity management. We have quantified the effects of selection, drift and gene flow in 503 individuals across five generations from the Tasmanian devil insurance population. To determine whether different processes were acting in different settings, we separately analysed animals housed under individual-based management, versus those that were released to an island site. We found that a greater proportion of alleles were lost over time in the smaller island population than in captivity and propose that genetic drift is the most likely process influencing this result. We found that the captive population became more heterozygous over time, while the island population stayed constant. Our molecular measure of inbreeding found a decrease over generations in captivity that is not captured by pedigree-based analysis. As management of breeding interactions only takes place in the captive population, our results are consistent with gene flow through managed breeding in captivity minimising inbreeding over time. Gene flow was also evident through changes to population structure in the captive population. Our findings serve as an example of how conservation managers can assess the impact of evolutionary processes on managed populations and adapt management practices if required.
This is a preview of subscription content,
to check access.
Access this article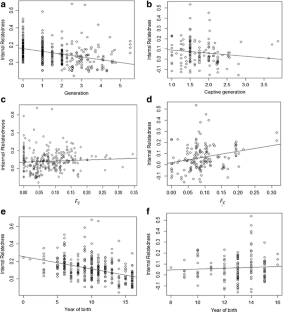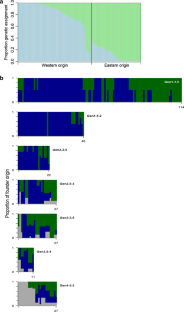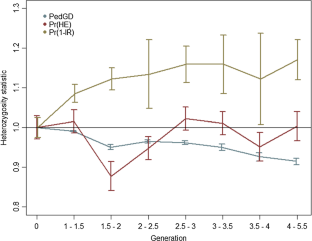 Similar content being viewed by others
Data availability
Genotypes and metadata are available in supplementary file 2.
References
Allendorf FW (1986) Genetic drift and the loss of alleles versus heterozygosity. Zoo Biol 5(2):181–190

Amos W, Worthington Wilmer J, Fullard K, Burg T, Croxall J, Bloch D, Coulson T (2001) The influence of parental relatedness on reproductive success. Proc Royal Soc London Series B Biol Sci 268(1480):2021–2027

Aparicio JM, Ortego J, Cordero PJ (2006) What should we weigh to estimate heterozygosity, alleles or loci? Mol Ecol 15(14):4659–4665

Araki H, Cooper B, Blouin MS (2007) Genetic effects of captive breeding cause a rapid, cumulative fitness decline in the wild. Science 318(5847):100–103

Araki H, Cooper B, Blouin MS (2009) Carry-over effect of captive breeding reduces reproductive fitness of wild-born descendants in the wild. Biol Let 5(5):621–624

Asa C, Traylor-Holzer K, Lacy R (2011) Can conservation-breeding programmes be improved by incorporating mate choice? Int Zoo Yearb 45(1):203–212

Ashley MV, Willson MF, Pergams ORW, O'Dowd DJ, Gende SM, Brown JS (2003) Evolutionarily enlightened management. Biol Cons 111(2):115–123

Attard C, Möller L, Sasaki M, Hammer M, Bice C, Brauer C, Carvalho D, Harris J, Beheregaray L (2016) A novel holistic framework for genetic-based captive-breeding and reintroduction programs. Conserv Biol 30(5):1060–1069

Ballou JD, Lees C, Faust LJ, Long S, Lynch C, Bingaman Lackey L, Foose TJ (2010) Demographic and genetic management of captive populations. In: Kleiman DG, Thompson KV, Baer CK (eds) Wild mammals in captivity: principles and techniques for zoo management. University of Chicago Press, Chicago, pp 219–246

Barton K (2009) MuMIn: multi-model inference, R package version 0.12. 0. http://r-forge.r-project.org/projects/mumin/

Bates D, Mächler M, Bolker B, Walker S (2015) Fitting linear mixed-effects models using lme4. J Stat Softw 67(1):1–48

Brown ME, Keefer CL, Songsasen N (2019) Factors affecting captive whooping crane egg fertility: a retrospective analysis. J Wildl Manag 83(6):1377–1386

Catchen J, Hohenlohe PA, Bassham S, Amores A, Cresko WA (2013) Stacks: an analysis tool set for population genomics. Mol Ecol 22(11):3124–3140

CBSG (2008) Tasmanian Devil PHVA Final Report. IUCN/ISCBS Group, Apple Valley

Cheng Y, Sanderson C, Jones M, Belov K (2012) Low MHC class II diversity in the Tasmanian devil (Sarcophilus harrisii). Immunogenetics 64(7):525–533

Christie MR, Marine ML, French RA, Blouin MS (2012) Genetic adaptation to captivity can occur in a single generation. Proc Natl Acad Sci 109(1):238–242

Coulon A (2010) GENHET: an easy-to-use R function to estimate individual heterozygosity. Mol Ecol Resour 10(1):167–169

Cruz VM, Kilian VA, Dierig DA (2013) Development of DArT marker platforms and genetic diversity assessment of the US collection of the new oilseed crop lesquerella and related species. PLoS ONE 8(5):e64062

Dharmarajan G, Beatty WS, Rhodes OE Jr (2013) Heterozygote deficiencies caused by a Wahlund effect: dispelling unfounded expectations. J Wildl Manag 77(2):226–234

Epstein B, Jones M, Hamede R, Hendricks S, McCallum H, Murchison EP, Schönfeld B, Wiench C, Hohenlohe P, Storfer A (2016) Rapid evolutionary response to a transmissible cancer in Tasmanian devils. Nat Commun 7:12684

Farquharson KA, Hogg CJ, Grueber CE (2017) Pedigree analysis reveals a generational decline in reproductive success of captive Tasmanian devil (Sarcophilus harrisii): implications for captive management of threatened species. J Hered 108(5):488–495

Farquharson KA, Hogg CJ, Belov K, Grueber CE (2020) Deciphering genetic mate choice: not so simple in group-housed conservation breeding programs. Evol Appl 13(9):2179–2189

Frankham R (2005) Genetics and extinction. Biol Cons 126(2):131–140

Frankham R (2008) Genetic adaptation to captivity in species conservation programs. Mol Ecol 17(1):325–333

Frankham R (2010) Challenges and opportunities of genetic approaches to biological conservation. Biol Cons 143(9):1919–1927

Funk WC, Lovich RE, Hohenlohe PA, Hofman CA, Morrison SA, Sillett TS, Ghalambor CK, Maldonado JE, Rick TC, Day MD (2016) Adaptive divergence despite strong genetic drift: genomic analysis of the evolutionary mechanisms causing genetic differentiation in the island fox (Urocyon littoralis). Mol Ecol 25(10):2176–2194

Galla SJ, Moraga R, Brown L, Cleland S, Hoeppner MP, Maloney RF, Richardson A, Slater L, Santure AW, Steeves TE (2020) A comparison of pedigree, genetic and genomic estimates of relatedness for informing pairing decisions in two critically endangered birds: implications for conservation breeding programmes worldwide. Evol Appl 13(5):991–1008

Gautschi B, Muller JP, Schmid B, Shykoff JA (2003) Effective number of breeders and maintenance of genetic diversity in the captive bearded vulture population. Heredity 91(1):9–16

Gelman A (2008) Scaling regression inputs by dividing by two standard deviations. Stat Med 27(15):2865–2873

Gelman A, Su Y-S, Yajima M, Hill J, Pittau MG, Kerman J, Zheng T (2015) Arm: data analysis using regression and multilevel/hierarchical models. Available at https://CRAN.R-project.org/package=arm: 1.9-3.

Gooley RM, Hogg CJ, Belov K, Grueber CE (2018) The effects of group versus intensive housing on the retention of genetic diversity in insurance populations. BMC Zool 3(1):2

Grueber C, Nakagawa S, Laws R, Jamieson I (2011) Multimodel inference in ecology and evolution: challenges and solutions. J Evol Biol 24(4):699–711

Grueber CE, Wallis GP, Jamieson IG (2013) Genetic drift outweighs natural selection at toll-like receptor (TLR) immunity loci in a re-introduced population of a threatened species. Mol Ecol 22(17):4470–4482

Grueber CE, Reid-Wainscoat EE, Fox S, Belov K, Shier DM, Hogg CJ, Pemberton D (2017) Increasing generations in captivity is associated with increased vulnerability of Tasmanian devils to vehicle strike following release to the wild. Sci Rep 7(1):2161

Grueber C, Peel E, Wright B, Hogg C, Belov K (2018) A Tasmanian devil breeding program to support wild recovery. Reprod Fertil Dev 31(7):1296–1304

Grueber CE, Fox S, McLennan EA, Gooley RM, Pemberton D, Hogg CJ, Belov K (2019) Complex problems need detailed solutions: harnessing multiple data types to inform genetic management in the wild. Evol Appl 12(2):280–291

Guiler ER (1970) Observations on the Tasmanian devil, Sarcophilus harrisii (Marsupialia: Dasyuridae) II. Reproduction, breeding and growth of pouch young. Aust J Zool 18(1):63–70

He X, Johansson ML, Heath DD (2016) Role of genomics and transcriptomics in selection of reintroduction source populations. Conserv Biol 30(5):1010–1018

Hogg CJ, Ivy JA, Srb C, Hockley J, Lees C, Hibbard C, Jones M (2015) Influence of genetic provenance and birth origin on productivity of the Tasmanian devil insurance population. Conserv Genet 16(6):1465–1473

Hogg C, Lee A, Srb C, Hibbard C (2017a) Metapopulation management of an endangered species with limited genetic diversity in the presence of disease: the Tasmanian devil Sarcophilus harrisii. Int Zoo Yearb 51(1):137–153

Hogg CJ, Grueber CE, Pemberton D, Fox S, Lee AV, Ivy JA, Belov K (2017b) "Devil tools & tech": a synergy of conservation research and management practice. Conserv Lett 10(1):133–138

Hogg C, Wright B, Morris K, Lee A, Ivy J, Grueber C, Belov K (2019) Founder relationships and conservation management: empirical kinships reveal the effect on breeding programmes when founders are assumed to be unrelated. Anim Conserv 22(4):348–361

Jamieson IG (2011) Founder effects, inbreeding, and loss of genetic diversity in four avian reintroduction programs. Conserv Biol 25(1):115–123

Jones ME, Paetkau D, Geffen E, Moritz C (2004) Genetic diversity and population structure of Tasmanian devils, the largest marsupial carnivore. Mol Ecol 13(8):2197–2209

Lacy RC, Ballou JD, Pollak JP (2012) PMx: software package for demographic and genetic analysis and management of pedigreed populations. Methods Ecol Evol 3(2):433–437

Li H, Durbin R (2009) Fast and accurate short read alignment with Burrows-Wheeler transform. Bioinformatics 25(14):1754–1760

Madsen T, Stille B, Shine R (1996) Inbreeding depression in an isolated population of adders Vipera berus. Biol Cons 75(2):113–118

Margan SH, Nurthen RK, Montgomery ME, Woodworth LM, Lowe EH, Briscoe DA, Frankham R (1998) Single large or several small? Population fragmentation in the captive management of endangered species. Zoo Biol 17(6):467–480

Marsden CD, Verberkmoes H, Thomas R, Wayne RK, Mable BK (2013) Pedigrees, MHC and microsatellites: an integrated approach for genetic management of captive African wild dogs (Lycaon pictus). Conserv Genet 14(1):171–183

Martin-Wintle MS, Shepherdson D, Zhang G, Zhang H, Li D, Zhou X, Li R, Swaisgood RR (2015) Free mate choice enhances conservation breeding in the endangered giant panda. Nat Commun 6(1):1–7

McGowan PJ, Traylor-Holzer K, Leus K (2017) IUCN Guidelines for determining when and how ex situ management should be used in species conservation. Conserv Lett 10(3):361–366

McLennan EA, Gooley RM, Wise P, Belov K, Hogg CJ, Grueber CE (2018) Pedigree reconstruction using molecular data reveals an early warning sign of gene diversity loss in an island population of Tasmanian devils (Sarcophilus harrisii). Conserv Genet 19(2):439–450

McLennan EA, Grueber CE, Wise P, Belov K, Hogg CJ (2020) Mixing genetically differentiated populations successfully boosts diversity of an endangered carnivore. Animal Conserv 23:700–712

Miller W, Hayes VM, Ratan A, Petersen DC, Wittekindt NE, Miller J, Walenz B, Knight J, Qi J, Zhao F (2011) Genetic diversity and population structure of the endangered marsupial Sarcophilus harrisii (Tasmanian devil). Proc Natl Acad Sci 108(30):12348–12353

Morris KM, Wright B, Grueber CE, Hogg CJ, Belov K (2015) Lack of genetic diversity across diverse immune genes in an endangered mammal, the Tasmanian devil (Sarcophilus harrisii). Mol Ecol 24(15):3860–3872

Murchison EP, Schulz-Trieglaff OB, Ning Z, Alexandrov LB, Bauer MJ, Fu B, Hims M, Ding Z, Ivakhno S, Stewart C (2012) Genome sequencing and analysis of the Tasmanian devil and its transmissible cancer. Cell 148(4):780–791

Myers MC, Vaughan C (2004) Movement and behavior of scarlet macaws (Ara macao) during the post-fledging dependence period: implications for in situ versus ex situ management. Biol Cons 118(3):411–420

Norton JE, Ashley MV (2004) Genetic variability and population differentiation in captive Baird's tapirs (Tapirus bairdii). Zoo Biol Publ Affil Am Zoo Aquar Assoc 23(6):521–531

Pritchard JK, Stephens M, Donnelly P (2000) Inference of population structure using multilocus genotype data. Genetics 155(2):945–959

Purcell S, Neale B, Todd-Brown K, Thomas L, Ferreira MA, Bender D, Maller J, Sklar P, De Bakker PI, Daly MJ (2007) PLINK: a tool set for whole-genome association and population-based linkage analyses. Am J Hum Genet 81(3):559–575

R Core Team (2017) R: a language and environment for statistical computing. Vienna, Austria: R Foundation for Statistical Computing; 2017, ISBN3-900051-07-0. Available at https://www.R-project.org

Ralls K, Ballou JD, Dudash MR, Eldridge MD, Fenster CB, Lacy RC, Sunnucks P, Frankham R (2018) Call for a paradigm shift in the genetic management of fragmented populations. Conserv Lett 11(2):e12412

Robert A (2009) Captive breeding genetics and reintroduction success. Biol Cons 142(12):2915–2922

Sambrook J, Russell DW (2006) Purification of nucleic acids by extraction with phenol: chloroform. Cold Spring Harbor Protoc 2006(1):pdb.prot4455

Stockwell CA, Hendry AP, Kinnison MT (2003) Contemporary evolution meets conservation biology. Trends Ecol Evol 18(2):94–101

Sutton JT, Nakagawa S, Robertson BC, Jamieson IG (2011) Disentangling the roles of natural selection and genetic drift in shaping variation at MHC immunity genes. Mol Ecol 20(21):4408–4420

Thalmann S, Peck S, Wise P, Potts JM, Clarke J, Richley J (2016) Translocation of a top-order carnivore: tracking the initial survival, spatial movement, home-range establishment and habitat use of Tasmanian devils on Maria Island. Aust Mammal 38(1):68–79

Waters CD, Hard JJ, Brieuc MSO, Fast DE, Warheit KI, Waples RS, Knudsen CM, Bosch WJ, Naish KA (2015) Effectiveness of managed gene flow in reducing genetic divergence associated with captive breeding. Evol Appl 8(10):956–971

Weeks AR, Heinze D, Perrin L, Stoklosa J, Hoffmann AA, van Rooyen A, Kelly T, Mansergh I (2017) Genetic rescue increases fitness and aids rapid recovery of an endangered marsupial population. Nat Commun 8(1):1–6

Weiser EL, Grueber CE, Jamieson IG (2012) AlleleRetain: a program to assess management options for conserving allelic diversity in small, isolated populations. Mol Ecol Resour 12(6):1161–1167

Whitlock MC (2000) Fixation of new alleles and the extinction of small populations: drift load, beneficial alleles, and sexual selection. Evolution 54(6):1855–1861

Williams SE, Hoffman EA (2009) Minimizing genetic adaptation in captive breeding programs: a review. Biol Cons 142(11):2388–2400

Willoughby JR, Fernandez NB, Lamb MC, Ivy JA, Lacy RC, DeWoody JA (2015) The impacts of inbreeding, drift and selection on genetic diversity in captive breeding populations. Mol Ecol 24(1):98–110

Willoughby JR, Ivy JA, Lacy RC, Doyle JM, DeWoody JA (2017) Inbreeding and selection shape genomic diversity in captive populations: implications for the conservation of endangered species. PLoS ONE 12(4):e0175996

Wise P, Peck S, Clarke J, Hogg CJ (2019) Conservation introduction of Tasmanian devils to Maria Island: a managed response to DFTD. Saving the Tasmanian devil: recovery through science based management. CSIRO Publishing, Melbourne, pp 207–220

Wisely SM, McDonald DB, Buskirk SW (2003) Evaluation of the genetic management of the endangered black-footed ferret (Mustela nigripes). Zoo Biol Publ Affil Am Zoo Aquar Assoc 22(3):287–298

Witzenberger KA, Hochkirch A (2011) Ex situ conservation genetics: a review of molecular studies on the genetic consequences of captive breeding programmes for endangered animal species. Biodivers Conserv 20(9):1843–1861

Wright B, Farquharson KA, McLennan EA, Belov K, Hogg CJ, Grueber CE (2019) From reference genomes to population genomics: comparing three reference-aligned reduced-representation sequencing pipelines in two wildlife species. BMC Genom 20(453):1–10

Wright BR, Farquharson KA, McLennan EA, Belov K, Hogg CJ, Grueber CE (2020) A demonstration of conservation genomics for threatened species management. Mol Ecol Resour 20:1526–1541
Acknowledgements
We thank the staff and management of the Save the Tasmanian Devil Program, the Zoo and Aquarium Association Australasia and all their member zoos who participate in the devil program. Thanks also to the past and present students and post-docs of the Australasian Wildlife Genomics Group at the University of Sydney. This work was funded by the Australian Research Council LP140100508 and DP170101253.
Funding
This work was funded by the Australian Research Council LP140100508 and DP170101253.
Ethics declarations
Conflict of interest
The authors declare that they have no known competing financial interests or personal relationships that could have appeared to influence the work reported in this paper.
Additional information
Communicated by Karen E. Hodges.
Publisher's Note
Springer Nature remains neutral with regard to jurisdictional claims in published maps and institutional affiliations.
Supplementary Information
Below is the link to the electronic supplementary material.
About this article
Cite this article
Wright, B.R., Hogg, C.J., McLennan, E.A. et al. Assessing evolutionary processes over time in a conservation breeding program: a combined approach using molecular data, simulations and pedigree analysis. Biodivers Conserv 30, 1011–1029 (2021). https://doi.org/10.1007/s10531-021-02128-4
Received:

Revised:

Accepted:

Published:

Issue Date:

DOI: https://doi.org/10.1007/s10531-021-02128-4
Keywords