Abstract
Tropical rainforests are the most biodiverse terrestrial ecosystems on the planet. Since so much old-growth rainforest continues to be destroyed, much effort has gone into understanding the conservation value of second-growth rainforests. However, the primary measuring stick for old-growth/second-growth comparisons is overall community similarity, and while presence-absence or abundance metrics are important initial data, it is also vital to determine whether species that are present in second-growth rainforests are actually viable, self-sustaining populations. To address this question, we assessed glass frog communities in old and second-growth rainforests at ten study sites in two countries. We compared: (1) glass frog community similarity, (2) patterns of species abundance, (3) embryonic survival, (4) reproductive success and (5) abiotic conditions in old and second-growth rainforests. Results indicated that glass frog community composition was consistently similar and that abundances did not differ between forest types for any species. No species were restricted to old-growth. Similarly, short-term embryonic survival was not significantly different between old-growth and second-growth forests. For one species that was intensively studied (H. orientale tobagoense), female clutch size was not significantly different among forest types and male reproductive success was significantly higher in second-growth. Our work suggests that glass frog communities in second-growth rainforests are similar to old-growth and are likely viable and self-sustaining populations. Conserving remnant old-growth forests remains vitally important but it is becoming clear that protecting second growth is also an important strategy to conserve biodiversity in the face of today's unprecedented environmental challenges.
Access options
Buy single article
Instant access to the full article PDF.
US$ 39.95
Tax calculation will be finalised during checkout.
Subscribe to journal
Immediate online access to all issues from 2019. Subscription will auto renew annually.
US$ 119
Tax calculation will be finalised during checkout.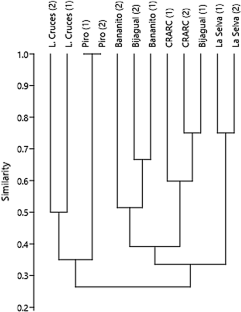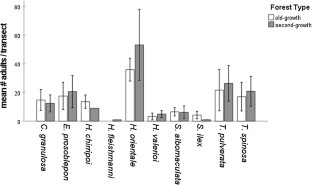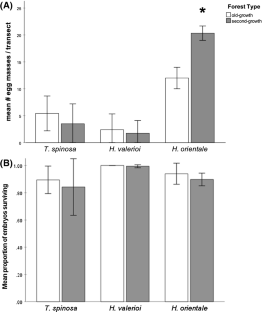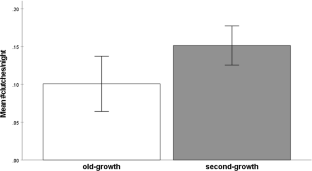 Data availability
Data from this study will be made available in a suitable electronic repository upon acceptance.
References
Baldi LC, dos Santos FB, Esteves KE, Ferreira FC, Rocha MT, Santana JM, Teixeira PC, Ferreira CM (2015) Anuran communities in different riparian habitats: native forest, secondary forest, and sugarcane. South Am J Herpetol 10:195–204. https://doi.org/10.2994/SAJH-D-15-00004.1

Barlow J, Gardner TA, Araujo IS, Ávila-Pires TC, Bonaldo AB, Costa JE, Esposito MC, Ferreira LV, Hawes J, Hernandez MI, Hoogmoed MS (2007) Quantifying the biodiversity value of tropical primary, secondary, and plantation forests. Proc Natl Acad Sci USA 104:18555–18560. https://doi.org/10.1073/pnas.0703333104

Basham EW, González del Pliego P, Acosta-Galvis AR, Woodcock P, Medina-Uribe CA, Haugaasen T, Gilroy JJ, Edwards DP (2016) Quantifying carbon and amphibian co-benefits from secondary forest regeneration in the Tropical Andes. Anim Conserv 19:548–560. https://doi.org/10.1111/acv.12276

Becker CG, Zamudio KR (2011) Tropical amphibian populations experience higher disease risk in natural habitats. Proc Natl Acad Sci USA 108:9893–9898. https://doi.org/10.1073/pnas.1014497108

Bowen ME, McAlpine CA, House AP, Smith GC (2007) Regrowth forests on abandoned agricultural land: a review of their habitat values for recovering forest fauna. Biol Conserv 140:273–296. https://doi.org/10.1016/j.biocon.2007.08.012

Cabanzo-Olarte LC, Ramírez-Pinilla MP, Serrano-Cardozo VH (2013) Oviposition, site preference, and evaluation of male clutch attendance in Espadarana andina (Anura: Centrolenidae). J Herpetol 47:314–320. https://doi.org/10.1670/11-266

Chazdon RL (2014) Second growth: the promise of tropical forest regeneration in an age of deforestation. University of Chicago Press, Chicago

Chazdon RL, Peres CA, Dent D, Sheil D, Lugo AE, Lamb D, Stork NE, Miller SE (2009) The potential for species conservation in tropical secondary forests. Conserv Biol 23:1406–1417. https://doi.org/10.1111/j.1523-1739.2009.01338.x

Chokkalingam U, De Jong W (2001) Secondary forest: a working definition and typology. Int For Rev 3:19–26

Clarke KR (1993) Non-parametric multivariate analysis of changes in community structure. Aust J Ecol 18:117–143. https://doi.org/10.1111/j.1442-9993.1993.tb00438.x

Collins JP, Storfer A (2003) Global amphibian declines: sorting the hypotheses. Divers Distrib 9:89–98. https://doi.org/10.1046/j.1472-4642.2003.00012.x

Corlett RT (1994) What is secondary forest? J Trop Ecol 10:445–447

Cosset CC, Gilroy JJ, Edwards DP (2019) Impacts of tropical forest disturbance on species vital rates. Conserv Biol 33:66–75. https://doi.org/10.1111/cobi.13182

Dent DH, Wright SJ (2009) The future of tropical species in secondary forests: a quantitative review. Biol Conserv 142:2833–2843. https://doi.org/10.1016/j.biocon.2009.05.035

Dunn RR (2004) Recovery of faunal communities during tropical forest regeneration. Conserv Biol 18:302–309. https://doi.org/10.1111/j.1523-1739.2004.00151.x

Ernst R, Rödel MO (2005) Anthropogenically induced changes of predictability in tropical anuran assemblages. Ecology 86:3111–3118. https://doi.org/10.1890/04-0800

FAO (2015) Global Forest Resources Assessment 2015. FAO Forestry Paper No. 1. UN Food and Agriculture Organization, Rome

Frishkoff LO, Hadly EA, Daily GC (2015) Thermal niche predicts tolerance to habitat conversion in tropical amphibians and reptiles. Glob Change Biol 21:3901–3916. https://doi.org/10.1111/gcb.13016

Gardner TA, Ribeiro-Júnior MA, Barlow JOS, Ávila-Pires TCS, Hoogmoed MS, Peres CA (2007a) The value of primary, secondary, and plantation forests for a neotropical herpetofauna. Conserv Biol 21:775–787. https://doi.org/10.1111/j.1523-1739.2007.00659.x

Gardner TA, Barlow J, Parry LW, Peres CA (2007b) Predicting the uncertain future of tropical forest species in a data vacuum. Biotropica 39:25–30

Gascon C, Lovejoy T, Bieeregaard RO, Malcolm JR, Stouffer PC, Vasconcelos HL, Laurance WF, Zimmerman B, Tocher M, Borges S (1999) Matrix habitat and species richness in tropical forest remnants. Biol Conserv 91:223–229. https://doi.org/10.1016/S0006-3207(99)00080-4

Gibson L, Lee TM, Koh LP, Brook BW, Gardner TA, Barlow J, Peres CA, Bradshaw CJ, Laurance WF, Lovejoy TE, Sodhi NS (2011) Primary forests are irreplaceable for sustaining tropical biodiversity. Nature 478:378

Gillespie G, Howard S, Lockie D, Scroggie M (2005) Herpetofaunal richness and community structure of offshore islands of Sulawesi, Indonesia. Biotropica 37:279–290

Gillespie GR, Ahmad E, Elahan B, Evans A, Ancrenaz M, Goossens B, Scroggie MP (2012) Conservation of amphibians in Borneo: relative value of secondary tropical forest and non-forest habitats. Biol Conserv 152:136–144. https://doi.org/10.1016/j.biocon.2012.03.023

Gilroy JJ, Edwards DP (2017) Source-sink dynamics: a neglected problem for landscape-scale biodiversity conservation in the tropics. Curr Land Ecol Rep 2:51–60

Grant JD, Litchfield NM (2003) Habitat use, home range and diet of male Victoria's Riflebird, Ptiloris victoriae. Emu 103:121–126. https://doi.org/10.1071/MU02016

Guayasamin JM, Cisneros-Heredia DF, McDiarmid RW, Peña P, Hutter CR (2020) Glassfrogs of Ecuador: diversity, evolution, and conservation. Diversity 12:222. https://doi.org/10.3390/d12060222

Hammer Ø, Harper DAT, Ryan PD (2001) PAST: paleontological statistics software package for education and data analysis. Palaeontologia Electronica 4:9

Heinen JT (1992) Comparisons of the leaf litter herpetofauna in abandoned cacao plantations and primary rain forest in Costa Rica: some implications for faunal restoration. Biotropica 24:431–439

Hernández-Ordóñez O, Urbina-Cardona N, Martínez-Ramos M (2015) Recovery of amphibian and reptile assemblages during old-field succession of tropical rainforests. Biotropica 47:377–388

Herrera-Montes A, Brokaw N (2010) Conservation value of tropical secondary forest: a herpetofaunal perspective. Biol Conserv 143:1414–1422. https://doi.org/10.1016/j.biocon.2010.03.016

Hilje B, Aide TM (2012) Recovery of amphibian species richness and composition in a chronosequence of secondary forests, northeastern Costa Rica. Biol Conserv 146:170–176. https://doi.org/10.1016/j.biocon.2011.12.007

Holdridge LR (1967) Life zone ecology, rev. Tropical Science Center, San Jose, Costa Rica

Hutter CR, Esobar-Lasso S, Rojas-Morales JA, Gutiérrez-Cárdenas PDA, Imba H, Guayasamin JM (2013) The territoriality, vocalizations and aggressive interactions of the red-spotted glassfrog, Nymphargus grandisonae, Cochran and Goin, 1970 (Anura: Centrolenidae). J Nat Hist 47:3011–3032. https://doi.org/10.1080/00222933.2013.792961

Jongsma GF, Hedley RW, Durães R, Karubian J (2014) Amphibian diversity and species composition in relation to habitat type and alteration in the Mache-Chindul Reserve, Northwest Ecuador. Herpetologica 70:34–46. https://doi.org/10.1655/HERPETOLOGICA-D-12-00068

Kubicki B (2007) Ranas de vidrio de Costa Rica. INBio, Heredia, Costa Rica

Kubicki B, Salazar S, Puschendorf R (2015) A new species of glassfrog, genus Hyalinobatrachium (Anura: Centrolenidae), from the Caribbean foothills of Costa Rica. Zootaxa 3920:69–84. https://doi.org/10.11646/zootaxa.3920.1.4

Law BS, Anderson J (2000) Roost preferences and foraging ranges of the eastern forest bat Vespadelus pumilus under two disturbance histories in northern New South Wales, Australia. Austral Ecol 25:352–367. https://doi.org/10.1046/j.1442-9993.2000.01046.x

Lehtinen RM, Green SE, Pringle JL (2014) Impacts of paternal care and seasonal change on offspring survival: a multiseason experimental study of a Caribbean frog. Ethology 120:400–409. https://doi.org/10.1111/eth.12215

Murphy JC, Downie JR, Smith JM, Livingstone SM, Mohammed RS, Lehtinen RM, Eyre M, Sewlal JN, Noriega N, Casper GS, Anton T, Rutherford MG, Braswell AL, Jowers MJ (2018) A field guide to the amphibians and reptiles of Trinidad and Tobago. Trinidad and Tobago Field Naturalists Club Port of Spain, Trinidad

Nowakowski AJ, Thompson ME, Donnelly MA, Todd BD (2017) Amphibian sensitivity to habitat modification is associated with population trends and species traits. Glob Ecol Biogeogr 26:700–712. https://doi.org/10.1111/geb.12571

Nowakowski AJ, Watling JI, Thompson ME, Brusch GA, Catenazzi A, Whitfield SM, Kurz DJ, Suárez-Mayorga Á, Aponte-Gutiérrez A, Donnelly MA, Todd BD (2018) Thermal biology mediates responses of amphibians and reptiles to habitat modification. Ecol Lett 21:345–355. https://doi.org/10.1111/ele.12901

Ortiz-Ross X, Thompson ME, Salicetti-Nelson E, Vargas-Ramírez O, Donnelly MA (2020) Oviposition site selection in three glass frog species. Copeia 108:333–340. https://doi.org/10.1643/CE-19-243

Palacios-Rodríguez LJ, Arango-Córdoba AM, Rengifo-Mosquera JT (2019) Diversity of glass frogs (Centrolenidae: Anura) in tropical rain forest areas in the center of the department of Chocó Colombia. Revista U.D.C.A Actualidad y Divulgación Científica 22:e1108. https://doi.org/10.31910/rudca.v22.n2.2019.1108

Pawar SS, Rawat GS, Choudhury BC (2004) Recovery of frog and lizard communities following primary habitat alteration in Mizoram, Northeast India. BMC Ecol 4:10

Petit LJ, Petit DR, Christian DG, Powell HD (1999) Bird communities of natural and modified habitats in Panama. Ecography 22:292–304. https://doi.org/10.1111/j.1600-0587.1999.tb00505.x

Pröhl H (2002) Population differences in female resource abundance, adult sex ratio, and male mating success in Dendrobates pumilio. Behav Ecol 13:175–181. https://doi.org/10.1093/beheco/13.2.175

Ríos-López N, Aide TM (2007) Herpetofaunal dynamics during secondary succession. Herpetologica 63:35–50. https://doi.org/10.1655/0018-0831(2007)63[35:HDDSS]2.0.CO;2

Savage JM (2002) The amphibians and reptiles of Costa Rica: a herpetofauna between two continents, between two seas. University of Chicago Press, Chicago

Thompson ME, Donnelly MA (2018) Effects of secondary forest succession on amphibians and reptiles: a review and meta-analysis. Copeia 106:10–19. https://doi.org/10.1643/CH-17-654

Thompson ME, Nowakowski AJ, Donnelly MA (2016) The importance of defining focal assemblages when evaluating amphibian and reptile responses to land use. Conserv Biol 30:249–258. https://doi.org/10.1111/cobi.12637

Tocher M, Gascon C, Meyer JR (2002) Community composition and breeding success of Amazonian frogs in continuous forest and matrix aquatic sites. In: Bierregaard RO, Gascon C, Lovejoy TE, Mesquita R (eds) Lessons from Amazonia: the ecology and conservation of a fragmented forest. Yale University Press, New Haven, pp 235–247

Vallan D (2002) Effects of anthropogenic environmental changes on amphibian diversity in the rain forests of eastern Madagascar. J Trop Ecol 18:725–742

Vockenhuber EA, Hödl W, Amézquita A (2009) Glassy fathers do matter: egg attendance enhances embryonic survivorship in the glass frog Hyalinobatrachium valerioi. J Herpetol 43:340–344. https://doi.org/10.1670/08-092R1.1

Wells KD (2007) The ecology and behavior of amphibians. University of Chicago Press, Chicago

Wilson EO (1999) The diversity of life. WW Norton & Company, New York

Wright SJ (2010) The future of tropical forests. Ann N Y Acad Sci 1195:1–27
Acknowledgements
In Costa Rica, we thank SINAC and MINAE for research permits with special thanks to L. Vargas Fallas. In Tobago, we thank A. Ramsey of the Division of Food Production, Forestry & Fisheries, Tobago House of Assembly for research permits. We thank the Copeland Fund, the Biology Department, the Wilson Fund, the Life Sciences Endowment for the class of 1965, the Kendall-Rives Fund and the Presidential Discretionary Fund at the College of Wooster for funding. Special thanks to R. Quirós Flores, P. Foster, B. Kubicki and J. Stein for information and logistical assistance. We also thank D. Raines, B. Grunwald, A. Arquilla, S. Sharma, S. Comstock, A. Ray and R. Chamberlin for help with field work. We thank two anonymous reviewers whose comments improved an earlier version of this manuscript.
Funding
This research was financially supported by the College of Wooster.
Ethics declarations
Conflict of interest
All the authors declared that they have no conflict of interest to declared.
Ethical approval
Methods used in this study were approved by the College of Wooster Institutional Animal Care and Use Committee.
Consent for publication
All authors have consented to having these data submitted for consideration of publication.
Additional information
Publisher's Note
Springer Nature remains neutral with regard to jurisdictional claims in published maps and institutional affiliations.
This article belongs to the Topical Collection: Forest and plantation biodiversity.
Communicated by Eckehard G. Brockerhoff.
Supplementary Information
Below is the link to the electronic supplementary material.
About this article
Cite this article
Lehtinen, R.M., Gumpper, C.W., Weiss, K. et al. Is second-growth rainforest good enough? Going beyond community composition. Biodivers Conserv 30, 781–796 (2021). https://doi.org/10.1007/s10531-021-02117-7
Received:

Revised:

Accepted:

Published:

Issue Date:
Keywords
Centrolenidae

Forest regeneration

Glass frogs

Neotropics

Old-growth forest

Primary forest