Access options
Buy single article
Instant access to the full article PDF.
USD 39.95
Price excludes VAT (USA)
Tax calculation will be finalised during checkout.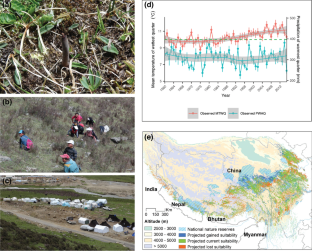 References
Baral B, Shrestha B, Teixeira da Silva JA (2015) A review of Chinese Cordyceps with special reference to Nepal, focusing on conservation. Environ Exp Biol 13:61–73

Cannon PF (2011) The caterpillar fungus, a flagship species for conservation of fungi. Fungal Conserv 1:35–39

Cannon PF, Hywel-Jones NL, Maczey N et al (2009) Steps towards sustainable harvest of Ophiocordyceps sinensis in Bhutan. Biodivers Conserv 18:2263–2281

Hopping KA, Chignell SM, Lambin EF (2018) The demise of caterpillar fungus in the Himalayan region due to climate change and overharvesting. Proc Natl Acad Sci USA 115:11489–11494

Kirtman B, Power SB, Adedoyin JA et al (2013) Near-term climate change: projections and predictability. In: Stocker TF, Qin D, Plattner GK et al (eds) Climate change 2013: the physical science basis. Contribution of working group i to the fifth assessment report of the intergovernmental panel on climate change. Cambridge University Press, Cambridge, pp 953–1028

National Meteorological Information Center (2019).  http://data.cma.cn/data/cdcindex/cid/0b9164954813c573.html

Negi CS, Joshi P, Bohra S (2015) Rapid vulnerability assessment of Yartsa gunbu (Ophiocordyceps sinensis [Berk.] GH Sung et al) in Pithoragarh district, Uttarakhand state, India. Mt Res Dev 35:382–391

Quan QM, Wang QX, Zhou XL et al (2014) Comparative phylogenetic relationships and genetic structure of the caterpillar fungus Ophiocordyceps sinensis and its host insects inferred from multiple gene sequences. J Microbiol 52(2):99–105

Shrestha UB, Bawa KS (2014) Impact of climate change on potential distribution of Chinese caterpillar fungus (Ophiocordyceps sinensis) in Nepal Himalaya. PLoS ONE 9:e106405

Shrestha UB, Bawa KS (2015) Harvesters' perceptions of population status and conservation of Chinese caterpillar fungus in the Dolpa region of Nepal. Reg Environ Chang 15:1731–1741

Willis KJ (2018) State of the world's fungi 2018. Report: 72–77

Winkler D (2008) Yartsa gunbu (Cordyceps sinensis) and the fungal commodification of Tibet's rural economy. Econ Bot 62:291–305

Weckerle CS, Yang Y, Huber FK et al (2010) People, money, and protected areas: the collection of the caterpillar mushroom Ophiocordyceps sinensis in the Baima Xueshan Nature Reserve, Southwest China. Biodivers Conserv 19:2685–2698

Yan YJ, Li Y, Wang WJ et al (2017) Range shifts in response to climate change of Ophiocordyceps sinensis, a fungus endemic to the Tibetan Plateau. Biol Conserv 206:143–150

Yang ZL (2020) Ophiocordyceps sinensis. The IUCN Red List of Threatened Species, Cambridge

Yao YJ, Zhuang WY, Wei TZ et al (2020) Threatened Species List of China's Macrofungi. Biodivers Sci. https://doi.org/10.17520/biods.2019174 (in Chinese with English abstract)

Zhao G, Tian Y, Tang Z et al (2013) Distribution of terrestrial national nature reserves in relation to human activities and natural environments in China. Biodivers Sci 21:658–665
Ethics declarations
Conflict of interest
The authors declare that they have no conflict of interest.
Additional information
Communicated by David Hawksworth.
Publisher's note
Springer Nature remains neutral with regard to jurisdictional claims in published maps and institutional affiliations.
This article belongs to the Topical Collection: Biodiversity exploitation and use.
About this article
Cite this article
Li, Y., Yan, Y., Tang, Z. et al. Conserving the Chinese caterpillar fungus under climate change. Biodivers Conserv 30, 547–550 (2021). https://doi.org/10.1007/s10531-020-02109-z
Received:

Revised:

Accepted:

Published:

Issue Date:

DOI: https://doi.org/10.1007/s10531-020-02109-z