Abstract
Asian elephants are threatened throughout their range due to habitat loss, fragmentation, and conflict with humans. Limited data on spatial and temporal use of habitats in largely intact forests by elephants in Sumatra is a major hindrance for conservation and land use planning, and consequently human–elephant conflict mitigation. We analysed GPS data from collared elephants to investigate their use of habitat in relation to available land cover and human disturbance in Aceh, Sumatra, Indonesia. We applied remote sensing techniques to extract environmental variables to use in state-space Hidden Markov Models and integrated Step Selection Function to analyse foraging strategies and land use selectivity, while using dynamic Brownian Bridge Movement Models and Minimum Convex Polygons to determine used and available habitat features within their home ranges. Our results show that Sumatran elephants in Aceh preferred areas with lower elevation (< 200 m) and slopes (0–10°), with minimal terrain ruggedness, which also happen to be areas selected by humans. Elephants closely adhered to rivers and mountain valleys when utilizing homogenous dense natural forests, and expanded from the rivers in heterogenous forests toward open, resource-dense, land use types. Overall, slope, vegetation, and human disturbance had the largest impact on each of the clans' foraging strategies. Areas closer to human settlements were used more by night and less by day, indicating that human presence and activities influence elephant habitat use and avoidance. Our findings conclude future management decisions should focus on protecting the remaining lowland forests and preventing further urban encroachment in areas with lower elevation and slope, particularly in proximity to rivers which act as corridors between natural habitats, in order to mitigate human-elephant conflict and protect the species from extinction.
Access options
Buy single article
Instant access to the full article PDF.
USD 39.95
Price excludes VAT (USA)
Tax calculation will be finalised during checkout.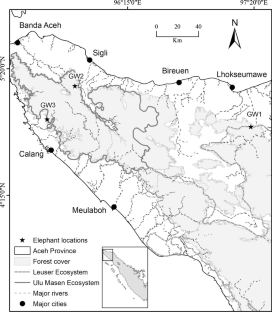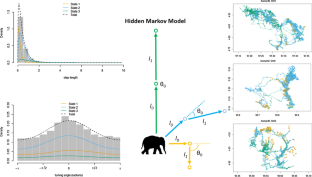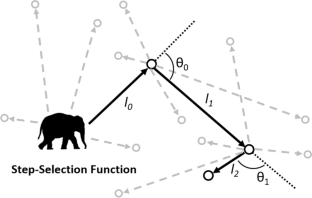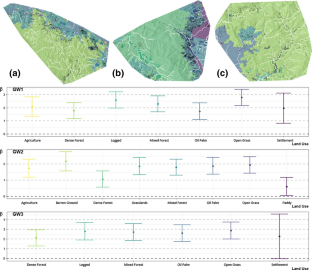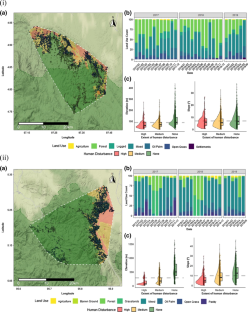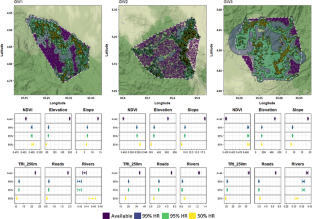 Data availability
Owing to the sensitive conservation status of Sumatran Elephants, data that support the findings of this study are not publicly available; restrictions apply to the availability of these data used under license for the current study. Data are available from the corresponding author upon reasonable request with permission from BKSDA-Aceh.
References
Abdullah A, Sayuti A, Hasanuddin H, Affan M, Wilson G (2019) People's perceptions of elephant conservation and the human-elephant conflict in Aceh Jaya, Sumatra, Indonesia. Eur J Wildl Res 65:69

Alfred R, Ahmad AH, Payne J, Williams C, Ambu LN, How PM, Goossens B (2012) Home range and ranging behaviour of Bornean elephant (Elephas maximus borneensis) female. PLoS ONE 7:1–12

Avgar T, Potts JR, Lewis MA, Boyce MS (2016) Integrated step selection analysis: bridging the gap between resource selection and animal movement. Methods Ecol Evol 7:619–630

Balasubramanian M, Baskaran N, Swaminathan S, Desai AA (1993) Crop raiding by Asian Elephant (Elephas maximus) in the Nilgiri Biosphere Reserve, South India. In: Daniel JC, Datye HS (eds) Proceedings of the International Seminar on the Conservation of Asian elephant. Bombay Natural History Society and Oxford University Press, Bombay, pp 350–367

Barnes RFW, Dubiure UF, Danquah E, Boafo Y, Nandjui A, Hema EM, Manford M (2007) Crop-raiding elephants and the moon. Afr J Ecol 45:112–115

Baskaran N, Balasubramanian M, Swaminathan S, Desai AA (1995) Home range of elephants in the Nilgiri Biosphere Reserve, South India. In: Daniel JC, Datye HS (eds) A week with elephants. Bombay Natural History Society and Oxford University Press, Bombay, pp 296–311

Baskaran N, Balasubramanian M, Swaminathan S, Desai AA (2010) Feeding ecology of the Asian elephant Elephas maximus Linnaeus in the Nilgiri Biosphere Reserve, southern India. J Bombay Nat Hist Soc 107:3–13

Beumer LT et al (2020) An application of upscaled optimal foraging theory using hidden Markov modelling: year-round behavioural variation in a large arctic herbivore. Mov Ecol 8:25

Beyer HL, Morales JM, Murray DL, Fortin MJ (2013) The effectiveness of Bayesian state‐space models for estimating behavioural states from movement paths. Ecol Evol 4:433–441

Blouch RA (2010) Zoning for people within Indonesia's Kerinci Seblat National Park. J Sustain For 29:432–450

Chartier L, Zimmermann A, Ladle RJ (2011) Habitat loss and human–elephant conflict in Assam India: does a critical threshold exist? Oryx 45:528–533

Clements GR et al (2014) Where and how are roads endangering mammals in Southeast Asia's forests? PLoS ONE 9:1–25

Collins N (2018) Sumatran elephant Elephas maximus sumatranus density and habitat use in relation to forest characteristics in the Leuser Ecosystem, North Sumatra. Dissertation, Bournemouth University, Poole

Cushman SA (2010) Animal movement data: GPS telemetry, autocorrelation and the need for path-level analysis. In: Cushman SA, Huettmann F (eds) Spat Complex Inf Wildl Conserv. Springer, Tokyo, pp 131–149

de la Torre JA, Lechner AM, Wong EP, Magintan D, Saaban S, Campos-Arceiz A (2019) Using elephant movements to assess landscape connectivity under Peninsular Malaysia's central forest spine land use policy. Conserv Sci Pract 1:e133

De Solla SR, Bonduriansky R, Brooks RJ (1999) Eliminating autocorrelation reduces biological relevance of home range estimates. J Anim Ecol 68:221–234

Desai AA (1991) The home range of elephants and its implications for management of the Mudumalai Wildlife Sanctuary, Tamil Nadu. J Bombay Nat Hist Soc 88:145–156

Desai AA, Baskaran N (1996) Impact of human activities on the ranging behaviour of elephants in the Nilgiri Biosphere Reserve, South India. J Bombay Nat Hist Soc 93:559–570

Desai AA, Riddle HS (2015) Human–elephant Conflict in Asia. Report to U.S. Fish and Wildlife Service

Desai AA, Samsuardi (2009) Status of elephants in Riau Province, Sumatra. WWF Indonesia report, Indonesia

English M, Gillespie G, Ancrenaz M, Ismail S, Goossens B, Nathan S, Linklater W (2014) Plant selection and avoidance by the Bornean elephant (Elephas maximus borneensis) in tropical forest: does plant recovery rate after herbivory influence food choices? J Trop Ecol 30:371–379

Fernando P, De Silva MKCR, Jayasinghe LKA, Janaka HK, Pastorini J (2019) First country-wide survey of the endangered Asian elephant: towards better conservation and management in Sri Lanka. Oryx 13:1–10

Fieberg J, Matthiopoulos J, Hebblewhite M, Boyce MS, Frair JL (2010) Correlation and studies of habitat selection: problem, red herring or opportunity? Philos Trans R Soc B 365:2233–2244

Foguekem D, Tchamba MN, Gonwouo LN, Ngassam P, Loomis M (2011) Nutritional status of forage plants and their use by elephant in Waza National Park, Cameroon. Sci Res Essays 6:3577–3583

Gopala A et al (2011) Elephas maximus ssp. sumatranus. The IUCN Red List of Threatened Species

Goswami VR, Vasudev D, Oli MK (2014) The importance of conflict-induced mortality for conservation planning in areas of human–elephant co-occurrance. Biol Conserv 176:191–198

Gunaryadi D, Sugiyo, Hedges S (2017) Community-based human–elephant conflict mitigation: the value of an evidence-based approach in promoting the uptake of effective methods. PLoS ONE 12:e0173742

Gunn J, Hawkins D, Barnes RFW, Mofulu F, Grant RA, Norton GW (2014) The influence of lunar cycles on crop-raiding elephants; evidence for risk avoidance. Afr J Ecol 52:129–137

Hedges S, Johnson A, Ahlering M, Tyson M, Eggert LS (2013) Accuracy, precision, and cost-effectiveness of conventional dung density and fecal DNA based survey methods to estimate Asian elephant (Elephas maximus) population size and structure. Biol Conserv 159:101–108

Hedges S, Tyson M, Sitompul A, Gunaryadi D, Aslan, Kinnaird M (2002) Sumatran Elephant Population Survey in Lampung Province, Sumatra, Indonesia. A report to the National Geographic Society (grant number: 7060-01), WCS Sumatran Elephant Project, 20 December 2002

Hedges S, Tyson MJ, Sitompul AF, Kinnaird MF, Aslan DG (2005) Distribution, status, and conservation needs of Asian elephants (Elephas maximus) in Lampung Province, Sumatra, Indonesia. Biol Conserv 124:35–48

Kinnaird MF, Sanderson EW, O'Brien TG, Wibisono HT, Woolmer G (2003) Deforestation trends in a tropical landscape and implications for endangered large mammals. Conserv Biol 17:245–257

Kioko J, Muruthi P, Omondi P, Chiyo PI (2008) The performance of electric fences as elephant barriers in Amboseli, Kenya. S Afr J Wildl Res 38:52–58

Lee JSH, Abood S, Ghazoul J, Barus B, Obidzinski K, Koh LP (2014) Environmental impacts of large-scale oil palm enterprises exceed that of smallholdings in Indonesia. Conserv Lett 7:25–33

Leimgruber P, Gagnon JB, Wemmer C, Kelly DS, Songer MA, Selig ER (2003) Fragmentation of Asia's remaining wildlands: implications for Asian elephant conservation. Anim Conserv 6:347–359

Li M, Bolker BM (2017) Incorporating periodic variability in hidden Markov models for animal movement. Mov Ecol 5:1

Liu P, Wen H, Lin L, Liu J, Zhang L (2016) Habitat evaluation for Asian elephants (Elephas maximus) in Lincang: conservation planning for an extremely small population of elephants in China. Biol Conserv 198:113–121

Margono BA, Potapov PV, Turubanova S, Stolle F, Hansen MC (2014) Primary forest cover loss in Indonesia over 2000–2012. Nature Clim Change 4:730–735

Margono BA, Turubanova S, Zhuravleva I, Potapov P, Tyukavina A, Baccini A, Hansen MC (2012) Mapping and monitoring deforestation and forest degradation in Sumatra (Indonesia) using Landsat time series data sets from 1990 to 2010. Environ Res Lett 7:1–16

Mariati S, Kusnoputranto K, Supriatna J, Koestoer RH (2014) Habitat loss of Sumatran Elephants (Elephas maximus sumatranus) in Tesso Nilo Forest, Riau, Indonesia. Austral J Basic Appl Sci 8:248–255

Marshall BM et al (2020) No room to roam: King Cobras reduce movement in agriculture. Mov Ecol 8:33

Martin J, Tolon V, Moorter B, Basille M, Calenge C (2009) On the use of telemetry in habitat selection studies. In: Barculo D, Daniels J (eds) Telemetry: research, technology and applications. Nova Science Publishers Inc., pp 37–55

Matsushita B, Yang W, Chen J, Onda Y, Qiu G (2007) Sensitivity of the Enhanced Vegetation Index (EVI) and Normalized Difference Vegetation Index (NDVI) to topographic effects: a case study in high-density cypress forest. Sensors 7:2636–2651

Michelot T, Langrock R, Patterson TA (2016) moveHMM: an R package for the statistical modelling of animal movement data using hidden Markov models. Methods Ecol Evol 7:1308–1315

Morales JM, Haydon DT, Frair J, Holsiner KE, Fryxell JM (2004) Extracting more out of relocation data: building movement models as mixtures of random walks. Ecology 85:2436–2445

Moßbrucker AM, Apriyana I, Fickel J, Imron MI, Pudyatmoko S, Sumardi H (2015) Non-invasive genotyping of Sumatran elephants: implications for conservation. Trop Conserv Sci 8:745–759

Moßbrucker AM, Fleming CH, Imron MA, Pudyatmoko S (2016) AKDEC home range size and habitat selection of Sumatran elephants. Wildl Res 43:566–575

Mukul SA, Herbohn J, Rashid AZMM, Uddin MB (2014) Comparing the effectiveness of forest law enforcement and economic incentives to prevent illegal logging in Bangladesh. Int For Rev 16:363–375

Ntumi CP, Aarde RJ, Fairall N, de Boer WF (2005) Use of space and habitat by elephants (Loxodonta africana) in the Maputo Elephant Reserve, Mozambique. J Wildl Res 35:139–146

Rode KD, Chiyo PI, Chapman CA, McDowell LR (2006) Nutritional ecology of elephants in Kibale National Park, Uganda, and its relationship with crop-raiding behaviour. J Trop Ecol 22:441–449

Roever CL (2013) Spatial determinants of habitat use, mortality and connectivity for elephant populations across southern Africa. Dissertation, University of Pretoria

Roever CL, Beyer HL, Chase MJ, Aarde RJv (2014) The pitfalls of ignoring behaviour when quantifying habitat selection. Divers Distrib 20:322–333

Rood EJJ (2010) Elephant endurance in Aceh: The effect of habitat disturbance and land cover change on the conservation of Sumatran elephants in Aceh. Dissertation, Oxford Brookes University, Oxford

Rood EJJ, Ganie AA, Nijman V (2010) Using presence-only modelling to predict Asian elephant habitat use in a tropical forest landscape: implications for conservation. Divers Distrib 16:975–984

Rood EJJ, Linkie M, Azmi W (2009) Protection and sustainable Management of forest in Aceh. FFI Indonesia, Aceh Forest and Environment Project, Banda Aceh

Sanderson EW, Redford KH, Vedder A, Coppolillo PB, Ward SE (2002) A conceptual model for conservation planning based on landscape species requirements. Landsc Urban Plann 58:41–56

Schaik CP, Poniran S, Utami S, Griffiths M, Djojosudharmo S, Setia TM, Tilson R (1995) Estimates of orangutan distribution and status in Sumatra. In: Galdikas BMF, Nadler RD, Rosen N, Sheeran LK (eds) The neglected ape. Springer, New York, pp 109–116

Shaffer LJ, Khadka KK, Van Den Hoek J, Naithani KJ (2019) Human-elephant conflict: a review of current management strategies and future directions. Front Ecol Evol 6:235

Signer J, Fieberg J, Avgar T (2019) Animal movement tools (amt): R package for managing tracking data and conducting habitat selection analyses. Ecol Evol 9:880–890

Sitompul AF, Griffin CR, Fuller TK (2013) Sumatran elephant ranging behavior in a fragmented rainforest landscape. Int J Biodiv Conserv 5:66–72

Sitompul AF, Griffin CR, Ray ND, Fuller TK (2013) Spatial and temporal habitat use of an Asian elephants in Sumatra. Animals 3:670–679

Stas SM, Rutishauser E, Chave J, Anten NPR, Laumonier Y (2017) Estimating the aboveground biomass in an old secondary forest on limestone in the Moluccas, Indonesia: comparing locally developed versus existing allometric models. For Ecol Manag 389:27–34

Suba RB, Beveridge NG, Kustiawan W, De Snoo GR, De Iongh HH (2018) Foraging ecology and diet of Bornean elephants (Elephas maximus borneensis) in the Sebuku forest area, North Kalimantan Province of Indonesia: Do the choices matter? Integr Zool 13:219–223

Suba RB et al (2017) Rapid expansion of oil palm is leading to human–elephant conflicts in north Kalimantan Province of Indonesia. Trop Conserv Sci 10:1–10

Sukmantoro W, Purastuti E, Samsuardi, Sudibyo A, Fadli N (2013) Installation and study on the use of GPS Collar on Sumatera Elephant Elephas maximus sumatranus in Tesso Nilo National Park, Riau Province (2007–2009). WWF Indonesia, Indonesia

Suksavate W, Duengkae P, Chaiyes A (2019) Quantifying landscape connectivity for wild Asian elephant populations among fragmented habitats in Thailand Global. Ecol Conserv 19:e00685

Sukumar R (1990) Ecology of the Asian elephant in southern India. II. Feeding habits and crop raiding patterns. J Trop Ecol 6:33–53

Supriatna J, Dwiyahreni AA, Winarni N, Mariati S, Margules C (2017) Deforestation of primate habitat on Sumatra and adjacent islands, Indonesia. Primate Conserv 31:71–82

Thurfjell H, Ciuti S, Boyce MS (2014) Applications of step-selection functions in ecology and conservation. Mov Ecol 2:81

Uryu Y et al (2010) Sumatra's forests, their wildlife and the climate windows in time: 1985, 1990, 2000 and 2009. WWF-Indonesia, Jakarta

Wall J, Douglas-Hamilton I, Vollrath F (2006) Elephants avoid costly mountaineering. Curr Biol 16:R527–R529

Whoriskey K, Auger-Méthé M, Albertsen CM, Whoriskey FG, Binder TR, Krueger CC, Mills Flemming J (2017) A hidden Markov movement model for rapidly identifying behavioral states from animal tracks. Ecol Evol 7:2112–2121

Wilson G, Desai AA (2019) Identifying Sumatran elephant home ranges and habitat requirements to provide tools for minimizing human elephant conflict and maximizing essential elephant habitats. Final report submitted to Ministry of Research, Technology and Higher Education (RISTEKDIKTI) and Balai Konservasi Sumber Daya Alam – Aceh (BKSDA-Aceh). Banda Aceh

Wilson G, Gray RJ, Sofyan H (2020) Identifying the variation in utilization density estimators and home ranges of elephant clans in Aceh, Sumatra, Indonesia. Eur J Wildl Res 66:88
Acknowledgements
We thank the Heads, Genman Hasibuan and Sapto Aji Prabowo and Staff of Balai Konservasi Sumber Daya Alam (BKSDA-Aceh) for permitting this study and providing logistic support. GW is grateful to the local people and Community Rangers for their help in following the elephants throughout the study. Research permits, facilitated by Bournemouth University, UK, and International Elephant Foundation, USA, were issued by the Ministry of Research, Technology and Higher Education (RISTEKDIKTI) (permit numbers: 146/SIP/FRP/E5/Dit.KI/V/2016, 170/SIP/FRP/E5/Dit.KI/VII/2017, 22/EXT/SIP/FRP/E5/Dit.KI/VI/2018) and BKSDA-Aceh (S.328/BKSDA.9/2016, S.712/BKSDA.9/2016, S.378/K.20/TU/KSA.2.1/4/2017, S.564/K.20/TU/KSA.2.1/7/2018) to GW. We thank Deborah Olson, Kylie Bullo, Leif Cocks and Nida Al-Fulaij for their invaluable support of this project. Eva Gazange provided statistical advice on Hidden Markov models. The Editors and three anonymous reviewers provided feedback on earlier versions of the manuscript that has helped substantially improve the manuscript.
Funding
This study was funded by International Elephant Foundation and Elephant Research Foundation M. Philip Kahl Postdoctoral Fellowship, USA, People's Trust for Endangered Species, UK, International Elephant Project, Australia and Columbus Zoo, USA, to GW. Astra Agro Lestari supported collaring one elephant.
Additional information
Communicated by Karen E. Hodges.
Deceased: Ajay A. Desai. This manuscript is dedicated to Mr. Ajay A. Desai, co-author and scientific advisor to this project, who passed away on the 20th of November 2020. Ajay, former co-chair of the IUCN-SSC Asian Elephant Specialist Group, dedicated his life to the conservation of Asian elephants spanning almost 4 decades.
Publisher's Note
Springer Nature remains neutral with regard to jurisdictional claims in published maps and institutional affiliations.
Electronic supplementary material
Below is the link to the electronic supplementary material.
About this article
Cite this article
Wilson, G., Gray, R.J., Radinal, R. et al. Between a rock and a hard place: rugged terrain features and human disturbance affect behaviour and habitat use of Sumatran elephants in Aceh, Sumatra, Indonesia. Biodivers Conserv 30, 597–618 (2021). https://doi.org/10.1007/s10531-020-02105-3
Received:

Revised:

Accepted:

Published:

Issue Date:

DOI: https://doi.org/10.1007/s10531-020-02105-3
Keywords
Land cover

Spatial ecology

Human–elephant conflict

Remote sensing

Oil palm