Abstract
A molecular marker approach was used to analyse the genetic diversity of endemic Triticum aethiopicum wheat accessions that were collected from the same sites in Ethiopia by N.I. Vavilov in 1927 and by the Joint Ethiopian-Russian Biological Expedition in 2012, which allowed the assessment of changes in the gene pool structure of this species over 85 years. The level of genetic diversity in the accessions from Vavilov's collection was higher than that of the accessions collected in 2012. Analysis of molecular variance indicated that differentiation between the two groups of accessions was 17% (PhiPT = 0.169; p < 0.010). A Bayesian clustering approach and principal coordinates analysis showed that these two groups of accessions were notably different in their genetics. In this regard, this article discusses the problem of in situ and ex situ conservation of wheat landraces: their evolution, stability and genetic drift.
This is a preview of subscription content, log in to check access.
Access options
Buy single article
Instant access to the full article PDF.
US$ 39.95
Tax calculation will be finalised during checkout.
Subscribe to journal
Immediate online access to all issues from 2019. Subscription will auto renew annually.
US$ 119
Tax calculation will be finalised during checkout.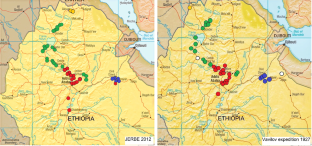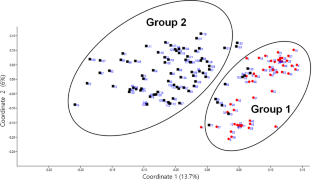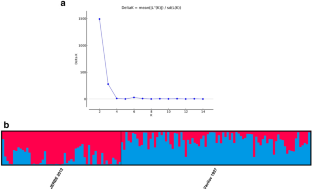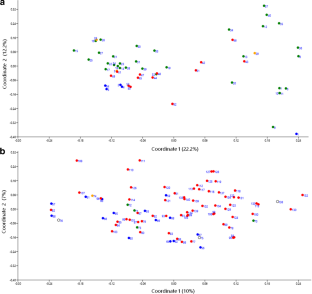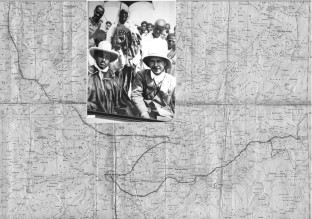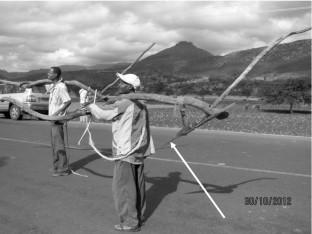 Data availability
All data generated or analysed during this study are included in this published article and its supplementary information files.
References
Al Khanjari S, Filatenko AA, Hammer K, Buerkert A (2008) Morphological spike diversity of Omani wheat. Genet Resour Crop Evol 55:1185–1195. https://doi.org/10.1007/s10722-008-9319-9

Alamerew S, Chebotar S, Huang X, Röder M, Börner A (2004) Genetic diversity in Ethiopian hexaploid and tetraploid wheat germplasm assessed by microsatellite markers. Genet Resour Crop Evol 51(5):559–567

Badaeva ED, Shishkina AA, Goncharov NP, Zuev EV, Lysenko NS, Mitrofanova OP et al (2018) Evolution of Triticum aethiopicum Jakubz. from the position of chromosome analysis. Russ J Genet 54(6):629–642. https://doi.org/10.1134/S1022795418060029

Bartl P, Albreht A, Skrt M, Tremlová B, Oštádalova M, Šmejkal K et al (2015) Anthocyanins in purple and blue wheat grains and in resulting bread: quantity, composition, and thermal stability. Int J Food Sci Nutr 66(5):514–519. https://doi.org/10.3109/09637486.2015.1056108

Belay G, Tesemma T, Bechere E, Mitiku D (1995) Natural and human selection for purple-grain tetraploid wheats in the Ethiopian highlands. Genet Resour Crop Evol 42:387–391

Benbouza H, Jacquemin J, Baudoin J, Mergeai G (2006) Optimization of a reliable, fast, cheap and sensitive silver staining method to detect SSR markers in polyacrylamide gels. Biotechnol Agron Soc Environ 10(2):77–81

Börner A (2006) Preservation of plant genetic resources in the biotechnology era. Biotechnol J 1:1393–1404. https://doi.org/10.1002/biot.200600131

Brown AHD (1999) The genetic structure of crop landraces and the challenge to conserve them in situ on farms. In: Brush SB (ed) Genes in the field: on-farm conservation of crop diversity, Canada. IDRC, Ottawa, pp 29–48

Colomba MS, Gregorini A (2011) Genetic diversity analysis of the durum wheat Graziella Ra, Triticum turgidum L. subsp. durum (Desf.) Husn. (Poales, Poaceae). Biodivers J 2(2):73–84

CBD (Convention on biological diversity) (1992) https://www.cbd.int/doc/legal/cbd-en.pdf. Accessed 1 Jul 2019.

Del Rio AH, Bamberg JB, Huaman Z, Salas A, Vega SE (1997) Assessing changes in the genetic diversity of potato gene banks. 2. In situ vs ex situ. Theoret Appl Genetics 95(1–2):199–204

Dorofeev VF, Filatenko AA, Migushova EF, et al (1979) Kul'turnaya flora SSSR (Cultural Flora of the Soviet Union), vol 1: Pshenitsa (Wheat). Kolos, Leningrad

Dorofeev VF, Udachin RA, Semenova LV et al (1987) Pshenitsy mira. Agropromizdat, Leningrad

Doyle JL, Doyle JJ (1987) A rapid DNA isolation procedure for small quantities of fresh leaf tissue. Phytochem Bull 19:11–15

Dulloo ME, Hunter D, Borelli T (2010) Ex situ and in situ conservation of agricultural biodiversity: major advances and research needs. Not Bot Hort Agrobot Cluj 38(2):123–135

Earl DA, von Holdt BM (2012) STRUCTURE HARVESTER: a website and program for visualizing STRUCTURE output and implementing the Evanno method. Conserv Genetics Resourc 4(2):359–361. https://doi.org/10.1007/s12686-011-9548-7

Eticha F, Grausgruber H, Berghoffer E (2010) Multivariate analysis of agronomic and quality traits of hull-less spring barley (Hordeum vulgare L.). J Plant Breed Crop Sci 2(5):81–95

Filatenko AA, Hammer K (2014) Wheat landraces from Oman: a botanical analysis. Emir J Food Agric 26(2):119–136. https://doi.org/10.9755/ejfa.v26i2.16760

Flyaksberger KA (1939) Triticum L. pr.p. Wheat. In: Identification of real bread (Wheat, rye, barley, oats), M-L.:GIZ kolh. isovh. lit-ry, Moscow, pp 11–236 (In Russian)

Fu YB, Peterson GW, Scoles G, Rossnagel B, Schoen DJ, Richards KW (2003) Allelic diversity changes in 96 Canadian oat cultivars released from 1886 to 2001. Crop Sci 43(6):1989–1995. https://doi.org/10.2135/cropsci2003.1989

Gao L, Chen W, Jiang W, Ge S, Hong D, Wang X (2000) Genetic erosion in northern marginal population of the common wild rice Oryza rufipogon Griff. and its conservation, revealed by the change of population genetic structure. Hereditas 133:47–53. https://doi.org/10.1111/j.1601-5223.2000.00047.x

Gilchrist JA, Sorells ME (1982) Inheritance of kernel color in "charcoal" wheat. J Heredity 73:457–460

Goncharov NP, Mitina RL, Anfilova NA (2003) Inheritance of awnlessness in tetraploid wheat species. Russ J Genet 39:463–466. https://doi.org/10.1023/A:1023326202320

Gordeeva EI (2015) Genetic regulation of purple color of the soft wheat (Triticum aesticum L.) pericarp. Dissertation, Instituty of Citology and Genetis, Siberian Branch of Russian Academy of Science, Novosibirsk

Gordeeva EI, Khlestkina EK (2013) The relationship between the accumulation of anthocyanins in the pericarp of the wheat grain and the reaction to artificial aging in seeds. In: Butakov VV, Kandalinceva NV, Prosenko AE (eds) Free radicals and antioxidants in chemistry, biology, and medicine: materials of the scientific and practical conference, part 1. NGPU, Novosibirsk, p 63

Gowayed S (2009) Egyptian wheat. Dissertation, Kassel University Cuvillier-Verlag, Göttingen (cited in Filatenko, Hammer, 2014)

Haile JK, Hammer K, Badebo A, Singh RP, Röder MS (2013) Haplotype analysis of molecular markers linked to stem rust resistance genes in Ethiopian improved durum wheat varieties and tetraploid wheat landraces. Genet Resour Crop Evol 60:853–864. https://doi.org/10.1007/s10722-012-9880-0

Halewood M (2013) What kind of goods are plant genetic resources for food and agriculture? Towards the identification and development of a new global commons. Int J Commons 7:278–312

Hammer O, Harper DAT, Ryan PD (2001) PAST: paleontological statistics software package for education and data analysis. Palaeontol Electron 4(1):1–9

Hammer K, Gladis Th, Diederichsen A (2003) In situ and on-farm management of plant genetic resources. Eur J Agron 19(4):509–517. https://doi.org/10.1016/S1161-0301(02)00184-3

Jakubziner MM (1947) Triticum aethiopicum. Selekc I Semenov 14(5):46

Khlestkina EK, Huang XQ, Quenum FJB, Chebotar S, Röder MS, Börner A (2004) Genetic diversity in cultivated plants—loss or stability? Theor Appl Genet 108(8):1466–1472. https://doi.org/10.1007/s00122-003-1572-x

Khlestkina EK, Varshney RK, Röder MS, Graner A, Börner A (2006) A comparative assessment of genetic diversity in cultivated barley collected in different decades of the last century in Austria, Albania and India by using genomic and genic simple sequence repeat (SSR) markers. Plant Genetic Re-sources 4(2):125–133. https://doi.org/10.1079/PGR2006109

Letta T, Gezu G, Kudryavtsev A, Chiapparino E, D'Egidio MG (2005) Genetic diversity of Ethiopian durum wheat varieties based on gliadin alleles. J Genetics Breed (Italy) 59(3):277–283

Maxted N, Guarino L, Myer L, Chiwona EA (2002) Towards a methodology for on-farm conservation of plant genetic resources. Genet Resour Crop Evol 49(1):31–46

Maxted N, Dulloo E, Ford-Lloyd BV, Iriondo JM, Jarvis A (2008) Gap analysis: a tool for complementary genetic conservation assessment. Divers Distrib 14:1018–1030. https://doi.org/10.1111/j.1472-4642.2008.00512.x

Melnikova N, Ganeva G, Popova Z, Landjeva S, Kudryavtsev A (2010) Gliadins of Bulgarian durum wheat (Triticum durum Desf.) landraces: genetic diversity and geographical distribution. Genet Resour Crop Evol 57:587–595. https://doi.org/10.1007/s10722-009-9497-0

Metakovsky E, Melnik VA, Pascual L, Wrigley CW (2019) Gliadin genotypes worldwide for spring wheats (Triticum aestivum L.) Genetic diversity and grain-quality gliadin alleles during the 20th century. J Cereal Sci 87:172–177. https://doi.org/10.1016/j.jcs.2019.03.008

Peakall R, Smouse PE (2012) GenALEx 6.5: genetic analysis in excel. Population genetic software for teaching and research-an update. Bioinformatics 28(19):2537–2539. https://doi.org/10.1093/bioinformatics/bts460

Pritchard JK, Stephens M, Donnelly P (2000) Inference of population structure using multilocus genotype data. Genetics 155(2):945–959

Riaz A, Hathorn A, Dinglasan E, Ziems L, Richard C, Singh D et al (2017) Into the vault of the Vavilov wheats: old diversity for new alleles. Genet Resour Crop Evol 64:531–544. https://doi.org/10.1007/s10722-016-0380-5

Rice EB, Smith ME, Mitchell SE, Kresovich S (2006) Conservation and change: a comparison of in situ and ex situ conservation of Jala maize germplasm. Crop Sci 46(1):428–436. https://doi.org/10.2135/cropsci2005.06-0116

Sadigov GB, Trifonova AA, Kudryavtsev AM (2017) Genetic diversity in collection of cultivars and varieties of Triticum durum Desf from Azerbaijan. Russ J Genet 53(5):576–586. https://doi.org/10.1134/S1022795417050088

Scott PR, Hollins TW (1977) Interactions between cultivars of wheat and isolates of Cercosporella herpotrichoides Trans. Br Mycol Soc 69(3):397–403. https://doi.org/10.1016/S0007-1536(77)80077-6

Teklu Y, Hammer K (2006) Farmers' perception and genetic erosion of tetraploid wheat landraces in Ethiopia. Genet Resour Crop Evol 53:1099–1113

Teklu Y, Hammer K (2009) Diversity of Ethiopian tetraploid wheat germplasm: breeding opportunities for improving grain yield potential and quality traits. Plant Genet Resour 7(1):1–8. https://doi.org/10.1017/S1479262108994223

Thomas M, Demeulenaere E, Dawson JC, Khan AR, Galic N, Jouanne-Pin S et al (2012) On-farm dynamic management of genetic diversity: the impact of seed diffusions and seed saving practices on a population-variety of bread wheat. Evol Appl 5(8):779–795. https://doi.org/10.1111/j.1752-4571.2012.00257.x

Thormann I, Reeves P, Thumm S, Reilly A, Engels JMM, Biradar CM et al (2017) Genotypic and phenotypic changes in wild barley (Hordeum vulgare subsp. spontaneum) during a period of climate change in Jordan. Genet Resour Crop Evol 64(6):1295–1312. https://doi.org/10.1007/s10722-016-0437-5

Thormann I, Reeves P, Thumm S, Reilly A, Engels JMM, Biradar CM et al (2018) Changes in barley (Hordeum vulgare L. subsp vulgare) genetic diversity and structure in Jordan over a period of 31 years. Plant Genetic Resourses 16(2):112–126. https://doi.org/10.1017/S1479262117000028

van de Wouw M, Kik C, van Hintum T, van Treuren R, Visser B (2009) Genetic erosion in crops: concept, research results and challenges. Plant Genetic Resour 8(1):1–15. https://doi.org/10.1017/S1479262109990062

Vavilov NI (1997) Five continents. IPGRI/VIR, Rome. (Translated into English by Doris Löve).

Vavilov NI, Fortunatova OK, Yakubtsiner MM, Pal'mova EF, Nikolaenko EI, Stoletova EA et al (1931) The wheats of Abyssinia and their position in the general system of wheats. Bull Apl Bot Gen i sel 51:236

Vos P, Hogers R, Bleeker M, Reijans M, Van de Lee T et al (1995) AFLP: a new technique for DNA fingerprinting. Nucleic Acids Res 23:4407–4414

Zeven AC (1991) Wheats with purple and blue grains: a review. Euphytica 56:243–258
Funding
Species assignment of the accessions collected by the expedition of 2012 was carried out at the Institute of Cytology and Genetics, Siberian Branch of the Russian Academy of Sciences (Novosibirsk, Russia), within the framework of the state contract no. 0324-2019-0039-C-01. Molecular analysis was conducted at the Vavilov Institute of General Genetics, Russian Academy of Sciences (Moscow, Russia) within the framework of the state contract of this institute. The material was collected in 2012 within the framework of the long-term international scientific project's Joint Ethiopian-Russian Biological Expedition (JERBE) organised by the Division of Biological Sciences of the Russian Academy of Sciences. We thank the JERBE coordinator A.A. Darkov (A.N. Severtsov Institute of Ecology and Evolution, RAS, Moscow, Russia) for his help in organising the field studies. We thank Prof. O.P. Mitrofanova and N.S. Lysenko (VIR, St. Petersburg, Russia) for providing accessions of N.I. Vavilov's Ethiopian expedition and Drs. T.N. Smekalova and L.V. Bagmet (VIR, St. Petersburg, Russia) for the opportunity to work with herbarium sheets of those accessions. We thank E.Ya. Kondratenko (Institute of Cytology and Genetics SB RAS, Novosibirsk, Russia) for technical assistance.
Ethics declarations
Conflicts of interest
The authors declare that they have no competing interests.
Additional information
Publisher's Note
Springer Nature remains neutral with regard to jurisdictional claims in published maps and institutional affiliations.
This article belongs to the Topical Collection: Ex-situ conservation.
Communicated by Daniel Sanchez Mata.
About this article
Cite this article
Trifonova, A.A., Dedova, L.V., Zuev, E.V. et al. Comparative analysis of the gene pool structure of Triticum aethiopicum wheat accessions conserved ex situ and recollected in fields after 85 years. Biodivers Conserv (2021). https://doi.org/10.1007/s10531-020-02091-6
Received:

Revised:

Accepted:

Published:
Keywords
Biodiversity

Triticum aethiopicum

AFLP analysis