Abstract
Reintroduction is an increasingly common practice to conserve and recover threatened and endangered plant species, so understanding how practitioners view their work and identifying persistent resource mismatches are key to the long-term viability of these listed species. We interviewed practitioners involved in reintroduction projects for 14 species in the state of California to understand (1) how they defined recovery; (2) their assessment of the likelihood of recovery; (3) what advice they would share with other practitioners to improve reintroduction efforts; and (4) what resources could make future projects more successful. Practitioners' definitions of recovery aligned with ecological theory and emphasized the importance of self-sustaining populations and large populations, as well as the presence of multiple populations. However, most practitioners felt that recovery was unlikely or did not think the species they worked with should or would be de-listed without the guarantee of perpetual future interventions. Practitioners thought that studying basic biology and natural history, using experiments to determine the best techniques, and repeatedly planting populations were important to project success. However, practitioners also felt they were missing critical resources, including long-term funding for implementation and maintenance, successful and positive relationships between members of the practitioner-agency-scientist-landowner nexus, and assurances/safe harbor agreements for experimental populations. Overall, rare plant reintroductions are complicated by persistent mismatches in timing and goals, but some individuals have been able to successfully navigate these challenges. Longer duration funding mechanisms for monitoring and maintenance and better data handling, storage, and dissemination would benefit future projects.
Access options
Buy single article
Instant access to the full article PDF.
USD 39.95
Price includes VAT (USA)
Tax calculation will be finalised during checkout.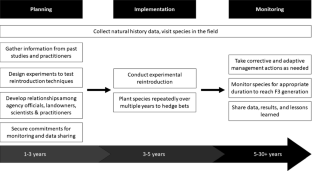 Data availability
The datasets generated during and analyzed during the current study are not publicly available to protect the anonymity of respondents in the study, but aggregate and anonymized data are available from the corresponding author on reasonable request.
References
Albrecht MA, Osazuwa-Peters OL, Maschinski J et al (2019) Effects of life history and reproduction on recruitment time lags in reintroductions of rare plants. Conserv Biol 33:601–611. https://doi.org/10.1111/cobi.13255

Arlettaz R, Schaub M, Fournier J et al (2010) From publications to public actions: when conservation biologists bridge the gap between research and implementation. Bioscience 60:835–842. https://doi.org/10.1525/bio.2010.60.10.10

Bartholomeus RP, Witte JPM, Van Bodegom PM et al (2011) Climate change threatens endangered plant species by stronger and interacting water-related stresses. J Geophys Res Biogeosciences 116:1–14. https://doi.org/10.1029/2011JG001693

Bean MJ (2009) The endangered species act: Science, policy, and politics. Ann New York Acad Sci 1162:369–391

Branton M, Richardson JS (2010) Assessing the value of the umbrella-species concept for conservation planning with meta-analysis. Conserv Biol 25:9–20. https://doi.org/10.1111/j.1523-1739.2010.01606.x

Bruskotter JT, Vucetich JA, Slagle KM et al (2018) Support for the U.S. Endangered Species Act over time and space: controversial species do not weaken public support for protective legislation. Conserv Lett 11:e12595

Clark TW, Clark SG (1997) Averting extinction: reconstructing endangered species recovery. Yale University Press, New Haven, CT

Cook CN, Mascia MB, Schwartz MW et al (2013) Achieving conservation science that bridges the knowledge-action boundary. Conserv Biol 27:669–678. https://doi.org/10.1111/cobi.12050

Dalrymple SE, Stewart GB, Pullin AS (2011) Are re-introductions an effective way of mitigating against plant extinctions? CEE review 07–008 (SR32). Collab Environ Evid 008:1–63

Dickens SJM, Suding KN (2014) Spanning the science-practice divide: why restoration scientists need to be more involved with practice. Ecol Restor 31:134–140. https://doi.org/10.1353/ecr.2013.0027

Doak DF, Boor GKH, Bakker VJ et al (2015) Recommendations for improving recovery criteria under the US Endangered Species Act. Bioscience 65:189–199. https://doi.org/10.1093/biosci/biu215

Doremus H, Pagel JE (2001) Why listing may be forever: perspectives on delisting under the U S. Endangered Species Act. Conserv Biol 15:1258–1268. https://doi.org/10.1111/j.1523-1739.2001.00178.x

Evans DM, Che-castaldo JP, Crouse D et al (2012) Species recovery in the United States: increasing the effectiveness of the Endangered Species Act. Issues Ecol 13:1–16

Eviner V (2014) Effects of weather variations on species composition and production in California's grasslands. Grasslands 24:2–7

Foin TC, Pawley AL, Ayres DR et al (2006) Improving recovery planning for threatened and endangered species. Bioscience 48:177–184. https://doi.org/10.2307/1313263

Gerber LR, Hatch LT (2002) Are we recovering? An evaluation of recovery criteria under the U.S Endangered Species Act. Ecol Appl 12:668–673. https://doi.org/10.1890/1051-0761(2002)012[0668:AWRAEO]2.0.CO;2

Godefroid S, Vanderborght T (2011) Plant reintroductions: the need for a global database. Biodivers Conserv 20:3683–3688. https://doi.org/10.1007/s10531-011-0120-2

Godefroid S, Piazza C, Rossi G et al (2011) How successful are plant species reintroductions? Biol Conserv 144:672–682. https://doi.org/10.1016/j.biocon.2010.10.003

Goodman LA (1961) Snowball Sampling. Ann Math Stat 32:148–170

Gray BE (2007) The Endangered Species Act: Reform or Refutation? Hast West-Northwest J Environ Law Policy 13

Guerrant EO (2012) Characterizing two decades of rare plant reintroductions. In: Maschinski J, Haskins KE (eds) Plant reintroduction in a changing climate: promises and perils. Island Press, Washington, DC, pp 9–29

Guerrant EO (2013) The value and propriety of reintroduction as a conservation tool for rare plants. Botany 91:v–x. https://doi.org/10.1139/cjb-2012-0239

Guerrant EO, Kaye TN (2007) Reintroduction of rare and endangered plants: common factors, questions and approaches. Aust J Bot 55:362–370. https://doi.org/10.1071/BT06033

Havens K, Vitt P, Maunder M et al (2006) Ex situ plant conservation and beyond. BioScience 56:525–531

Hodge I, Adams WM (2016) Short-term projects versus adaptive governance: conflicting demands in the management of ecological restoration. Land 5:39. https://doi.org/10.3390/land5040039

Holl KD (2020) Primer of ecological restoration. Island Press, Washington, DC

Holl KD, Hayes GF (2006) Challenges to introducing and managing disturbance regimes for Holocarpha macradenia, an endangered annual grassland forb. Conserv Biol 20:1121–1131. https://doi.org/10.1111/j.1523-1739.2006.00416.x

Hölzel N, Buisson E, Dutoit T (2012) Species introduction–a major topic in vegetation restoration. Appl Veg Sci 15:161–165. https://doi.org/10.1111/j.1654-109X.2012.01189.x

Kaye TN (2008) Vital steps toward success of endangered plant reintroductions. Nativ Plants J 9:313–322. https://doi.org/10.2979/NPJ.2008.9.3.313

Maschinski J, Albrecht MA (2017) Center for plant conservation's best practice guidelines for the reintroduction of rare plants. Plant Divers 39:390–395. https://doi.org/10.1016/j.pld.2017.09.006

Maschinski J, Haskins KE (2012) Plant reintroduction in a changing climate: promises and perils. Island Press, Washington, DC

Massey JR, Whitson PD (1980) Species biology, the key to plant preservation. Rhodora 82:97–103

Matzek V, Pujalet M, Cresci S (2015) What managers want from invasive species research versus what they get. Conserv Lett 8:33–40. https://doi.org/10.1111/conl.12119

McDonald-Madden E, Baxter PWJ, Fuller RA et al (2010) Monitoring does not always count. Trends Ecol Evol 25:547–550. https://doi.org/10.1016/j.tree.2010.07.002

Meffe GK (2001) Crisis in a crisis discipline. Conserv Biol 15:303–304. https://doi.org/10.1046/j.1523-1739.2001.015002303.x

Menges ES (2000) Population viability analyses in plants: challenges and opportunities. Trends Ecol Evol 15:51–56. https://doi.org/10.1016/S0169-5347(99)01763-2

Pavlik BM (1996) Defining and measuring success. Restoring diversity: strategies for reintroduction of endangered plants. Island Press, Washington, DC, pp 127–156

Pavlik BM (2003) Plants that protect ecosystems: a survey from California. Biodivers Conserv 12:717–729. https://doi.org/10.1023/A:1022420911839

Roberge JM, Angelstam P (2004) Usefulness of the umbrella species concept as a conservation tool. Conserv Biol 18:76–85. https://doi.org/10.1111/j.1523-1739.2004.00450.x

Rohlf DJ (2014) The Endangered Species Act at 40. Anim Law 20:251–275. https://doi.org/10.1525/bio.2013.63.12.4

Sarrazin F, Barbault R (1996) Reintroductions: challenges and lessons for basic ecology. Trends Ecol Evol 11:474–478. https://doi.org/10.1016/0169-5347(96)20092-8

Scott JM, Goble DD, Wiens JA et al (2005) Recovery of imperiled species under the Endangered Species Act: the need for a new approach. Front Ecol Environ 3:383–389. https://doi.org/10.1890/1540-9295(2005)003[0383:ROISUT]2.0.CO;2

Scott JM, Goble DD, Haines AM et al (2010) Conservation-reliant species and the future of conservation. Conserv Lett 3:91–97. https://doi.org/10.1111/j.1755-263X.2010.00096.x

Seddon PJ (2010) From reintroduction to assisted colonization: Moving along the conservation translocation spectrum. Restor Ecol 18:796–802

Seddon PJ, Armstrong DP, Maloney RF (2007) Developing the science of reintroduction biology. Conserv Biol 21:303–312. https://doi.org/10.1111/j.1523-1739.2006.00627.x

Silva L, Dias EF, Sardos J et al (2015) Towards a more holistic research approach to plant conservation: the case of rare plants on oceanic islands. AoB Plants 7:1–18. https://doi.org/10.1093/aobpla/plv066

Stuble KL, Fick SE, Young TP (2017) Every restoration is unique: testing year effects and site effects as drivers of initial restoration trajectories. J Appl Ecol 54:1051–1057. https://doi.org/10.1111/1365-2664.12861

Suding KN (2011) Toward an era of restoration in ecology: successes, failures, and opportunities ahead. Annu Rev Ecol Evol Syst 42:465–487. https://doi.org/10.1146/annurev-ecolsys-102710-145115

Tewksbury JJ, Anderson JGT, Bakker JD et al (2014) Natural history's place in science and society. Bioscience 64:300–310. https://doi.org/10.1093/biosci/biu032

The Center for Plant Conservation (2019) CPC best plant conservation practices to support species survival in the wild. Center for plant conservation, Escondido, CA

Traill LW, Brook BW, Frankham RR, Bradshaw CJA (2010) Pragmatic population viability targets in a rapidly changing world. Biol Conserv 143:28–34. https://doi.org/10.1016/j.biocon.2009.09.001

Wilson SD (2015) Managing contingency in semiarid grassland restoration through repeated planting. Restor Ecol 23:385–392. https://doi.org/10.1111/rec.12201
Acknowledgements
We are thankful to all the practitioners who participated in this study. We also thank Peggy Fiedler, Diana Hickson, and Connie Rutherford for their early guidance in the design and topic of this study.
Funding
This research was not supported by external funding.
Ethics declarations
Conflict of interest
The authors report no conflicts of interest or competing interests.
Ethics approval, consent to participate, and consent for publication
This research included human subjects. Subjects were not asked about sensitive or identifying information. All respondents consented to be included in the study, were informed of data management procedures (anonymization and storage) and acknowledged that their responses may be published prior to interviews.
Additional information
Publisher's Note
Springer Nature remains neutral with regard to jurisdictional claims in published maps and institutional affiliations.
Communicated by Daniel Sanchez Mata.
Electronic supplementary material
Below is the link to the electronic supplementary material.
About this article
Cite this article
Lesage, J.C., Press, D. & Holl, K.D. Lessons from the reintroduction of listed plant species in California. Biodivers Conserv 29, 3703–3716 (2020). https://doi.org/10.1007/s10531-020-02045-y
Received:

Revised:

Accepted:

Published:

Issue Date:
Keywords
Endangered species

Perceptions

Recovery

Natural history

Monitoring

Experimental introduction