Abstract
The habitat fragmentation and isolation threaten populations of rare species. Organisms become endangered because of the primary habitat loss, but also due to limited dispersal capacity. Whether threatened species are limited more by their dispersal capacity or by lack of suitable habitats is an unresolved question critical to effective conservation. To address the question, we investigated patterns of colonisation by light demanding woodland plants in patches (clearings) of broadleaf forest where open canopy conditions were restored by partial cutting. Six pairs of identically sized (40 × 40 m) clearings were created in closed canopy thermophilous oak forest. Each pair included a clearing isolated in the closed forest and a clearing connected to an alluvial meadow and migration corridor along a river. Within each clearing, we followed colonization success by threatened and common species for 8 years. To assess the relative role of species pool, dispersal limitation and niche-based competition processes (viewed through the plant functional traits), we compared vegetation composition of the clearings to that of surrounding habitats (closed forest, open forest, meadow, forest edge). Clearings hosted more threatened species than closed forests, forest edges and meadows. Existing patches of open forest harboured the highest diversity of threatened species. Their proximity increased colonization success of threatened plants in clearings. Higher colonization rates by threatened plants were associated with shorter distances to source habitats and higher light, higher pH and lower moisture values in the clearings. Clearing type affected composition and ecological strategies of threatened species. Connected clearings were colonized by taller light-demanding species with higher seed mass, more suitable for establishment in a highly competitive environment, while the isolated clearings were colonized by shorter species with higher specific leaf area, better equipped for a more shaded environment. Species richness of threatened species increased in the first 3 years and decreased in last years, indicating that forest thinning creates only a short-term regeneration window with tree and shrub canopy closing back relatively fast. Active intervention should be therefore repeated in short intervals, preferably as shifting mosaics of differently aged stands. Our results bring novel information on the relative importance of habitat quality, isolation, and biotic filtering on communities of threatened species and their colonization success.
Access options
Buy single article
Instant access to the full article PDF.
US$ 39.95
Tax calculation will be finalised during checkout.
Subscribe to journal
Immediate online access to all issues from 2019. Subscription will auto renew annually.
US$ 119
Tax calculation will be finalised during checkout.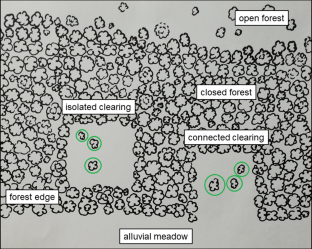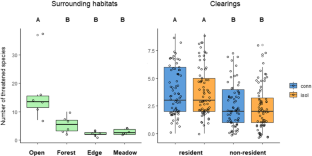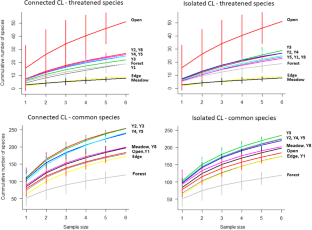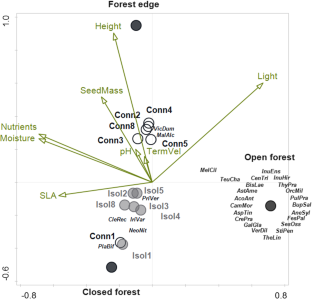 References
Albert A, Auffret AG, Cosyns E, Cousins SAO et al (2015) Seed dispersal by ungulates as an ecological filter: a trait-based meta-analysis. Oikos 124:1109–1120. https://doi.org/10.1111/oik.02512

Ash JE, Barkham JP (1976) Changes and variability in the field layer of a coppiced woodland in Norfolk, England. J Ecol 64:697–712. https://doi.org/10.2307/2258779

Barney JN, Ho MW, Atwater DZ (2015) Propagule pressure cannot always overcome biotic resistance: the role of density-dependent establishment in four invasive species. Weed Res 56:208–218. https://doi.org/10.1111/wrc.12204

Baselga A (2010) Partitioning the turnover and nestedness components of betadiversity. Global Ecol Biogeogr 19:134–143. https://doi.org/10.1111/j.1466-8238.2009.00490.x

Bergeron Y, Cyr D, Girardin MP, Carcaillet C (2010) Will climate change drive 21st century burn rates in Canadian boreal forests outside of natural variability: collating global climate model experiments with sedimentary charcoal data. Intl J Wildland Fire 19:1127–1139. https://doi.org/10.1071/WF09092

Becker T, Spanka J, Schröder L, Leuschner C (2017) Forty years of vegetation change in former coppice-with-standards woodlands as a result of management change and N deposition. Appl Veg Sci 20:304–313. https://doi.org/10.1111/avsc.12282

Bergmeier E, Petermann J, Schroder E (2010) Geobotanical survey of wood pasture habitats in Europe: diversity, threats and conservation. Biodivers Conserv 19:2995–3014. https://doi.org/10.1007/s10531-010-9872-3

Bobbink R, Hornung M, Roelof JGM (1998) The effects of air-borne nitrogen pollutants on species diversity in natural and semi-natural European vegetation. J Ecol 86:717–738. https://doi.org/10.1046/j.1365-2745.1998.8650717.x

Brantley ST, Young DR (2009) Contribution of sunflecks is minimal in expanding shrub thickets compared to temperate forest. Ecology 90:1021–1029. https://doi.org/10.1890/08-0725.1

Broome A, Clarke S, Peace A, Parsons M (2011) The effect of coppice management on moth assemblages in an English woodland. Biodivers Conserv 20:729–749. https://doi.org/10.1007/s10531-010-9974-y

Brown JH, Stevens GC, Kaufman DM (1996) The geographic range: size, shape, boundaries, and internal structure. Annu Rev Ecol Syst 27:597–623. https://doi.org/10.1146/annurev.ecolsys.27.1.597

Bugalho MN, Caldeira MC, Pereira JS, Aronson J, Pausas JG (2011) Mediterranean cork oak savannas require human use to sustain biodiversity and ecosystem services. Front Ecol Environ 9:278–286. https://doi.org/10.1890/100084

Chytrý M, Tichý L (2003) Diagnostic, constant and dominant species of vegetation classes and alliances of the Czech Republic: a statistical revision. Folia Facultatis Scientiarum Naturalium Universitatis Masarykianae Brunensis. Biologia 108. Masaryk University, Brno, Czech Republic.

Dengler J (2009) Which function describes the species-area relationship best? A review and empirical evaluation. J Biogeogr 36:728–744. https://doi.org/10.1111/j.1365-2699.2008.02038.x

Díaz S, Kattge J, Cornelissen J et al (2016) The global spectrum of plant form and function. Nature 529:167–171. https://doi.org/10.1038/nature16489

Douda J, Boublík K, Doudová J, Kyncl M (2016) Traditional forest management practices stop forest succession and bring back rare plant species. J Appl Ecol 54:761–771. https://doi.org/10.1111/1365-2664.12801

Ehrlén J, Münzbergová Z, Diekmann M, Eriksson O (2006) Long-term assessment of seed limitation in plants: results from an 11-year experiment. J Ecol 94:1224–1232. https://doi.org/10.1111/j.1365-2745.2006.01169.x

Ellenberg H, Weber HE, Dull R, Wirth W, Werner W, Paulißen D (1992) Zeigerwerte von Pflanzen in Mitteleuropa. 2nd ed. Scripta Geobotanica 18:1–248

Ewers RM, Didham RK (2006) Confounding factors in the detection of species responses to habitat fragmentation. Biol Rev 81:117–142. https://doi.org/10.1017/S1464793105006949

Fahring L (2002) Effect of habitat fragmentation on the extinction threshold: a synthesis. Ecol Appl 12:346–353. https://doi.org/10.1890/1051-0761(2002)012[0346:EOHFOT]2.0.CO;2

Fahring L (2003) Effects of habitat fragmentation on biodiversity. Ann Rev Ecol Evol Syst 34:387–515. https://doi.org/10.1146/annurev.ecolsys.34.011802.132419

Grime JP (1979) Plant strategies and vegetation processes. Wiley, Chichester, p 222

Grulich V, Chobot K (2017) Červený seznam ohrožených druhů České republiky. Cévnaté rostliny (Red list of threatened species of the Czech Republic. Vascular plants.). Příroda 35, Praha (in Czech). ISBN 978–80-88076-47-6

Harper KA, Macdonald SE, Burton PJ, Chen J, Brosofske KD, Saunders SC, Euskirchen ES, Roberts DAR, Jaiteh MS, Esseen P-A (2005) Edge influence on forest structure and composition in fragmented landscapes. Conserv Biol 19:768–782. https://doi.org/10.1111/j.1523-1739.2005.00045.x

Hartel T, Plieninger T (2014) European wood-pastures in transition: a social-ecological approach. Routledge, London

Hédl R, Kopecký M, Komárek J (2010) Half a century of succession in a temperate oakwood: from species-rich community to mesic forest. Divers Distrib 16:267–276. https://doi.org/10.1111/j.1472-4642.2010.00637.x

Hédl R, Šipoš J, Chudomelová M, Utinek D (2017) Dynamics of herbaceous vegetation during four years of experimental coppice introduction. Folia Geobot 52:83–99. https://doi.org/10.1007/s12224-016-9281-9

Hedwall P-O, Brunet J, Nordin A, Bergh J (2013) Changes in the abundance of keystone forest floor species in response to changes of forest structure. J Veg Sci 24:296–306. https://doi.org/10.1111/j.1654-1103.2012.01457.x

Hemrová L, Münzbergová Z (2012) Identification of suitable unoccupied habitats: direct versus an indirect approach. Preslia 84:925–937

Hilmers T, Friess N, Bassler C, Heurich M, Brandl R, Pretsch H, Seidl R, Muller J (2018) Biodiversity along temperate forest succession. J Appl Ecol 55:2756–2766. https://doi.org/10.1111/1365-2664.13238

Jurko A (1990) Ekologické a socio-ekonomické hodnotenie vegetácie (Ecological and socio-economic evaluation of vegetation). Príroda, Bratislava (in Slovak). ISBN 80-07-00391-6

Kleyer M, Bekker RM, Knevel IC et al (2008) The LEDA Traitbase: a database of life-history traits of Northwest European flora. J Ecol 96:1266–1274. https://doi.org/10.1111/j.1365-2745.2008.01430.x

Kopecký M, Hédl R, Szabó P (2013) Non-random extinctions dominate plant community changes in abandoned coppices. J Appl Ecol 50:79–87. https://doi.org/10.1111/1365-2664.12010

Košulič O, Michalko R, Hula V (2016) Impact of canopy openness on spider communities: implications for conservation management of formerly coppiced oak forests. PLoS ONE 11:e0148585. https://doi.org/10.1371/journal.pone.0148585

Kuussaari M, Bommarco R, Heikkinen RK et al (2009) Extinction debt: a challenge for biodiversity conservation. Trends Ecol Evol 24:564–571. https://doi.org/10.1016/j.tree.2009.04.011

Lanta V, Mudrák O, Liancourt P, Bartoš M, Chlumská Z, Dvorský M, Pusztaiová Z, Münzbergová Z, Sebek P, Čížek L, Doležal J (2019) Active management promotes plant diversity in lowland forests: a landscape-scale experiment with two types of clearings. For Ecol Manag 448:94–103. https://doi.org/10.1016/j.foreco.2019.05.073

Lavergne S, Thompson JD, Garnier E, Debussche M (2004) The biology and ecology of narrow endemic and widespread plants: a comparative study of trait variation in 20 congeneric pairs. Oikos 107:505–518. https://doi.org/10.1111/j.0030-1299.2004.13423.x

Lehtilä K, Dahlgren JP, Begoña-Garcia M, Leimu R, Syrjänen K, Ehrlén J (2016) Forest succession and population viability of grassland plants: long repayment of extinction debt in Primula veris. Oecologia 181:125–135. https://doi.org/10.1007/s00442-016-3569-6

Liancourt P, Tilbörger K, Bangerter S, Prasse R (2009) Components of 'competitive ability' in the LHS model: implication on coexistence for twelve co-occurring Mediterranean grasses. Basic Appl Ecol 10:707–714. https://doi.org/10.1016/j.baae.2009.05.003

Lindborg R, Helm A, Bommarco R, Heikkinen RK, Kühn I, Pykälä J, Pärtel M (2012) Effect of habitat area and isolation on plant trait distribution in European forests and grasslands. Oikos 35:356–363. https://doi.org/10.1111/j.1600-0587.2011.07286.x

MacArthur R, Wilson EO (1967) The theory of Island biogeography. Princeton University Press, Princeton

Mason CF, MacDonald SM (2002) Responses of ground flora to coppice management in an English woodland-a study using permanent quadrats. Biodivers Conserv 11:1773–1789. https://doi.org/10.1023/A:1020395014

Miklín J, Miklínová K, Čížek L (2016) Land cover changes in the territory of Podyjí National Park between 1938 and 2014. Thayensia 13:59–80

Milberg P, Bergstedt J, Fridman J, Odell G, Westerberg L (2008) Observer bias and random variation in vegetation monitoring data. J Veg Sci 19:633–644. https://doi.org/10.3170/2008-8-18423

Müllerová J, Hédl R, Szabó P (2015) Coppice abandonment and its implications for species diversity in forest vegetation. Forest Ecol Manag 343:88–100. https://doi.org/10.1016/j.foreco.2015.02.003

Münzbergová Z (2005) Determinants of species rarity: population growth of species sharing the same habitat. Am J Bot 92:1987–1994. https://doi.org/10.3732/ajb.92.12.1987

Münzbergová Z, Herben T (2004) Identification of suitable unoccupied habitats in metapopulation studies using co-occurrence of species. Oikos 105:408–414. https://doi.org/10.1111/j.0030-1299.2004.13017.x

Murray BR, Thrall PH, Gill AM, Nicotra AB (2002) How plant life history and ecological traits relate to species rarity and commonness at varying spatial scales. Aust Ecol 27:291–310. https://doi.org/10.1046/j.1442-9993.2002.01181.x

Muurinen L, Oksanen J, Vanha-Majamaa I, Virtanen R (2019) Legacy effects of logging on boreal forest understorey vegetation in decadal time scales in northern Finland. For Ecol Manag 436:11–20. https://doi.org/10.1016/j.foreco.2018.12.048

Nilsson MC, Wardle DA (2005) Understory vegetation as a forest ecosystem driver: evidence from the northern Swedish boreal forest. Front Ecol Environ 3:421–428. https://doi.org/10.2307/3868658

Paulů A, Harčariková L, Münzbergová Z (2017) Are there systematic differences in germination between rare and common species? A case study from central European mountains. Flora 236–237:15–24. https://doi.org/10.1016/j.flora.2017.09.004

Pykälä J (2004) Immediate increase in plant species richness after clearcutting of boreal herb-rich forests. Appl Veg Sci 7:29–34. https://doi.org/10.1111/j.1654-109X.2004.tb00592.x

R Core Team (2019) R: a language and environment for statistical computing. R Foundation for Statistical Computing, Vienna

Roleček J, Vild O, Sladký J, Řepka R (2017) Habitat requirements of endangered species in a former coppice of high conservation value. Folia Geobot 52:59–69. https://doi.org/10.1007/s12224-016-9276-6

Roschewitz I, Gabriel D, Tscharntke T, Thies C (2005) The effects of landscape complexity on arable weed species diversity in organic and conventional farming. J Appl Ecol 42:873–882. https://doi.org/10.1111/j.1365-2664.2005.01072.x

Schmidt M, Jochheim H, Kersebaum K-C, Lischeid G, Nendel C (2017) Gradients of microclimate, carbon and nitrogen in transition zones of fragmented landscapes: a review. Agric For Meteorol 232:659–671. https://doi.org/10.1016/j.agrformet.2016.10.022

Sebek P, Bace R, Bartos M et al (2015) Does a minimal intervention approach threaten the biodiversity of protected areas? A multi-taxa short-term response to intervention in temperate oak-dominated forests. For Ecol Manag 358:80–89. https://doi.org/10.1016/j.foreco.2015.09.008

Selosse M-A, Roy M (2009) Green plants eating fungi: facts and questions about mixotrophy. Trends Plant Sci 14:67–70. https://doi.org/10.1016/j.tplants.2008.11.004

Stein A, Gerstner K, Kreft H (2014) Environmental heterogeneity as a universal driver of species richness across taxa, biomes and spatial scales. Ecol Lett 17:866–880. https://doi.org/10.1111/ele.12277

Szabó P (2010) Driving forces of stability and change in woodland structure: a case-study from the Czech lowlands. For Ecol Manag 259:650–656. https://doi.org/10.1016/j.foreco.2009.11.026

Szabó P, Müllerová J, Suchánková S, Kotačka M (2015) Intensive woodland management in the middle ages: spatial modelling based on archival data. J Hist Geogr 48:1–10. https://doi.org/10.1016/j.jhg.2015.01.005

Tamme R, Götzenberger L, Zobel M, Bullock JM, Hooftman AAP, Kaasik A, Pärtel M (2014) Predicting species' maximum dispersal distances from simple plant traits. Ecology 95:505–513. https://doi.org/10.1890/13-1000.1

Uotila A, Kouki J (2005) Understorey vegetation in spruce-dominated forests in eastern Finland and Russian Karelia: successional patterns after anthropogenic and natural disturbances. For Ecol Manag 215:113–137. https://doi.org/10.1016/j.foreco.2005.05.008

Vanha-Majamaa I, Shorohova E, Kushnevskaya H, Jalonen J (2017) Resilience of understory vegetation after variable retention felling in boreal Norway spruce forests: a ten-year perspective. For Ecol Manag 393:12–28. https://doi.org/10.1016/j.foreco.2017.02.040

Vellend M (2010) Conceptual synthesis in community ecology. Q Rev Biol 85:183–206. https://doi.org/10.1086/652373

Vera F (2000) Grazing ecology and forest history. CAB International, Wallingford

Verheyen K, Baeten L, De Frenne P et al (2012) Driving factors behind the eutrophication signal in understorey plant communities of deciduous temperate forests. J Ecol 100:352–365. https://doi.org/10.1111/j.1365-2745.2011.01928.x

Vild O, Roleček J, Hédl R, Kopecký M, Utinek D (2013) Experimental restoration of coppice-with-standards: response of understorey vegetation from the conservation perspective. For Ecol Manag 310:234–241. https://doi.org/10.1016/j.foreco.2013.07.056

Violle C, Navas ML, Ville D, Kazakou E, Fortunel C, Hummel I, Garnier E (2007) Let the concept of trait be functional! Oikos 116:882–892. https://doi.org/10.1111/j.0030-1299.2007.15559.x

Vodka Š, Čížek L (2013) The effects of edge-interior and understorey-canopy gradients on the distribution of saproxylic beetles in a temperate lowland forest. For Ecol Manag 304:33–41. https://doi.org/10.1016/j.foreco.2013.04.007

Weiher E, Freund D, Bunton T, Stefanski A, Lee T, Bentivenga S (2011) Advances, challenges, and a developing synthesis of ecological community assembly theory. Philos Trans R Soc Lond B Biol Sci 366:2403–2413. https://doi.org/10.1098/rstb.2011.0056

Westoby M, Leishman M, Lord J (1997) Comparative ecology of seed size and dispersal. Plant life histories. In: Silvertown J, Franco M, Harper JL (eds) Ecology, phylogeny and evolution. Cambridge University Press, Cambridge, pp 143–162
Acknowledgements
We would like to express special thanks to administration of the Podyjí National Park, namely Lenka Reiterová, Robert Stejskal and Martin Škorpík. The study was financially supported by The Czech Science Foundation (17-19376S and 17-21082S) and by The Czech Academy of Sciences (RVO 67985939 and RVO 60077344). MD is grateful to Martina Roeselová Memorial Fellowship for financial support.
Additional information
Publisher's Note
Springer Nature remains neutral with regard to jurisdictional claims in published maps and institutional affiliations.
This article belongs to the Topical Collection: Forest and plantation biodiversity.
Communicated by David Hawksworth.
Electronic supplementary material
Below is the link to the electronic supplementary material.
About this article
Cite this article
Lanta, V., Mudrák, O., Liancourt, P. et al. Restoring diversity of thermophilous oak forests: connectivity and proximity to existing habitats matter. Biodivers Conserv 29, 3411–3427 (2020). https://doi.org/10.1007/s10531-020-02030-5
Received:

Revised:

Accepted:

Published:

Issue Date:
Keywords
Clearings

Colonization

Common species

Fragmentation

Richness

Threatened species