Abstract
Globally, the occurrence of terrestrial vertebrates in mangrove forests is poorly documented, with little empirical data available. This knowledge gap is, at least in part, explained by the challenging survey conditions typically found in these environments. As an ecological understanding of ecosystems is essential to guide conservation management actions, a lack of baseline biodiversity surveys can leave ecosystems vulnerable to degradation. To address this, we developed and tested a rapid assessment protocol for tidal regions (RAPTR), that uses a range of techniques to detect mammals, reptiles and amphibians in mangrove habitat subject to daily tidal inundation. Our approach uses seven commonly used fauna detection techniques (live traps, camera traps, nocturnal transects, hair tubes, artificial terrestrial and arboreal refuges, and high-frequency acoustic monitoring). RAPTR was implemented over four consecutive nights at each of the 10 sites spanning temperate to tropical mangrove regions of Australia. We detected 65 species of terrestrial vertebrates, of which 42 species have not previously been reported in mangroves. We demonstrated that all techniques were robust to tidal inundation, and that four consecutive trap nights were sufficient to detect all taxonomic groups and most species in temperate regions, but that additional nights may be required in subtropical and tropical regions. We recommend RAPTR be used as a biodiversity assessment protocol to identify terrestrial vertebrates in mangroves to fill critical knowledge gaps about these important ecological communities, and one which can potentially be applied to other tidal ecosystems. Such a strategy would further our understanding of the ecological role mangroves play as habitat for terrestrial fauna, and help identify management strategies to aid the conservation of these declining ecosystems.
This is a preview of subscription content, log in to check access.
Access options
Buy single article
Instant access to the full article PDF.
US$ 39.95
Price includes VAT for USA
Subscribe to journal
Immediate online access to all issues from 2019. Subscription will auto renew annually.
US$ 199
This is the net price. Taxes to be calculated in checkout.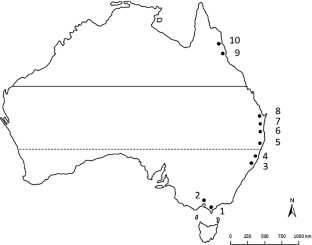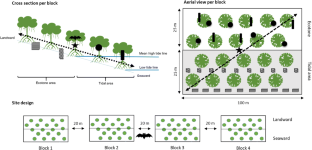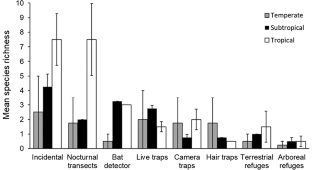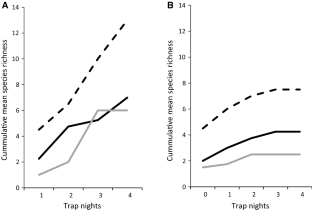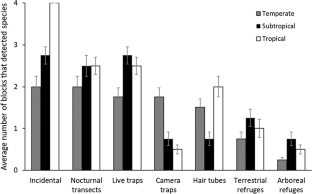 Data availability
The datasets generated during and/or analysed during the current study are available from the corresponding author on reasonable request.
References
Alongi DM (2016) Climate regulation by capturing carbon in mangroves. In: Finlayson CM, Everard M, Irvine K, Mcinnes RJ, Middleton BA, Van Dam AA, Davidson NC (eds) The wetland book: I: structure and function, management and methods. Springer, Dordrecht, pp 1–7

Anderson DR (2001) The need to get the basics right in wildlife field studies. Wildl Soc Bull 29:1294–1297

Bell TP (2009) A novel technique for monitoring highly cryptic lizard species in forests. Herpetol Conserv Biol 4:415–425

Blench R, Dendo M (2007) Mammals of the Niger Delta, Nigeria. Privately published

Cogger H (2014) Reptiles and amphibians of Australia. CSIRO Publishing, Clayton

Corlett RT (2013) Where are the subtropics? Biotropica 45:273–275

Corn PS, Bury RB (1990) Sampling methods for terrestrial amphibians and reptiles. USDA Forest Service, Portland

Doan TM (2003) Which methods are most effective for surveying rain forest herpetofauna? J Herpetol 37:72–82

Duke NC (2006) Australia's mangroves: the authoritative guide to Australia's mangrove plants. Marine Ecology Research, Queensland

Garden JG, McAlpine CA, Possingham HP, Jones DN (2007) Using multiple survey methods to detect terrestrial reptiles and mammals: what are the most successful and cost-efficient combinations? Wildl Res 34:218–227

Gardner CJ (2016) Use of mangroves by lemurs. Int J Primatol 3:317–332

Giri C, Ochieng E, Tieszen L, Zhu Z, Singh A, Loveland T, Masek J, Duke N (2011) Status and distribution of mangrove forests of the world using earth observation satellite data. Glob Ecol Biogeogr 20:154–159

Haugaasen T, Peres CA (2005) Mammal assemblage structure in Amazonian flooded and unflooded forests. J Trop Ecol 21:133–145

Haedrich RL, Merrett NR, O'Dea NR (2001) Can ecological knowledge catch up with deep-water fishing? A North Atlantic perspective. Fish Res 51:113–122

Hogarth PJ (2015) The biology of mangroves and seagrasses. Oxford University Press, Oxford

Hsu MY, Kam YC, Fellers GM (2005) Effectiveness of amphibian monitoring techniques in a Taiwanese subtropical forest. Herpetol J 15:73–79

Kathiresan K, Rajendran N (2002) Fishery resources and economic gain in three mangrove areas on the South East coast of India. Fish Manage Ecol 9:277–283

Kier G, Mutke J, Dinerstein E, Ricketts TH, Küper W, Kreft H, Barthlott W (2005) Global patterns of plant diversity and floristic knowledge. J Biogeogr 32:1107–1116

Larson DW, Matthes U, Kelly PE (2005) Cliff ecology: pattern and process in cliff ecosystems. Cambridge University Press, Cambridge

Larsen TH (2016) Core standardized methods for rapid biological field assessment. Conservation International, Arlington

Luiselli L, Akani GC (2002) An investigation into the composition, complexity and functioning of snake communities in the mangroves of south-eastern Nigeria. Afr J Ecol 40:220–227

Luiselli L, Amori G, Akani GC, Eniang EA (2015) Ecological diversity, community structure and conservation of Niger Delta mammals. Biodivers Conserv 24:2809–2830

Martin A, Da Silva V (2004) River dolphins and flooded forest: seasonal habitat use and sexual segregation of botos (Inia geoffrensis) in an extreme cetacean environment. J Zool 263:295–305

Mazda Y, Magi M, Nanao H, Kogo M, Miyagi T, Kanazawa N, Kobashi D (2002) Coastal erosion due to long-term human impact on mangrove forests. Wetlands Ecol Manage 10:1–9

Menkhorst P, Knight F (2001) Field guide to the mammals of Australia. Oxford University Press, Oxford

Metcalfe K (2007) The biological diversity, recovery from disturbance and rehabilitation of mangroves in Darwin Harbour, Northern Territory. PhD Thesis, Charles Darwin University, Australia

Mohd-Azlan J, Lawes MJ (2011) The effect of the surrounding landscape matrix on mangrove bird community assembly in northern Australia. Biol Conserv 9:2134–2141

Mukherjee N, Sutherland WJ, Khan MNI, Berger U, Schmitz N, Dahdouh-Guebas F, Koedam N (2014) Using expert knowledge and modelling to define mangrove composition, functioning, and threats and estimate time frame for recovery. Ecol Evol 4:2247–2262

Murugan S, Anandhi DU (2016) An overview of crustacean diversity in the mangrove ecosystem. Arthropod diversity and conservation in the tropics and sub-tropics. Springer, Singapore, pp 81–99

Nagelkerken I, Blaber S, Bouillon S, Green P, Haywood M, Kirton L, Meynecke J-O, Pawlik J, Penrose H, Sasekumar A (2008) The habitat function of mangroves for terrestrial and marine fauna: a review. Aquat Bot 89:155–185

Nowak K (2013) Mangrove and peat swamp forests: refuge habitats for primates and felids. Folia Primatol 83:361–376

O'Donnell CF, Hoare JM (2012) Monitoring trends in skink sightings from artificial retreats: influences of retreat design, placement period, and predator abundance. Herpetol Conserv Biol 7:58–66

Primavera J (2006) Overcoming the impacts of aquaculture on the coastal zone. Ocean Coast Manag 49:531–545

Rockhill AP, Sollman R, Powell RA, DePerno CS (2016) A comparison of survey techniques for medium-to-large-sized mammals in forested wetlands. Southeast Nat 15:175–188

Rog SM, Clarke R, Cook CN (2017) More than marine: revealing the critical importance of mangrove ecosystems for terrestrial vertebrates. Divers Distrib 23:221–230

Rogers K, Boon PI, Branigan S, Duke NC, Field CD, Fitzsimons JA, Kirkman H, Mackenzie JR, Saintilan N (2016) The state of legislation and policy protecting Australia's mangrove and salt marsh and their ecosystem services. Mar Policy 72:139–155

Rondinini C, Wilson KA, Boitani L, Grantham H, Possingham HP (2006) Tradeoffs of different types of species occurrence data for use in systematic conservation planning. Ecol Lett 9:1136–1145

Skalak SL, Sherwin RE, Brigham RM (2012) Sampling period, size and duration influence measures of bat species richness from acoustic surveys. Methods Ecol Evol 3:490–502

Spence-Bailey LM, Nimmo DG, Kelly LT, Bennett AF, Clarke MF (2010) Maximising trapping efficiency in reptile surveys: the role of seasonality, weather conditions and moon phase on capture success. Wildl Res 37:104–115

Storm NA (2017) An evaluation of the efficiency of survey methods to monitor large mammals in Cusuco National Park, Honduras. Master's Thesis, Norwegian University of Life Sciences, Norway

Sung YH, Karraker NE, Hau BC (2011) Evaluation of the effectiveness of three survey methods for sampling terrestrial herpetofauna in Southern China. Herpetol Conserv Biol 6:479–489

Wiens JJ, Donoghue MJ (2004) Historical biogeography, ecology and species richness. Trends Ecol Evol 19:639–644

Weinstein P, Slaney D (1995) Invertebrate faunal survey of Rope Ladder Cave, Northern Queensland: a comparative study of sampling methods. Austral J Entomol 34:233–236

Wildlife Acoustics (2015) Kaleidoscope pro 4 analysis software. Wildlife Acoustics Inc, United States

Zipkin EF, Royle JA, Dawson DK, Bates S (2010) Multi-species occurrence models to evaluate the effects of conservation and management actions. Biol Conserv 143:479–484
Acknowledgements
We thank the Quandamooka, Kuku Yalanji and Yuka Baja Traditional Owners for allowing us on their land and national parks staff from Wilsons Promontory, French Island, Bundeena, Limeburners Creek, Bundjalung, Stradbroke, Bribie Island, Poona, Daintree and Annan River National Parks for their assistance. D. Chapple, B. Triggs and A. Lacostada assisted with species identifications. R. J. Pilgrim and L. C. Booth provided invaluable field assistance.
Ethics declarations
Conflict of interest
The authors declare that they have no conflict of interest.
Ethics approval
This research was partly funded by a The Holsworth Research Endowment and a Paddy Pallin Science Grant, and conducted under appropriate State wildlife permits and animal ethics approval.
Additional information
Publisher's Note
Springer Nature remains neutral with regard to jurisdictional claims in published maps and institutional affiliations.
This article belongs to the Topical Collection: Coastal and marine biodiversity.
Communicated by Pedro Aragón.
Electronic supplementary material
Below is the link to the electronic supplementary material.
About this article
Cite this article
Rog, S.M., Clarke, R.H., Minnema, E. et al. Tackling the tide: A rapid assessment protocol to detect terrestrial vertebrates in mangrove forests. Biodivers Conserv 29, 2839–2860 (2020). https://doi.org/10.1007/s10531-020-02001-w
Received:

Revised:

Accepted:

Published:

Issue Date:
Keywords
Coastal

Fieldwork

Flooded forest

Intertidal

Inventory

Monitoring

Protected area

Survey

Swamp