Abstract
Butterflies are among the most colourful organisms in the world and colour plays a central role in many of their life-history strategies. However, the efficacy of coloration strategies in these and other animals could be affected by sudden environmental changes, including anthropogenic disturbances such as habitat loss and fragmentation. Here we investigate the effect of forest disturbance gradients on the colours of fruit-feeding butterflies in the Amazon Rainforest. The disturbance gradients tested represented habitat-size (continuous primary forests versus forest fragments of 1, 10 and 100 ha) and succession gradients (continuous primary forests, 30 year old secondary forests, and three year old early successional forests). Using digital image analysis, we obtained intrinsic measures of butterfly colour patches corresponding to hue, saturation, brightness, in addition to measures of the contrast among patches and of the overall wing-colour diversity corresponding to 220 individuals, belonging to 60 species. Our results showed that butterflies in the secondary forest and continuous primary forest are more colourful than those found in early succession and fragments of forests. Individuals occurring in forests of early succession showed higher average values of hue and saturation, but lower brightness. Accompanying changes in colour composition, wing-colour diversity among species was lower in human-disturbed habitats, such as those of early forest succession and secondary forest. Forest fragments have smaller effects on butterfly colour composition, indicating that well-structured forest habitats can house butterfly assemblages with more diverse phenotypic features and colours. We show how high deforestation rates in recent years is linked with negative changes in functional coloration strategies (e.g. camouflage, warning colours), something that has to date been poorly explored or demonstrated for butterflies. Specifically, human interference has apparently placed butterflies under strong selection for lower diversity in their colours and range of defensive strategies. Those species that are most colourful are the first to be locally extinguished, likely due to removal of native vegetation and increased exposure to predators, and more broadly owing to inhospitable environmental conditions. This illustrates an accelerated loss of local fauna and a "discolouration" of the Amazonian butterflies due to anthropogenic impacts.
Access options
Buy single article
Instant access to the full article PDF.
USD 39.95
Price excludes VAT (USA)
Tax calculation will be finalised during checkout.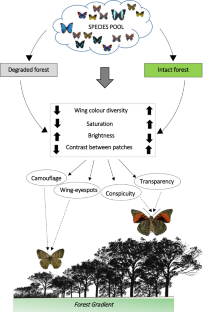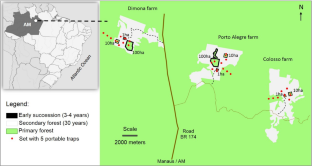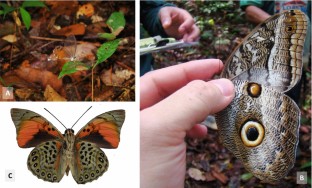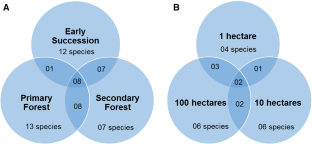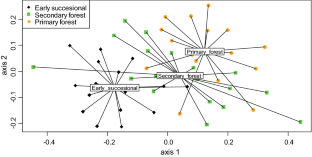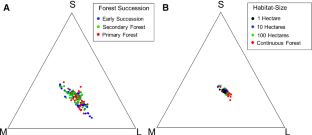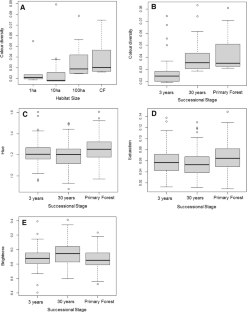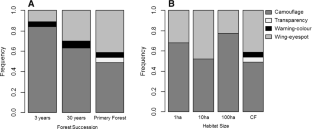 References
Adams JM, Kang C, June-Wells M (2014) Are tropical butterflies more colorful? Ecol Res 29:685–691

Arima EY, Barreto P, Araújo E, Soares-Filho B (2014) Public policies can reduce tropical deforestation: lessons and challenges from Brazil. Land Use Policy 41:465–473. https://doi.org/10.1007/s11284-014-1154-1

Barlow J, Lennox GD, Ferreira J et al (2016) Anthropogenic disturbance in tropical forests can double biodiversity loss from deforestation. Nature 535:144–147

Bates HW (1862) Contributions to an insect fauna of the Amazon valley (Lepidoptera: Heliconidae). Trans Linn Soc Lond 23:495–566

Bates D, Mächler M, Bolker B, Walker S (2015) Fitting linear mixed-effects models using lme4. J Stat Softw 67:1–48

Bierregaard RO, Lovejoy TE, Kapos V, Santos AA, Hutchings RW (1992) The biological dynamics of tropical rainforest fragments: a prospective comparisonof fragments and continuous forest. Bioscience 11:859866

Briolat ES, Burdfield-steel ER, Paul SC, Katja HR, Seymoure BM, Stankowich T, Stuckert AMM (2018) Diversity in warning coloration: selective paradox or the norm? Biol Rev 94:388–414

Brown KS (2005) Geologic, evolutionary, and ecological bases of the diversification of neotropical butterflies: implications for conservation. In: Dick CW, Moritz G (eds) Tropical rainforest: past, present, and future. The University of Chicago Press, Chicago, pp 166–201

Brown KS Jr, Hutchings RW (1997) Disturbance, fragmentation, and the dynamics of diversity in Amazonian forest butterflies. In: Laurance WF, Bierregaard RO (eds) Tropical forest remnants: ecology, management and conservation of fragmented communities, 1st edn. The University of Chicago Press, Chicago, pp 91–110

Bruno JF, Cardinale BJ (2008) Cascading effects of predator richness. Front Ecol Environ 6:539–546

Caro T, Stoddard MC, Stuart-fox D (2017) Animal coloration research: why it matters. Philos Trans R Soc B 372:20160333

Chao A, Wang YT, Josy L (2013) Entropy and the species accumulation curve: a novel entropy estimator via discovery of new species. Methods Ecol Ecol 4:1091–1100

Checa MF, Donoso DA, Rodriguez J, Levy E, Warren A, Willmott K (2018) Combining sampling techniques aids monitoring of tropical butterflies. Insect Conserv Divers 12:362–372

Cheng W, Xing S, Chen Y, Lin R, Bonebrake TC, Nakamura A (2018) Dark butterflies camouflaged from predation in dark tropical forest understories. Ecol Entomol 43:304–309

Ciuti S, Northrup JM, Muhly TB, Simi S, Musiani M, Pitt JA, Boyce MS (2012) Effects of humans on behaviour of wildlife exceed those of natural predators in a landscape of fear. PLoS ONE 7:e50611

Crouzeilles R, Ferreira MS, Chazdon RL, Lindenmayer DB, Sansevero JBB, Monteiro L, Iribarrem A, Latawiec AE, Strassburg BBN (2017) Ecological restoration success is higher for natural regeneration than for active restoration in tropical forests. Sci Adv 3 (11):e1701345

Cuthill IC, Bennett ATD, Partridge JC, Maier EJ (1999) Plumage reflectance and the objective assessment of avian sexual dichromatism. Am Nat 153:183–200

Cuthill IC, Allen WL, Arbuckle K et al (2017) The biology of color. Science 80:357

Dalrymple RL, Kemp DJ, Flores-Moreno H, Laffan SW, White TE, Hemmings FA, Tindall ML, Moles AT (2015) Birds, butterflies and flowers in the tropics are not more colourful than those at higher latitudes. Glob Ecol Biogeogr 24:1424–1432

Dalrymple RL, Flores-Moreno H, Kemp DJ, White TE, Laffan SW, Hemmings FA, Hitchcock TD, Moles AT (2018) Abiotic and biotic predictors of macroecological patterns in bird and butterfly coloration. Ecol Monogr 88:204–224

Delhey K, Peters A (2016) Implications for conservation of anthropogenic impacts on visual communication and camouflage. Conserv Biol 31:1–36

Ellers J, Boogs CL (2004) Functional ecological implications of intraspecific differences in wing melanization in Colias butterflies. Biol J Linn Soc 82:79–87

Endler JA (1993) The color of light in forests and its implications. Ecol Monogr 63:1–27

Endler JA, Mielke PW (2005) Comparing entire colour patterns as birds see them. Biol J Linn Soc 86:405–431

Endler JA, Mappes J (2017) The current and future state of animal coloration research. Phil Trans Royal Soc B: Biol Sci 372 (1724):20160352

Freitas AVL, Iserhard CA, Santos JP, Yasmin J, Carreira O, Ribeiro DB, Henrique D, Melo A, Henrique A, Rosa B, Marini-filho OJ, Accacio GM (2014) Studies with butterfly bait traps: an overview. Rev Colomb Entomol 40:203–212

Hook TV (1997) Insect coloration and implications for conservation. Fla Entomol 80:193–210

Hsieh TC, Ma KH, Chao A (2016) iNEXT: an R package for rarefaction and extrapolation of species diversity (Hill numbers). Methods Ecol Ecol 7:1451–1455

Instituto Nacional de Pesquisas Espaciais—INPE (2019) Projeto Prodes—Monitoramento da floresta Amazônica brasileira por satélite. https://www.obt.inpe.br/prodes/. Accessed 18 March 2019

Jakovac CC, Peña-Claros M, Kuyper TW, Bongers F (2015) Loss of secondary-forest resilience by land-use intensification in the Amazon. J Ecol 103:67–77

Johnson H, Solensky MJ, Satterfield DA, Davis AK (2014) Does skipping a meal matter to a butterfly's appearance? Effects of larval food stress on wing morphology and color in monarch butterflies. PLoS ONE 9:1–9

Joshi J, Prakash A, Kunte K (2017) Evolutionary assembly of communities in butterfly mimicry rings. Am Nat 189:58–76

Kingsolver JG (1985) Thermoregulatory significance of wing melanization in Pieris butterflies (Lepidoptera: Pieridae): physics, posture, and pattern. Oecologia 66:546–553

Komdeur JM, Oorebeek M, Van Overveld T, Cuthill IC (2005) Mutual ornamentation, age, and reproductive performance in the European starling. Behav Ecol 16:805–817

Laurance WF, Vasconcelos HL (2009) Consequências ecológicas da fragmentação florestal na amazônia. Oecologia Bras 13:434–451

Maia R, Eliason CM, Bitton PP, Doucet SM, Shawkey MD (2013) Pavo: An R package for the analysis, visualization and organization of spectral data. Methods Ecol Evol 4:906–913

Mappes J, Kokko H, Ojala K, Lindström L (2014) Seasonal changes in predator community switch the direction of selection for prey defences. Nat Commun 5:5016

Mesquita RDCG, Massoca PEDS, Jakovac CC, Bentos TV, Williamson GB (2015) Amazon rainforest succession: stochasticity or land-use legacy? Bioscience 65:849–861

Metzger JP, Bustamante MMC, Ferreira J et al (2019) Why Brazil needs its legal reserves. Perspect Ecol Conserv. https://doi.org/10.1016/j.pecon.2019.07.002

Papageorgis C (1975) Mimicry in Neotropical butterflies: why are there so many different wing-coloration complexes in one place? Am Sci 63:522–532

Pellissier L, Albouy C, Bascompte J, Farwig N, Graham C, Loreau M, Maglianesi MA, Melián CJ, Pitteloud C, Roslin T, Rohr R, Saavedra S, Thuiller W, Woodward G, Zimmermann NE, Gravel D (2018) Comparing species interaction networks along environmental gradients. Biol Rev 93:785–800

Pinheiro CEG, Freitas AVL, Campos VC, DeVries PJ, Penz CM (2016) Both palatable and unpalatable butterflies use bright colors to signal difficulty of capture to predators. Neotrop Entomol 45:107–113

R Core Team (2018) R: a language and environment for statistical computing. R Foundation for Statistical Computing, Vienna

Roslin T, Andrew NR, Asmus A et al (2017) Higher predation risk for insect prey at low latitudes and elevations. Science 356:742–744

Rozendaal DMA, Bongers F, Aide TM (2019) Biodiversity recovery of Neotropical secondary forests. Sci Adv 5:eaau3114

Schtickzelle N, Joiris A, Van Dyck H, Baguette M (2007) Quantitative analysis of changes in movement behaviour within and outside habitat in a specialist butterfly. BMC Evol Biol 7:1–15

Soga M, Kawahara T, Fukuyama K, Sayama K, Kato T, Shimomura M, Itoh T, Yoshida T, Ozaki K (2015) Landscape versus local factors shaping butterfly communities in fragmented landscapes: does host plant diversity matter? J Insect Conserv 19:781–790

Spaniol RL, Duarte LDS, Mendonça MDS Jr, Iserhard CA (2019) Combining functional traits and phylogeny to disentangling Amazonian butterfly assemblages on anthropogenic gradients. Ecosphere 10:e02837

Spottiswoode CN, Stevens M (2012) Host-parasite arms races and rapid changes in bird egg appearance. Am Nat 179:633–648

Stevens M (2005) The role of eyespots as anti-predator mechanisms, principally demonstrated in the Lepidoptera. Biol Rev 80:573–588

Stevens M (2016) Cheats and deceits: how animals and plants exploit and mislead. Oxford University Press, Oxford

Stevens M, Ruxton GD (2014) Do animal eyespots really mimic eyes? Curr Zool 60:26–36

Stevens M, Parraga CA, Cuthill IC, Partridge JC, Troscianko TS (2007) Using digital photography to study animal coloration. Biol J Linn Soc 90:211–237

Stevens M, Stoddard MC, Higham JP (2009) Studying primate color: towards visual system dependent methods. Int J Primatol 30:893–917

Stevens M, Lown AE, Wood LE (2014) Colour change and camouflage in juvenileshore crabs Carcinus maenas. Front Ecol Evol 2:14

Stork NE (2010) Re-assessing current extinction rates. Biodivers Conserv 19:357–371

Talloen W, Van Dyck H, Lens L (2004) The cost of melanization: Butterfly wing coloration under environmental stress. Evolution 58:360–366

Troscianko J, Stevens M (2015) Image calibration and analysis toolbox—a free software suite for objectively measuring reflectance, colour and pattern. Methods Ecol Evol 6:1320–1331

Vieira RRS, Pressey RL, Loyola R (2019) The residual nature of protected areas in Brazil. Biol Conserv 233:152–161

Walton OC, Stevens M (2018) Avian vision models and field experiments determine the survival value of peppered moth camouflage. Commun Biol 1:118

Willmott KR, Willmott JRC, Elias M, Jiggins CD (2017) Maintaining mimicry diversity: optimal warning colour patterns differ among microhabitats in Amazonian clearwing butterflies. Proc R Soc B 284:20170744
Acknowledgements
We thank the Biological Dynamics of Forest Fragments Project (BDFFP) through the Thomas Lovejoy research fellowship program for providing financial and logistical support for fieldwork. This is the study 789 of the Biological Dynamics of Forest Fragments Project (BDFFP-INPA/STRI). We also thank Yang Niu, Anna Hughes, Gabriel Nakamura and two anonymous referees for providing useful comments that improved on the manuscript. Ricardo Spaniol thanks Capes for his PhD fellowship. Sandra Hartz (Process 304820/2014-8) and Milton Mendonça (Process 309616/2015-8) are CNPq researchers. Chico Mendes Institute for Biodiversity Conservation—ICMBio conceded licenses and permissions for the research activities (License numbers 48786-1 and 48786-2).
Funding
This study was supported in part by the Biological Dynamics of Forest Fragments Project (BDFFP—INPA), through the Thomas Lovejoy research fellowship program 2014/2015.
Additional information
Communicated by Akihiro Nakamura.
Publisher's Note
Springer Nature remains neutral with regard to jurisdictional claims in published maps and institutional affiliations.
This article belongs to the Topical Collection: Forest and plantation biodiversity.
Electronic supplementary material
Below is the link to the electronic supplementary material.
About this article
Cite this article
Spaniol, R.L., Mendonça, M.d.S., Hartz, S.M. et al. Discolouring the Amazon Rainforest: how deforestation is affecting butterfly coloration. Biodivers Conserv 29, 2821–2838 (2020). https://doi.org/10.1007/s10531-020-01999-3
Received:

Revised:

Accepted:

Published:

Issue Date:

DOI: https://doi.org/10.1007/s10531-020-01999-3
Keywords
Anthropogenic gradients

Colour diversity

Conservation

Forest succession

Fruit-feeding butterflies

Tropical forest