Abstract
A growing body of evidence has documented how wildlife alter their behavior in response to human encroachment. For carnivores, behaviors related to reproduction and communication are particularly sensitive to human disturbance and can provide an early warning indicator of development's negative impacts. Despite the important role carnivores play in an ecosystem, few tools have been developed to anticipate how future human development impacts these behaviors. We developed a set of models to understand spatial relationships between anthropogenic development and puma (Puma concolor) habitat selection for two critical reproductive behaviors: nursery habitat for raising young, and sites for communication with mates. Using geospatial location data from the Santa Cruz Mountains in California, USA, we found that female pumas use small nursery home ranges (9 km2 ± 1.72 SE) of predominantly natural habitat, potentially with low levels of human development (< 1 housing unit per 40 acres), when supporting kittens < 8 weeks old. Areas immediately surrounding (≤ 600 m) puma communication sites were also almost entirely composed of undeveloped habitat or low-density development. When modeling projected human development compared to current land use, we found that increases in human development may eliminate 20% of current puma nursery habitat and nearly 50% of current communication site habitat. Future development will also increase the patchiness of suitable habitat, intensifying the difficulty of locating and accessing suitable areas for nurseries and communication. Focusing on the habitat needed to support reproductive and communication behaviors may be an effective way to prioritize conservation planning for pumas and other apex carnivores.
Access options
Buy single article
Instant access to the full article PDF.
US$ 39.95
Tax calculation will be finalised during checkout.
Subscribe to journal
Immediate online access to all issues from 2019. Subscription will auto renew annually.
US$ 119
Tax calculation will be finalised during checkout.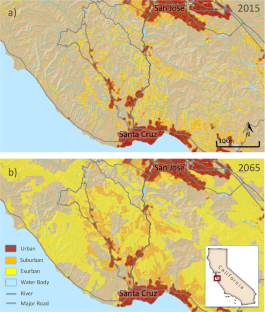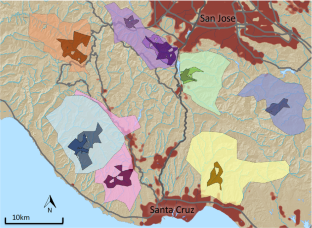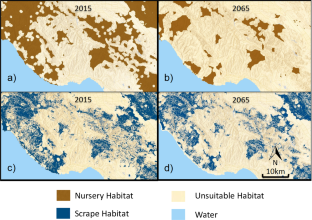 References
Aebischer NJ, Robertson PA, Kenward RE (1993) Compositional analysis of habitat use from animal radio-tracking data. Ecology 74:1313–1325

Alig RJ, Kline JD, Lichtenstein M (2004) Urbanization on the US landscape: looking ahead in the 21st century. Landscape Urban Plan 69:219–234

Allen ML, Wittmer HU, Wilmers CC (2014) Puma communication behaviors: Understanding functional use and variation among sex and age classes. Behaviour 151:819–840

Allen ML, Wittmer HU, Houghtaling P, Smith J, Elbroch LM, Wilmers CC (2015) The role of scent marking in mate selection by female pumas (Puma concolor). PLoS ONE 10(10):e0139087

Allen ML, Yovovich V, Wilmers CC (2016) Evaluating the responses of a territorial solitary carnivore to potential mates and competitors. Sci Rep 6:e27257

Bates D, Maechler M, Bolker B, Walker S (2015) Fitting linear mixed-effects models using lme4. J Stat Softw 67(1):1–48

Beier P, Choate D, Barrett RH (1995) Movement patterns of mountain lions during different behaviors. J Mammal 76(4):1056–1070

Bennett VJ (2017) Effects of road density and pattern on the conservation of species and biodiversity. Curr Landsc Ecol Rep 2(1):1–11

Benson JF, Mahoney PJ, Sikich JA, Serieys LE, Pollinger JP, Ernest HB, Riley SP (2016) Interactions between demography, genetics, and landscape connectivity increase extinction probability for a small population of large carnivores in a major metropolitan area. Proc R Soc B 283(1837):20160957

Bierwagen B, Thomas J, Pyke C, Theobald DM, Choate A, Cohen J, Groth P (2009) Land-use scenarios: National-scale housing-density scenarios consistent with climate change storylines. Environmental Protection Agency

Boitani L, Fuller T (eds) (2000) Research techniques in animal ecology: controversies and consequences. Columbia University Press, New York

Burdett CL, Crooks KR, Theobald DM, Wilson KR, Boydston EE, Lyren LM, Fisher RN, Vickers TW, Morrison SA, Boyce WM (2010) Interfacing models of wildlife habitat and human development to predict the future distribution of puma habitat. Ecosphere 1(1):1–21

Calenge C (2006) The package adehabitat for the R software: a tool for the analysis of space and habitat use by animals. Ecol Model 197:516–519

Chanchani P, Gerber BD, Noon BR (2018) Elevated potential for intraspecific competition in territorial carnivores occupying fragmented landscapes. Biol Conserv 227:275–283

Davies AB, Marneweck DG, Druce DJ, Asner GP (2016) Den site selection, pack composition, and reproductive success in endangered African wild dogs. Behav Ecol 27:1869–1879

Ernest HB, Boyce WM, Bleich VC, May B, Stiver SJ, Torres SG (2003) Genetic structure of mountain lion (Puma concolor) populations in California. Conserv Genet 4(3):353–366

Gehrt SD, Riley SPD, Cypher BL (eds) (2010) Urban carnivores: ecology, conflict, conservation. John Hopkins University Press, Baltimore

Getz WM, Formann-Roe S, Cross PC, Lyons AJ, Ryan SJ, Wilmers CC (2007) LoCoH: nonparameteric kernel methods for constructing home ranges and utilization distributions. PLoS ONE 2(2):e207

Gustafson KD, Gagne RB, Vickers WT, Riley SP, Wilmers CC, Bleich VC, Pierce BM, Kenyon M, Drazenovich TL, Sikich JA, Boyce WM, Ernest HB (2019) Genetic source-sink dynamics among naturally structured and anthropogenically fragmented puma populations. Conserv Genet 20(2):215–227

Hinam HL, Clair CCS (2008) High levels of habitat loss and fragmentation limit reproductive success by reducing home range size and provisioning rates of Northern saw-whet owls. Biol Cons 141:524–535

Hosmer DW Jr, Lemeshow S (2004) Applied logistic regression. Wiley, Boca Raton

Johnson DH (1980) The comparison of usage and availability measurements for evaluating resource preference. Ecology 61:65–71

Krausman PR, Smith SM, Derbridge J, Merkle J (2011) The cumulative effects of suburban and exurban influences on wildlife. In: Cumulative effects in wildlife management: impact mitigation. CRC Press, Boca Raton, pp 135–192

Kshettry A, Vaidyanathan S, Sukumar R, Athreya V (2020) Looking beyond protected areas: Identifying conservation compatible landscapes in agro-forest mosaics in north-eastern India. Global Ecol Conserv e00905

Laundré JW (2005) Puma energetics: a recalculation. J Wildl Manag 69(2):723–732

Logan KA, Sweanor LL (2001) Desert Puma: evolutionary ecology and conservation of an enduring carnivore. Island Press, Washington, DC

Maletzke B, Kertson B, Swanson M, Koehler G, Beausoleil R, Wielgus R, Cooley H (2017) Cougar response to a gradient of human development. Ecosphere 8(7):e01828

Manly BFJ, McDonald LL, Thomas DL, McDonald TL, Erickson WP (2002) Resource selection by animals: statistical design and analysis for field studies. Kluwer Academic Publishers, Boston

Moriarty JG, Riley SP, Serieys LE, Sikich JA, Schoonmaker CM, Poppenga RH (2012) Exposure of wildlife to anticoagulant rodenticides at Santa Monica Mountains National Recreation Area: from mountain lions to rodents. In Proceedings of the Vertebrate Pest Conference (25)25

Mueller MM, Drake D, Allen ML (2018) Coexistence of coyotes (Canis latrans) and red foxes (Vulpes vulpes) in an urban landscape. PLoS ONE 13:e0190971

Oftedal OT, Gittleman JL (1989) Patterns of energy output during reproduction in carnivores. Carnivore behavior, ecology, and evolution. Springer, Boston, pp 355–378

Orlando AM (2008) Impacts of rural development on puma ecology in California's Sierra Nevada. University of California, Davis, p 105

Rankin D (2007) Resolving the tragedy of the commons: the feedback between intraspecific conflict and population density. J Evol Biol 20:173–180

Riley SPD, Serieys LEK, Pollinger JP, Sikich JA, Dalbeck L, Wayne RK, Ernest HB (2014) Individual behaviors dominate the dynamics of an urban mountain lion population isolated by roads. Curr Biol 24:1989–1994

Ross S, Kamnitzer R, Munkhtsog B, Harris S (2010) Den-site selection is critical for Pallas's cats (Otocolobus manul). Can J Zool 88(9):905–913

Slabbekoorn H, Ripmeester E (2008) Birdsong and anthropogenic noise: implications and applications for conservation. Mol Ecol 17:72–83

Suraci JP, Clinchy M, Zanette LY, Wilmers CC (2019) Fear of humans as apex predators has landscape-scale impacts from mountain lions to mice. Ecol Lett 22(10):1578–1586

Theobald D (2001) Land-use dynamics beyond the American urban fringe. Geogr Rev 91(3):544–564

Theobald D (2005) Landscape patterns of exurban growth in the USA from 1980 to 2020. Ecol Soc 10(1):32

Vickers TW, Sanchez JN, Johnson CK, Morrison SA, Botta R, Smith T, Cohen BS, Huber PR, Ernest HB, Boyce WM (2015) Survival and mortality of pumas (Puma concolor) in a fragmented, urbanizing landscape. PLoS ONE 10(7):e0131490

Visconti P, Bakkenes M, Baisero D, Brooks T, Butchart SH, Joppa L, Alkemade R, Di Marco M, Santini L, Hoffmann M, Maiorano L (2016) Projecting global biodiversity indicators under future development scenarios. Conserv Lett 9(1):5–13

Wade AA, Theobald DM (2010) Residential development encroachment on US protected areas. Conserv Biol 24(1):151–161

Wang Y, Allen ML, Wilmers CC (2015) Mesopredator spatial and temporal responses to large predators and human development in the Santa Cruz Mountains of California. Biol Cons 190:23–33

Wiersma YF, Sleep DJ (2016) A review of applications of the six-step method of systematic conservation planning. For Chronicle 92(3):322–335

Wilmers CC, Wang Y, Nickel B, Houghtaling P, Shakeri Y, Allen ML, Kermish-Wells J, Yovovich V, Williams T (2013) Scale dependent behavioral responses to human development by a large predator, the puma. PLoS ONE 8:4)e60590

Zuur AF, Ieno EN, Smith GM (2007) Analyzing ecological data. Springer, New York
Acknowledgements
We thank the California Department of Fish and Wildlife for their support of funding and staff; C. Wylie and D. Tichenor for their support capturing pumas; Y. Wang, P. Houghtaling, J. Smith, Y. Shakeri, and dozens of interns for their time and efforts; (A) Cole and (B) Nickel for their tireless GIS guidance; the many landowners who allowed us access to their property; and the National Science Foundation, Moore Foundation, American Museum of Natural History, and UC Santa Cruz Environmental Studies Department for their generous funding.
Additional information
Publisher's Note
Springer Nature remains neutral with regard to jurisdictional claims in published maps and institutional affiliations.
Communicated by Xiaoli Shen.
About this article
Cite this article
Yovovich, V., Allen, M.L., Macaulay, L.T. et al. Using spatial characteristics of apex carnivore communication and reproductive behaviors to predict responses to future human development. Biodivers Conserv 29, 2589–2603 (2020). https://doi.org/10.1007/s10531-020-01990-y
Received:

Revised:

Accepted:

Published:

Issue Date:
Keywords
Anthropogenic development

Breeding habitat

Communication

Habitat loss

Habitat selection

Puma concolor