Abstract
Monitoring programs are key to determine bird population trends and to assess environmental policies, and therefore are central to conservation biology. The European approach commonly used to estimate bird population trends (TRends and Indices for Monitoring data, hereafter TRIM) has proved useful to fulfil this task, yet it fails to account for imperfect detection and assumes constant detectability across years. We tested the role of detectability for population trend estimation in an open Mediterranean farmland context, which is a dynamic landscape likely to undergo yearly changes in detectability, by using data of 30 bird species over a nine-year study period. We evaluated species-specific population trends under the TRIM approach and hierarchical distance sampling models (hereafter HDS) that estimate true abundance by accounting for imperfect detection. When comparing both methods, 13 species presented differences in population trend estimates between TRIM and HDS models. Moreover, detectability was not constant across the bird community: observer and year affected detection, and these effects varied among species. Our study highlights the importance of accounting for imperfect detection in bird monitoring programs to ensure reliable trend estimates, providing a first insight for an open farmland bird community. Aside from trend estimates, our HDS model may prove useful as a tool to obtain site-specific abundance estimates (for intance, within Special Protection Areas) and trend probabilities of bird populations.
Access options
Buy single article
Instant access to the full article PDF.
US$ 39.95
Tax calculation will be finalised during checkout.
Subscribe to journal
Immediate online access to all issues from 2019. Subscription will auto renew annually.
US$ 119
Tax calculation will be finalised during checkout.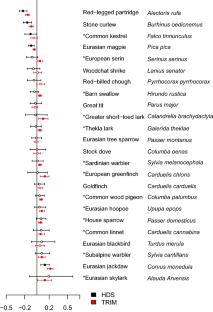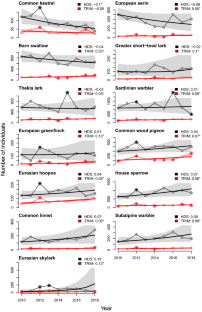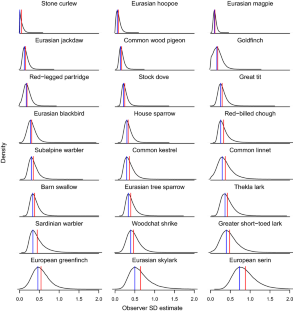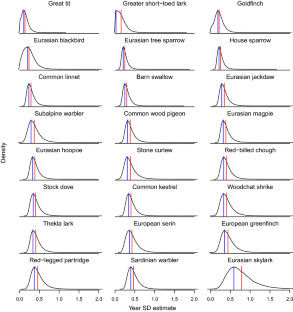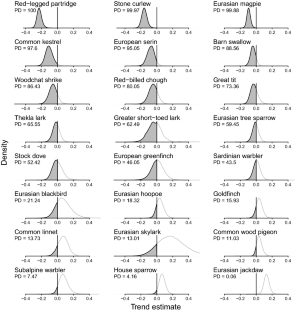 References
Alldredge MW, Simons TR, Pollock KH (2007) A field evaluation of distance measurement error in auditory avian point count surveys. J Wildl Manag 71:2759–2766. https://doi.org/10.2193/2006-161

Anderson AS, Marques TA, Shoo LP, Williams SE (2015) Detectability in audio-visual surveys of tropical rainforest birds: the influence of species, weather and habitat characteristics. PLoS ONE 10:1–24. https://doi.org/10.1371/journal.pone.0128464

Archaux F, Henry PY, Gimenez O (2012) When can we ignore the problem of imperfect detection in comparative studies? Methods Ecol Evol 3:188–194. https://doi.org/10.1111/j.2041-210X.2011.00142.x

Bart J (2005) Monitoring the abundance of bird populations. Auk 122:15–25

Bas Y, Devictor V, Moussus JP, Jiguet F (2008) Accounting for weather and time-of-day parameters when analysing count data from monitoring programs. Biodivers Conserv 17:3403–3416. https://doi.org/10.1007/s10531-008-9420-6

Battisti C, Fanelli G (2015) Don't think local! Scale in conservation, parochialism, dogmatic bureaucracy and the implementing of the European Directives. J Nat Conserv 24:24–30. https://doi.org/10.1016/j.jnc.2015.01.005

Berthiaume É, Bélisle M, Savard J-PL (2009) Incorporating detectability into analyses of population trends based on Hawk counts: a double - observer approach. Condor 111:43–58. https://doi.org/10.1525/cond.2009.080081

BirdLife I (2018) State of the world's birds: taking the pulse of the planet. https://www.birdlife.org/sites/default/files/attachments/BL_ReportENG_V11_spreads.pdf

Bogaart P, Van der Loo M, Pannekoek J (2018) rtrim: trends and indices for monitoring data. https://cran.r-project.org/package=rtrim

Brotons L, Mañosa S, Estrada J (2004) Modeling the effects of irrigation schemes on the distributions of steppe birds in Mediterranean farmlad. Biodivers Conserv 13:1039–1058. https://doi.org/10.1023/B:BIOC.0000014468.71368.35

Buckland ST, Anderson DR, Burnham KP et al (2001) Introduction to distance sampling: estimating abundance of biological populations. Oxford University Press., Oxford

Buckland ST, Anderson DR, Burnham KP et al (2004) Advanced distance sampling: estimating abundance of biological populations. Oxford University Press., Oxford

Calvet J, Estrada J, Mañosa S et al (2004) Els ocells de la Plana de Lleida. Pagès editors, S.L

Camp RJ, Brinck KW, Gorresen PM, Paxton EH (2016) Evaluating abundance and trends in a Hawaiian avian community using state-space analysis. Bird Conserv Int 26:225–242. https://doi.org/10.1017/S0959270915000088

Cantero-Martínez C, Moncunill J (2012) Sistemas agrícolas de la plana de Lleida: descripción y evaluación de los sistemas de producción en el área del canal Segarra-Garrigues antes de su puesta en funcionamiento. Universitat de Lleida, pp 46–71

Connors BM, Cooper AB, Peterman RM, Dulvy NK (2014) The false classification of extinction risk in noisy environments. Proc R Soc B 281:20132935. https://doi.org/10.1098/rspb.2013.2935

Craufurd PQ, Wheeler TR (2009) Climate change and the flowering time of annual crops. J Exp Bot 60:2529–2539. https://doi.org/10.1093/jxb/erp196

Crick HQP, Sparks TH (1999) Climate change related to egg-laying trends. Nature 399:423. https://doi.org/10.1038/20839

de Juana E (2005) Steppe birds: a characterization. In: Ecology and conservation of steppe-land birds. In: Bota G, Morales MB, Mañosa S, Camprodon J (eds) Lynx Edicions y Centre Tecnologic Forestal de Catalunya, pp 26–48

D'Eon-Eggertson F, Dulvy NK, Peterman RM (2015) Reliable identification of declining populations in an uncertain world. Conserv Lett 8:86–96. https://doi.org/10.1111/conl.12123

Diefenbach ADR, Brauning DW, Mattice JA (2003) Variability in grassland bird counts related to observer differences and species detection rates. Auk 120:1168–1179. https://doi.org/10.1093/auk/120.4.1168

Donald PF, Green RE, Heath MF (2001) Agricultural intensification and the collapse of Europe's farmland bird populations. Proc R Soc Lond B 268:25–29. https://doi.org/10.1098/rspb.2000.1325

Donald PF, Sanderson FJ, Burfield IJ et al (2007) International conservation policy delivers benefits for birds in Europe. Science 317:810–813. https://doi.org/10.1126/science.1146002

European Comission (2000) Managing natura 2000 sites: the provisitions of Article 6 of the 'Habitats' Directive 92/43/EEC. Office for official publications of the European communities, Luxembourg

Gates S, Donald PF (2000) Local extinction of British farmland birds and the prediction of further loss. 37:806–820. https://doi.org/10.1046/j.1365-2664.2000.00549.x

Gelman A, Meng X-L, Stern H (1996) Posterior predictive assessment of model fitness via realized discrepancies. Stat Sin 6:733–760

Gelman A, Stern HS, Carlin JB et al (2013) Bayesian data analysis. Chapman and Hall/CRC, New York

Gómez-Catasús J, Pérez-granados C, López-iborra GM et al (2018) European population trends and current conservation status of an endangered steppe-bird species: the Dupont ' s lark Chersophilus duponti. PeerJ. https://doi.org/10.7717/peerj.5627

Gudka M, Santos CD, Dolman PM, Abad-Gómez JM, Silva JP (2019) Feeling the heat: Elevated temperature affects male display activity of a lekking grassland. PLoS ONE 14(9):1–15

Herrando S, Anton M, Sardà-Palomera F et al (2014) Indicators of the impact of land use changes using large-scale bird surveys: land abandonment in a Mediterranean region. Ecol Indic 45:235–244. https://doi.org/10.1016/j.ecolind.2014.04.011

Hobbs NT, Hooten MB (2015) Bayesian models: a statistical primer for ecologists. Princeton University Press, Princeton

ICO (2018) Setzè informe del Programa de Seguiment d'Ocells Comuns a Catalunya (SOCC). Barcelona

Johnson DH (2008) In defense of indices: the case of bird surveys. J Wildl Manag 72:857–868. https://doi.org/10.2193/2007-294

Johnson DS, Hoeting JA (2003) Autoregressive models for capture-recapture data: a Bayesian approach. Biometrics 59:341–350. https://doi.org/10.1111/1541-0420.00041

Johnston A, Fink D, Hochachka WM, Kelling S, Isaac N (2018) Estimates of observer expertise improve species distributions from citizen science data. Meth Ecol Evol 9(1):88-97

Kellner K (2018) jagsUI: a wrapper around "rjags" to streamline "JAGS" analyses. https://cran.r-project.org/package=jagsUI

Kéry M (2008) Estimating abundance from bird counts: binomial mixture models uncover complexcovariate relationships. Auk 125:336–345. https://doi.org/10.1525/auk.2008.06185

Kéry M, Royle JA (2016) Chap. 8---modeling abundance using hierarchical distance sampling. In: Kéry M, Royle JA (eds) Applied hierarchical modeling in ecology. Academic Press, Boston, pp 393–461

Kéry M, Schmid H (2004) Monitoring programs need to take into account imperfect species detectability. Basic Appl Ecol 73:65–73. https://doi.org/10.1078/1439-1791-00194

Kéry M, Dorazio RM, Soldaat L et al (2009) Trend estimation in populations with imperfect detection. J Appl Ecol 4:1163–1172. https://doi.org/10.1111/j.1365-2664.2009.01724.x

Kleijn D, Sutherland WJ (2003) How effective are European schemes in and promoting conserving biodiversity? J Appl Ecol 40:947–969. https://doi.org/10.1111/j.1365-2664.2003.00868.x

Klvaňová A, Voříšek P (2007) Review on large-scale generic population monitoring schemes in Europe 2007. Bird Census News 20:50–56

Laiolo P, Tella JL (2008) Social determinants of songbird vocal activity and implications for the persistence of small populations. Anim Conserv 11:433–441. https://doi.org/10.1111/j.1469-1795.2008.00202.x

Lobell DB, Field CB (2007) Global scale climate-crop yield relationships and the impacts of recent warming. Environ Res Lett 2:014002. https://doi.org/10.1088/1748-9326/2/1/014002

Maes D, Isaac JBN, Harrower AC et al (2015) The use of opportunistic data for IUCN red list assessments BT. Biol J Linn Soc 115:690–706. https://doi.org/10.1111/bij.12530

Mas MT, Verdú AMC (2003) Tillage system effects on weed communities in a 4-year crop rotation under Mediterranean dryland conditions. Soil Tillage Res 74:15–24

Merriam G (1988) Landscape dynamics in Farmland. Trends Ecol Evol 3:16–20. https://doi.org/10.1016/0169-5347(88)90077-8

Moore JE, Barlow J (2011) Bayesian state-space model of fin whale abundance trends from a 1991–2008 time series of line-transect surveys in the California Current. J Appl Ecol 48:1195–1205. https://doi.org/10.1111/j.1365-2664.2011.02018.x

Newson SE, Massimino D, Johnston A et al (2013) Should we account for detectability in population trends? Bird Study 60:384–390. https://doi.org/10.1080/00063657.2013.805729

Ormerod SJ, Watkinson AR (2000) Editors ' introduction: birds and agriculture. J Appl Ecol 37:699–705. https://doi.org/10.1046/j.1365-2664.2000.00576.x

Pannekoek J, Strien A, Van (2005) TRIM 3 manual (trends & indices for monitoring data). Statistics Netherlands

Pimm SL, Jenkins CN, Abell RA et al (2014) The biodiversity of species and their rates of extinction, distribution, and protection. Science 344:1246752. https://doi.org/10.1126/science.1246752

Plummer M (2003) JAGS: a program for analysis of Bayesian graphical models using Gibbs sampling. In: Proceedings of the 3rd international workshop on distributed statistical computing

R Core Team (2018) R: a language and environment for statistical computing. Vienna, Austria

Ralph CJ, Scott JM (1981) Estimating numbers of terrestrial birds. Cooper Ornithological Society Lawrence

Rosenstock SS, Anderson DR, Giesen KM et al (2002) Landbird counting techniques: current practices and an alternative. Auk 119:46–53. https://doi.org/10.2307/4090011

Royle JA (2004) N-Mixture models for estimating population size from spatially replicated counts. Biometrics 60:108–115. https://doi.org/10.1111/j.0006-341X.2004.00142.x

Royle JA, Dawson DK, Bates S (2004) Modelling abundance effects in distance sampling. Ecology 85:1591–1597. https://doi.org/10.1890/03-3127

Sanz-Pérez A, Giralt D, Robleño I et al (2019) Fallow management increases habitat suitability for endangered steppe bird species through changes in vegetation structure. J Appl Ecol 56:2166–2175. https://doi.org/10.1111/1365-2664.13450

Si X, Cadotte MW, Zhao Y et al (2018) The importance of accounting for imperfect detection when estimating functional and phylogenetic community structure. Ecology 99:2103–2112. https://doi.org/10.1002/ecy.2438

Sollmann R, Gardner B, Chandler RB et al (2015) An open-population hierarchical distance sampling model. Ecology 96:325–331. https://doi.org/10.1890/14-1625.1

Sollmann R, Gardner B, Williams KA et al (2016) A hierarchical distance sampling model to estimate abundance and covariate associations of species and communities. Methods Ecol Evol 7:529–537. https://doi.org/10.1111/2041-210X.12518

Thompson WL (2002) Towards reliable bird surveys: accounting for individuals present but not detected. Auk 119:18–25. https://doi.org/10.2307/4090008

Voříšek P, Jiguet F, van Strien A et al (2010) Trends in abundance and biomass of widespread European farmland birds: how much have we lost. BOU Proceedings, Lowl Farml Birds III 1–24

Wade PR (2000) Bayesian methods in conservation biology. Conserv Biol 14:1308–1316. https://doi.org/10.1046/j.1523-1739.2000.99415.x

Wheeler TR, Craufurd PQ, Ellis RH et al (2000) Temperature variability and the yield of annual crops. Agric Ecosyst Environ 82:159–167. https://doi.org/10.1016/S0167-8809(00)00224-3
Acknowledgements
We acknowledge the field assistance of Joan Estrada, Sergi Sales, Joan Castelló, Marc Anton, Arnau Bonan, Xavi Larruy, Albert Petit, Ferran González, Juan Bécares, Ferran Broto, Xavier Riera and David Guixé. We acknowledge Nuria Pou for the extensive support in data handling, and Cyril Milleret and Marc Kéry for providing useful feedback on the study design.
Funding
Departament d'Agricultura, Ramaderia, Pesca i Alimentació and Infraestructures de la Generalitat de Catalunya S.A.U. have funded a relevant part of the project. This work has been partially supported by the Generalitat de Catalunya through a FI predoctoral contract to Ana Sanz-Pérez (2018FI_B1_00196).
Ethics declarations
Conflict of interest
The authors have no conflict of interest to declare.
Additional information
Publisher's Note
Springer Nature remains neutral with regard to jurisdictional claims in published maps and institutional affiliations.
Communicated by Melvin Gumal.
Electronic supplementary material
Below is the link to the electronic supplementary material.
About this article
Cite this article
Sanz-Pérez, A., Sollmann, R., Sardà-Palomera, F. et al. The role of detectability on bird population trend estimates in an open farmland landscape. Biodivers Conserv 29, 1747–1765 (2020). https://doi.org/10.1007/s10531-020-01948-0
Received:

Revised:

Accepted:

Published:

Issue Date:
Keywords
Detectability

Population trend

Farmland birds

Hierarchical distance sampling

TRIM

Abundance