Abstract
The way arthropods are distributed vertically in tropical forests has been of great interest with diversity often greatest at or near the canopy top. Typically, stratification is measured up from the ground but, since the height of trees reaching the canopy top can vary, we hypothesise that distance down from the canopy top, might better explain arthropod distributions. To test this samples were collected from Australian tropical rainforest trees in both dry and wet seasons by beating foliage from five trees for each of 11 tree species at set intervals down each tree. A total of 2628 arthropods were collected. Abundant groups were Araneae, Coleoptera, Formicidae, Blattodea and Homoptera. Coleoptera were sorted to species. Since the forest was naturally disturbed by storms, height of trees reaching the canopy top ranged 10–40 m. Our results suggested that the best fit for vertical stratification, either distance from ground or distance down from the canopy, were taxon specific. For ordinal richness and abundance of arthropods the best model was distance from the ground with decreasing trends from the ground. Similarly, distance from the ground best fitted abundances of spiders, cockroaches and Homoptera. In contrast, declination from the canopy top best fitted beetle species richness and abundance, and ant abundance. The effect of vertical stratification was, however, significant only for ants in dry season: abundance of ants decreased with increasing distance down from the canopy top. We were surprised to have found taxon-specific patterns, which may be explained by highly variable canopy tree height, creating vertically heterogeneous micro-habitat conditions in this forest system.
Access options
Buy single article
Instant access to the full article PDF.
US$ 39.95
Tax calculation will be finalised during checkout.
Subscribe to journal
Immediate online access to all issues from 2019. Subscription will auto renew annually.
US$ 119
Tax calculation will be finalised during checkout.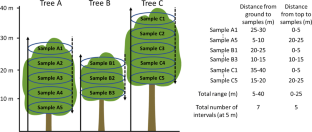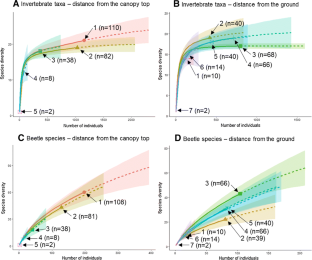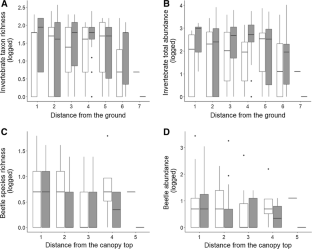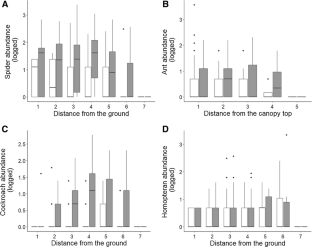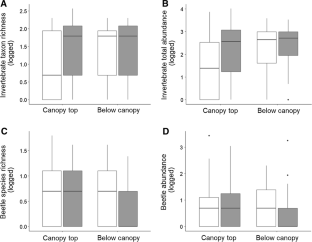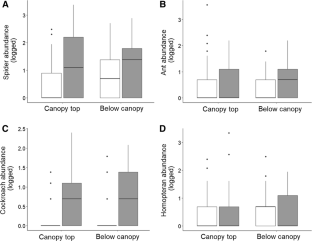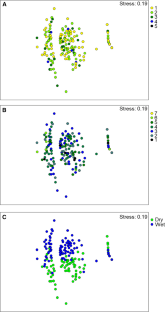 References
Anderson MJ (2005) PERMANOVA: a FORTRAN computer program for permutational multivariate analysis of variance. Department of Statistics, University of Auckland, New Zealand

Ashton LA, Nakamura A, Basset Y, Burwell CJ, Cao M, Eastwood R, Odell E, de Oliveira EG, Hurley K, Katabuchi M (2016) Vertical stratification of moths across elevation and latitude. J Biogeogr 43:59–69

Basset Y, Arthington AH (1992) The arthropod community of an Australian rain-forest tree—abundance of component taxa, species richness and guild structure. Aust J Ecol 17:89–98

Basset Y, Aberlenc HP, Delvare G (1992) Abundance and stratification of foliage arthropods in a lowland rain-forest of Cameroon. Ecol Entomol 17:310–318

Basset Y, Aberlenc HP, Barrios H, Curletti G, Berenger JM, Vesco JP, Causse P, Haug A, Hennion AS, Lesobre L, Marques F (2001) Stratification and diel activity of arthropods in a lowland rainforest in Gabon. Biol J Linn Soc 72:585–607

Basset Y, Cizek L, Cuénoud P, Didham RK, Novotny V, Ødegaard F, Roslin T, Tishechkin AK, Schmidl J, Winchester NN (2015) Arthropod distribution in a tropical rainforest: tackling a four dimensional puzzle. PLoS ONE 10:e0144110

Blüthgen N, Stork NE, Fiedler K (2004) Bottom-up control and co-occurrence in complex communities: honeydew and nectar determine a rainforest ant mosaic. Oikos 106:344–358

Böhning D, Dietz E, Schlattmann P, Mendonca L, Kirchner U (1999) The zero-inflated Poisson model and the decayed, missing and filled teeth index in dental epidemiology. J R Stat Soc 162:195–209

Brühl CA, Gunsalam G, Linsenmair KE (1998) Stratification of ants (Hymenoptera, Formicidae) in a primary rain forest in Sabah, Borneo. J Trop Ecol 14:285–297

Charles E, Basset Y (2005) Vertical stratification of leaf-beetle assemblages (Coleoptera: Chrysomelidae) in two forest types in Panama. J Trop Ecol 21:329–336

Clarke K, Gorley R (2006) PRIMER V6: user manual/tutorial. In: Primer-E Ltd. Plymouth

Corbet PS (1961) Entomological studies from a high tower in Mpanga forest Uganda: VIII. The age-composition of biting mosquito populations according to time and level. Trans R Entomol Soc Lond 113:336–345

DeVries PJ, Walla TR (2001) Species diversity and community structure in neotropical fruit-feeding butterflies. Biol J Linn Soc 74:1–15

DeVries PJ, Murray D, Lande R (1997) Species diversity in vertical, horizontal, and temporal dimensions of a fruit-feeding butterfly community in an Ecuadorian rainforest. Biol J Linn Soc 62:343–364

Erwin TL (1982) Tropical forests: their richness in Coleoptera and other arthropod species. Coleopt Bull 36:74–75

Fournier DA, Skaug HJ, Ancheta J, Ianelli J, Magnusson A, Maunder MN, Nielsen A, Sibert J (2012) AD model builder: using automatic differentiation for statistical inference of highly parameterized complex nonlinear models. Optim Methods Softw 27:233–249

Grimbacher PS, Stork NE (2009) How do beetle assemblages respond to cyclonic disturbance of a fragmented tropical rainforest landscape? Oecologia 161:591–599

Grimbacher PS, Nichols C, Wardhaugh CW, Stork NE (2014) Low host specificity of beetles associated with fruit falls in lowland tropical rainforest of north-east Australia. Austral Entomol 53:75–82

Laidlaw M, Kitching R, Goodall K, Small A, Stork N (2007) Temporal and spatial variation in an Australian tropical rainforest. Austral Ecol 32:10–20

Lawrence JF, Hastings AM, Dallwitz MJ, Paine TA, Zurcher EJ (2000) Beetles of the World. CSIRO, Collingwood

Nakamura A, Kitching RL, Cao M, Creedy TJ, Fayle TM, Freiberg M, Hewitt C, Itioka T, Koh LP, Ma K (2017) Forests and their canopies: achievements and horizons in canopy science. Trends Ecol Evol 32:438–451

Ødegaard F (2000) How many species of arthropods? Erwin's estimate revisited. Biol J Linn Soc 71:583–597

Ozanne CMP, Anhuf D, Boulter SL, Keller M, Kitching RL, Korner C, Meinzer FC, Mitchell AW, Nakashizuka T, Dias PLS, Stork NE, Wright SJ, Yoshimura M (2003) Biodiversity meets the atmosphere: a global view of forest canopies. Science 301:183–186

R Core Team (2017) R package stats: a language and environment for statistical computing. R Core Team, Vienna

Schulze CH, Linsenmaier E, Fiedler K (2001) Understorey versus canopy: patterns of vertical stratification and diversity among Lepidoptera in a Bornean rain forest. Plant Ecol 153:133–152

Stork NE (1988) Insect diversity - facts, fiction and speculation. Biol J Linn Soc 35:321–337

Stork NE (2007a) Australian tropical forest canopy crane: New tools for new frontiers. Austral Ecol 32:4–9

Stork NE (2007b) Dynamics and processes in the canopy of an Australian tropical rainforest. Austral Ecol 32:2–3

Stork NE, Grimbacher PS (2006) Beetle assemblages from an Australian tropical rainforest show that the canopy and the ground strata contribute equally to biodiversity. Proc R Soc B 273:1969–75

Stork NE, Stone M, Sam L (2016) Vertical stratification of beetles in tropical rainforests as sampled by light traps in North Queensland, Australia. Austral Ecol 41:168–178

Sutton SL, Hudson PJ (1980) The vertical distribution of small flying insects in the lowland rain forest of Zaire. Zool J Linn Soc-Lond 68:111–123

Sutton SL, Ash CPJ, Grundy A (1983) The vertical stratification of flying insects in lowland rain forests of Panama, Papua New-Guinea and Brunei. Zool J Linn Soc 78:287–297

Turton SM (2008) Landscape-scale impacts of Cyclone Larry on the forests of northeast Australia, including comparisons with previous cyclones impacting the region between 1858 and 2006. Austral Ecol 33:409–416

Turton SM, Siegenthaler DT (2004) Immediate impacts of a severe tropical cyclone on the microclimate of a tropical rainforest canopy in northeast Australia. J Trop Ecol 20:583–586

Wardhaugh CW, Stork NE, Edwards W (2012a) Feeding guild structure of beetles on Australian tropical rainforest trees reflects microhabitat resource availability. J Anim Ecol 81:1086–1094

Wardhaugh CW, Stork NE, Edwards W, Grimbacher PS (2012b) The overlooked biodiversity of flower-visiting invertebrates. PLoS ONE 7

Wardhaugh CW, Stork NE, Edwards W, Grimbacher PS (2012c) The overlooked biodiversity of flower-visiting invertebrates. PLoS ONE 7(9):e45796

Wardhaugh CW, Edwards W, Stork NE (2013a) Variation in beetle community structure across five microhabitats in A ustralian tropical rainforest trees. Insect Conserv Divers 6:463–472

Wardhaugh CW, Stork NE, Edwards W (2013b) Specialization of rainforest canopy beetles to host trees and microhabitats: not all specialists are leaf-feeding herbivores. Biol J Linn Soc 109:215–228
Acknowledgements
We thank James Cook University and staff at the Daintree Rainforest Observatory for the use of the canopy crane. TM acknowledges the Wet Tropics Management Authority for a Skyrail Rainforest Foundation student research Grant and James Cook University for granting him a Daintree Rainforest Observatory Scholarship. AN is supported by CAS-SEABRI (Chinese Academy of Sciences South-East Asian Biodiversity Research Institute) Key Area Expansion Projects (Grant No. Y4ZK111B01) and XTBG, CAS 135 plan—Direction One Project (2017XTBG-F01) and Breakthrough One Project (2017XTBG-T01).
Additional information
Publisher's Note
Springer Nature remains neutral with regard to jurisdictional claims in published maps and institutional affiliations.
This article belongs to the Topical Collection: Forest and plantation biodiversity.
Communicated by Raphael K. Didham.
Appendix
Appendix
See Tables 4, 5, 6, 7 and Fig. 8.
About this article
Cite this article
McCaig, T., Sam, L., Nakamura, A. et al. Is insect vertical distribution in rainforests better explained by distance from the canopy top or distance from the ground?. Biodivers Conserv 29, 1081–1103 (2020). https://doi.org/10.1007/s10531-019-01927-0
Received:

Revised:

Accepted:

Published:

Issue Date:
Key words
Vertical stratification

Tropical forest

Insects

Australia

Canopy crane

Forest canopy