Abstract
Habitat management can play a critical role in increasing and maintaining species diversity, but timing of management techniques can have significant effects on biodiversity management. In tallgrass prairie systems, prescribed burns are a common method to promote diversity. Managers prefer winter dormant season burns but this timing differs significantly from the historic growing season burns that helped shape this community, and it is largely unexplored whether changing burn season has significant effects on higher trophic levels. Here we investigate how the timing of such burns affects the bee communities and their resources. Depending on life history traits such as above or below ground nesting, timing of fire management can have differential effects on bee diversity. In 2016 and 2017, bees were collected from prairies in south-central Illinois using active netting, pan traps, and vane traps, and measurements of plant species, flower abundance and ground cover were recorded. While both burns showed significant improvement over unburned areas, growing season burns had the greatest total bare ground area and an increase in overall bee abundances. This may suggest long term benefits of growing season burns. The results suggest that growing season burns are beneficial for bees, and the use of either burn season can be utilized for land management.
Access options
Buy single article
Instant access to the full article PDF.
US$ 39.95
Tax calculation will be finalised during checkout.
Subscribe to journal
Immediate online access to all issues from 2019. Subscription will auto renew annually.
US$ 119
Tax calculation will be finalised during checkout.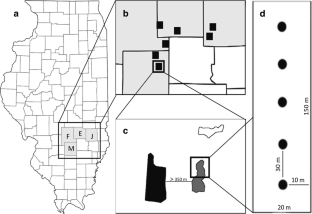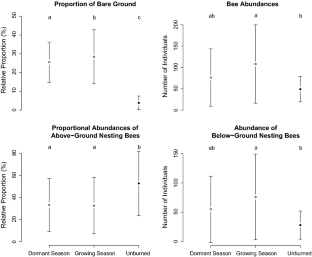 References
Bates D, Maechler M, Bolker B, Walker S (2015) Fitting linear mixed-effects models using lme4. J Stat Softw 67:1–48

Benson EJ, Hartnett DC (2006) The role of seed and vegetative reproduction in plant recruitment and demography in tallgrass prairie. Plant Ecol 187:163–178

Bond WJ, Wood FI, Midgley GF (2005) The global distribution of ecosystems in a world without fire. New Phytol 165:525–538

Bretz F, Hothorn T, Westfall P (2010) Multiple comparisons using R. CRC Press, Boca Raton

Brockway DG, Gatewood RG, Paris RB (2002) Restoring fire as an ecological process in shortgrass prairie ecosystems: initial effects of prescribed burning during the dormant and growing seasons. J Environ Manage 56:135–152

Brudvig LA, Mabry CM, Miller JR, Walker TA (2007) Evaluation of central North American prairie management based on species diversity, life form, and individual species metrics. Conserv Biol 21:864–874

Campbell JW, Vigueira PA, Viguiera CC, Greenberg CH (2018) The effects of repeated prescribed fire and thinning on bees, wasps, and other flower visitors in the understory and midstory of a temperate forest in North Carolina. For Sci 64(3):299–306

Cane JH, Neff JL (2011) Predicted fates of ground-nesting bees in soil heated by wildfire: thermal tolerances of life stages and a survey of nesting depths. Biol Conserv 144:2631–2636

Copeland TE, Sluis W, Howe HF (2002) Fire season and dominance in an Illinois tallgrass prairie restoration. Restor Ecol 10:315–323

Ford PL, Johnson GV (2006) Effects of dormant- vs. growing-season fire in shortgrass steppe: biological soil crust and perennial grass responses. J Arid Environ 67:1–14

Ford WM, Menzel MA, McGill DW, Laerm J, McCay TS (1999) Effects of a community restoration fire on small mammals and herpetofauna in the southern Appalachians. For Ecol Manage 114:233–243

Fynn RWS, Morris CD, Edwards TJ (2004) Effect of burning and mowing on grass and forb diversity in a long-term grassland experiment. Appl Veg Sci 7:1–10

Galbraith SM, Cane JH, Moldenke AR, Rivers JW (2019) Wild bee diversity increases with local fire severity in a fire-prone landscape. Ecosphere 10(4):1–19

Geroff RK, Gibbs J, McCravy KW (2014) Assessing bee (Hymenoptera: Apoidea) diversity of an Illinois restored tallgrass prairie: methodology and conservation considerations. J Insect Conserv 18:951–964

Grant TA, Shaffer TL, Madden EM, Berkley GB (2011) Ducks and passerines nesting in northern mixed-grass prairie treated with fire. Wildl Soc B 35:368–376

Greenberg C, Forrest T, Waldrop T (2010) Short-term response of reptiles and amphibians to prescribed fire and mechanical fuel reduction in a southern Appalachian upland hardwood forest. For Sci 65:112–121

Harmon-Threatt A, Chin K (2016) Common methods for tallgrass prairie restoration and their potential effects on bee diversity. Nat Area J 36:400–411

Higgins KF (1984) Lightning fires in North Dakota grasslands and in pine-savanna lands of South Dakota and Montana. J Range Manage 37:100–103

Howe HF (1994) Response of early- and late-flowering plants to fire season in experimental prairies. Ecol Appl 4:121–133

Johnson SD, Horn KC, Savage AM, Windhager S, Simmons MT, Rudgers JA (2008) Timing of prescribed burns affects abundance and composition of arthropods in the Texas Hill Country. Southwest Nat 53:137–145

Larsen T, Williams NM, Cremen C (2005) Extinction order and altered community structure rapidly disrupt ecosystem functioning. Ecol Lett 8:538–547

NOAA (2017) National Centers for Environmental Information, State of the Climate: National Climate Report for Annual 2016. https://www.ncdc.noaa.gov/sotc/national/201613. Accessed 14 Sept 2017

Oksanen J, Kindt R, Legendre P, O'Hara B, Henry M, Stevens H (2007) The vegan package. Community Ecol Packag 10:631

Panzer R (2002) Compatibility of prescribed burning with the conservation of insect in small, isolated prairie reserves. Conserv Biol 16:1296–1307

Panzer R, Schwartz M (2000) Effects of management burning on prairie insect species richness within a system of small, highly fragmented reserves. Biol Conserv 96:363–369

Pausas JG, Keeley JE (2009) A burning story: the role of fire in the history of life. Bioscience 59:593–601

Polchaninova N, Tsurikov M, Atemasov A (2016) Effect of summer fire on cursorial spider (Aranei) and beetle (Coleoptera) assemblages in meadow steppes of Central European Russia. Hacquetia 15:113–132

Potts SG, Vulliamy B, Roberts S, O'Toole C, Dafni A, Ne'eman G, Willmer P (2005) Role of nesting resources in organizing diverse bee communities in a Mediterranean landscape. Ecol Entomol 30:78–85

R Core Team (2017) R: A language and environment for statistical computing. R Foundation for Statistical Computing, Vienna. https://www.R-project.org/. Accessed 14 Sept 2017

Rau BM, Chambers JC, Blank RR, Johnson DW (2008) Prescribed fire, soil and plants: burn effects and interactions in the Central Great Basin. Rangel Ecol Manage 61:169–181

Roulston TA, Smith SA, Brewster AL (2007) A comparison of pan trap and intensive net sampling techniques for documenting a bee (Hymenoptera: Apiformes) fauna. J Kansas Entomol Soc 80:179–181

Rubene D, Schroeder M, Ranius T (2015) Diversity patterns of wild bees and wasps in managed boreal forests: effects of spatial structure, local habitat and surrounding landscape. Biol Conserv 184:201–208

Ryan KC, Knapp EE, Varner JC (2017) Prescribed fires in North American forests and woodlands; history, current practice, and challenges. Front Ecol Environ 11:15–24

Saint-Germain MS, Drapeau P, Buddle CM (2007) Persistence of pyrophilous insects in fire-driven boreal forests: population dynamics in burned and unburned habitats. Divers Distrib 14:713–720

Sparks JC, Masters RE, Engle DM, Palmer MW, Bukenhofer GA (1998) Effects of late growing-season and late-dormant-season prescribed fire on herbaceous vegetation in restored pine-grassland communities. J Veg Sci 9:133–142

Sparks JC, Masters RE, Engle DM, Bukenhofer GA (2002) Season of burn influences fire behavior and fuel consumption in restored shortleaf pine-grassland communities. Restor Ecol 10:714–722

Steffan-Dewenter I, Tscharntke T (2001) Succession of bee communities on fallows. Ecography 24:83–93

Swengel AB (1996) Effects of fire and hay management on abundance of prairie butterflies. Biol Conserv 76:73–85

Swengel AB, Swengel SR (2013) Decline of Hesperia ottoe (Lepidoptera: Hesperiidae) in norther tallgrass prairie preserves. Insecta 4:663–682

Towne EG, Craine JM (2014) Ecological consequences of shifting the timing of burning tallgrass prairie. PLoS ONE 9:1–10

Towne EG, Kemp KE (2003) Vegetation dynamics from annually burning tallgrass prairie in different seasons. J Range Manage 56:185–192

Underwood EC, Quinn JF (2010) Response of ants and spiders to prescribed fire in oak woodlands of California. J Insect Conserv 14(4):359–366

Weir B (2011) Are weather and tradition reducing our ability to conduct prescribed burns? Rangelands 33:25–30

Williams N, Crone EE, Roulston TH, Minckley RL, Packer L, Potts SG (2010) Ecological and life-history traits predict bee species responses to environmental disturbances. Biol Conserv 143:2280–2291
Acknowledgements
We would like to extend our gratitude to the following volunteers who assisted throughout this 2-year project, from sampling and specimen preparation, data entry, and manuscript review: Terry Esker, Brittany Buckles, Nick Anderson, Rachel Skinner, Josh Gibson, Michael Trapp, Scott Clem, Amanda Niebuhr, Gabriella Murillo, Jon Tetlie, Katie Barie, and Matt Safford. And to Michael Arduser who aided in specimen verifications. Additional thanks to Dr. Sydney Cameron and Dr. Sam Heads for recommendations that improved the manuscript. This study was supported in part by Masters Project Travel Grants (UIUC Graduate College), Francis M. & Harlie M. Clark Support Grant (UIUC School of Integrative Biology), Prairie Biotic Research, Inc. Small Grant, and Sigma Xi Grants-In-Aid of Research.
Funding
This study was supported in part by Masters Project Travel Grants (UIUC Graduate College), Francis M. & Harlie M. Clark Support Grant (UIUC School of Integrative Biology), Prairie Biotic Research, Inc. Small Grant, and Sigma Xi Grants-In-Aid of Research.
Ethics declarations
Conflict of interest
The authors declare that they have no conflict of interest.
Additional information
Publisher's Note
Springer Nature remains neutral with regard to jurisdictional claims in published maps and institutional affiliations.
Communicated by Stephen Garnett.
Electronic supplementary material
Below is the link to the electronic supplementary material.
About this article
Cite this article
Decker, B.L., Harmon-Threatt, A.N. Growing or dormant season burns: the effects of burn season on bee and plant communities. Biodivers Conserv 28, 3621–3631 (2019). https://doi.org/10.1007/s10531-019-01840-6
Received:

Revised:

Accepted:

Published:

Issue Date:
Keywords
Bee

Fire

Land management

Prescribed burn

Conservation

Species diversity