Abstract
Widespread declines of small- to medium-sized, semi-arboreal mammals in the drier regions of Northern Australia are of global concern. These declines have been variously attributed to either disruption of available resources or increased predation pressure. We aimed to clarify causes of mammal decline in Northern Australia using a comparative methods approach, examining historical changes in the distribution of two arboreal mammals, the common brushtail possum (Trichosurus vulpecula) and the savanna glider (Petaurus ariel), and model drivers of their current abundance. We used single-season occupancy models to describe changes in the geographic range of P. ariel and T. vulpecula based on multiple-source occurrence data, from before and after 1993. We conducted spotlighting surveys in 2016 across the mesic savannas of the Northern Territory to identify environmental correlates of the current abundance of each species. Our results show that, within northwestern Australia, the geographic range (area where the probability of occupancy was ≥ 5%) has declined by 72% for T. vulpecula and 35% for P. ariel, between the historical and contemporary periods (before and after 1993, respectively). The abundance of each species varied substantially across the study area, but high T. vulpecula abundance was associated with high shrub density. We propose that areas with high shrub density are providing refuge for T. vulpecula, due to an increase in protection from predation by feral cats (Felis catus). Regardless of the driver, conservation management within Northern Australia should concentrate efforts on maintaining or increasing shrub abundance in tropical savannas. Our findings should also be viewed as an indicator of early stages of P. ariel decline and prompt targeted monitoring efforts.
This is a preview of subscription content,
to check access.
Access this article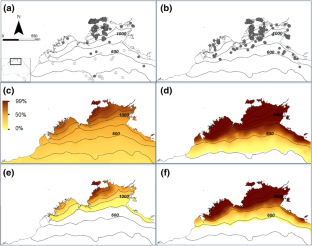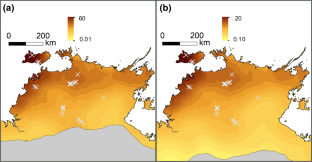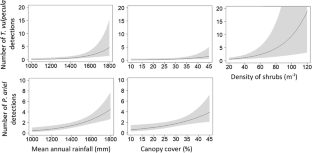 Similar content being viewed by others
References
Abbott I (2002) Origin and spread of the cat, Felis catus, on mainland Australia, with a discussion of the magnitude of its early impact on native fauna. Wildl Res 29(1):51–74

Abbott I (2008) The spread of the cat, Felis catus, in Australia: re-examination of the current conceptual model with additional information. Conserv Sci West Aust 7(1):1–17

Atchison J, Head L, Fullagar R (2005) Archaeobotany of fruit seed processing in a monsoon savanna environment: evidence from the Keep River region, Northern Territory, Australia. J Archaeol Sci 32(2):167–181

Atlas of Living Australia occurrence download. Retrieved from http://ala.org.au

Australian Bureau of Meteorology. Retrieved from http://www.bom.gov.au

Braithwaite R, Commonwealth Scientific (1985). The Kakadu Fauna Survey: an ecological survey of Kakadu National Park: final report to the Australian National Parks and Wildlife Service: Commonwealth Scientific and Industrial Research Organization, Division of Wildlife and Rangelands Research

Burbidge AA, McKenzie NL (1989) Patterns in the modern decline of western Australia's vertebrate fauna: causes and conservation implications. Biol Cons 50(1–4):143–198

Burbidge AA, McKenzie NL, Brennan KEC, Woinarski JCZ, Dickman CR, Baynes A, Robinson AC (2009) Conservation status and biogeography of Australias terrestrial mammals. Aust J Zool 56(6):411–422

Burnham KP, Anderson DR (2003) Model selection and multimodel inference: a practical information-theoretic approach. Springer, New York

Ceballos G, Ehrlich PR, Barnosky AD, García A, Pringle RM, Palmer TM (2015) Accelerated modern human–induced species losses: entering the sixth mass extinction. Sci Adv 1(5):e1400253

Davies HF, McCarthy MA, Firth RSC, Woinarski JCZ, Gillespie GR, Andersen AN, Murphy BP (2017) Top-down control of species distributions: feral cats driving the regional extinction of a threatened rodent in Northern Australia. Divers Distrib 23(3):272–283

Davies HF, McCarthy MA, Firth RSC, Woinarski JCZ, Gillespie GR, Andersen AN, Murphy BP (2018) Declining populations in one of the last refuges for threatened mammal species in Northern Australia. Aust Ecol 43(5):602–612

Doherty TS, Davis RA, Etten EJB, Algar D, Collier N, Dickman CR, Robinson S (2015a) A continental-scale analysis of feral cat diet in Australia. J Biogeogr 42(5):964–975

Doherty TS, Dickman CR, Nimmo DG, Ritchie EG (2015b) Multiple threats, or multiplying the threats? Interactions between invasive predators and other ecological disturbances. Biol Cons 190:60–68

Firth RSC, Brook BW, Woinarski JCZ, Fordham DA (2010) Decline and likely extinction of a Northern Australian native rodent, the brush-tailed rabbit-rat Conilurus penicillatus. Biol Cons 143(5):1193–1201

Fisher DO, Owens IPF (2004) The comparative method in conservation biology. Trends Ecol Evol 19(7):391–398

Fisher DO, Johnson CN, Lawes MJ, Fritz SA, McCallum H, Blomberg SP, Legge S (2014) The current decline of tropical marsupials in Australia: is history repeating? Glob Ecol Biogeogr 23(2):181–190

Fitzsimons J, Legge S, Traill B, Woinarski J (2010) Into oblivion? The disappearing native mammals of Northern Australia. The Nature Conservancy, Melbourne

Frank ASK, Johnson CN, Potts JM, Fisher A, Lawes MJ, Woinarski JCZ, Legge S (2014) Experimental evidence that feral cats cause local extirpation of small mammals in Australia's tropical savannas. J Appl Ecol 51(6):1486–1493

Goldingay RL (1990) The foraging behaviour of a nectar feeding marsupial Petaurus australis. Oecologia 85(2):191–199

Goldingay RL, Jackson SM (2004) The biology of Australian possums and gliders. Surrey Beatty & Sons Pty Limited, Sydney

Grueber C, Nakagawa S, Laws R, Jamieson I (2011) Multimodel inference in ecology and evolution: challenges and solutions. J Evol Biol 24(4):699–711

Hernandez-Santin L, Goldizen AW, Fisher DO (2016) Introduced predators and habitat structure influence range contraction of an endangered native predator, the northern quoll. Biol Cons 203:160–167

Hohnen R, Tuft K, McGregor HW, Legge S, Radford IJ, Johnson CN (2016) Occupancy of the invasive feral cat varies with habitat complexity. PLoS ONE 11(9):e0152520

Jackson SM (2001) Foraging behaviour and food availability of the mahogany glider Petaurus gracilis (Petauridae: Marsupialia). J Zool 253(01):1–13

Jackson SM, Johnson CN (2002) Time allocation to foraging in the mahogany glider Petaurus gracilis (Marsupialia, Petauridae) and a comparison of activity times in exudivorous and folivorous possums and gliders. J Zool 256(02):271–277

Johnson CN, Isaac JL (2009) Body mass and extinction risk in Australian marsupials: the 'Critical Weight Range' revisited. Aust Ecol 34(1):35–40

Kerle JA (1998) The population dynamics of a tropical possum, Trichosurus vulpecula arnhemensis Collett. Wildl Res 25(2):171–181

Kerle J, Burgman M (1984) Some aspects of the ecology of the mammal fauna of the Jabiluka area, Northern Territory. Wildl Res 11(2):207–222

Kutt AS (2012) Feral cat (Felis catus) prey size and selectivity in north-eastern Australia: implications for mammal conservation. J Zool 287(4):292–300

Lawes MJ, Fisher DO, Johnson CN, Blomberg SP, Frank AS, Fritz SA, Legge S (2015) Correlates of recent declines of rodents in northern and southern Australia: habitat structure is critical. PLoS ONE 10(6):e0130626

Leahy L, Legge SM, Tuft K, McGregor HW, Barmuta LA, Jones ME, Johnson CN (2016) Amplified predation after fire suppresses rodent populations in Australia's tropical savannas. Wildl Res 42(8):705–716

Legge S, Kennedy MS, Lloyd R, Murphy SA, Fisher A (2011) Rapid recovery of mammal fauna in the central Kimberley, Northern Australia, following the removal of introduced herbivores. Aust Ecol 36(7):791–799

MacKenzie DI, Nichols JD, Lachman GB, Droege S, Royle JA, Langtimm CA (2002) Estimating site occupancy rates when detection probabilities are less than one. Ecology 83(8):2248–2255

McDonald PJ, Luck GW, Dickman CR, Ward SJ, Crowther MS (2015) Using multiple-source occurrence data to identify patterns and drivers of decline in arid-dwelling Australian marsupials. Ecography 38(11):1090–1100

McDonald PJ, Nano CEM, Ward SJ, Stewart A, Pavey CR, Luck GW, Dickman CR (2017) Habitat as a mediator of mesopredator-driven mammal extinction. Conserv Biol 31(5):1183–1191

McGregor HW, Legge S, Jones ME, Johnson CN (2014) Landscape management of fire and grazing regimes alters the fine-scale habitat utilisation by feral cats. PLoS ONE 9(10):e109097

McGregor H, Legge S, Jones ME, Johnson CN (2015) Feral cats are better killers in open habitats, revealed by animal-borne video. PLoS ONE 10(8):e0133915

McGregor HW, Cliff HB, Kanowski J (2016) Habitat preference for fire scars by feral cats in Cape York Peninsula, Australia. Wildl Res 43(8):623–633

McKenzie N, Burbidge A, Baynes A, Brereton R, Dickman C, Gordon G, Williams M (2007) Analysis of factors implicated in the recent decline of Australia's mammal fauna. J Biogeogr 34(4):597–611

Milton SJ, Dean WRJ, Du Plessis MA, Siegfried WR (1994) A conceptual model of arid rangeland degradation. Bioscience 44:70–76

Murphy BP, Davies HF (2014) There is a critical weight range for Australia's declining tropical mammals. Glob Ecol Biogeogr 23(9):1058–1061

Pardon LG, Brook BW, Griffiths AD, Braithwaite RW (2003) Determinants of survival for the northern brown bandicoot under a landscape-scale fire experiment. J Anim Ecol 72(1):106–115

Pavey CR, Cole JR, McDonald PJ, Nano CEM (2014) Population dynamics and spatial ecology of a declining desert rodent, Pseudomys australis: the importance of refuges for persistence. J Mammal 95(3):615–625

R Core Team (2017) R: A language and environment for statistical computing. R Foundation for Statistical Computing, Vienna. https://www.R-project.org/

Richards SA (2005) Testing ecological theroy using the information-theoretic approach: examples and cautionary results. Ecology 86(10):2805–2814

Royle JA, Nichols JD, Kéry M (2005) Modelling occurrence and abundance of species when detection is imperfect. Oikos 110(2):353–359

Russell-Smith J, Yates C, Edwards A, Allan GE, Cook GD, Cooke P, Smith R (2003) Contemporary fire regimes of Northern Australia, 1997-2001: change since Aboriginal occupancy, challenges for sustainable management. Inte J Wildland Fire 12(4):283–297

Russell-Smith J, Edwards AC, Price OF (2012) Simplifying the savanna: the trajectory of fire-sensitive vegetation mosaics in Northern Australia. J Biogeogr 39(7):1303–1317

Setterfield SA, Rossiter-Rachor NA, Hutley LB, Douglas MM, Williams RJ (2010) Turning up the heat: the impacts of Andropogon gayanus (gamba grass) invasion on fire behaviour in Northern Australian savannas. Divers Distrib 16(5):854–861

Sharpe DJ, Goldingay RL (1998) Feeding behaviour of the squirrel glider at Bungawalbin Nature Reserve, north-eastern New South Wales. Wildl Res 25(3):243–254

Short J, Smith A (1994) Mammal decline and recovery in Australia. J Mammal 75(2):288–297

Start AN, Burbidge AA, McDowell MC, McKenzie NL (2012) The status of non-volant mammals along a rainfall gradient in the south-west Kimberley, Western Australia. Aust Mammal 34(1):36–48

Stokeld D, Fisher A, Gentles T, Hill B, Triggs B, Woinarski JCZ, Gillespie GR (2018) What do predator diets tell us about mammal declines in Kakadu National Park? Wildl Res 45(1):92–101

Vigilante T, Bowman DMJS (2004) Effects of fire history on the structure and floristic composition of woody vegetation around Kalumburu, North Kimberley, Australia: a landscape-scale natural experiment. Aust J Bot 52(3):381–404

Woinarski, J. (2015). Critical‐weight‐range marsupials in Northern Australia are declining: a commentary on Fisher et al.(2014)'The current decline of tropical marsupials in Australia: is history repeating?'. Global Ecol Biogeogr 24(1):118–122

Woinarski JCZ, Armstrong M, Brennan K, Fisher A, Griffiths AD, Hill B, Young S (2010) Monitoring indicates rapid and severe decline of native small mammals in Kakadu National Park, Northern Australia. Wildl Res 37(2):116–126

Woinarski JCZ, Legge S, Fitzsimons JA, Traill BJ, Burbidge AA, Fisher A, Ziembicki M (2011) The disappearing mammal fauna of Northern Australia: context, cause, and response. Conserv Lett 4(3):192–201

Woinarski J, Burbidge A, Harrison P (2014) Action Plan for Australian Mammals 2012. CSIRO publishing, Collingwood

Woinarski J, Burbidge A, Harrison P (2015) Ongoing unraveling of a continental fauna: decline and extinction of Australian mammals since European settlement. Proc Natl Acad Sci USA 112(15):4531–4540

Ziembicki MR, Woinarski JCZ, Mackey B (2013) Evaluating the status of species using Indigenous knowledge: novel evidence for major native mammal declines in Northern Australia. Biol Cons 157:78–92

Zuur AF, Ieno EN, Elphick CS (2010) A protocol for data exploration to avoid common statistical problems. Methods Ecol Evol 1(1):3–14
Acknowledgements
We would like to thank John Woinarski, Anne Kerle and the Western Australian Department of Biodiversity, Conservation and Attractions for making their occurrence records available. We thank the Tiwi Land Council, Mimal Rangers and Jawoyn Traditional Owners for supporting our research. We also thank the Northern Territory Parks and Wildlife Commission, Kakadu National Park and the owners of Mataranka Station for accommodating us during our research, and Neil Armstrong for providing access to his property. We acknowledge the field assistance provided by Miguel Bedoya-Pérez, Sally Scrivens, Brodie Philip, Amy Moorfield, Emma Lewis, William Ross, Veronica Toral and Tom Poulsom. This work was supported by the Holsworth Wildlife Research Endowment, the Australian Research Council (Grant No. LP150100615) and the generous donations made by supporters of the 'Unknown Glider' crowdfunding campaign. We also thank Rebecca Montague-Drake for her observation records of Petaurus ariel.
Additional information
Communicated by Xiaoli Shen.
Publisher's Note
Springer Nature remains neutral with regard to jurisdictional claims in published maps and institutional affiliations.
Electronic supplementary material
Below is the link to the electronic supplementary material.
About this article
Cite this article
Stobo-Wilson, A.M., Murphy, B.P., Cremona, T. et al. Contrasting patterns of decline in two arboreal marsupials from Northern Australia. Biodivers Conserv 28, 2951–2965 (2019). https://doi.org/10.1007/s10531-019-01807-7
Received:

Revised:

Accepted:

Published:

Issue Date:

DOI: https://doi.org/10.1007/s10531-019-01807-7
Keywords