Abstract
Cerrado is a biodiversity hotspot composed of a vegetation mosaic landscape ranging from grasslands to forests. It holds a high endemicity of plants and vertebrate species suffering from high habitat destruction rates. We aimed at characterizing the mutualistic interactions between bats and the plant species present in their diet in the different habitats of the Cerrado to determine which habitats should be prioritized for the conservation of most bat-plant interactions. In order to do that, we assessed two datasets, one covering all interactions between bats and plants in Latin America and the other with the distribution of plant species across the 13 different Cerrado habitats and the Cerrado as a whole. Forests played the major role in the structure of the interactions as they hold the highest number of interactions, with a big percentage being unique to these habitats. The removal of forests in our simulations led to a high dissimilarity of the original structure of the interactions and the extinction of 1/3 of all bat species. Special attention must be given to key habitats such as gallery forests as they not only help connecting the landscape, but also hold a large proportion of the interactions between bats and plants in the Cerrado and play an important role on the network structure between bats and plants in the heterogeneous Cerrado landscapes.
This is a preview of subscription content, log in to check access.
Access options
Buy single article
Instant access to the full article PDF.
US$ 39.95
Price includes VAT for USA
Subscribe to journal
Immediate online access to all issues from 2019. Subscription will auto renew annually.
US$ 199
This is the net price. Taxes to be calculated in checkout.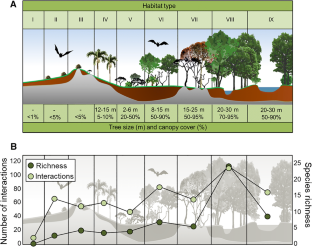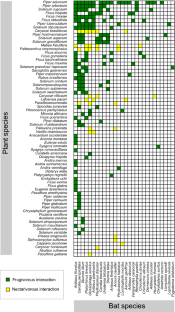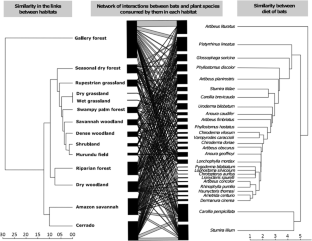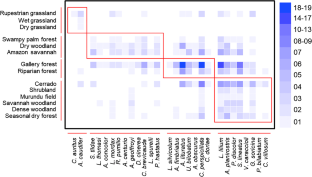 References
Aguiar LMS, Bernard E, Ribeiro V, Machado RB, Jones G (2016) Should I stay or should I go? Climate change effects on the future of Neotropical savannah bats. Glob Ecol Conserv 5:22–33. https://doi.org/10.1016/j.gecco.2015.11.011

Almeida-Neto M, Ulrich W (2011) A straightforward computational approach for measuring nestedness using quantitative matrices. Environ Modell Softw 26:173–178. https://doi.org/10.1016/j.envsoft.2010.08.003

August PV (1983) The role of habitat complexity and heterogeneity in structuring tropical mammal communities. Ecology 64:1495–1507. https://doi.org/10.2307/1937504

Barnosky AD, Matzky N, Tomiya S, Wogan GOU, Swartz B, Quental TB, Marshal C, McGuire JL, Lindsey EL, Maguire KC, Mersey B, Ferrer EA (2011) Has the Earth's sixth mass extinction already arrived? Nature 471:51–57. https://doi.org/10.1038/nature09678

Barros MAS, Rui AM, Fabian ME (2013) Seasonal variation in the diet of the bat Anoura caudifer (Phyllostomidae: Glossophaginae) at the southern limit of its geographic range. Acta Chiropt 15:77–84. https://doi.org/10.3161/150811013X667876

Bascompte J, Jordano P (2007) Plant-animal mutualistic networks: the architecture of biodiversity. Annu Rev Ecol Evol Syst 38:567–593. https://doi.org/10.1146/annurev.ecolsys.38.091206.095818

Batalha MA, Mantovani W (2000) Reproductive phenological patterns of cerrado plant species at the Pé-de-Gigante Reserve (Santa Rita do Passa Quatro, SP, Brazil): a comparison between the herbaceous and woody floras. Rev Bras Biol 60:129–145. https://doi.org/10.1590/S0034-71082000000100016

Bizerril MX, Raw A (1998) Feeding behaviour of bats and the dispersal of Piper arboreum seeds in Brazil. J Trop Ecol 14:109–114. https://doi.org/10.1017/S0266467498000108

Borlaug NE (2002) Feeding a world of 10 billion people: the miracle ahead. In: Bailey R (ed) Global warming and other eco-myths, 1st edn. Competitive Enterprise Institute, Roseville, pp 29–60

Brasil (2011) Monitoramento do desmatamento dos biomas brasileiros por satelite-Mointoramento do Bioma Cerrado 2008-2009. Ministry of Environment-MMA and Brazilian Institute for the Environment and Renewable Natural Resources—IBAMA. http://mma.gov.br Acessed in 28 March 2016

Bredt A, Uieda W, Pedro WA (2012) Plantas e morcegos, na recuperação de áreas degradadas e na paisagem urbana. Rede de Sementes do Cerrado, Brasília

Brooks TM, Mittermeier RA, Mittermeier CG, Fonseca GAB, Rylands AB, Konstant WR, Flick P, Pilgrim J, Oldfield S, Magin G, Hilton-Taylors C (2002) Habitat loss and extinction in the hotspots of biodiversity. Conserv Biol 16:909–923. https://doi.org/10.1046/j.1523-1739.2002.00530.x

Carvalho WD, Mustin K (2017) The highly threatened and little known Amazonian savannahs. Nat Ecol Evol 1:0100. https://doi.org/10.1038/s41559-017-0100

Dormann CF, Strauss R (2014) A method for detecting modules in quantitative bipartite networks. Methods Ecol Evol 5:90–98. https://doi.org/10.1111/2041-210X.12139

Dormann CF, Gruber B, Fründ J (2008) Introducing the bipartite package: analysing ecological networks. Interaction. https://doi.org/10.1159/000265935

Eiten G (1984) Vegetation of Brasília, Brazil. Phytocoenologia 12:271–292. https://doi.org/10.1127/phyto/12/1984/271

Fahrig L (2003) Effects of habitat fragmentation on biodiversity. Annu Rev Ecol Evol Syst 34:487–515. https://doi.org/10.1146/annurev.ecolsys.34.011802.132419

Felfili JM, Mendonça R, Walter BMT, Silva MCJ, Nóbrega MGG, Fagg CW, Sevilha AC, Silva MA (2001) Flora fanerogâmica das matas de galeria e ciliares do Brasil Central. In: Ribeiro JF, Fonseca CEL, Souza-Silva JC (eds) Cerrado: caracterização e recuperação de matas de galeria. Embrapa, Planaltina, pp 195–209

Fründ J, McCann KS, Williams NM (2015) Sampling bias is a challenge for quantifying specialization and network structure: lessons from a quantitative niche model. Oikos 125:502–513. https://doi.org/10.1111/oik.02256

Galindo-Gonzalez J, Sosa VJ (2003) Frugivorous bats in isolated trees and riparian vegetation associated with human-made pastures in a fragmented tropical landscape. Southwest Nat 48:579–590. https://doi.org/10.1894/0038-4909(2003)048<0579:FBIITA>2.0.CO;2

Gonzalez A, Rayfield B, Lindo Z (2011) The disentangled bank: how loss of habitat fragments and disassembles ecological networks. Am J Bot 98:503–516. https://doi.org/10.3732/ajb.1000424

Hansen RA (2000) Effects of habitat complexity and composition on a diverse litter microarthropod assemblage. Ecology 81:1120–1132. https://doi.org/10.1890/0012-9658(2000)081%5b1120:EOHCAC%5d2.0.CO;2

Hanski I, Ovaskainen O (2002) Extinction debt at extinction threshold. Conserv Biol 16:666–673. https://doi.org/10.1046/j.1523-1739.2002.00342.x

Heithaus ER, Fleming TH, Opler PA (1975) Foraging patterns and resource utilization in seven species of bats in a seasonal tropical forest. Ecology 56:841–854. https://doi.org/10.2307/1936295

Howe HF, Smallwood J (1982) Ecology of seed dispersal. Annu Rev Ecol Evol Syst 13:201–228. https://doi.org/10.1146/annurev.es.13.110182.001221

Ings TC, Montoya JM, Bascompte J, Blüthgen N, Brown L, Dormann CF, Edwards F, Figueroa D, Jacob U, Jones JI, Lauridsen RB, Ledger ME, Lewis HM, Olesen JM, Veen FJF, Warren PH, Woodward G (2009) Review: ecological networks–beyond food webs. J Anim Ecol 78:253–269. https://doi.org/10.1111/j.1365-2656.2008.01460.x

Ishara KL, Maimoni-Rodella RCS (2011) Pollination and dispersal systems in a Cerrado remnant (Brazilian savanna) in southeastern Brazil. Braz Arch Biol 54:629–642. https://doi.org/10.1590/S1516-89132011000300025

Johnson MA, Saraiva PM, Coelho D (1999) The distribution of gallery forests in the distribution of Cerrado mammals. Rev Bras Biol 59:421–427. https://doi.org/10.2307/2388755

Jordano P, Bascompte J, Olesen JM (2003) Invariant properties in coevolutionary networks of plant-animal interactions. Ecol Lett 6:69–81. https://doi.org/10.1046/j.1461-0248.2003.00403.x

Jung K, Kaiser S, Bohm S, Nieschulze J, Kalko EKV (2012) Moving in three dimensions: effects of structural complexity on occurrence and activity of insectivorous bats in managed forest stands. J Appl Ecol 49:523–531. https://doi.org/10.1111/j.1365-2664.2012.02116.x

Klink CA, Machado RB (2005) Conservation of the Brazilian Cerrado. Conserv Biol 19:707–713. https://doi.org/10.1111/j.1523-1739.2005.00702.x

Kubitsky K (1979) Ocorrência de Kielmeyera nos campos de 'Humaitá' e a natureza dos 'campos'—flora da amazônia. Acta Amaz 9:401–404. https://doi.org/10.1590/1809-43921979092401

Kubitsky K (1983) Dissemination biology in the savanna vegetation of Amazonia. Sonderbände des naturwissenshaftlichen Vereins in Hamburg 7:353–357

Kunz TH, Torrez EB, Bauer D, Lobova T, Fleming TH (2011) Ecosystem services provided by bats. Ann N Y Acad Sci 1223:1–38. https://doi.org/10.1111/j.1749-6632.2011.06004.x

Lenza E, Santos JO, Marachipes-Santos L (2015) Species composition, diversity, and vegetation structure in a gallery forest-cerrado sensu stricto transition zone in eastern Mato Grosso, Brazil. Acta Bot Brasilica 29:327–338. https://doi.org/10.1590/0102-33062014abb3697

Lewinsohn TM, Prado IP, Jordano P, Bascompte J, Olesen JM (2006) Structure in plant–animal interaction assemblages. Oikos 113:174–184. https://doi.org/10.1111/j.0030-1299.2006.14583.x

Marinho-Filho JS, Reis ML (1989) A fauna de mamíferos associada às matas de galeria. In: Barbosa LH (ed) Anais do Simpósio sobre Mata Ciliar, 1st edn. Fundação Cargill, Campinas, pp 43–60

Martins M, Zanzini ACS, Santiago WTV (2007) Síndromes de dispersão em formações florestais do bioma Cerrado no estado do Tocantins. Rev Bras Biocienc 5:807–809

Marques EQ, Marimon-Junior BH, Marimon BS, Matricardi EA, Mews HA, Colli GR (2019) Redefining the Cerrado-Amazonia transition: implications for conservation. Biodivers Conserv. https://doi.org/10.1007/s10531-019-01720-z

McCann KS, Rasmussen JB, Umbanhowar J (2005) The dynamics of spatially coupled food webs. Ecol Lett 8:513–523. https://doi.org/10.1111/j.1461-0248.2005.00742.x

Melián CJ, Bascompte J (2002) Food web structure and habitat loss. Ecol Lett 5:37–46. https://doi.org/10.1046/j.1461-0248.2002.00280.x

Memmott J (2009) Food webs: a ladder for picking strawberries or a practical tool for practical problems? Philos Trans R Soc Lond B 364:1693–1699. https://doi.org/10.1098/rstb.2008.0255

Mendes P, Signorelli L, De Marco P (2017) The relative importance of local versus landscape variables on site occupancy in bats of the Brazilian Cerrado. Landsc Ecol 4:745–762. https://doi.org/10.1007/s10980-016-0483-6

Monadjem A, Reside A (2008) The influence of riparian vegetation on the distribution and abundance of bats in an African savanna. Acta Chiropt 10:339–348. https://doi.org/10.3161/150811008X414917

Muylaert RL, Stevens RD, Ribeiro MC (2016) Threshold effect of habitat loss on bat richness in cerrado-forest landscapes. Ecol Appl 26:1854–1867. https://doi.org/10.1890/15-1757.1

Myers N, Mittermeier RA, Mittermeier CG, Fonseca GAB, Kent J (2000) Biodiversity hotspots for conservation priorities. Nature 403:853–858. https://doi.org/10.1038/35002501

Nuismer SL, Jordano P, Bascompte J (2013) Coevolution and the architecture of mutualistic networks. Evolution 67:338–354. https://doi.org/10.1111/j.1558-5646.2012.01801.x

Oliveira PEAM, Moreira AG (1992) Anemocoria em espécies de cerrado e mata de galeria de Brasília, DF. Rev Bras Bot 15:163–174

Oliveira HFM, Camargo NF, Gager Y, Aguiar LMS (2017) The response of bats (Mammalia: Chiroptera) to habitat modification in a neotropical Savannah. Trop Conserv Sci 10:1–14. https://doi.org/10.1177/1940082917697263

Paglia AP, Fonseca GAB, Rylands AB, Herrmann G, Aguiar LMS, Chiarello AG, Leite YLR, Costa LP, Siciliano S, Kierulff MCM, Mendes SL, Tavares VC, Mittermeier RA, Patton JL (2012) Annotated checklist of Brazilian mammals. Conservation International, Arlington

Pereira BAS, Silva MA, Mendonça RC (1993) Reserva Ecológica do IBGE, Brasília (DF): Lista das Plantas Vasculares. Fundação Instituto Brasileiro de Geografia e Estatística, Rio de Janeiro

Poisot T, Canard E, Mouillot D, Mouquet N, Gravel D (2012) The dissimilarity of species interaction networks. Ecol Lett 15:1353–1361. https://doi.org/10.1111/ele.12002

R Development Core Team. R: a language and environment for statistical computing, reference index version 3.1.2 (R Foundation for Statistical Computing, Vienna, 2014) http://www.R-project.org

Ratter JA (1986) Notas sobre a Vegetação da Fazenda Agua Limpa (Brasília-DF). Editora Universidade de Brasília, Brasília

Ratter JA, Richards PW, Argent G, Giford DR (1973) Observations on the vegetation of northeastern Mato Grosso—the wood vegetation types of the Xavantina—Cachimbo expedition area. Philos Trans R Soc 226:229–492. https://doi.org/10.1098/rstb.1973.0053

Ratter JA, Ribeiro JF, Bridgewater S (1997) The Brazilian cerrado vegetation and threats to its biodiversity. Ann Bot 80:223–230. https://doi.org/10.1006/anbo.1997.0469

Ribeiro JF, Walter BMT (2008) Cerrado: ecologia e flora. Embrapa Cerrados, Planaltina.

Ribeiro JF, Walter BMT, Sano SM, Almeida SD (1998) Fitofisionomias do Cerrado. In: Sano SM, Almeida SP (eds) Cerrado: ambiente e flora. EMBRAPA-CPAC, Planaltina, pp 87–166

Rojas D, Vale A, Ferreo V, Navarro L (2011) When did plants become important to leaf-nosed bats? Diversification of feeding habits in the family Phyllostomidae. Mol Ecol 20:2217–2228. https://doi.org/10.1111/j.1365-294X.2011.05082.x

Sano SM, Almeida SP, Ribeiro JF (2008) Cerrado: ecologia e flora, Volume II, Checklist com 12.356 espécies. Brasília 1:152–212

Silva JMS, Bates JM (2002) Biogeographic patterns and conservation in the South American Cerrado: a tropical savanna hotspot: the Cerrado, which includes both forest and savanna habitats, is the second largest South American biome, and among the most threatened on the continent. Bioscience 52:225–234. https://doi.org/10.1641/0006-3568(2002)052%5b0225:BPACIT%5d2.0.CO;2

Staddon P, Lindo Z, Crittenden PD, Gilbert F, Gonzalez A (2010) Connectivity, non-random extinction and ecosystem function in experimental metacommunities. Ecol Lett 13:543–552. https://doi.org/10.1111/j.1461-0248.2010.01450.x

Stefanello D, Fernandes-Bulhão C, Martins SV (2009) Síndromes de dispersão de sementes em três trechos de vegetação ciliar (nascente, meio e foz) ao longo do rio Pindaíba, MT. Rev Árvore 33:1051–1061. https://doi.org/10.1590/S0100-67622009000600008

Strassburg BBN, Brooks T, Feltran-Barbieri R, Iribarrem A, Crouzeilles R, Loyola R, Latawiec AE, Filho FBO, Scaramuzza CAM, Scarano FR, Soares-Filho B, Balmford A (2017) Moment of truth for the Cerrado hotspot. Nat Ecol Evol 1:0099. https://doi.org/10.1038/s41559-017-0099

Thébault E, Fontaine C (2010) Stability of ecological communities and the architecture of mutualistic and trophic networks. Science 329:853–856. https://doi.org/10.1126/science.1188321

Tschapka M (2005) Reproduction of the bat Glossophaga commissarisi (Phyllostomidae: Glossophaginae) in the Costa Rican rain forest during frugivorous and nectarivorous periods. Biotropica 37:409–415. https://doi.org/10.1111/j.1744-7429.2005.00054.x

Tylianakis JM, Tscharntke T, Lewis OT (2007) Habitat modification alters the structure of tropical host-parasitoid food webs. Nature 445:202–205

Tylianakis JM, Laliberte E, Nielsen A, Bascompte J (2010) Conservation of species interaction networks. Biol Conserv 143:2270–2279. https://doi.org/10.1016/j.biocon.2009.12.004

Valiente-Banuet A, Aizen MA, Alcántara JM, Arroyo J, Cocucci A, Galetti M, García MB, Gómez JM, Jordano P, Medel R, Navarro L, Obeso JR, Oviedo R, Ramírez N, Rey PJ, Traveset A, Verdu M, Zamora R (2015) Beyond species loss: the extinction of ecological interactions in a changing world. Func Ecol 29:299–307. https://doi.org/10.1111/1365-2435.12356

Willig MR, Camilo GR, Noble SJ (1993) Dietary overlap in frugivorous and insectivorous bats from edaphic Cerrado habitats of Brazil. J Mammal 74:117–128. https://doi.org/10.2307/1381910

Zortéa M (2003) Reproductive patterns and feeding habits of three nectarivorous bats (Phyllostomidae: Glossophaginae) from the Brazilian Cerrado. Braz J Biol 63:159–168. https://doi.org/10.1590/S1519-69842003000100020
Acknowledgements
We would like to thank the scholarship provided by Coordenação de Aperfeiçoamento de Pessoal de Nível Superior (CAPES) to Nicholas which helped in the development of the current work. RML was funded by São Paulo Research Foundation FAPESP (grant 2015 - 1779 - 4).
Additional information
Publisher's Note
Springer Nature remains neutral with regard to jurisdictional claims in published maps and institutional affiliations.
Communicated by Melvin Gumal.
Electronic supplementary material
Below is the link to the electronic supplementary material.
About this article
Cite this article
Oliveira, H.F.M., Camargo, N.F., Gager, Y. et al. Protecting the Cerrado: where should we direct efforts for the conservation of bat-plant interactions?. Biodivers Conserv 28, 2765–2779 (2019). https://doi.org/10.1007/s10531-019-01793-w
Received:

Revised:

Accepted:

Published:

Issue Date:
Keywords
Flying mammals

Mutualism

Habitats

Networks

Neotropical savannah