Abstract
Analysis of Google Trends data on Internet crowd-searches regarding biodiversity conservation and global change is steadily developing as a meta-information data stream on public interest in environmental issues and challenges. Literature develops on the validity and multiple determinants of Google Trends, involving a large palette of constraints regarding the adoption of simplistic linear regressions of search volumes versus time. In this paper, we focus on the analysis of monthly (or yearly) deviations from long-term averages of Google Trends as descriptors of public interest variability. We propose (1) a SWOT-like Methodological-Social/Ecological-Technical-Conceptual framework of Google Trends based analysis of culturomics; (2) a series of specific data on deviations or error distribution regarding flag-terms of conservation discourse; and, (3) two potential mechanisms driving fluctuations of Google Trends.
This is a preview of subscription content, log in to check access.
Access options
Buy single article
Instant access to the full article PDF.
US$ 39.95
Price includes VAT for USA
Subscribe to journal
Immediate online access to all issues from 2019. Subscription will auto renew annually.
US$ 199
This is the net price. Taxes to be calculated in checkout.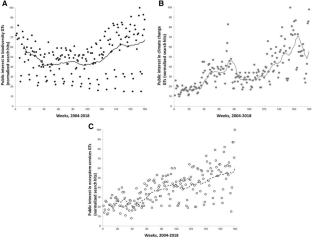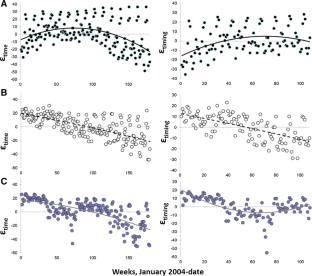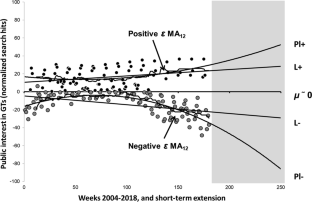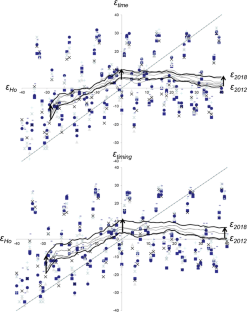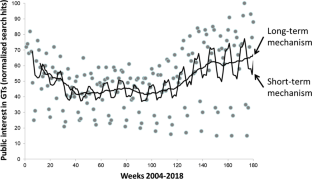 References
Anderreg WRL, Goldsmith GR (2014) Public interest in climate change over the past decade and the effects of the 'climate' media event. Environ Res Lett 9:054005. https://doi.org/10.1088/1748-9326/9/5/054005

Andrew L, Arndt D, Beristain N, Cass T, Clow T, Colmenares B, Damm K, Hatcher R, Jackson N, Pasquesi W, Chamberlain-Pham N, Pryde JA, Rund T, Russell G, Ryle C, Schmidt T, Sigan S, Sinkus K, Sneyd K, Strode J, Wallen C, McCallum ML (2016) Changes in United States' citizens' interest in sustainability (2004–2014). Life Excit Biol 4(3):138–164. https://doi.org/10.9784/leb4(3)andrew.01

Burivalova Z, Butler RA, Wilcove DS (2018) Analyzing Google search data to debunk myths about the public's interest in conservation. Front Ecol Environ. https://doi.org/10.1002/fee.1962

Cooper MW, Di Minin E, Hausmann A, Qin S, Schwartz AJ, Correia RA (2019) Developing a global indicator for Aichi Target 1 by merging online data sources to measure biodiversity awareness and engagement. Biol Cons 230:29–36

Correia RA (2018) Google trends data need validation: comment on Durmuşoğlu (2017). Hum Ecol Risk Assess Int J. https://doi.org/10.1080/10807039.2018.1446322

Correia RA, Jepson PR, Malhado AC, Ladle RJ (2016a) Familiarity breeds content: assessing bird species popularity with culturomics. PeerJ 4:e1728

Correia R, Do Y, Joo G-J, Malhado A, Proulx R, Roberge JM, Jepson P (2016b) Conservation culturomics. Front Ecol Environ 14(5):269–275. https://doi.org/10.1002/fee.1260

Diaz S, Demissew S, Carabias J, Joly C, Lonsdale M, Ash N, Larigauderie A, Adhikari JR, Arico S, Baldi A, Bartuska A, Baste IA, Bilgin A, Brondizio E, Chan KMA, Figueroa VE, Duraiappah A, Fischer M, Hill R, Koetz T, Leadley P, Lyver P, Mace GM, Martin-Lopez B, Okumura M, Pacheco D, Pascual U, Perez ES, Reyers B, Roth E, Saito O, Scholes RJ, Sharma N, Tallis H, Thaman R, Watson R, Yahara T, Hamid ZA, Akosim C, Al-Hafedh Y, Allahverdiyev R, Amankwah E, Asah ST, Asfaw Z, Bartus G, Brooks LA, Caillaux J, Dalle G, Darnaedi D, Driver A, Erpul G, Escobar-Eyzaguirre P, Failler P, Fouda AMM, Fu B, Gundimeda H, Hashimoto S, Homer F, Lavorel S, Lichtenstein G, Mala WA, Mandivenyi W, Matczak P, Mbizvo C, Mehrdadi M, Metzger JP, Mikissa JB, Moller H, Mooney HA, Mumby P, Nagendra H, Nesshover C, Oteng-Yeboah AA, Pataki G, Roue M, Rubis J, Schultz M, Smith P, Sumaila R, Takeuchi K, Thomas S, Verma M, Yeo-Chang Y, Zlatanova D (2015) The IPBES Conceptual Framework—connecting nature and people. Curr Opin Environ Sustain 14:11–16

Do Y, Kim JY, Lineman M, Kim D-K, Joo G-J (2014) Using internet search behavior to assess public awareness of protected wetlands. Conserv Biol 29:271–279

Durmusoglu ZDU (2017) Using Google trends data to assess public understanding on the environmental risks. Hum Ecol Risk Assess Int J 23:1968–1977. https://doi.org/10.1080/10807039.2017.1350566

Eurobarometer Series (1972–today) European Commission/Communication/Public Opinion/Eurobarometer Interactive/multiple report surveys. http://ec.europa.eu/commfrontoffice/publicopinion/index.cfm/Survey/index#p=1. Accessed Oct 2018

Ficetola GF (2013) Is interest toward the environment really declining? The complexity of analysing trends using internet search data. Biodivers Conserv 22:2983–2988

Funk SM, Rusowsky D (2014) The importance of cultural knowledge and scale for analysing internet search data as a proxy for public interest toward the environment. Biodivers Conserv 23:3101–3112

Gleick J (2011) The information: a history, a theory, a flood. Pantheon, New York (ISBN: 978-0375423727)

IPBES/ECA Assessment (2018) Summary for policymakers of the regional and subregional assessment of biodiversity and ecosystem services for Europe and Central Asia. https://council.science/cms/2018/03/ipbes-6-l3_pdf_en_fi.pdf. Accessed Nov 2018

Jarić I, Correia RA, Roberts DL, Gessner J, Meinard Y, Courchamp F (2019) On the overlap between scientific and societal taxonomic attentions—insights for conservation. Sci Total Environ 648:772–778

Ladle R, Correia R, Do Y, Joo G-J, Malhado A, Proulx R, Roberge JM, Jepson P (2016) Conservation culturomics. Front Ecol Environ 14(5):269–275. https://doi.org/10.1002/fee.1260

Marriner N, Morhange C (2013) Data mining the intellectual revival of 'catastrophic' mother nature. Found Sci 18:245–257. https://doi.org/10.1007/s10699-012-9299-2

McCallum ML, Bury GW (2013) Google search patterns suggest declining interest in the environment. Biodivers Conserv 22:1355–1367

McCallum ML, Bury GW (2014) Public interest in the environment is falling: a response to Ficetola (2013). Biodivers Conserv 23(4):1057–1062

Michel J-B, Shen YK, Aiden AP, Veres A, Gray MK, Pickett JP, Hoiberg D, Clancy D, Norvig P, Orwant J (2011) Quantitative analysis of culture using millions of digitized books. Science 331:176–182

Nghiem LTP, Papworth SK, Lim FKS, Carrasco LR (2016) Analysis of the capacity of Google trends to measure interest in conservation topics and the role of online news. PLoS ONE. https://doi.org/10.1371/journal.pone.0152802

Petersen AM, Tenenbaum JN, Havlin S, Stanley HE, Perc M (2012) Languages cool as they expand: allometric scaling and the decreasing need for new words. Sci Rep 2:943. https://doi.org/10.1038/srep00943

Proulx R, Massicotte M, Pepino M (2013) Googling trends in conservation biology. Conserv Biol 28:44–51

Sutherland WJ, Butchart SHM, Connor B, Culshaw C, Dicks LV, Dinsdale J, Doran H, Entwistle AC, Fleishman E, Gibbons DW, Jiang Z, Keim B, LeRoux X, Lickorish FA, Markillie P, Monk KA, Mortimer D, Pearce-Higgins JW, Peck LS, Pretty J, Seymour CL, Spalding MD, Tonneijck FH, Gleave RA (2018) A 2018 horizon scan of emerging issues for global conservation and biological diversity. TREE. https://doi.org/10.1016/j.tree.2017.11.006

Tamvakis A, Anagnostopoulos C-N, Tsirtsis G, Niros AD, Spatharis S (2018) Optimized classification predictions with a new index combining machine learning algorithms. Int J Artif Intell Tools 27(3):1850012. https://doi.org/10.1142/s0218213018500124

Troumbis YA (2017a) Declining Google Trends of public interest in biodiversity: semantics, statistics or traceability of changing priorities? Biodivers Conserv 26(6):1495–1505. https://doi.org/10.1007/s10531-017-1294-z

Troumbis YA (2017b) Google Trends and cycles of public interest in biodiversity: the animal spirits effect. Biodivers Conserv 26(14):3421–3443. https://doi.org/10.1007/s10531-017-1413-x

Welchman WG (1997) The Hut six story: breaking the enigma codes, 2nd revised edn. M.&M.Baldwin, Kidderminster (ISBN: 978-0947712341)

Wilde GR, Pope KL (2013) Worldwide trends in fishing interest indicated by internet search volume. Fish Manag Ecol 20:211–222
Acknowledgements
The paper is dedicated to Professor George Vithoulkas, an eminent personality in alternative medicine and sustainable development in Alonissos Island, Greece. The author graciously thanks R. Miller, G. Joseph, R.A. Correia, anonymous reviewers and the editor of this paper for substantial help in improving this manuscript.
Additional information
Publisher's Note
Springer Nature remains neutral with regard to jurisdictional claims in published maps and institutional affiliations.
This article belongs to the Topical Collection: Biodiversity appreciation and engagement.
Communicated by Dirk Sven Schmeller.
About this article
Cite this article
Troumbis, A.Y. The time and timing components of conservation culturomics cycles and scenarios of public interest in the Google era. Biodivers Conserv 28, 1717–1727 (2019). https://doi.org/10.1007/s10531-019-01750-7
Received:

Revised:

Accepted:

Published:

Issue Date:
Keywords
Google Trends

Public interest

Conservation

Biodiversity

Culturomics