Abstract
Habitat conservation banking is often identified as a policy instrument for conserving endangered species on private lands in the United States. In this paper, we analyze the trends and the characteristics of habitat conservation bank credit supply and demand. We find 137 conservation banks conserving some 153,000 acres of land. About 66% of conservation credits were sold by private companies and credit price ranges between $1505 and $205,055 per credit in constant 2015 dollars. We observe that large urban areas have relatively high demand for conservation credits and that habitat conservation banking has become a business.
Access options
Buy single article
Instant access to the full article PDF.
USD 39.95
Price includes VAT (USA)
Tax calculation will be finalised during checkout.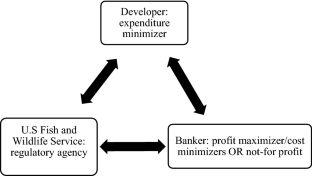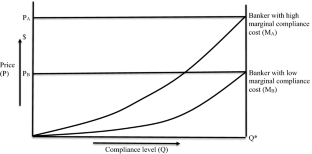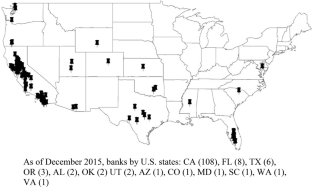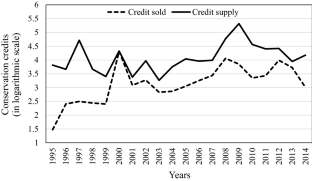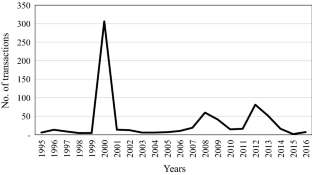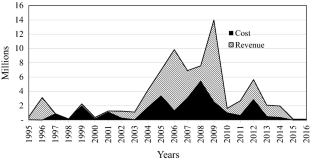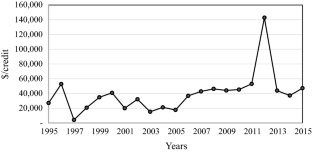 Notes
1.

Includes 1466 animal and 948 plant species (Data source: Environmental Conservation Online System, U.S. Fish and Wildlife Service, https://ecos.fws.gov/ecp/species-reports (last accessed October 12, 2018).

2.

3.

A Habitat Conservation Plan is designed to conserve species while providing a mechanism that allows development and other economic activities to continue. Non-federal entities, public and private, are eligible to participate (Source: USFWS fact-sheet, January 2017).

4.

Safe Harbor Agreements allow non-federal entities, public and private, to conserve federally listed species as a contribution towards recovery. Landowners have the regulatory certainty that they can return their land to the species' baseline conditions at the end of the SHA term, and they will not be required to carry out additional land management/conservation actions beyond the terms of the SHA. (Source: USFWS fact-sheet, January 2017).

5.

6.

Single client mitigation banks are those developed and used by a single entity, such as a state department of transportation, to provide compensatory mitigation exclusively for its own permitted impacts. Also known as a Single-user bank (RIBITS, 2018 last accessed October 12, 2018).

7.

Logarithmic scale is used to show the largely skewed values of credit available and sold in one graph.

8.

Note that many conservation banks that have cost data may not have revenue data; conversely, some banks that have revenue data may not have cost data. Hence, most of the cost and revenue data are not from same conservation banks.

9.

10.

11.

12.

13.

14.
References
Birnie K (2016) State of the mitigation markets. Paper presented at the National Mitigation Banking Conference, Forth Worth, TX. https://mitigationbankingconference.com/online-access/. Accessed 6 Oct 2016

Boisvert V (2015) Conservation banking mechanisms and the economization of nature: an institutional analysis. Ecosyst Serv 15:134–142

Bonnie R (1999) Endangered species mitigation banking: promoting recovery through habitat conservation planning under the Endangered Species Act. Sci Total Environ 240(1):11–19

Bos M, Pressey RL, Stoeckl N (2014) Effective marine offsets for the Great Barrier Reef world heritage area. Environ Sci Policy 42:1–15

Brown GM, Shogren JF (1998) Economics of the endangered species act. J Econ Perspect 12(3):3–20

Bureau of Labor Statistics (BLS) (2012) Brookings Institution's Metropolitan Policy Program and Bureau of Labor Statistics (BLS) Occupational Employment Statistics (OES) Program. http://www.bls.gov/oes/tables.htm

Department of Interior (DOI), Office of Policy Analysis (2016a) Results from a survey of conservation banking sponsors and managers. Washington, DC

Department of Interior (DOI), Office of Policy Analysis (2016b) Bureau highlights. Fish and Wildlife Service.Washington, DC. https://www.doi.gov/sites/doi.gov/files/migrated/budget/appropriations/2016/highlights/upload/BH063.pdf

Drechsler M, Wätzold F (2009) Applying tradable permits to biodiversity conservation: effects of space-dependent conservation benefits and cost heterogeneity on habitat allocation. Ecol Econ 68(4):1083–1092

Ferraro PJ, McIntosh C, Ospina M (2007) The effectiveness of the US endangered species act: an econometric analysis using matching methods. J Environ Econ Manag 54(3):245–261

Fox J, Nino-Murcia A (2005) Status of species conservation banking in the United States. Conserv Biol 19(4):996–1007

Gamarra MJC, Toombs TP (2017) Thirty years of species habitat conservation banking in the US: comparing policy to practice. Biol Conserv 214:6–12

Innes R, Polasky S, Tschirhart J (1998) Takings, compensation, and endangered species protection on private land. J Econ Perspect 12:35–52

Lawrence A (2001) The emergence of conservation banking in Southern California. In Green K, Groenewegen P, Hofman P (eds) Ahead of the curve, vol 6, pp 93–105

Lueck D, Michael J (2003) Preemptive habitat destruction under the Endangered Species Act. J Law Econ 46:27–60

Kreuter UP, Wolfe DW, Hays KB, Conner JR (2017) Conservation credits—evolution of a market-oriented approach to recovery of species of concern on private land. Rangel Ecol Manag 70(3):264–272

Madsen B, Carroll N, Moore B K (2010) State of biodiversity markets report: offset and compensation programs worldwide

Maron M, Dunn PK, McAlpine CA, Apan A (2010) Can offsets really compensate for habitat removal? The case of the endangered red-tailed black-cockatoo. J Appl Ecol 47(2):348–355

Martin S, Brumbaugh R (2011) Entering a new era: what will RIBITS tell us about mitigation banking? Natl Wetl Newsl 33:4

Pawliczek J, Sullivan S (2011) Conservation and concealment in SpeciesBanking.com, USA: an analysis of neoliberal performance in the species offsetting industry. Environ Conserv 38(04):435–444

Poudel J, Zhang D, Simon B (2018) Estimating the demand and supply of conservation banking markets in the United States. Land Use Policy 79:320–325

Rea CM (2017) Theorizing command-and-commodify regulation: the case of species habitat conservation banking in the United States. Theory Soc 46(1):21–56

Santos R, Schroeter-Schlaack C, Antunes P, Ring I, Clemente P (2015) Reviewing the role of habitat banking and tradable development rights in the conservation policy mix. Environ Conserv 42(04):294–305

United State Fish and Wildlife Service (2003) Guidance for the establishment, use and operation of conservation banks. Washington, DC

U.S. Fish and Wildlife Service (2016) Endangered and Threatened Wildlife and Plants; Endangered Species Act Compensatory Mitigation Policy. September 2, 2016. U.S. Department of the Interior Fish and Wildlife Service

Vatn A (2015) Markets in environmental governance. From theory to practice. Ecol Econ 117:225–233

Wheeler DP, Strock JM (1995) Official policy on conservation banks. California, Environmental Protection Agency, April 7th. https://nrm.dfg.ca.gov/FileHandler.ashx?DocumentID=110849&inline. Accessed 21 Aug 2018

Wilcove DS, Lee J (2004) Using economic and regulatory incentives to restore endangered species: lessons learned from three new programs. Conserv Biol 18(3):639–645

Wissel S, Wätzold F (2010) A conceptual analysis of the application of tradable permits to biodiversity conservation. Conserv Biol 24(2):404–411

Zhang D (2004) Endangered species and timber harvesting: the case of red-cockaded woodpeckers. Econ Inq 42(1):150–165

Zhang D (2016) Payments for forest-based environmental services: a close look. Forest Policy and Economics 72:78–84

Zhang D, Pearse PH (2011) Forest economics. UBC Press, Vancouver
Additional information
Publisher's Note
Springer Nature remains neutral with regard to jurisdictional claims in published maps and institutional affiliations.
This article belongs to the Topical Collection: Biodiversity protection and reserves
Communicated by David Hawksworth.
About this article
Cite this article
Poudel, J., Zhang, D. & Simon, B. Habitat conservation banking trends in the United States. Biodivers Conserv 28, 1629–1646 (2019). https://doi.org/10.1007/s10531-019-01747-2
Received:

Revised:

Accepted:

Published:

Issue Date:
Keywords
Endangered Species Act

Habitat conservation banking

Market based policy instrument

Conservation credit price

Conservation credit supply

Demand