Abstract
Steephead ravines are unusual geological features primarily occurring in Florida's panhandle, a biodiversity hotspot. The unique habitats formed by steepheads are extremely valuable biodiversity resources within this larger area of great biodiversity. Eglin Air Force Base (EAFB) is essential for global conservation of steepheads because this vast area holds the greatest number under single ownership. Steepheads are significantly threatened by feral swine rooting damage. A decade-long investigation of EAFB's steepheads assessed the following: (1) severity of swine damage to steepheads, (2) changing levels of swine control on swine population and damage, (3) changing climatic conditions on damage, (4) changing military land use on damage (5) bioeconomics of damage. Swine damage to 21 EAFB steepheads was assessed 5 times over 10 years. Swine populations were indexed 8 times. Damage and population estimates were related to control effort, military land use, and climate variables to assess influences on damage levels. Monetary values were applied to estimates of total damage across all steepheads. Full control staffing rapidly reduced feral swine abundance and steephead damage. Reduced control staffing and reduced access from increased military activities allowed population rebound and increased damage. Drought possibly increased susceptibility to damage because steepheads provide a steady water source despite climatic circumstance. Estimated damage values across EAFB's steepheads (excluding other resources damaged) was 1.5–11.3 times more than annual control costs. Effective swine control greatly reduces steephead damage. Technological advances may overcome access issues from changing land use. Swine control is a cost-effective steephead conservation approach.
Access options
Buy single article
Instant access to the full article PDF.
US$ 39.95
Tax calculation will be finalised during checkout.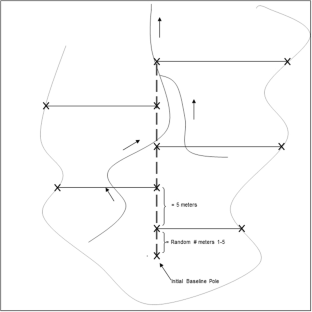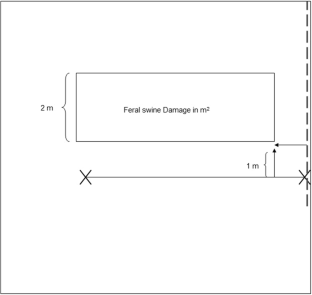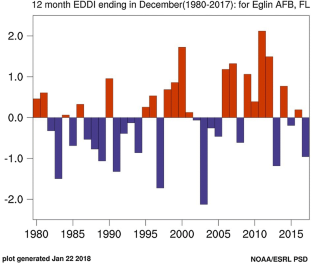 References
Air Force US (2002) Integrated natural resources management plan. Eglin Air Force Base, Florida

Allen LR, Engeman RM (2015) Evaluating and validating abundance monitoring methods in absence of populations of known size. Environ Sci Pollut Res 22:2907–2915

AVMA (American Veterinary Medical Association) (2013) AVMA guidelines for the Euthanasia of animals, 2013th edn. American Veterinary Medical Association, Schaumburg, IL

Belden RC, Frankenberger WG (1977) Management of feral hogs in Florida—past, present, and future. In: Wood GW (ed) Research and management of wild hog populations. Clemson University, Clemson, pp 5–10

Blaustein RJ (2008) Biodiversity hotspot: the Florida panhandle. Bioscience 58(9):784–790

Bodenchuk MJ (2014) Method-specific costs of feral swine removal in a large meta-population: the Texas experience. In: Timm RM, O'Brien JM (eds) Proc 26th Vertebr Pest Conf Univ California, Davis, pp 269–271

Boughton EH, Boughton RK (2014) Modification by an invasive ecosystem engineer shifts a wet prairie to a monotypic stand. Biol Invasions 16:2105–2114

Bratton SP (1977) Wild hogs in the United States—origin and nomenclature. In: Wood GW (ed) Research and management of wild hog populations. The Belle W. Baruch Forest Science Institute of Clemson University, Georgetown, SC, pp 1–4

Choquenot D, McIlroy J, Korn T (1996) Managing vertebrate pests: feral pigs. Bureau of Resource Sciences, Australian Government Publishing Service, Canberra

Cole RJ, Litton CM, Koontz MJ, Loch RK (2012) Vegetation recovery 16 years after feral pig removal from a wet Hawaiian forest. Biotropica 44:463–471

Corn JL, Cumbee JC, Chandler BA, Stallknecht DE, Fischer JR (2005) Implication of feral swine expansion: expansion of feral swine in the United States and potential implication for domestic swine. Feral swine subcommittee on brucellosis and pseudorabies. United States Animal Health Association, St. Joseph, MO, pp 295–297

Cushman JH, Tierney TA, Hinds JM (2004) Variable effects of feral pig disturbances on native and exotic plants in a California grassland. Ecol Appl 14:1746–1756

Da Silva Neto JG, Gorman TA, Bishop DC, Haas CA (2014) Population demographics of the Florida bog frog (Lithobates okaloosae). Southeast Nat 13:128–137

Enge KM (1998) Herpetofaunal drift-fence survey of steephead ravines in the Apalachicola and Ochlockonee river drainages. Florida Game and Fresh Water Fish Comm. Final Perf. Rep., Tallahassee

Engeman R (2005) Indexing principles and a widely applicable paradigm for indexing animal populations. Wildl Res 32:202–210

Engeman RM, Allen LR (2000) Overview of a passive tracking index for monitoring wild canids and associated species. Integr Pest Manag Rev 5:197–203

Engeman RM, Shwiff SA, Smith HT, Constantin BU (2004) Monetary valuation of rare species and imperiled habitats as a basis for economically evaluating conservation approaches. Endanger Species Update 21:66–73

Engeman RM, Stevens A, Allen J, Dunlap J, Daniel M, Teague D, Constantin BU (2007) Feral swine management for conservation of an imperiled wetland habitat: Florida's vanishing seepage slopes. Biol Conserv 134:440–446

Engeman RM, Massei G, Sage M, Gentle M (2013) Monitoring wild pig populations: a review of methods. Environ Sci Pollut Res 20:8077–8091

Engeman RM, Addison D, Griffin JC (2016a) Defending against disparate sea turtle nest predators: benefits to nesting success from eradicating invasive feral swine and caging nests from raccoons. Oryx 50(2):289–295

Engeman RM, Orzell SL, Felix RK Jr, Tillman EA, Killian G, Avery ML (2016b) Feral swine damage to globally imperiled wetland plant communities in a significant biodiversity hotspot in Florida. Biodivers Conserv 25:1879–1898

Engeman RM, Meyer JS, Allen JB (2017) Prevalence of feral swine disturbance at important archaeological sites over a large area in Florida. Sci Rep (Nat) 7:40287

FNAI (Florida Natural Areas Inventory) (2010) Guide to the natural communities of Florida. Florida Natural Areas Inventory and Florida Department of Natural Resources, Tallahassee, FL

Gates V (2012) Hog wild: feral pig population explodes in US. Chicago Tribune, June 22, 2012, Chicago

Groot Bruinderink GWTA, Hazebroek E (1996) Wild boar (Sus scrofa scrofa L.) rooting and forest regeneration on podzolic soils in the Netherlands. For Ecol Manag 88:71–80

Hernandez FA, Parker BM, Pylant CL, Smyser TJ, Piaggio AJ, Lance SL, Milleson MP, Austin JD, Wisely SM (2018) Invasion ecology of wild pigs (Sus scrofa) in Florida, USA: the role of humans in the expansion and colonization of an invasive wild ungulate. Biol Invasions 20:1865–1880

Hubbell TH, Laessle AM, Dickinson JC (1956) The Flint-Chattahoochee-Apalachicola region and its environments. Bull Fla State Mus 1:1–72

Jones KC, Gorman TA, Rincon BK, Allen J, Haas CA, Engeman RM (2017) Feral swine: a new threat to the remaining breeding wetlands of the endangered reticulated flatwoods salamander. Oryx 36:24. https://doi.org/10.1017/S0030605316001253

Kindell CE, Herring BJ, Nordman C, Jensen J, Schotz AR, Chafin LG (1997) Natural community survey of Eglin Air Force Base, 1993–1996: final report. Florida Natural Areas Inventory, Tallahassee, Florida Natural Areas Inventory, Tallahassee

King D (1998) The dollar value of wetlands: trap set, bait taken, don't swallow. Natl Wetl Newsl 20:7–11

Kotanen PM (1995) Responses of vegetation to a changing regime of disturbance: effects of feral pigs in a Californian coastal prairie. Ecogr 18:190–199

Lowe S, Browne M, Boudjelas S, De Poorter M (2004) 100 of the world's worst invasive alien species a selection from the global invasive species database. Invasive Species Specialist Group, Auckland

Lukas J, Hobbins M, Rangwala I (2017) The EDDI user guide. NOAA Earth System Research Laboratory, Boulder, CO

Mayer JJ, Brisbin IL (2008) Wild pigs in the United States: their history, comparative morphology, and current status. The University of Georgia Press, Athens, GA

Means DB (1981) Steepheads: Florida's little-known canyon lands. In: Enfo December issue. Florida Conservation Foundation, Winter Park, pp 1–4

Means DB (1991) Florida's steepheads: unique canyonlands. Fla Wildl 45(3):25–28

Means DB (2011) Final report: biodiversity dependent upon wetland ecosystems created by the surficial aquifer in Bay and Washington counties, Florida Coastal Plains Institute and Land Conservancy, Tallahassee

Means DB, Travis J (2007) Declines in ravine-inhabiting dusky salamanders of the southeastern US Coastal Plain. Southeast Nat 6(1):83–96

Mungal EC (2001) Exotics. In: Demarais S, Krausman PR (eds) Ecology and management of large mammals in North America. Prentice Hall, Upper Saddle River, NJ, pp 736–764

Musante A, Hall P (2011) Don't let New Hampshire go hog wild. N Hamps Wildl J. November/December: 8–11

Noss RF, Platt WJ, Sorrie BA, Weakley AS, Means DB, Costanza J, Peet RK (2015) How global biodiversity hotspots may go unrecognized: lessons from the North American Coastal Plain. Divers Distrib 21:236–244

Pearson DE, Ruggiero LF (2003) Transect versus grid trapping arrangements for sampling small mammal communities. Wildl Soc Bull 31:454–459

Platt WJ, Schwartz MW (1990) Temperate hardwood forests. In: Myers RL, Ewel JJ (eds) Ecosystems of Florida. University of Central Florida Press, Orlando, pp 194–229

Poché RM, Poché D, Franckowiak G, Somers DJ, Briley LN, Tseveenjav B, Polyakova L (in press) Field evaluation of low-dose warfarin baits to control feral hogs (Sus scrofa) in North Texas. PloS One

Ryan DA, Heywood A (2003) Improving the precision of longitudinal ecological surveys using precisely defined observational units. Environmetrics 14:83–293

SAIC (Science Applications International Corporation) (2010) Final integrated natural resources management plan. Eglin Air Force Base, Florida

Sellards EH, Gunter H (1918) Geology between the Apalachicola and Ochlockonee rivers in Florida. Florida geological survey, 10th–11th Annual Report, pp 9–56

Senter J (2003) Live dunes and ghost forests: stability and change in the history of North Carolina's maritime forests. N C Hist Rev 80(3):334–371

Seward N, VerCauteren K, Witmer G, Engeman RM (2004) Feral swine impacts on agriculture and the environment. Sheep Goat Res J 19:34–40

Sharp HS (1938) Steepheads and spring-sapping–Holt and Niceville quadrangles, Florida. J Geomorphol 1:249–298

Shulman B, Grunwald G, Wagner B, Engeman RM (2016) Evaluation of estimation quality of a general paradigm for indexing animal abundance when observations are counts. Ecol Inf 32:194–201

Snow NP, Foster JA, Kinsey JC, Humphrys ST, Staples LD, Hewitt DG, VerCauteren KC (2017) Development of toxic bait to control invasive wild pigs and reduce damage. Wildl Soc Bull 41(2):256–263

Stein BA, Kutner LS, Adams JS (eds) (2000) Precious heritage: the status of biodiversity in the United States. Oxford University Press, New York

Stein BA, Scott C, Benton N (2008) Federal lands and endangered species: the role of military and other federal lands in sustaining biodiversity. Bioscience 58:339–347

Thomas J, Engeman RM, Tillman EA, Fischer JW, Orzell SL, Glueck DH, Felix RK Jr, Avery ML (2013) Optimizing line intercept sampling and estimation for feral swine damage levels in ecologically sensitive wetland plant communities. Environ Sci Pollut Res 20:1503–1510

Towne CW, Wentworth EN (1950) Pigs from cave to cornbelt. University of Oklahoma Press, Norman, OK

TWS (The Wildlife Society) (2011) Feral swine in North America. Final position statement. The Wildlife Society, Bethesda

USDA (U.S. Department of Agriculture) (1999) Wild pigs hidden danger for farmers and hunters, vol 620. Animal and Plant Health Inspection Services Information Bulletin, Washington, DC

USDA (U.S. Department of Agriculture) (2016) Feral swine: damages, disease threats, and other risks, vol 2195b. Animal and Plant Health Inspection Services Program Aid, Washington, DC

USDA/APHIS (U.S. Department of Agriculture/Animal and Plant Health Inspection Service) (2015) Final environmental impact statement feral swine damage management: a national approach. USDA/Animal and Plant Health Inspection Service, Washington, DC

USDA/APHIS (U.S. Department of Agriculture/Animal and Plant Health Inspection Service), U.S. Department of Agriculture/Forest Service and Department of Interior/Bureau of Land Management (1997) Animal damage control program final environmental impact statement (revised). USDA/Animal and Plant Health Inspection Service, Washington, DC

West BC, Cooper AL, Armstrong JB (2009) Managing wild pigs: a technical guide. Human-Wildlife Interactions Monograph 1:1–55

Wolfe SH, Reidenauer JA, Means DB (1988) An ecological characterization of the Florida panhandle. U S Fish Wildl Serv Biol Rep 88(12):1–277

Wood GW, Barrett RH (1979) Status of wild pigs in the United States. Wildl Soc Bull 7:237–246

Wyckoff AC, Henke SE, Campbell TA, Hewitt DG, VerCauteren KC (2009) Feral swine contact with domestic swine: a serologic survey and assessment of potential for disease transmission. J Wildl Dis 45:422–429

Zerbe RO, Dively DD (1994) Benefit-cost analysis: in theory and practice. HarperCollins College Publishers, New York
Acknowledgements
This research was supported by the intramural research programs of the U.S. Department of Agriculture and U.S. Department of Defense.
Funding
This research did not receive any specific grant from funding agencies in the public, commercial, or not-for-profit sectors.
Ethics declarations
Conflict of interest
The authors declare that they have no conflict of interest.
Additional information
Publisher's Note
Springer Nature remains neutral with regard to jurisdictional claims in published maps and institutional affiliations.
This article belongs to the Topical Collection: Invasive species
Communicated by Xiaoli Shen.
About this article
Cite this article
Engeman, R.M., Laine, E., Allen, J. et al. Invasive feral swine damage to globally imperiled steephead ravine habitats and influences from changes in population control effort, climate, and land use. Biodivers Conserv 28, 1109–1127 (2019). https://doi.org/10.1007/s10531-019-01713-y
Received:

Revised:

Accepted:

Published:

Issue Date:
Keywords
Animal damage management

Biodiversity

Bioeconomics

Ecological sampling

Invasive species

Sus scrofa