Abstract
Protected areas are the cornerstone on which conservation strategies are often built. Adapting systems of protected areas to rapid global changes is critical to meet the challenge of conservation in biodiversity hotspots. Twenty years ago, Jaffré et al. (Biodivers Conserv 7:109–135, 1998) warned that the system of protected areas in the global biodiversity hotspot of New Caledonia was not adequate to conserve the threatened plant species. Here, we examine changes in major threats to the New Caledonian flora and whether the system of protected areas has been improved to address these threats. While some improvements have been made, many key shortcomings identified by Jaffré et al. (Biodivers Conserv 7:109–135, 1998) have not been addressed and the majority of threatened species remain outside protected area. During the same time, thousands of hectares of vegetation have burned outside and inside protected areas, a hundred new mining concessions were issued and the rate of nickel mining has doubled. Better protection of remaining natural vegetation on ultramafic substrates, which are severely impacted by both mining activities and fires, is urgently needed. Further convergence between research and conservation actions is needed to tackle increasing threats to the unique New Caledonian flora.
Access options
Buy single article
Instant access to the full article PDF.
USD 39.95
Price includes VAT (USA)
Tax calculation will be finalised during checkout.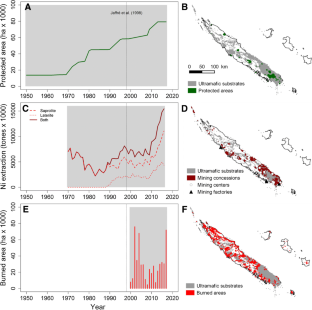 References
Barbero R, Moron V (2011) Seasonal to decadal modulation of the impact of El Nino-Southern Oscillation on New Caledonia (SW Pacific) rainfall (1950–2010). J Geophys Res Atmos. https://doi.org/10.1029/2011jd016577

Curt T, Borgniet L, Ibanez T, Moron V, Hély C (2015) Understanding fire patterns and fire drivers for setting a sustainable management policy of the New-Caledonian biodiversity hotspot. For Ecol Manag 337:48–60. https://doi.org/10.1016/j.foreco.2014.10.032

Dale VH et al (2001) Climate change and forest disturbances bioscience. AIBS Bull 51:723–734

De Garine-Wichatitsky M, Soubeyran Y, Maillard D, Duncan P (2005) The diets of introduced rusa deer (Cervus timorensis russa) in a native sclerophyll forest and a native rainforest of New Caledonia. N Z J Zool 32:117–126

Endemia, RLA Flore NC (2017) La liste rouge de la flore menacée de Nouvelle-Calédonie, synthèse octobre 2017

Faith DP (1992) Conservaton evaluation and phylogenetic diversity. Biol Conserv 61:1–10. https://doi.org/10.1016/0006-3207(92)91201-3

Forest F et al (2007) Preserving the evolutionary potential of floras in biodiversity hotspots. Nature 445:757. https://doi.org/10.1038/nature05587

Ibanez T, Munzinger J, Dagostini G, Hequet V, Rigault F, Jaffré T, Birnbaum P (2014) Structural and floristic diversity of mixed tropical rain forest in New Caledonia: new data from the New Caledonian Plant Inventory and Permanent Plot Network (NC-PIPPN). Appl Veg Sci 17:386–397. https://doi.org/10.1111/avsc.12070

Ibanez T, Hequet V, Chambrey C, Jaffré T, Birnbaum P (2017) How does forest fragmentation affect tree communities? A critical case study in the biodiversity hotspot of New Caledonia. Landsc Ecol 32:1671–1687. https://doi.org/10.1007/s10980-017-0534-7

Isnard S, L'huillier L, Rigault F, Jaffré T (2016) How did the ultramafic soils shape the flora of the New Caledonian hotspot? Plant Soil 403:53–76. https://doi.org/10.1007/s11104-016-2910-5

Jaffré T (2005) Conservation programmes in New Caledonia, western Pacific: in place for the dry forest, but urgently needed for the ultramafic vegetation. BGjournal 2:13

Jaffre T, Munzinger J, Lowry PP (2010) Threats to the conifer species found on New Caledonia's ultramafic massifs and proposals for urgently needed measures to improve their protection. Biodivers Conserv 19:1485–1502. https://doi.org/10.1007/s10531-010-9780-6

Jaffré T, Bouchet P, Veillon JM (1998) Threatened plants of New Caledonia: is the system of protected areas adequate? Biodivers Conserv 7:109–135

Keppel G et al (2012) Refugia: identifying and understanding safe havens for biodiversity under climate change. Global Ecol Biogeogr 21:393–404. https://doi.org/10.1111/j.1466-8238.2011.00686.x

Kettle CJ, Hollingsworth PM, Jaffre T, Moran B, Ennos RA (2007) Identifying the early genetic consequences of habitat degradation in a highly threatened tropical conifer, Araucaria nemorosa Laubenfels. Mol Ecol 16:3581–3591. https://doi.org/10.1111/j.1365-294X.2007.03419.x

Lawler JJ et al (2015) The theory behind, and the challenges of, conserving nature's stage in a time of rapid change. Conserv Biol 29:618–629. https://doi.org/10.1111/cobi.12505

L'Huillier L, Jaffré T (2010) L'exploitation des minerais de nickel en Nouvelle-Calédonie. In: L'Huillier L, Jaffré T, Wulff A (eds) Mines et environement en Nouvelle-Calédonie: les milieux sur substrats ultramafiques et leur restauration. IAC, Nouméa, pp 21–31

Mackey B, Berry S, Hugh S, Ferrier S, Harwood TD, Williams KJ (2012) Ecosystem greenspots: identifying potential drought, fire, and climate-change micro-refuges. Ecol Appl 22:1852–1864. https://doi.org/10.1890/11-1479.1

Margules CR, Pressey RL (2000) Systematic conservation planning. Nature 405:243. https://doi.org/10.1038/35012251

Mittermeier RA et al (2005) Hotspots revisited. Chicago University Press, Chicago

Morat P et al (2012) The taxonomic reference base "Florical" and characteristics of the native vascular flora of New Caledonia. Adansonia 34:179–221

Moritz C (2002) Strategies to protect biological diversity and the evolutionary processes that sustain it. Syst Biol 51:238–254

Myers N (1988) Threatened biotas: "hot spots" in tropical forests. Environmentalist 8:187–208

Nakajima K, Nansai K, Matsubae K, Tomita M, Takayanagi W, Nagasaka T (2017) Global land-use change hidden behind nickel consumption. Sci Total Environ 586:730–737. https://doi.org/10.1016/j.scitotenv.2017.02.049

Pillon Y, Hopkins HCF, Munzinger J, Amir H, Chase MW (2009a) Cryptic species, gene recombination and hybridization in the genus Spiraeanthemum (Cunoniaceae) from New Caledonia. Bot J Linn Soc 161:137–152. https://doi.org/10.1111/j.1095-8339.2009.00997.x

Pillon Y, Munzinger J, Amir H, Hopkins HCF, Chase MW (2009b) Reticulate evolution on a mosaic of soils: diversification of the New Caledonian endemic genus Codia (Cunoniaceae). Mol Ecol 18:2263–2275. https://doi.org/10.1111/j.1365-294x.2009.04178.x

Pillon Y, Barrabé L, Buerki S (2017) How many genera of vascular plants are endemic to New Caledonia? A critical review based on phylogenetic evidence. Bot J Linn Soc 183:177–198

Pintaud JC, Jaffre T, Puig H (2001) Chorology of New Caledonian palms and possible evidence of Pleistocene rain forest refugia. Comptes Rendus De L Acad Des Sci Ser III 324:453–463

Poncet V et al (2013) Phylogeography and niche modelling of the relict plant Amborella trichopoda (Amborellaceae) reveal multiple Pleistocene refugia in New Caledonia. Mol Ecol 22:6163–6178. https://doi.org/10.1111/mec.12554

Pouteau R, Birnbaum P (2016) Island biodiversity hotspots are getting hotter: vulnerability of tree species to climate change in New Caledonia. Biol Conserv 201:111–119. https://doi.org/10.1016/j.biocon.2016.06.031

Pouteau R, Trueba S, Feild TS, Isnard S (2015) New Caledonia: a Pleistocene refugium for rain forest lineages of relict angiosperms. J Biogeogr 42:2062–2077. https://doi.org/10.1111/jbi.12581

Pressey RL, Cabeza M, Watts ME, Cowling RM, Wilson KA (2007) Conservation planning in a changing world. Trends Ecol Evol 22:583–592. https://doi.org/10.1016/j.tree.2007.10.001

SCBD (2010) COP 10 decision X/2: strategic plan for biodiversity 2011–2020. Secretariat of the Convention on Biological Diversity, Nagoya

Sloan S, Jenkins CN, Joppa LN, Gaveau DLA, Laurance WF (2014) Remaining natural vegetation in the global biodiversity hotspots. Biol Conserv 177:12–24. https://doi.org/10.1016/j.biocon.2014.05.027

van der Ent A, Jaffre T, L'Huillier L, Gibson N, Reeves RD (2015) The flora of ultramafic soils in the Australia-Pacific Region: state of knowledge and research priorities. Aust J Bot 63:173–190. https://doi.org/10.1071/bt15038

Wardell-Johnson GW, Keppel G, Sander J (2011) Climate change impacts on the terrestrial biodiversity and carbon stocks of Oceania Pac. Conserv Biol 17:220–240

Wulff AS, Hollingsworth PM, Ahrends A, Jaffré T, Veillon J-M, L'Huillier L, Fogliani B (2013) conservation priorities in a biodiversity hotspot: analysis of narrow endemic plant species in New Caledonia. PLoS ONE 8:e73371. https://doi.org/10.1371/journal.pone.0073371
Acknowledgements
We thank Laure Barrabé, Thomas Gillespie, Gunnar Keppel and two anonymous reviewers for helpful comments on the manuscript. We are also grateful to the New Caledonian Red List Authority for providing information on threatened species.
Additional information
This article belongs to the Topical Collection: Biodiversity protection and reserves.
Communicated by Daniel Sanchez Mata.
Electronic supplementary material
Below is the link to the electronic supplementary material.
About this article
Cite this article
Ibanez, T., Birnbaum, P., Gâteblé, G. et al. Twenty years after Jaffré et al. (1998), is the system of protected areas now adequate in New Caledonia?. Biodivers Conserv 28, 245–254 (2019). https://doi.org/10.1007/s10531-018-1659-y
Received:

Revised:

Accepted:

Published:

Issue Date:
Keywords
Biodiversity hotspot

Climate change

Conservation

Fires

Mining

Protected areas