Abstract
Earlier studies emphasized that landscape-level factors were essential in shaping arthropod assemblages of semi-natural grasslands. Recently, several studies demonstrated that local factors were more important than landscape-level factors. We examined the importance of several local and landscape-level factors on spider assemblages using pitfall traps from eight sandy grassland fragments between 2001 and 2003. We tested three hypotheses: (i) species richness decreases with grazing intensity; (ii) species richness increasing with fragment size; (iii) the higher isolation of fragments results in decreasing species richness. We found that species richness of spiders did not depend on the grazing intensity, but there were changes in species composition and abundance of species among the variously grazed fragments. Out of the other two studied local factors (fragment size, and the shape of fragment), only the fragment size was a significant predictor of the diversity of specialist spiders, since the number of these species increased significantly with fragment size. Out of the four investigated landscape-level factors (isolation, total area of croplands in the landscape, total area of forests in the landscape, and landscape diversity), only the isolation was a significant predictor influencing spider diversity. The total number of species, the number of generalist species and the number of hunting species increased significantly with the isolation of fragments. Our results suggest that both local and landscape-level factors are important drivers in maintaining spider diversity in sandy grasslands; therefore, these factors should be considered simultaneously during the restoration and/or management of grasslands.
Access options
Buy single article
Instant access to the full article PDF.
USD 39.95
Price excludes VAT (USA)
Tax calculation will be finalised during checkout.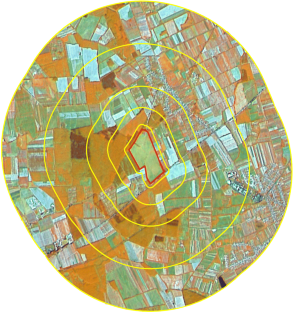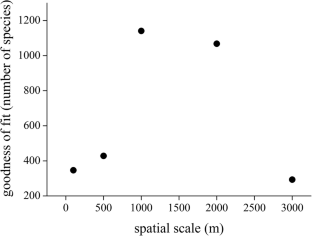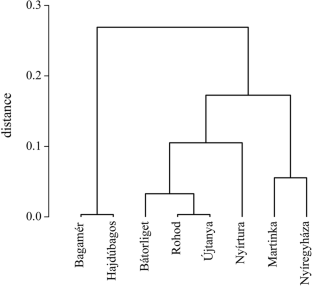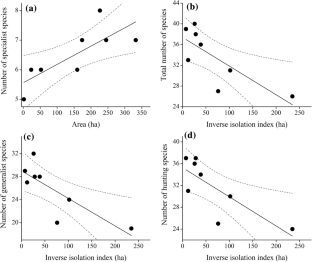 References
Albert ÁJ, Kelemen A, Valkó O, Miglécz T, Csecserits A, Rédei T, Deák B, Tóthmérész B, Török P (2014) Secondary succession in sandy old fields: a promising example of spontaneous grassland recovery. Appl Veg Sci 17:214–224

Baldissera R, Rodrigues ENL, Hartz SM (2013) Assessment of the probability of colonization of local spider communities in an experimental landscape. J Arachnol 41:160–167

Barbaro L, Pontcharraud L, Vetillard F, Guyon D, Jactel H (2005) Comparative responses of bird, carabid, and spider assemblages to stand and landscape diversity in maritime pine plantation forests. Ecoscience 12:110–121

Batáry P, Báldi A, Samu F, Szűts T, Erdős S (2008) Are spiders reacting to local or landscape scale effects in Hungarian pastures? Biol Conserv 141:2062–2070

Batáry P, Holzschuh A, Orci KM, Samu F, Tscharntke T (2012) Responses of plant, insect and spider biodiversity to local and landscape scale management intensity in cereal crops and grasslands. Agric Ecosyst Environ 146:130–136

Bell J, Wheater C, Cullen W (2001) The implications of grassland and heathland management for the conservation of spider communities: a review. J Zool 255:377–387

Benton TG, Vickery JA, Wilson JD (2003) Farmland biodiversity: is habitat heterogeneity the key? Trends Ecol Evol 18:182–187

Blandenier G (2009) Ballooning of spiders (Araneae) in Switzerland: general results from an eleven-year survey. J Arachnol 14:308–316

Bolker BM, Brooks ME, Clark CJ, Geange SW, Poulsen JR, Stevens MH, White JS (2009) Generalized linear mixed models: a practical guide for ecology and evolution. Trends Ecol Evol 24:127–135

Bonte D, Baert L, Maelfait JP (2002) Spider assemblage structure and stability in a heterogeneous coastal dune system (Belgium). J Arachnol 30:331–343

Buchar J, Ruzicka V (2002) Catalogue of spiders of the Czech Republic. Peres Publishers, Praha

Buchholz S (2010) Ground spider assemblages as indicators for habitat structure in inland sand ecosystems. Biodivers Conserv 19:2565–2595

Caprio E, Nervo B, Isaia M, Allegro G, Rolando A (2015) Organic versus conventional systems in viticulture: comparative effects on spiders and carabids in vineyards and adjacent forests. Agric Ecosyst Environ 136:61–69

Cardoso P, Arnedo MA, Triantis KA, Borges PAV (2010) Drivers of diversity in Macaronesian spiders and the role of species extinctions. J Biogeogr 37:1034–1046

Cardoso P, Pekár S, Jocqué R, Coddington JA (2011) Global patterns of guild composition and functional diversity of spiders. PLoS ONE 6:e21710

Carvalho JC, Cardoso P (2014) Drivers of beta diversity in Macaronesian spiders in relation to dispersal ability. J Biogeogr 41:1859–1870

Cattin MF, Blandenier G, Banašek-Richter C, Bersier LF (2003) The impact of mowing as a management strategy for wet meadows on spider (Araneae) communities. Biol Conserv 113:179–188

Concepción ED, Díaz M, Kleijn D, Báldi A, Batáry P, Clough Y, Gabriel D, Herzog F, Holzschuh A, Knop E, Marshall EJP, Tscharntke T, Verhulst J (2012) Interactive effects of landscape context constrain the effectiveness of local agri-environmental management. J Appl Ecol 49:695–705

Cook WM, Lane KT, Foster BL, Holt RD (2002) Island theory, matrix effects and species richness patterns in habitat fragments. Ecol Lett 5:619–623

Cronin JT, Haynes KJ, Dillemuth F (2004) Spider effects on planthopper mortality, dispersal, and spatial population dynamics. Ecology 85:2134–2143

Dengler J, Janisová M, Török P, Wellstein C (2014) Biodiversity of Palaearctic grasslands: a synthesis. Agric Ecosyst Environ 182:1–14

Dennis P, Young MR, Bentley C (2001) The effects of varied grazing management on epigeal spiders, harvestmen and pseudoscorpions of Nardus stricta grassland in upland Scotland. Agric Ecosyst Environ 86:39–57

Duelli P, Obrist MK (2003) Regional biodiversity in an agricultural landscape: the contribution of seminatural habitat islands. Basic Appl Ecol 4:129–138

Dufrêne M, Legendre P (1997) Species assemblages and indicator species: the need for a flexible asymmetrical approach. Ecol Monogr 67:345–366

Eldridge DJ, Whitford WG (2009) Soil disturbance by native animals along grazing gradients in an arid grassland. J Arid Environ 73:1144–1148

Ford H, Garbutt A, Jones L, Jones DL (2013) Grazing management in saltmarsh ecosystems drives invertebrate diversity, abundance and functional group structure. Insect Conserv Divers 6:189–200

Gallé R (2008) The effect of a naturally fragmented landscape on the spider assemblages. North-West J Zool 4:61–71

Habel JC, Dengler J, Janisová M, Török P, Wellstein C, Wiezik M (2013) European grassland ecosystems: threatened hotspots of biodiversity. Biodivers Conserv 22:2131–2138

Harris R, York A, Beattie AJ (2003) Impacts of grazing and burning on spider assemblages in dry eucalypt forests of north-eastern New South Wales, Australia. Austral Ecol 28:526–538

Hooftman DAP, Bullock JM (2012) Mapping to inform conservation: a case study of changes in semi-natural habitats and their connectivity over 70 years. Biol Conserv 145:30–38

Horváth R, Magura T, Szinetár C, Tóthmérész B (2009) Spiders are not less diverse in small and isolated grasslands, but less diverse in overgrazed grasslands; a field study (East Hungary, Nyírség). Agric Ecosyst Environ 130:16–22

Horváth R, Magura T, Szinetár C, Eichardt J, Tóthmérész B (2013) Large and least isolated fragments preserve habitat specialist spiders best in dry sandy grasslands in Hungary. Biodivers Conserv 22:2139–2150

Horváth R, Magura T, Szinetár C, Eichardt J, Kovács É, Tóthmérész B (2015) In stable, unmanaged grasslands local factors are more important than landscape-level factors in shaping spider assemblages. Agric Ecosyst Environ 208:106–113

Jonsson M, Yeates GW, Wardle A (2009) Patterns of invertebrate density and taxonomic richness across gradients of area, isolation, and vegetation diversity in a lake-island system. Ecography 32:963–972

Kovac KJ, Mackay DA (2009) An experimental study of the impacts of cattle on spider communities of artesian springs in South Australia. J Insect Conserv 13:57–65

Krauss J, Bommarco R, Guardiola M, Heikkinen RK, Helm A, Kuussaari M, Lindborg R, Ockinger E, Pärtel M, Pino J, Pöyry J, Raatikainen KM, Sang A, Stefanescu C, Teder T, Zobel M, Steffan-Dewenter I (2010) Habitat fragmentation causes immediate and time-delayed biodiversity loss at different trophic levels. Ecol Lett 13:597–605

Lafage D, Pétillon J (2014) Impact of cutting date on carabids and spiders in a wet meadow. Agric Ecosyst Environ 185:1–8

Laurence WF, Yensen E (1991) Predicting the impacts of edge effects in fragmented habitats. Biol Conserv 55:45–67

Legendre P, Legendre L (2012) Numerical ecology. Elsevier Science, Amsterdam

Levin G (2013) Applying parcel-specific land-use data for improved monitoring of semi-natural grassland in Denmark. Environ Monit Assess 185:2615–2625

Lövei GL, Magura T, Tóthmérész B, Ködöböcz V (2006) The influence of matrix and edges on species richness patterns of ground beetles (Coleoptera, Carabidae) in habitat islands. Global Ecol Biogeogr 15:283–289

Lyons A, Ashton PA, Powell I, Oxbrough A (2018) Epigeal spider assemblage responses to vegetation structure under contrasting grazing management in upland calcareous grasslands. Insect Conserv Divers. https://doi.org/10.1111/icad.12287

Magura T, Ködöböcz V (2007) Carabid assemblages in fragmented sandy grasslands. Agr Ecosyst Environ 119:396–400

Magura T, Ködöböcz V, Tóthmérész B (2001) Effects of habitat fragmentation on carabids in forest patches. J Biogeogr 28:129–138

Marc P, Canard A, Ysnel F (1999) Spiders (Araneae) useful for pest limitation and bioindication. Agric Ecosyst Environ 74:229–273

Miyashita T, Shinkai A, Chida T (1998) The effects of forest fragmentation on web spider communities in urban areas. Biol Conserv 86:357–364

Mohd-Azlan J, Lawes MJ (2011) The effect of the surrounding landscape matrix on mangrove bird community assembly in north Australia. Biol Conserv 144:2134–2141

Nentwig W, Blick T, Gloor D, Hänggi A, Kropf C (2018) Spiders of Europe. http://www.araneae.unibe.ch. Accessed 01 June 2018

Ödman AM, Olsson PA (2014) Conservation of sandy calcareous grassland: what can be learned from the land use history? PLoS ONE 9:e90998

Pétillon J, Georges A, Canard A, Ysnel F (2007) Impact of cutting and sheep grazing on ground-active spiders and carabids in intertidal salt marshes (Western France). Anim Biodivers Conserv 30:201–2009

Picchi MS, Bocci G, Petacchi R, Entling MH (2016) Effects of local and landscape factors on spiders and olive fruit flies. Agric Ecosyst Environ 222:138–147

Poschlod P, WallisDeVries MF (2002) The historical and socioeconomic perspective of calcareous grasslands—lessons from the distant and recent past. Biol Conserv 104:361–376

Sala O (2001) Temperate grasslands. In: Chapin F, Sala O, Huber-Sannvald E (eds) Global biodiversity in a changing environment: scenarios for the 21st Century, 1st edn. Springer, New York, pp 121–137

Sanchez BC, Parmenter RR (2002) Patterns of shrub-dwelling arthropod diversity across a desert shrublandgrassland ecotone: a test of island biogeographic theory. J Arid Environ 50:247–265

Scott AG, Oxford GS, Selden PA (2006) Epigeic spiders as ecological indicators of conservation value for peat bogs. Biol Conserv 127:420–428

Szinetár C, Samu F (2012) Intensive grazing opens spider assemblage to invasion by disturbance-tolerant species. J Arachnol 40:59–70

Szinetár C, Eichardt J, Horváth R (2005) Data on the biology of Alopecosa psammophila Buchar 2001 (Araneae, Lycosidae). J. Arachnol 33:384–389

Toft CA, Schoener TW (1983) Abundance and diversity of orb spiders on 106 Bahamian islands: biogeography at an intermediate trophic level. Oikos 41:411–426

Torma A, Gallé R, Bozsó M (2014) Effects of habitat and landscape characteristics on the arthropod assemblages (Araneae, Orthoptera, Heteroptera) of sand grassland remnants in Southern Hungary. Agric Ecosyst Environ 196:42–50

Török P, Matus G, Papp M, Tóthmérész B (2008) Secondary succession of overgrazed Pannonian sandy grasslands. Preslia 80:73–85

Tscharntke T, Steffan-Dewenter I, Kruess A, Thies C (2002) Contribution of small habitat fragments to conservation of insect communities of grassland-cropland landscapes. Ecol Appl 12:354–363

Tscharntke T, Klein AM, Kruess A, Steffan-Dewenter I, Thies C (2005) Landscape perspectives on agricultural intensification and biodiversity—ecosystem service management. Ecol Lett 8:857–874

Tscharntke T, Tylianakis JM, Rand TA, Didham RK, Fahrig L, Batáry P, Bengtsson J, Clough Y, Crist TO, Dormann CF, Ewers RM, Fründ J, Holt RD, Holzschuh A, Klein AM, Kleijn D, Kremen C, Landis DA, Laurance W, Lindenmayer D, Scherber C, Sodhi N, Steffan-Dewenter I, Thies C, van der Putten WH, Westphal C (2012) Landscape moderation of biodiversity patterns and processes—eight hypotheses. Biol Rev 87:661–685

Usher MB, Field JP, Bedford SE (1993) Biogeography and diversity of ground-dwelling arthropods in farm woodlands. Biodivers Lett 1:54–62

Valkó O, Deák B, Magura T, Török P, Kelemen A, Tóth K, Horváth R, Nagy DD, Debnár Z, Zsigrai G, Kapocsi I, Tóthmérész B (2016) Supporting biodiversity by prescribed burning in grasslands—a multi-taxa approach. Sci Total Environ 572:1377–1384

Vos CC, Stumpel HP (1995) Comparison of habitat isolation parameters in relation to fragmented distribution patterns in the tree frog (Hylea arborea). Landsc Ecol 11:203–214

WallisDeVries MF, Poschlod P, Willems JH (2002) Challenges for the conservation of calcareous grasslands in north western Europe: integrating the requirements of flora and fauna. Biol Conserv 104:265–273

Watson JEM, Whittaker RJ, Freudenberger D (2005) Bird community responses to habitat fragmentation: how consistent are they across landscapes? J Biogeogr 32:1353–1370

Webb NR, Hopkins PJ (1984) Invertebrate diversity on fragmented Calluna heathland. J Appl Ecol 21:921–933

World Spider Catalog (2018) World Spider Catalog. Natural History Museum Bern. http://wsc.nmbe.ch. Accessed 01 June 2018

Zabel J, Tscharntke T (1998) Does fragmentation of Urtica habitats affect phytophagous and predatory insects differentially? Oecologia 116:419–425

Zulka KP, Abensperg-Traun M, Milasowszky N, Bieringer G, Gereben-Krenn BA, Holzinger W, Hölzler G, Rabitsch W, Reischütz A, Querner P, Sauberer N, Schmitzberger I, Willner W, Wrbka T, Zechmeister H (2014) Species richness in dry grassland patches of eastern Austria: a multi-taxon study on the role of local, landscape and habitat quality variables. Agric Ecosyst Environ 182:25–36
Acknowledgements
The field study was the part of the National Biodiversity Monitoring System in Hungary funded by the Ministry of Rural Development. We thank the Hortobágy National Park Directorate for the access of the study sites. The authors were supported by OTKA K 116639, and NKFI KH 126477 projects. Trapping and identification is the work of JE and CsSz. The concept of the paper, statistical evaluation and paper writing are the work of RH, TM, BT. Authorship is by the "sequence by credit" (SDC) principle.
Additional information
Communicated by David Hawksworth.
Electronic supplementary material
Below is the link to the electronic supplementary material.
About this article
Cite this article
Horváth, R., Magura, T., Tóthmérész, B. et al. Both local and landscape-level factors are important drivers in shaping ground-dwelling spider assemblages of sandy grasslands. Biodivers Conserv 28, 297–313 (2019). https://doi.org/10.1007/s10531-018-1654-3
Received:

Revised:

Accepted:

Published:

Issue Date:

DOI: https://doi.org/10.1007/s10531-018-1654-3
Keywords
Habitat fragmentation

Generalist species

Grazing

Habitat specialist species

Hunting strategy

Isolation