Abstract
We present an analysis of the invertebrates of St Helena using an invertebrate conservation evaluation framework, to review invertebrate data, highlight knowledge gaps and prioritise invertebrate conservation needs that perhaps could be applied to other regions of the world. St Helena's invertebrate fauna has 891 genera and 1133 species. The fauna has a high level of endemism with 450 species (equal to 96% of all native species) but the total species richness now comprises many introduced species (664) with 93 species in 24 orders that are entirely novel to St Helena. The elevation ranges of native species appear to be narrow, most being confined to higher elevations above 500 m. St Helena has had a large number of probable extinction events; 30 insects, and 19 molluscs, and the threat of further extinctions remains high. The cumulative invertebrate extinctions on St Helena exceed the global background extinction rate on an island barely covering 122 km2. We present actions and timelines to focus invertebrate conservation on St Helena; taxonomy, ecology, long term monitoring and invasive species control are priority areas to reduce extinction risk.
Access options
Buy single article
Instant access to the full article PDF.
USD 39.95
Price excludes VAT (USA)
Tax calculation will be finalised during checkout.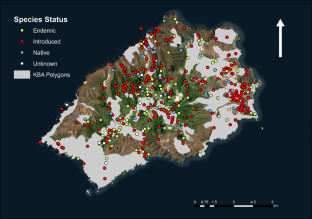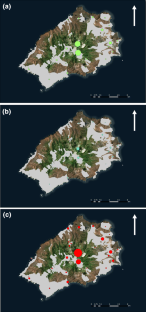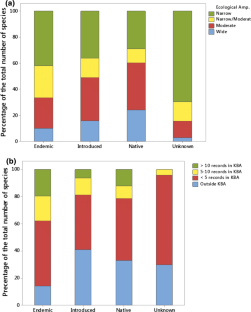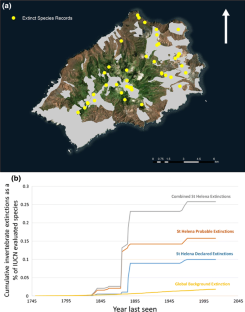 References
Ashmole NP, Ashmole M (2000) St Helena and Ascension Island: a natural history. Anthony Nelson, Oswestry

Ashmole P, Ashmole M (2004) The invertebrates of prosperous Bay Plain, St Helena. Commissioned by the St Helena Government and financed by the Foreign and Commonwealth Office

Baker I, Thorpe E (2010) The saint helena volcanoes: a guide to the geology for visitors and walkers. Southern Cross, Cape Town

Basilewsky P, Leleup N, Baker I, Decelle J, Benoit PLG, Lawrence PN, Conde B, Bareth C, Wygodzinsky P, Princis K, Harris WV, Ragge DR, Chopard L, Dirsh VM, Brindle A, Therond J, Johnson C, Fagel G, Mrockowski M, Espanol F, Bruce N, Dajoz R, Ardoin P, Ermisch K, Bonadona P, Tjeder B, Alexander CP, Hutson AM, Crosskey RW, Lane RP, Duckhouse DA, Vanschuytbroek P, Smith KGV, van Doesburg PHS, van Doesburg PHJ, Cogan BH, Tsacas L, Sabrosky CW, Vokeroth JR, Dessart J, Taylor RW, Leclercq J, Baddonnel A, zur Strassen R, Synave H, Fennah RG, Dlabola J, Matile-Ferrero D, Schmitz G, CObben RH, Stusak JM, Villiers A, Carayon J, Beier M, Cooke JAL, Clark DJ, Tongiorgi P, Unzicker JD, Forster RR, Hubert M, Holm A, van Helsdingen PJ, Wallwork JA, Mahunka S, Gaud J, Feider Z, Chioreanu H, Naudo MH, Atyeo WT, van Driel CD, Loots GC, Marais JF, Nyguyen Duy-Jacquemin M, AMatic Z, Darabantu C, Hoffman RL, Juberthie-Jupeau L, Vandel A, Coineau N, McKenzie KG, Einsle U, Monod T, Gates GE, Ball IR, Puylaert F, Solem A, Crowley TE, Pain T (1970–1977) La faune terrestre de l'île de Sainte-Hélène, parties 1, 2, 3, 4. In: Basilewsky P (ed) Annales Musée Royal de l'Afrique Centrale, Série in-80-Sciences zoologiques

Cairns-Wicks R, Jervois M, Kindemba V (2016) St Helena Invertebrate Conservation Strategy 2016 to 2021, St. Helena National Trust, Environmental Management Division of St. Helena Government, and Buglife St Helena Island, South Atlantic Ocean

Cardoso P, Erwin TL, Borges PAV, New TR (2011) The seven impediments in invertebrate conservation and how to overcome them. Biol Conserv 144:2647–2655

Chevan A, Sutherland M (1991) Hierarchical partitioning. Am Stat 45:90–96

Churchyard T, Eaton MA, Havery S, Hall J, Millett J, Farr A, Cuthbert RJ, Stringer C, Vickery JA (2016) The biodiversity of the United Kingdom's Overseas Territories: a stock take of species occurrence and assessment of key knowledge gaps. Biodivers Conserv 25:1677–1694

Collen B, Böhm M, Kemp R, Baillie JEM (2012) Spineless: status and trends of the world's invertebrates. Zoological Society of London, United Kingdom

Daly K (2009) Eradication of feral goats from small islands. Oryx 23:71–75

Dunn RR (2005) Modern insect extinctions, the neglected majority. Conserv Biol 19:1030–1036

Dunn RR, Harris NC, Colwell RK, Koh LP, Sodhi NS (2009) The sixth mass coextinction: are most endangered species parasites and mutualists? Proc R Soc B 276:3037–3045

Eken G, Bennun L, Brooks TM, Darwall W, Fishpool LD, Foster M, Knox D, Langhammer P, Matiku P, Radford E (2004) Key biodiversity areas as site conservation targets. Bioscience 54:1110–1118

Feistel R, Hagen E, Grant K (2003) Climatic changes in the subtropical Southeast Atlantic: the St. Helena Island Climate Index (1893–1999). Prog Oceanogr 59:321–337

Fernández-Palacios JM (2010) The islands of Macaronesia. In: Serrano ARM, Borges PA, Bioieiro M, Oromi P (eds) Teerrestrial arthropods of Macaronesia—biodiversity, ecology and evolution. FCT, Portugal, pp 1–30

Fowler SV (2004) Biological control of an exotic scale, Orthezia insignis Browne (Homoptera : Ortheziidae), saves the endemic gumwood tree, Commidendrum robustum (Roxb.) DC. (Asteraceae) on the island of St Helena. Biol Control 29:367–374

González-Oreja JA (2008) The encyclopedia of life vs. the brochure of life: exploring the relationships between the extinction of species and the inventory of life on Earth. Zootaxa 1965:61–68

Hassall C, Thompson DJ (2010) Accounting for recorder effort in the detection of range shifts from historical data. Methods Ecol Evol 1:343–350

Havery S, Kindemba V, Cairns-Wicks R, Lambdon P, Malan L, Harris J, Pearce-Kelly P, Key R, Hochkirch A, Stanley-Price M, Price D, Jervois M, Henry D, Darlow A, Bushell M, Gray A, Woodfine T, Hall J (2016) Spiky yellow woodlouse Pseudolaureola atlantica, a strategy for its Conservation 2016–2021. IUCN SSC & SHNT, St Helena

Hill MO (2012) Local frequency as a key to interpreting species occurrence data when recording effort is not known. Methods Ecol Evol 3:195–205

Hochkirch A (2016) The insect crisis we can't ignore. Nature 539:141

Howald G, Donlan CJ, Faulkner KR, Ortega S, Gellerman H, Croll DA, Tershy BR (2010) Eradication of black rats Rattus rattus from Anacapa Island. Oryx 44:30–40

IUCN (2001) IUCN red list categories and criteria version 3.1. IUCN Species Survival Commission. IUCN, Gland, Switzerland and Cambridge, UK

IUCN (2016) A global standard for the identification of key biodiversity areas version 1.0, 1st edn. IUCN, Gland, Switzerland

Key RS (2014) Non-indigenous Animal Taxa on St Helena: likely effects on endemic and indigenous invertebrates and their habitats and possible control measures. Report for Laying the Foundations for Invertebrate Conservation on St Helena. Darwin Initiative Project 19-029

Lambdon P (2013) Flowering plants and ferns of St Helena. Pisces Publications, Newbury

Lukenbach MC, Devito KJ, Kettridge N, Petrone RM, Waddington JM (2016) Burn severity alters peatland moss water availability: implications for post-fire recovery. Ecohydrology 9:341–353

MacArthur RH, Wilson EO (1967) The theory of island biogeography. Princeton University Press, Princeton

MacNally R (1996) Hierarchical partitioning as an interpretative tool in multivariate inference. Aust J Ecol 21:224–228

MacNally R (2000) Regression and model-building in conservation biology, biogeography and ecology: the distinction between—and reconciliation of—'predictive' and 'explanatory' models. Biodivers Conserv 9:655–671

MacNally R, Walsh CJ (2004) Hierarchical partitioning public-domain software. Biodivers Conserv 13:659–660

Matenaar D, Bazelet CS, Hochkirch A (2015) Simple tools for the evaluation of protected areas for the conservation of grasshoppers. Biol Conserv 192:192–199

Mathieson IK (1990) The agricultural climate of St Helena (with reference to Ascension). Overseas Development Administration and the Department of Agriculture and Forestry, St Helena

Mendel H, Ashmole NP, Ashmole M (2008) Invertebrates of the Central Peaks and Peak Dale, St Helena. Saint Helena National Trust (funded by OTEP), Jamestown, St Helena

Mora C, Tittensor DP, Adl S, Simpson AGB, Worm B (2011) How many species are there on earth and in the ocean? PLoS Biol 9:e1001127

New TR (2012) Insect conservation: past, present and prospects. Springer, New York

Nishida GM (2002) Hawaiian arthropod checklist. Bishop Museum, Honolulu

Nogales M, MartÍN A, Tershy BR, Donlan CJ, Veitch D, Puerta N, Wood B, Alonso J (2004) A review of feral cat eradication on islands. Conserv Biol 18:310–319

Pimm SL, Jenkins CN, Abell R, Brooks TM, Gittleman JL, Joppa LN, Raven PH, Roberts CM, Sexton JO (2014) The biodiversity of species and their rates of extinction, distribution, and protection. Science 344:1246752

R Core Team (2016) R: a Language and environment for statistical computing. R Foundation for Statistical Computing, Vienna

Robinson GS (2009) Biology, distribution and diversity of tineid moths. Southdene, Sdn Bhd, P.O. Box10139, 50704 Kuala Lumpur, Malaysia

Robinson GS, Tuck K (1997) Phylogeny and composition of the Hieroxestinae (Lepidoptera: Tineidae). Syst Entomol 22:363–396

Saint Helena Government (2012) Saint Helena sustainable economic development plan: saint helena a tourism driven economy: small footprint, Huge Step Forward. Saint Helena Government, Jamestown, Saint Helena

Saint Helena Government (2016a) Environmental protection ordinance. St Helena Government, St Helena

Saint Helena Government (2016b) St Helena 2016 population & housing census. St Helena Statistics Office, St Helena

Samways M, Hitchins P, Bourquin O, Henwood J (2010a) Restoration of a tropical island: cousine Island, Seychelles

Samways M, Hitchins P, Bourquin O, Henwood J (2010b) Tropical Island recovery: cousine Island, Seychelles. Wiley-Blackwell, Chichester

Taylor M (2016) European overseas regional ecosystem profile: South Atlantic. In: Brickle P, Pelembe T (eds) South Atlantic Environmental Research Institute, Report for the project: measures towards sustaining the BEST preparatory action to promote the conservation and sustainable use of biodiversity and ecosystem services in EU Outermost EU Outermost Regions and Overseas Countries and Territories

Walsh C, MacNally R (2003) The hier.part package. Hierarchical Partitioning. R project for statistical computing

Wetterer JK, Espadaler X, Ashmole NP, Mendel H, Cutler C, Endeman J (2007) Ants (Hymenoptera: Formicidae) of the South Atlantic islands of Ascension Island, St Helena, and Tristan da Cunha. Myrmecol News 10:29–37
Acknowledgements
We would like to thank The Darwin Initiative for funding the data collation for this paper under the project Laying the foundations for invertebrate conservation on St Helena. We would also like to thank Alice Farr, Liza White and the people of St Helena.
Additional information
Communicated by David Hawksworth.
Electronic supplementary material
Below is the link to the electronic supplementary material.
About this article
Cite this article
Gray, A., Wilkins, V., Pryce, D. et al. The status of the invertebrate fauna on the South Atlantic island of St Helena: problems, analysis, and recommendations. Biodivers Conserv 28, 275–296 (2019). https://doi.org/10.1007/s10531-018-1653-4
Received:

Revised:

Accepted:

Published:

Issue Date:

DOI: https://doi.org/10.1007/s10531-018-1653-4
Keywords
Extinction

Island biodiversity

Species richness

Endemism

Red List