Abstract
Overharvesting and loss of habitat arising from human activities are the most important threats to plants and animals. Conservation efforts targeting medicinal plant species usually focus on endemic, economic and endangered taxa, typically Plant Species with Extremely Small Populations (PSESP) under high extinction risk. However, comparatively little attention has been focused on traditional medicinal plants with widespread distribution, although some of these species, where the whole plant or the tubers are raw materials for medicines, may be on the edge of local extinction. In this study, we appeal to conservationists to pay close attention to threatened widespread species. To this end, a traditional medicinal plant, Stemona tuberosa, which has a distribution that covers more than ten countries in Asia, is studied in detail. The results suggest that destructive overharvesting of the underground tuberous roots of S. tuberosa is the key threat to this species. In addition, pollination limitation, loss of potential seed dispersers, habitat loss, and a scattered distribution pattern may further reduce the survival chances of S. tuberosa. Through multidisciplinary conservation efforts conducted by researchers and local resident, we witnessed the preliminary recovery of S. tuberosa in locations where it has been reintroduced. We think that threatened widespread species should not be overlooked in the field of conservation. Local participation in natural resource management may help to make resources more relevant locally and hence sustainable in remote regions. We suggest that developing multi-stakeholder coalitions should be encouraged to save threatened medicinal plant species in underdeveloped areas.
This is a preview of subscription content, log in to check access.
Access options
Buy single article
Instant access to the full article PDF.
US$ 39.95
Price includes VAT for USA
Subscribe to journal
Immediate online access to all issues from 2019. Subscription will auto renew annually.
US$ 199
This is the net price. Taxes to be calculated in checkout.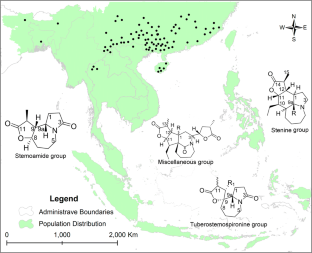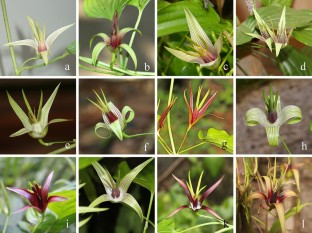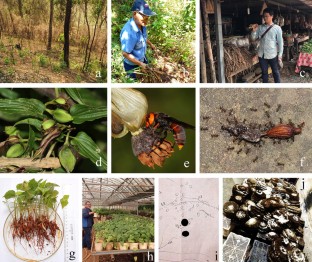 References
Burkhart EP, Jacobson MG, Finley J (2012) A case study of stakeholder perspective and experience with wild American ginseng (Panax quinquefolius) conservation efforts in Pennsylvania, USA: limitations to a CITES driven, top-down regulatory approach. Biodivers Conserv 21:3657–3679

But PPH, Shaw PC, Lin GE, Jiang RW, Xu YT (2012) Authentication and quality assessment of the antitussive herb Baibu (Radix Stemonae). Adv Bot Res 62:1–33

Chen G, Luo SH, Mei NS, Shen DF, Sun WB (2015) Case study of building of conservation coalitions to conserve ecological interactions. Conserv Biol 29:1527–1536

Chen G, Brecker L, Felsinger S, Cai XH, Kongkiatpaiboon S, Schinnerl J (2017a) Morphological and chemical variation of Stemona tuberosa from Southern China: evidences for the heterogeneity of this medicinal plant species. Plant Biol 19:835–842

Chen G, Gong WC, Ge J, Schinnerl J, Wang B, Sun WB (2017b) Variation in floral characters, particularly floral scent, in sapromyophilous Stemona species. J Integr Plant Biol 59:825–839

Chen G, Wang ZW, Qin Y, Sun WB (2017c) Seed dispersal by hornets: an unusual insect–plant mutualism. J Integr Plant Biol 59:792–796

Chen G et al (2018) Hydrocarbons mediate seed dispersal: a new mechanism of vespicochory. New Phytol. https://doi.org/10.1111/nph.15166

Chi et al (2017) Threatened medicinal plants in China: distributions and conservation priorities. Biol Conserv 210:89–95

Cordell GA (1995) Changing strategies in natural products chemistry. Phytochemistry 40:1585–1612

Danielsen F, Burgess ND, Balmford A (2005) Monitoring matters: examining the potential of locally-based approaches. Biodivers Conserv 14:2507–2542

Farnsworth NR, Soejarto DD (1991) Global importance of medicinal plants. In: Akerele O, Heywood V, Synge H (eds) The conservation of medicinal plants. Cambridge University Press, Cambridge, pp 25–51

Ghimire SK, Mckey D, Aumeeruddy-Thomas Y (2005) Conservation of himalayan medicinal plants: harvesting patterns and ecology of two threatened species, Nardostachys grandiflora and Neopicrorhiza scrophulariiflora. Biol Conserv 124:463–475

Godefroid S, Piazza C, Rossi G, Buord S, Stevens J (2010) How successful are plant species reintroductions? Biol Conserv 144:672–682

Greger H (2006) Structural relationships, distribution and biological activities of Stemona alkaloids. Planta Med 72:99–113

Hamilton AC (2004) Medicinal plants, conservation and livelihoods. Biodivers Conserv 13:1477–1517

Harris et al (2012) Conserving imperiled species: a comparison of the IUCN Red List and US. Endangered Species Act. Conserv Lett 5:64–72

Huang HW (2011) Plant diversity and conservation in China: planning a strategic bioresource for a sustainable future. Bot J Linn Soc 166:282–300

Huang LQ, Xiao PG, Wang YY (2012) Chinese rare and endangered medicinal plants resources survey. Shanghai Scientific and Technical Publishers, Shanghai

Huxtable RJ (1992) The pharmacology of extinction. J Ethnopharmacol 37:1–11

Inouye DW, Larson BM, Ssymank A, Kevan PG (2015) Flies and flowers III: ecology of foraging and pollination. J Pollinat Ecol 16:115–133

Jiang RW et al (2006) Alkaloids and chemical diversity of Stemona tuberosa. J Nat Prod 69:749–754

Kumar A, Kaul MK, Bhan MK, Khanna PK, Suri KA (2007) Morphological and chemical variation in 25 collections of the Indian medicinal plant, Withania somnifera (L.) Dunal. Genet Resour Crop Evol 54:655–660

Kunwar RM, Acharya RP, Chowdhary CL, Bussmann RW (2015) Medicinal plant dynamics in indigenous medicines in farwest Nepal. J Ethnopharmacol 163:210–219

Larsen HO, Olsen CS (2007) Unsustainable collection and unfair trade? Uncovering and assessing assumptions regarding Central Himalayan medicinal plant conservation. Biodivers Conserv 16:1679–1697

Law W, Salick J (2005) Human-induced dwarfing of Himalayan snow lotus, Saussurea laniceps (Asteraceae). Proc Natl Acad Sci USA 102:10218–10220

Leimu R, Mutikainen P, Koricheva J, Fischer M (2006) How general are positive relationships between plant population size, fitness and genetic variation? J Ecol 94:942–952

Li DZ, Pritchard HW (2009) The science and economics of ex situ plant conservation. Trends Plant Sci 14:614–621

Lim D, Lee E, Jeong E, Jang YP, Kim J (2015) Stemona tuberosa prevented inflammation by suppressing the recruitment and the activation of macrophages in vivo and in vitro. J Ethnopharmacol 160:41–51

López-Pujol J, Zhang FM, Ge S (2006) Plant biodiversity in China: richly varied, endangered, and in need of conservation. Biodivers Conserv 15:3983–4026

Ma YP, Chen G, Grumbine E, Dao ZL, Sun WB, Guo HJ (2013) Conserving plant species with extremely small populations (PSESP) in China. Biodivers Conserv 22:803–809

McConkey KR, O'Farrill G (2016) Loss of seed dispersal before the loss of seed dispersers. Biol Conserv 201:38–49

Ministry of Environmental Protection of the People's Republic of China, Chinese Academy of Sciences (2013) Chinese Biological Diversity Red List Categories: Higher Plants. http://www.zhb.gov.cn/gkml/hbb/bgg/201309/t20130912_260061.htm

National Pharmacopoeia Committee (2015) The People's Republic of China pharmacopoeia. Chinese Medicine Science and Technology Press, Beijing, pp 123–124

Nault A, Gagnon D (1993) Ramet demography of Allium tricoccum, a spring ephemeral, perennial herb. J Ecol 81:101–119

Pei S (2001) Ethnobotanical approaches of traditional medicine studies: some experiences from Asia. Pharm Bot 39:74–79

Peng H, Xu Z (1997) The threatened wild plants used for medicine as Chinese medicinal herbs. In: Schei PJ, Wang S (eds) Conserving China's biodiversity. China Environmental Science Press, Beijing, pp 175–189

Pilli RA, Rosso GB, de Oliveira MDCF (2010) The chemistry of Stemona alkaloids: an update. Nat Prod Rep 27:1908–1937

Pimm SL et al (2014) The biodiversity of species and their rates of extinction, distribution, and protection. Science 344:1246752

Salafsky N, Margoluis R, Redford K, Robinson J (2002) Improving the practice of conservation: a conceptual framework and agenda for conservation science. Conserv Biol 16:1469–1479

Shanley P, Luz L (2003) The impacts of forest degradation on medicinal plant use and implications for health care in eastern Amazonia. Bioscience 53:573–584

Spielman D, Brook BW, Frankham R (2004) Most species are not driven to extinction before genetic factors impact them. Proc Natl Acad Sci USA 101:15261–15264

Steinmetz R, Srirattanaporn S, Mor-Tip J, Seuaturien N (2014) Can community outreach alleviate poaching pressure and recover wildlife in South-East Asian protected areas? J Appl Ecol 51:1469–1478

Sun WB (2013) Conserving plant species with extremely small populations (PSESP) in Yunnan: practice and exploration. Science and Technology Publishing House, Yunnan

Sun WB (2016) Words from the guest editor-in-chief. Plant Divers 38:53–62

Techen N, Parveen I, Pan Z, Khan IA (2014) DNA barcoding of medicinal plant material for identification. Curr Opin Biotechnol 25:103–110

Ticktin T, Nantel P (2004) Dynamics of harvested populations of the tropical understory herb Aechmea magdalenae in old growth versus secondary forests. Biol Conserv 120:461–470

Van Wyk BE, Wink M (2017) Medicinal plants of the world, 2nd edn. Briza, Pretoria

Vovides AP, Pérez-Farrera MA, Iglesias C (2010) Cycad propagation by rural nurseries in Mexico as an alternative conservation strategy: 20 years on. Kew Bull 65:603–611

Wang S, Xie Y (2004) China Species Red List. Higher Education Press, Beijing

Wang CJ, Wan JZ, Mu XY, Zhang ZX (2015) Management planning for endangered plant species in priority protected areas. Biodivers Conserv 24:2383–2397

Xu J, Melick DR (2007) Rethinking the effectiveness of public protected areas in southwestern China. Conserv Biol 21:318–328

Zhang et al (2016) Quality assessment of Panax notoginseng from different regions through the analysis of marker chemicals, biological potency and ecological factors. PLoS ONE 11:e0164384

Zhao KJ, Dong TT, Tu PF, Song ZH, Lo CK, Tsim KW (2003) Molecular genetic and chemical assessment of radix Angelica (Danggui) in China. J Agric Food Chem 51:2576–2583
Acknowledgements
We are grateful to Jia Ge and Deli Zai for their valuable comments on an earlier version of the manuscript. We thank Dr. Koushik Majumdar and Animesh Biswas for S. tuberosa collection data from India and Bangladesh, and we thank local resident for their help in conservation initiatives. Support for this study was provided through grants from the NSFC-Yunnan joint fund to support key projects (U1602264), the National Natural Science Foundation of China (31670322; 81360640), the Science and Technology Research Program of Kunming Institute of Botany, the Chinese Academy of Sciences (KIB2017006), and the Young Academic and Technical Leader Raising Foundation of Yunnan Province (2015HB091).
Ethics declarations
Conflict of interest
The authors declare no competing interests.
Additional information
Communicated by Daniel Sanchez Mata.
Electronic supplementary material
Below is the link to the electronic supplementary material.
Supplementary material 4 (AVI 1586 kb)
About this article
Cite this article
Chen, G., Sun, W., Wang, X. et al. Conserving threatened widespread species: a case study using a traditional medicinal plant in Asia. Biodivers Conserv 28, 213–227 (2019). https://doi.org/10.1007/s10531-018-1648-1
Received:

Revised:

Accepted:

Published:

Issue Date:
Keywords
Alkaloids

Endangered species

In situ conservation

Phytochemistry

Seed dispersal

Stemona tuberosa