Abstract
People living in rural areas are caught between the two often conflicting objectives of conserving biodiversity and promoting economic development. Current approaches to conservation are built on the premise that conservation and development are not antagonistic. Social conservationists advocate win–win solutions that both conserve biodiversity and promote human well-being. In this paper we explore how the conservation-development relationship is understood by a rural community in Colombia where remaining areas of tropical dry forest are threatened by human activities, and a payment for ecosystem services scheme, PES, is proposed as a conservation strategy. Q-methodology was used to identify and categorise local peoples' perspectives on forest conservation. Four distinctive perspectives were found: Social Conservationism, Fair Development, Development Advocate and Government's Responsibility. Social conservationism places more importance on forest conservation while the other three perspectives emphasise development. This suggests that the conservation program at the local level must be explicit about tensions and trade-offs. Not to do so can compromise the social acceptability of the PES scheme and therefore the conservation objective.
This is a preview of subscription content,
to check access.
Access this article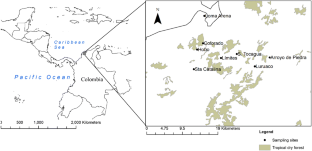 Notes
One participant did not complete the Q questionnaire and was excluded from further analysis.

For further details see Vargas et al. (2017).
References
Berkes F (2004) Rethinking community-based conservation. Conserv Biol 18(3):621–630. https://doi.org/10.1111/j.1523-1739.2004.00077.x

Brannstrom C (2011) A Q-Method analysis of environmental governance discourses in Brazil's Northeastern soy frontier. Prof Geogr 63(4):531–549. https://doi.org/10.1080/00330124.2011.585081

Bredin YK, Lindhjem H, van Dijk J, Linnell JDC (2015) Mapping value plurality towards ecosystem services in the case of Norwegian wildlife management: a Q analysis. Ecol Econ 118:198–206. https://doi.org/10.1016/j.ecolecon.2015.07.005

Butchart SHM, Clarke M, Smith RJ, Sykes RE, Scharlemann JPW, Harfoot M et al. (2015) Shortfalls and solutions for meeting national and global conservation area targets. Conserv Lett. https://doi.org/10.1111/conl.12158

Curry R, Barry J, McClenaghan A (2012) Northern visions? Applying Q methodology to understand stakeholder views on the environmental and resource dimensions of sustainability. J Environ Plann Manag 56(5):624–649. https://doi.org/10.1080/09640568.2012.693453

Dryzek J (2013) The politics of the earth, 3rd edn. Oxford University Press, Oxford

Etter A, Andrade A, Amaya P, Arévalo P (2015) Estado de los Ecosistemas Colombianos 2014. IUCN. https://iucnrle.org/static/media/uploads/references/published-assessments/etter-etal-2015-national-rle-assessment-final-report-colombia-sp.pdf. Accessed 17 July 2017

Faguet J-P, Sánche, F, Villaveces J (2015) Land reform, latifundia and social development at local level in Colombia, 1961-2010. Documento CEDE, 2015-06. http://dx.doi.org/10.2139/ssrn.2568641

Fisher B, Christopher T (2007) Poverty and biodiversity: measuring the overlap of human poverty and the biodiversity hotspots. Ecol Econ 62(1):93–101. https://doi.org/10.1016/j.ecolecon.2006.05.020

Fletcher R (2012) Using the master's tools? Neoliberal conservation and the evasion of inequality. Dev Change 43(1):295–317. https://doi.org/10.1111/j.1467-7660.2011.01751.x

García H, Corzo G, Etter A (2014) Distribución y estado actual de los remanentes del bioma Bosque Seco Tropical en Colombia: Insumos para su gestión. In: Pizano C, García H (eds) El Bosque Seco Tropical en Colombia. Instituto de Investigación en Recursos Biológicos Alexander von Humboldt, Colombia, pp 229–251

Gómez-Baggethun E, Muradian R (2015) In markets we trust? Setting the boundaries of market-based instruments in ecosystem services governance. Ecol Econ 117:217–224. https://doi.org/10.1016/j.ecolecon.2015.03.016

Holmes G, Sandbrook C, Fisher J (2017) Understanding conservationist's perspectives on the new conservation debate. Conserv Biol 31(2):353–363. https://doi.org/10.1111/cobi.12811

Instituto de Investigación de Recursos Biológicos Alexander von Humboldt (Cartographer) (2013) Distribución Espacial del bosque seco tropical en Colombia. http://www.humboldt.org.co/es/investigacion/proyectos/en-desarrollo/item/158-bosques-secos-tropicales-en-colombia

Lansing DM (2013) Not all baselines are created equal: a Q methodology analysis of stakeholder perspectives of additionality in a carbon forestry offset project in Costa Rica. Global Environ Chang 23(3):654–663. https://doi.org/10.1016/j.gloenvcha.2013.02.005

Lo AY (2013) Agreeing to pay under value disagreement: reconceptualizing preference transformation in terms of pluralism with evidence from small-group deliberations on climate change. Ecol Econ 87:84–94. https://doi.org/10.1016/j.ecolecon.2012.12.014

Lo A, Howes M (2015) Power and carbon sovereignity of a non-traditional capitalist state: discourses of carbon trading in China. Global Environ Polit 15(1):60–82. https://doi.org/10.1162/GLEP_a_00272

Mace G (2014) Whose conservation? Science 345(6204):1558–1560. https://doi.org/10.1126/science.1254704

McDemott M, Mhanty S, Schreckenberg K (2013) Examining equity: a multidimensional framework for assessing equity in payment for ecosystem services. Environ Sci Policy 33:416–427

McKeown B, Thomas DB (2013) Q methodology. SAGE Publications, London

McShane T, Hirsch P, Trung T, Songorwa A, Monteferri A, Mutekanga D, Van Thang H, Dammert J, Pulgar-Vidal M, Welch-Devine M, Brosius J, Coppolillo P, O'Connor S (2011) Hard choices: making trade-offs between biodiversity conservation and human well-being. Biol Conserv 144(3):966–972. https://doi.org/10.1016/j.biocon.2010.04.038

Milder JC, Scherr SJ, Bracer C (2010) Trends and future potential of payment for ecosystem services to alleviate rural poverty in developing countries. Ecol Soc 15(2):4

Miller T, Minteer B, Malan L (2011) The new conservation debate: the view from practical ethics. Biol Conserv 144(3):948–957. https://doi.org/10.1016/j.biocon.2010.04.001

Muradian R, Cárdenas J (2015) From market failures to collective action dilemas: reframing environmental governance challenges in Latin America and beyond. Ecol Econ 120:358–365. https://doi.org/10.1016/j.ecolecon.2015.10.001

Niemeyer S (2011) The emancipatory effect of deliberation: empirical lessons from mini-publics. Polit Soc 39(14):103–140. https://doi.org/10.1177/0032329210395000

Pascual U, Phelps J, Garmendia E, Brown K, Corbera E, Martin A, Muradian R (2014) Social equity matters in payments for ecosystem services. Bioscience 64(11):1027–1036. https://doi.org/10.1093/biosci/biu146

Savage A, Guillen R, Lamilla I, Soto L (2010) Developing an effective community conservation program for cotton-top tamarins (Saguinus oedipus) in Colombia. Am J Primatol 72(5):379–390. https://doi.org/10.1002/ajp.20770

Shogren JF, Parkhurst GM (2011) Who owns endangered species? In: Cole DH, Ostrom E (eds) Property in land and other resources. Lincon Institute of Land Policy, Cambridge, pp 195–213

Vargas A, Lo AY, Rohde N, Howes M (2016) Background inequality and differential participation in deliberative valuation: lessons from small-group discussions on forest conservation in Colombia. Ecol Econ 129:104–111

Vargas A, Lo A, Howes M, Rohde N (2017) Social influences on expressed willingness to pay: results of a deliberative monetary valuation study in Colombia. J Environ Plann Manag 60(9):1511–1528. https://doi.org/10.1080/09640568.2016.1232646

Vatn A (2015) Markets in environmental governance. From theory to practice. Ecol Econ 117:225–233. https://doi.org/10.1016/j.ecolecon.2014.07.017

Watts S, Stenner P (2012) Doing Q methodological research: theory, method & interpretation. Sage Publications, London

Webler T, Tuler S (2006) Four perspectives on public participation process in environmental assessment and decision making: combined results from 10 case studies. Policy Stud J 34(4):699–722

Webler T, Tuler S, Krueger R (2001) What is a good participation process? Perspectives from the public. Environ Manag 27(3):435–450. https://doi.org/10.1007/s002670010160

Webler T, Danielson S, Tuler S (2009) Using Q method to reveal social perspectives in environmental research. Social and Environmental Research Institute, Greenfield MA. http://www.seri-us.org/sites/default/files/Qprimer.pdf
Acknowledgements
This work would not be possible without the financial and human support of the Strategic Area Program on Biodiversity, Ecosystem Services and Well-Being of Universidad del Norte, Colombia. Additional funding was provided by the Higher Degree Research financial support offered by the School of Environment at Griffith University, Australia. Funding sources had no role in any stage of this study. We would like to thank the participants of the deliberative workshop, who crucially contributed to the success of the research project. We would like to thank Michael Howes, Alex Lo and Nicholas Rohde for their helpful comments to a previous version of this work. All procedures were in accordance with the ethical standards of the Human Research Ethics Committee of Griffith University, Australia, and the Ethics Committee of Universidad del Norte, Colombia.
Additional information
Communicated by David Hawksworth.
This article belongs to the Topical Collection: Biodiversity appreciation and engagement.
Electronic supplementary material
Below is the link to the electronic supplementary material.
About this article
Cite this article
Vargas, A., Diaz, D. & Aldana-Domínguez, J. Public discourses on conservation and development in a rural community in Colombia: an application of Q-methodology. Biodivers Conserv 28, 155–169 (2019). https://doi.org/10.1007/s10531-018-1644-5
Received:

Accepted:

Published:

Issue Date:

DOI: https://doi.org/10.1007/s10531-018-1644-5
Keywords