Abstract
Globally, there is an extensive trade in snakes for pets, especially in the European and North American markets. This trade includes many African snakes, but few of these are present on CITES appendices, suggesting little regulation of this international trade. In this study, we assess the status of this unregulated trade, by analyzing export lists and private seller advertisements, collected by correspondence, monitoring and recording social media and online forums. Furthermore, by engaging with African exporters, we map the distribution of trading hubs involved in the international trade of African snakes. We show that the African snake trade is extensive and involves rare and range-restricted species, including species on the IUCN red list of threatened species. Furthermore, the internet and social media are shown to play an increasing role in the trade of exotic reptiles. We found 2.269 wild caught live African snakes from 42 species, present in 15 African countries, to have been advertised for sale between 2013 and 2017. Traded species were predominately venomous and the 23 most traded species were not CITES listed. Three main hubs for the live snake trade occur on the African mainland: Tanzania, Togo, and Egypt. By using publicly available data we demonstrate an extensive trade in snake species where basic biological knowledge and conservation status is often missing and the sustainability of this trade is questionable. To tackle this potentially detrimental trade we recommend detailed investigations aiming to understand current threats to snakes, especially focusing on species not regulated by international conventions.
Access options
Buy single article
Instant access to the full article PDF.
USD 39.95
Price includes VAT (USA)
Tax calculation will be finalised during checkout.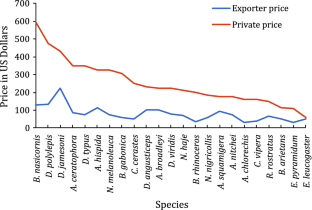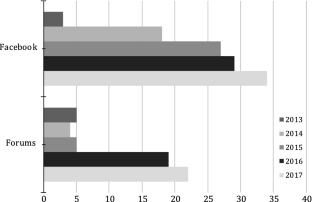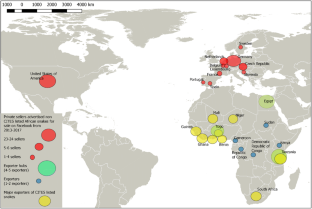 References
Allendorf F, England PR, Luikart G, Ritchie P, Ryman N (2008) Genetic effects of harvest on wild animal populations. Trends Ecol Evol 23:327–337. https://doi.org/10.1016/j.tree.2008.02.008

Altherr S (2014) Stolen wildlife. Why the EU needs to tackle smuggling of nationally protected species. Report by Pro Wildlife. Munich. https://www.prowildlife.de/wp-content/uploads/2016/02/2014_Stolen-Wildlife-Report.pdf

Altmann M, Kolby JE (2017) Trends in US imports of amphibians in light of the potential spread of chytrid fungus, Batrachochytrium Dendrobatidis (Bd), and implications for conservation. Journal of International Wildlife Law & Policy 20:226–252. https://doi.org/10.1080/13880292.2017.1403796

Annorbah ND, Collar JN, Marsden SJ (2016) Trade and Habitat Change Virtually Eliminate the Grey Parrot Psittacus Erithacus from Ghana. Edited by Colleen Downs. Ibis 158:82–91. https://doi.org/10.1111/ibi.12332

Ashley S, Brown S, Ledford J, Martin J, Nash A, Terry A, Tristan T, Warwick C (2014) Morbidity and Mortality of Invertebrates, Amphibians, Reptiles, and Mammals at a Major Exotic Companion Animal Wholesaler. J Appl Anim Welfare Sci 17:308–321. https://doi.org/10.1080/10888705.2014.918511

Auliya M (2003) Hot trade in cool creatures: A review of the live reptile trade in the European Union in the 1990s with a focus on Germany. TRAFFIC Europe, Brussels

Auliya M, Altherr S, Ariano-Sanchez D, Baard EH, Brown C, Brown RM, Cantu J et al (2016) Trade in Live Reptiles, Its Impact on Wild Populations, and the Role of the European Market. Biol Cons 204:103–119. https://doi.org/10.1016/j.biocon.2016.05.017

Baker SE, Cain R, Van Kesteren F, Zommers ZA, D'cruze N, Macdonald DW (2013) Rough trade: animal welfare in the global wildlife trade. Bioscience 63:928–938

Bergin D, Atoussi S, Waters S (2018) Online Trade of Barbary Macaques Macaca Sylvanus in Algeria and Morocco. Biodiversity and Conservation 27. Springer Netherlands: 531–34. https://doi.org/10.1007/s10531-017-1434-5

Böhm M, Collen B, Baillie JEM, Bowles P, Chanson J, Cox N, Hammerson G et al (2013) The Conservation Status of the World's Reptiles. Biol Cons 157:372–385. https://doi.org/10.1016/j.biocon.2012.07.015

Meng H, Carr J, Beraducci J, Bowles P, et al. (2016) Tanzania's reptile biodiversity: distribution, threats and climate change vulnerability. Biol Conserv 204: 72–82. http://www.sciencedirect.com/science/article/pii/S0006320716301318

Bush ER, Baker SE, Macdonald DW (2014) Global Trade in Exotic Pets 2006-2012. Conserv Biol 28:663–676. https://doi.org/10.1111/cobi.12240

Carpenter AI, Rowcliffe MJ, Watkinson AR (2004) The Dynamics of the Global Trade in Chameleons. Biol Cons 120:291–301. https://doi.org/10.1016/j.biocon.2004.03.002

CITES Appendices I, II and III (2017). Accessible here (https://cites.org/sites/default/files/eng/app/2017/E-Appendices-2017-10-04.pdf)

Dobiey M, Vogel G (2007) Venomous Snakes of Africa. Giftschlangen Afrikas, Edition Chimaira

Eur-lex.europa.eu accessed on 9/7-2018 for decision on Atheris desaixi and Bitis worthingtoni: (https://eur-lex.europa.eu/legal-content/EN/TXT/PDF/?uri=CELEX:32017R0160&rid=1)

European Commission (2016). EU Action Plan against Wildlife Trafficking. Luxembourg. http://ec.europa.eu/environment/cites/pdf/WAP_EN_WEB.PDF. Accessed 2 July 2018

Franklinos LHV, Lorch JM, Bohuski E, Rodriguez-Ramos Fernandez J, Wright ON, Fitzpatrick L, Petrovan S et al (2017) Emerging fungal pathogen Ophidiomyces ophiodiicola in wild European snakes. Sci Rep 7:3844. https://doi.org/10.1038/s41598-017-03352-1

Graham A, Marais J (2007) A guide to the reptiles of Southern Africa. Struik, South Africa

Hansen S, Amy L, Li A, Joly D, Mekaru S, Brownstein JS (2012) Digital surveillance: a novel approach to monitoring the illegal wildlife trade. PLoS ONE 7:e51156. https://doi.org/10.1371/journal.pone.0051156

Hardi R, Babocsay G, Tappe D, Sulyok M, Bodó I, Rózsa L (2017) Armillifer-infected snakes sold at congolese bushmeat markets represent an emerging zoonotic threat. EcoHealth 14:743–749. https://doi.org/10.1007/s10393-017-1274-5

Harris M (2002) Assessment of the status of seven reptile species in Togo. Report for the European Union

Jensen T (2017) Snakes of Africa exploitation and conservation. Aalborg University. https://doi.org/10.13140/RG.2.2.32700.95361/2

Johnson JD, Mata-Silva V, Wilson LD (2015) A conservation reassessment of the Central American herpetofauna based on the EVS measure. Amphib Reptile Conserv 9:1–94

Karesh WB (2005) Wildlife trade and global disease emergence. Emerg Infect Dis J 11:1000–1002. https://doi.org/10.3201/eid1107.050194

Leader-Williams N, Tibanyenda RK (1996) The live bird trade in Tanzania. IUCN Gland, Switzerland and Cambridge

Lorch JM, Knowles S, Lankton JS, Michell K, Edwards JL, Kapfer JM, Staffen RA et al (2016) Snake fungal disease: an emerging threat to wild snakes. Philos Trans Royal Soc. 371:20150457. https://doi.org/10.1098/rstb.2015.0457

Luiselli L, Bonnet X, Rocco M, Amori G (2012) Conservation implications of rapid shifts in the trade of wild African and Asian pythons. Biotropica 44:569–573. https://doi.org/10.1111/j.1744-7429.2011.00842.x

Menegon M, Loader SP, Marsden SJ, Branch WR, Davenport TRB, Ursenbacher S (2014) The genus Atheris (Serpentes: Viperidae) in East Africa: phylogeny and the role of rifting and climate in shaping the current pattern of species diversity. Mol Phylogenet Evol 79:12–22. https://doi.org/10.1016/j.ympev.2014.06.007

Minton SA (1996) Bites by non-native venomous snakes in the United States. Wilderness Environ Med 7:297–303

Moorhouse TP, Balaskas M, D'Cruze NC, Macdonald DW (2017) Information could reduce consumer demand for exotic pets. Conserv Lett 10:337–345

Morgan J, Chng S (2017) Rising internet-based trade in the critically endangered ploughshare tortoise Astrochelys yniphora in Indonesia highlights need for improved enforcement of CITES. Oryx. https://doi.org/10.1017/S003060531700031X

Nijman V (2010) An overview of international wildlife trade from Southeast Asia. Biodivers Conserv 19:1101–1114. https://doi.org/10.1007/s10531-009-9758-4

Penner J, Fruteau C, Range F, Rödel M (2008) Finding a needle in a haystack: new methods of locating and working with rhinoceros vipers (Bitis Rhinoceros). Herpetol Rev 39:310–314

Phelps T (2010) Old world vipers : a natural history of the Azemiopinae and Viperinae. Edition Chimaira

Reed RN (2005) An ecological risk assessment of nonnative boas and pythons as potentially invasive species in the United States. Risk Anal 25:753–766. https://doi.org/10.1111/j.1539-6924.2005.00621.x

Robinson JE, Griffiths RA, John FAVS et al (2015) Dynamics of the global trade in live reptiles: shifting trends in production and consequences for sustainability. Biol Conserv 184:42

Roe D (2002) Making a killing or making a living: wildlife trade, trade controls, and rural livelihoods (No. 6). IIED

Rosen GE, Smith KF (2010) Summarizing the evidence on the international trade in illegal wildlife. EcoHealth 7(1):24–32

Sajeva M, Augugliaro C, Smith MJ, Oddo E (2013) Regulating internet trade in CITES species. Conserv Biol 27:429–430. https://doi.org/10.1111/cobi.12019

Schaper A, Desel H, Ebbecke M, Haro LD, Deters M, Hentschel H, Hermanns-Clausen M, Langer C (2009) Bites and stings by exotic pets in Europe: an 11 year analysis of 404 cases from Northeastern Germany and Southeastern France. Clin Toxicol 47:39–43

Schlaepfer MA, Hoover C, Dodd CK (2005) Challenges in evaluating the impact of the trade in amphibians and reptiles on wild populations. Bioscience 55:256–264. https://doi.org/10.1641/0006-3568(2005)055%5b0256:CIETIO%5d2.0.CO;2

Segniagbeto GH (2016) Study on Four Species of Fauna Subject to International Trade in Togo. Report for the European Union

Sodeinde OA, Soewu DA (1999) Pilot study of the traditional medicine trade in Nigeria. Traffic Bulletin, Cambridge

Spawls S, Joger U (2010) Atheris Ceratophora. The IUCN Red List of Threatened Species 2010: e.T178563A7571666 http://doi.org/10.2305/IUCN.UK.2010-4.RLTS.T178563A7571666.en

Steinmetz M, Pütsch M, Bisschopinck T (1998) Transport mortality during the import of wild caught birds and reptiles to Germany: an investigation (including a study on pre-export-conditions in the United Republic of Tanzania). BfN, Bonn

Sy EY (2018) Utilisation of facebook to trade live reptiles in the Philippines. Traffic Bulletin, Cambridge

Tolley K, Alexander G, Branch WR, Bowles P, Maritz B (2016) Conservation Status and threats for african reptiles. Biol Cons 204:63–71. https://doi.org/10.1016/j.biocon.2016.04.006

Toudonou CA (2015) Ball python Python regius. Case Species Rep, CITES

Uetz P (2016) The reptile database. http://reptile-database.reptarium.cz. Accessed 20 July 2016

Uetz P (2017) The reptile database. http://reptile-database.reptarium.cz. Accessed 8 Feb 2017

Vaglica V, Sajeva M, McGough HN, Hutchison D, Russo C, Gordon AD, Ramarosandratana AV, Stuppy W, Smith MJ (2017) Monitoring internet trade to inform species conservation actions. Endanger Species Res 32:223–235. https://doi.org/10.3354/esr00803

Warrell DA (2009) Commissioned article: management of exotic snakebites. Int J Med 102:593–601. https://doi.org/10.1093/qjmed/hcp075

Westphal M, Browne M, Mackinnon K, Noble I (2007) The link between international trade and the global distribution of invasive alien species. Biol Invasions 10:391–398. https://doi.org/10.1007/s10530-007-9138-5
Acknowledgements
The authors would like to thank Sandra Altherr from Pro Wildlife for her insight into the reptile trade, and Andrea Rehmsmeier for discussions on illegal trade in reptiles. A special thanks to Michalis Mihalitsis and two anonymous reviewers for invaluable comments on the manuscript.
Additional information
This article belongs to the Topical Collection: Biodiversity exploitation and use.
Communicated by Dirk Sven Schmeller.
Electronic supplementary material
Below is the link to the electronic supplementary material.
About this article
Cite this article
Jensen, T.J., Auliya, M., Burgess, N.D. et al. Exploring the international trade in African snakes not listed on CITES: highlighting the role of the internet and social media. Biodivers Conserv 28, 1–19 (2019). https://doi.org/10.1007/s10531-018-1632-9
Received:

Revised:

Accepted:

Published:

Issue Date:
Keywords
Unregulated harvest

CITES

Pet trade

Reptile

IUCN red list