Abstract
Less than half of the original two million square kilometers of the Cerrado vegetation remains standing, and there are still many uncertainties as to how to conserve and prioritize remaining areas effectively. A key limitation is the continuing lack of geographically-extensive evaluation of ecosystem-level properties across the biome. Here we sought to address this gap by comparing the woody vegetation of the typical cerrado of the Cerrado–Amazonia Transition with that of the core area of the Cerrado in terms of both tree diversity and vegetation biomass. We used 21 one-hectare plots in the transition and 18 in the core to compare key structural parameters (tree height, basal area, and above-ground biomass), and diversity metrics between the regions. We also evaluated the effects of temperature and precipitation on biomass, as well as explored the species diversity versus biomass relationship. We found, for the first time, both that the typical cerrado at the transition holds substantially more biomass than at the core, and that higher temperature and greater precipitation can explain this difference. By contrast, plot-level alpha diversity was almost identical in the two regions. Finally, contrary to some theoretical expectations, we found no positive relationship between species diversity and biomass for the Cerrado woody vegetation. This has implications for the development of effective conservation measures, given that areas with high biomass and importance for the compensation of greenhouse gas emissions are often not those with the greatest diversity.
This is a preview of subscription content, log in to check access.
Access options
Buy single article
Instant access to the full article PDF.
US$ 39.95
Price includes VAT for USA
Subscribe to journal
Immediate online access to all issues from 2019. Subscription will auto renew annually.
US$ 199
This is the net price. Taxes to be calculated in checkout.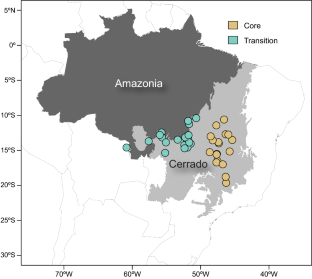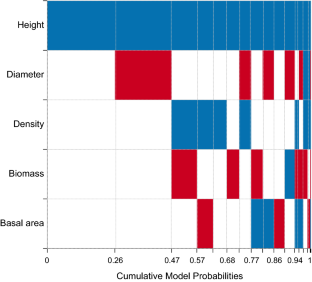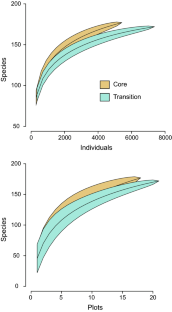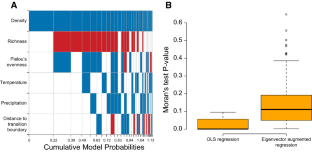 References
Alvares CA, Stape JL, Sentelhas PC, Moraes JLM, Sparovek G (2013) Köppen's climate classification map for Brazil. Meteorol Z 22:711–728. https://doi.org/10.1127/0941-2948/2013/0507

APG III—Angiosperm Phylogeny Group (2009) An update of the Angiosperm Phylogeny Group classification for the orders and families of flowering plants: APG III. Bot J Linn Soc 161:105–121. https://doi.org/10.1111/j.1095-8339.2009.00996.x

BFG—The Brazil Flora Group (2015) Growing knowledge: an overview of seed plant diversity in Brazil. Rodriguésia 66:1085–1113. https://doi.org/10.1590/2175-7860201566411

Bivand R, Piras G (2015) Comparing implementations of estimation methods for spatial econometrics. J Stat Softw 63:1–36. https://doi.org/10.18637/jss.v063.i18

Bivand R, Hauke J, Kossowski T (2013) Computing the Jacobian in Gaussian spatial autoregressive models: an illustrated comparison of available methods. Geogr Anal 45:150–179. https://doi.org/10.1111/gean.12008

Brazilian Flora (2016) Rio de Janeiro Botanical Garden. http://floradobrasil.jbrj.gov.br/. Accessed 22 June 2016

Bridgewater S, Ratter JA, Ribeiro JF (2004) Biogeographic patterns, β-diversity and dominance in the cerrado biome of Brazil. Biodivers Conserv 13:2295–2317. https://doi.org/10.1023/B:BIOC.0000047903.37608.4c

Cardinale BJ, Duffy JE, Gonzalez A et al (2012) Biodiversity loss and its impact on humanity. Nature 486:59–67. https://doi.org/10.1038/nature11148

Castro EA, Kauffman JB (1998) Ecosystem structure in the Brazilian Cerrado: a vegetation gradient of aboveground biomass, root mass and consumption by fire. J Trop Ecol 14:263–283. https://doi.org/10.1017/S0266467498000212

Castro AAJF, Martins FR, Tamashiro JY, Shepherd GJ (1999) How rich is the flora of Brazilian Cerrados? Ann Mo Bot Gard 86:192–224. https://doi.org/10.2307/2666220

Colwell RK, Coddington JA (1994) Estimating terrestrial biodiversity through extrapolation. Philos Trans R Soc Lond B Biol Sci 345:101–118. https://doi.org/10.1098/rstb.1994.0091

Cuaresma JC, Feldkircher M (2013) Spatial filtering, model uncertainty and the speed of income convergence in Europe. J Appl Econ 28:720–741. https://doi.org/10.1002/jae.2277

Day M, Baldauf C, Rutishauser E, Sunderland TCH (2013) Relationships between tree species diversity and above-ground biomass in Central African rainforests: implications for REDD. Environ Conserv 41:64–72. https://doi.org/10.1017/S0376892913000295

Eiten G (1972) The cerrado vegetation of Brazil. Bot Rev 38:201–341

Fearnside PM (2005) Deforestation in Brazilian Amazonia: history, rates, and consequences. Conserv Biol 19:680–688. https://doi.org/10.1111/j.1523-1739.2005.00697.x

Feldkircher M (2010) spatBMS: Bayesian model averaging with uncertain spatial effects, R package version 0.0. http://bms.zeugner.eu

Feldpausch TR, Lloyd J, Lewis SL et al (2012) Tree height integrated into pantropical forest biomass estimates. Biogeosciences 9:1–23. https://doi.org/10.5194/bg-9-3381-2012

Felfili JM, Silva-Júnior MC, Rezende AV et al (1992) Análise comparativa da florística e fitossociologia da vegetação arbórea do cerrado sensu stricto na Chapada Pratinha, DF-Brasil. Acta Bot Bras 6:27–46. https://doi.org/10.1590/S0102-33061992000200003

Felfili JM, Nogueira PE, Silva Júnior MC, Marimon BS, Delitti WBC (2002) Composição florística e fitossociologia do cerrado sentido restrito no município de Água Boa-MT. Acta Bot Bras 16:103–112. https://doi.org/10.1590/S0102-33062002000100012

Felfili JM, Sousa-Silva JC, Scariot A (2005a) Biodiversidade, ecologia e conservação do Cerrado: avanços no conhecimento. Scariot A, Sousa-Silva JC, Felfili JM (orgs) Cerrado: ecologia, biodiversidade e conservação. Ministério do Meio Ambiente, Brasília, pp 25–44

Felfili JM, Carvalho FA, Haidar RF (2005b) Manual para o monitoramento de parcelas permanentes nos biomas Cerrado e Pantanal. Universidade de Brasília, Departamento de engenharia florestal, Brasília

Fernandes A, Bezerra P (1990) Estudo fitogeográfico do Brasil. Stylus Comunicações, Fortaleza

Fisher RA, Corbet AS, Williams CB (1943) The relation between the number of species and the number of individuals in a random sample of an animal population. J Anim Ecol 12:42–58. https://doi.org/10.2307/1411

Fonseca MS, Silva Júnior MC (2004) Fitossociologia e similaridade florística entre trechos de Cerrado sentido restrito em interflúvio e em vale no Jardim Botânico de Brasília, DF. Acta Bot Bras 18:19–29. https://doi.org/10.1590/S0102-33062004000100003

Fragoso TM, Bertoli W, Louzada F (2018) Bayesian model averaging: a systematic review and conceptual classification. Int Stat Rev 86:1–28. https://doi.org/10.1111/insr.12243

Françoso RD, Brandão R, Nogueira CC, Salmona YB, Machado RB, Colli GR (2015) Habitat loss and the effectiveness of protected areas in the Cerrado Biodiversity Hotspot. Nat Conserv 13:35–40. https://doi.org/10.1016/j.ncon.2015.04.001

Françoso RD, Haidar RF, Machado RB (2016) Tree species of South America central savanna: endemism, marginal areas and the relationship with other biomes. Acta Bot Bras 30:78–86. https://doi.org/10.1590/0102-33062015abb0244

Gardner TA, Burgess ND, Aguilar-Amuchastegui N et al (2012) A framework for integrating biodiversity concerns into national REDD + programmes. Biol Conserv 154:61–71. https://doi.org/10.1016/j.biocon.2011.11.018

Gotelli NJ, Colwell RK (2001) Quantifying biodiversity: procedures and pitfalls in the measurement and comparison of species richness. Ecol Lett 4:379–391. https://doi.org/10.1046/j.1461-0248.2001.00230.x

Grace J, San Jose J, Meir P, Miranda HS, Montes RA (2006) Productivity and carbon fluxes of tropical savannas. J Biogeogr 33:387–400. https://doi.org/10.1111/j.1365-2699.2005.01448.x

Hardie DC, Hutchings JA (2010) Evolutionary ecology at the extremes of species' ranges. Environ Rev 18:1–20. https://doi.org/10.1139/A09-014

Hijmans RJ, Cameron SE, Parra JL, Jones PG, Jarvis A (2005) Very high resolution interpolated climate surfaces for global land areas. Int J Climatol 25:1965–1978. https://doi.org/10.1002/joc.1276

Hoeting JA, Madigan D, Raftery AE, Volinsky CT (1999) Bayesian model averaging: a tutorial. Stat Sci 14:382–401

Hurlbert SH (1971) The nonconcept of species diversity: a critique and alternative parameters. Ecology 52:577–586. https://doi.org/10.2307/1934145

IBGE (2004) Mapa de biomas do Brasil. Escala 1:5.000.000. Rio de Janeiro: IBGE 2004. http://portaldemapas.ibge.gov.br/. Acesso em: 14 dez. 2016

IBGE—Instituto Brasileiro de Geografia e Estatística (2016) Mapa de biomas Brasileiros

Ivanauskas NM, Monteiro R, Rodrigues RR (2008) Classificação fitogeográfica das florestas do Alto Rio Xingu. Acta Amazonica 38:387–402. https://doi.org/10.1590/S0044-59672008000300003

Kark S, van Rensburg BJ (2006) Ecotones: marginal or central areas of transition? Isr J Ecol Evol 52:29–53. https://doi.org/10.1560/IJEE.52.1.29

Keller-Filho T, Assad ED, Schubnell PR, Lima R (2005) Regiões pluviometricamente homogêneas no Brasil. Pesqui Agropecu Bras 40:311–322

Kier G, Mutke J, Dinerstein E, Ricketts TH, Küper W, Kreft H, Barthlott W (2005) Global patterns of plant diversity and floristic knowledge. J Biogeogr 32:1107–1116. https://doi.org/10.1111/j.1365-2699.2005.01272.x

Klink CA, Machado RB (2005) Conservation of the brazilian Cerrado. Conserv Biol 19:707–713. https://doi.org/10.1111/j.1523-1739.2005.00702.x

Kunz SH, Ivanauskas NM, Martins SV (2009) Estrutura fitossociológica de uma área de cerradão em Canarana, Estado do Mato Grosso, Brasil. Acta Sci Biol Sci 32:255–261. https://doi.org/10.4025/actascibiolsci.v31i3.1625

Lahsen M, Bustamante MMC, Dalla-Nora EL (2016) Undervaluing and overexploiting the Brazilian Cerrado at our peril. Environment 58:4–5. https://doi.org/10.1080/00139157.2016.1229537

Larjavaara M, Muller-Landau HC (2011) Temperature explains global variation in biomass among humid old-growth forests. Global Ecol Biogeogr 21:998–1006. https://doi.org/10.1111/j.1466-8238.2011.00740.x

Legendre P (1993) Spatial autocorrelation: trouble or new paradigm. Ecology 74:1659–1673. https://doi.org/10.2307/1939924

Magurran AE (2004) Measuring biological diversity. Blackwell Publishing, Malden

Marimon BS, Lima EDS, Duarte TG, Chieregatto LC, Ratter JA (2006) Observations on the vegetation of Northeastern Mato Grosso, Brazil. IV. An analysis of the Cerrado–Amazonian forest ecotone. Edinb J Bot 63:323–341. https://doi.org/10.1017/S0960428606000576

Marimon BS, Marimon-Junior BH, Feldpausch TR et al (2014) Disequilibrium and hyperdynamic tree turnover at the forest-savanna transition zone in southern Amazonia. Plant Ecol Divers 7:281–292. https://doi.org/10.1080/17550874.2013.818072

Marimon BS, Colli GR, Marimon-Junior BH et al (2015) Ecology of floodplain Campos de Murundus Savanna in Southern Amazonia. Int J Plant Sci 176:670–681. https://doi.org/10.1086/682079

Marimon-Junior BH, Haridasan M (2005) Comparação da vegetação arbórea e características edáficas de um cerradão e um cerrado sensu stricto em áreas adjacentes sobre solo distrófico no leste de Mato Grosso, Brasil. Acta Bot Bras 19:913–926. https://doi.org/10.1590/S0102-33062005000400026

Mendonça RC, Felfili MJ, Walter BMT et al (2008) Flora vascular do bioma Cerrado: checklist com 12.356 espécies. In: Sano SM, Almeida SP, Ribeiro JF (eds) Cerrado: ecologia e flora. Embrapa Cerrados, Brasília, pp 421–1182

Mews HA, Pinto JRR, Eisenlohr PV, Lenza E (2014) Does size matter? Conservation implications of differing woody population sizes with equivalent occurrence and diversity of species for threatened savanna habitats. Biodivers Conserv 23:1119–1131. https://doi.org/10.1007/s10531-014-0651-4

Miranda SC, Bustamante M, Palace M, Hagen S, Keller M, Ferreira LG (2014) Regional variations in biomass distribution in Brazilian savanna woodland. Biotropica 46:125–138. https://doi.org/10.1111/btp.12095

Moldenke AR (1975) Niche specialization and species diversity along a California transect. Oecologia 21:219–242. https://doi.org/10.1007/BF02404674

Moran PAP (1950a) Notes on continuous stochastic phenomena. Biometrika 37:17–23. https://doi.org/10.1093/biomet/37.1-2.17

Moran PAP (1950b) A test for the serial independence of residuals. Biometrika 37:178–181. https://doi.org/10.1093/biomet/37.1-2.178

Morandi PS, Marimon-Junior BH, Oliveira EA, Reis SM, Valadão MX, Forsthofer M, Marimon BS (2016) Vegetation succession in the Cerrado–Amazonian forest transition zone of Mato Grosso state, Brazil. Edinb J Bot 73:83–93. https://doi.org/10.1017/S096042861500027X

Naimi B, Hamm NAS, Groen TA, Skidmore AK, Toxopeus AG (2014) Where is positional uncertainty a problem for species distribution modelling? Ecography 37:191–203. https://doi.org/10.1111/j.1600-0587.2013.00205.x

O'Hara RB (2005) Species richness estimators: how many species can dance on the head of a pin? J Anim Ecol 74:375–386. https://doi.org/10.1111/j.1365-2656.2005.00940.x

Oksanen J et al (2017) vegan: community ecology Package. R package version 2.4-5. https://CRAN.R-project.org/package=vegan

Paiva AO, Rezende AV, Pereira RS (2011) Estoque de carbono em cerrado sensu stricto do Distrito Federal. Revista Árvore 35:527–538. https://doi.org/10.1590/S0100-67622011000300015

Phillips OL, Baker TR, Brienen R, Feldpausch TR (2010) Field manual for plot establishment and remeasurement. http://www.geog.leeds.ac.uk/projects/rainfor

Pielou EC (1969) An introduction to mathematical ecology. Wiley, New York

Pironon S, Papuga G, Villellas J, Angert AL, García MB, Thompson JD (2016) Geographic variation in genetic and demographic performance: new insights from an old biogeographical paradigm. Biol Rev 92:1877–1909. https://doi.org/10.1111/brv.12313

Primack RB, Rodrigues E (2001) Biologia da conservação. Midiograf, Paraná

Quinn GP, Keough MJ (2002) Experimental design and data analysis for biologists. Cambridge University Press, Cambridge

Ratter JA, Richards PW, Argent G, Gifford DR (1973) Observations on the vegetation of northeastern Mato Grosso: i. The woody vegetation types of the Xavantina-Cachimbo Expedition area. Philos Trans R Soc Lond B Biol Sci 266:449–492. https://doi.org/10.1098/rstb.1973.0053

Ratter JA, Ribeiro JF, Bridgewater S (1997) The Brazilian cerrado vegetation and threats to its biodiversity. Ann Bot Lond 80:223–230. https://doi.org/10.1006/anbo.1997.0469

Ratter JA, Bridgewater S, Ribeiro JF (2003) Analysis of the floristic composition of the Brazilian Cerrado vegetation. III: comparison of the woody vegetation of 376 areas. Edinb J Bot 60:57–109. https://doi.org/10.1017/S0960428603000064

R Core Team (2018) R: A language and environment for statistical computing. R Foundation for Statistical Computing. Vienna, Austria. http://www.R-project.org [ver. 3.5.0]

Rezende AV, Vale AT, Sanquetta CR, Figueiredo Filho A, Felfili JM (2006) Comparação de modelos matemáticos para estimativa do volume, biomassa e estoque de carbono da vegetação lenhosa de um cerrado sensu stricto em Brasília, DF. Sci For 71:65–76

Ribeiro JF, Walter BMT (2008) As principais fitofisionomias do bioma Cerrado. In: Sano SM, Almeida SP, Ribeiro JF (eds) Cerrado: ecologia e flora. Embrapa Informação Tecnológica, Brasília, pp 151–212

Rizzini CT (1997) Tratado de Fitogeografia do Brasil, 2nd edn. Ambito Cultural, São Paulo

Ruiz-Benito P, Gómez-Aparicio L, Paquette A, Messier C, Kattge J, Zavala M (2014) Diversity increases carbon storage and tree productivity in Spanish forests. Glob Ecol Biogeogr 23:311–322. https://doi.org/10.1111/geb.12126

Sano EE, Rosa R, Brito JL, Ferreira LG (2010) Land cover mapping of the tropical savanna region in Brazil. Environ Monit Assess 166:113–124. https://doi.org/10.1007/s10661-009-0988-4

Scholes RJ, Dowty PR, Caylor K, Parsons DAB, Frost PGH, Shugart HH (2002) Trends in savanna structure and composition along an aridity gradient in the Kalahari. J Veg Sci 13:419–428. https://doi.org/10.1111/j.1654-1103.2002.tb02066.x

Schumacher FX, Hall FDS (1933) Logarithmic expression of timber-tree volume. J Agric Res 47:719–734

SEMA—Secretaria de Estado de Meio Ambiente (2016) Unidades de Conservação Estaduais. http://www.sema.mt.gov.br/index.php?option=com_content&view=article&id=155&Itemid=288. Accessed 17 Nov 2016

Shannon CE (1948) A mathematical theory of communication. Bell Syst Tech J 27:379–423

Silva JMC, Bates J (2002) Biogeographic patterns and conservation in the South American Cerrado: a tropical savanna hotspot. Bioscience 52:225–233. https://doi.org/10.1641/0006-3568(2002)052[0225:BPACIT]2.0.CO

Silva JF, Fariñas MR, Felfili JM, Klink CA (2006) Spatial heterogeneity, land use and conservation in the cerrado region of Brazil. J Biogeogr 33:536–548. https://doi.org/10.1111/j.1365-2699.2005.01422.x

Silvertown J, Dodd ME, McConway K, Potts J, Crawley M (1994) Rainfall, biomass variation, and community composition in the Park Grass Experiment. Ecology 75:2430–2437. https://doi.org/10.2307/1940896

Stegen JC, Swenson NG, Enquist BJ et al (2011) Variation in above-ground forest biomass across broad climatic gradients. Global Ecol Biogeogr 20:744–754. https://doi.org/10.1111/j.1466-8238.2010.00645.x

Sullivan MJP, Talbot J, Lewis SL et al (2017) Diversity and carbon storage across the tropical forest biome. Sci Rep 7:39102. https://doi.org/10.1038/srep39102

Tiefelsdorf M, Griffith DA (2007) Semiparametric filtering of spatial autocorrelation: the eigenvector approach. Environ Plan A 39:1193–1221. https://doi.org/10.1068/a37378

Torello-Raventos M, Feldpausch TR, Veenendaal E, Schrodt F, Saiz G, Domingues TF, Djagbletey G, Ford A, Kemp J, Marimon BS, Marimon-Junior BH, Lenza E, Ratter JA, Maracahipes L, Sasaki D, Sonké B, Zapfack L, Taedoumg H, Villarroel D, Schwarz M, Quesada CA, Ishida FY, Nardoto GB, Affum-Baffo K, Arroyo L, Bowman DMJS, Compaore H, Davies K, Diallo A, Fyllas NM, Gilpin M, Hien F, Johnson M, Killeen TJ, Metcalfe D, Miranda HS, Steininger M, Thomson J, Sykora K, Mougin E, Hiernaux P, Bird MI, Grace J, Lewis SL, Phillips OL, Lloyd J (2013) On the delineation of tropical vegetation types with an emphasis on forest/savanna transitions. Plant Ecol Divers 6:101–137. https://doi.org/10.1080/17550874.2012.762812

Vale AT, Felfili JM (2005) Dry biomass distribution in a cerrado sensu stricto site in central Brazil. Revista Árvore 29:661–669. https://doi.org/10.1590/s0100-67622005000500001

van der Maarel E (1990) Ecotones and ecoclines are different. J Veg Sci 1:135–138

Werneck FP, Nogueira C, Colli GR, Sites JW, Costa GC (2012) Climatic stability in the Brazilian Cerrado: implications for biogeographical connections of South American savannas, species richness and conservation in a biodiversity hotspot. J Biogeogr 39:1695–1706. https://doi.org/10.1111/j.1365-2699.2012.02715.x

Zeugner S, Feldkircher M (2015) Bayesian model averaging employing fixed and flexible priors: the BMS package for R. J Stat Softw 68:1–37. https://doi.org/10.18637/jss.v068.i04
Acknowledgements
PSM, FE, EAO, SMAR, BO, ECN and DN thank the Science without Borders Program, Conselho Nacional do Desenvolvimento Científico e Tecnológico (CNPq), Coordenação de Aperfeiçoamento de Pessoal de Nível Superior (CAPES), and Fundação de Amparo à Pesquisa do Estado de Mato Grosso (FAPEMAT) for funding and scholarships. Financial support was provided by CNPq through projects PELD 403725/2012-7 and 441244/2016-5, PVE 401279/2014-6 (including 207406/2015-4) and PPBIO 457602/2012-0, and by CAPES (PVE 177/2012). GRC thanks CAPES, CNPq, Fundação de Apoio à Pesquisa do Distrito Federal (FAPDF), and USAID's PEER program under cooperative agreement AID-OAA-A-11-00012 for financial support. OLP is supported by an ERC Advanced Grant 291585 ("T-FORCES") and is a Royal Society-Wolfson Research Merit Award holder.
Additional information
Jeanine M. Felfili—In memoriam.
Communicated by David Hawksworth.
Electronic supplementary material
Below is the link to the electronic supplementary material.
About this article
Cite this article
Morandi, P.S., Marimon, B.S., Marimon-Junior, B.H. et al. Tree diversity and above-ground biomass in the South America Cerrado biome and their conservation implications. Biodivers Conserv 29, 1519–1536 (2020). https://doi.org/10.1007/s10531-018-1589-8
Received:

Revised:

Accepted:

Published:

Issue Date:
Keywords
Diversity–biomass

Richness

Carbon stocks

Core area

Transition

Neotropics