Abstract
Anthropogenic activities caused a severe loss of pristine habitats alongside with fragmentation of remaining habitats and the deterioration of habitat quality. The Arabuko Sokoke forest represents the largest remnant of East African coastal forest. Despite conservation efforts to maintain biodiversity in this forest, populations of several species are declining, including flagship species like the endemic Sokoke Scops Owl Otus ireneae. In this study, we assessed the presence of O. ireneae based on playback technique to identify the occurrence of this species across the forest. We then analysed habitat parameters at sites occupied and non-occupied by the owl species. Our data show that O. ireneae occurs restricted to one single forest type, the Cynometra woodland. Results obtained from parametric one-way ANOVA and structural equation modelling reveal that large old Cynometra webberi trees and dead wood are key requirements for the occurrence of this owl species. However, large C. webberi trees are currently illegally logged by the forest adjacent human population to produce timber, carvings, poles. Charcoal and dead wood represents a major energy source for households. Otus ireneae, being the smallest owl of East Africa may serve as a charismatic flag ship species to promote conservation of this endangered coastal forest, and furthermore as umbrella to conserve other forest species with similar habitat requirements.
This is a preview of subscription content, log in to check access.
Access options
Buy single article
Instant access to the full article PDF.
US$ 39.95
Price includes VAT for USA
Subscribe to journal
Immediate online access to all issues from 2019. Subscription will auto renew annually.
US$ 199
This is the net price. Taxes to be calculated in checkout.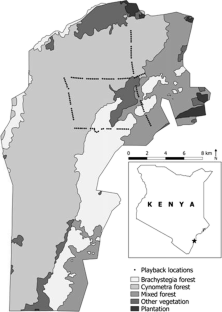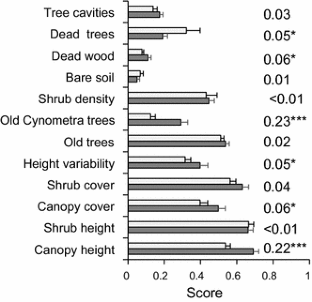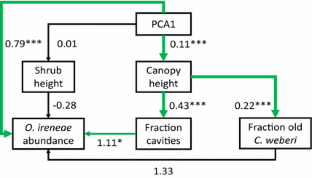 References
Arabuko-Sokoke Forest Management Team (2002) Arabuko-Sokoke strategic forest management plan, 2002–2027. Paper presented at the Gede Forest Station, Kenya with financial support from European Union, Tropical Forest budget line, Contract B7-5041/95-07/VII

Banks JE, Jackson C, Hannon LM, Thomas CM, Baya A, Njoroge L (2010) The cascading effects of elephant presence/absence on arthropods and an Afrotropical thrush in Arabuko-Sokoke Forest, Kenya. J Afr Ecol 48:1030–1038

Barlow J, Lennox GD, Gerreira J, Berenguer E, Lees AC, Nally RM, Thomson JR, de Barros Ferraz SF, Louzada J, Fonseca Oliveira VH, Parry L, de Castro Solar RR, Vieira ICG, Aragao LEOC, Begotti RA, Braga RF, Cardoso TM, de Oliveira RC, Souza CM, Moura NG, Nunes SS, Siqueira JV, Pardini R, Silveira JM, Vaz-de-Mello FZ, Veiga RCS, Venturieri A, Gardner TA (2016) Anthropogenic disturbance in tropical forests can double biodiversity loss from deforestation. Nature 535:144–147

Bennun LA, Njoroge P (1999) Important bird areas in Kenya. Nature Kenya, East Africa Natural History Society, Nairobi

Bibby CJ, Burgess N, Hill DA (1992) Bird census techniques. Academic Press, London

BirdLife International (2001) Important bird areas factsheet: Arabuko-Sokoke Forest. http://www.birdlife.org. Accessed 10 Sept 2017

Boscolo D, Metzger JP, Vielliard JME (2006) Efficiency of playback for assessing the occurrence of five bird species in Brazilian Atlantic Forest fragments. An Acad Bras Ciênc 78:629–644

Britton PA, Zimmerman DL (1979) The avifauna of Sokoke forest, Kenya. J East Afr Nat Hist Soc Natl Mus 169:1–15

Burgess ND, Doggart N, Doody K, Negussie G, Sumbi P, Perkin A (2003) New information on the lowland coastal forests of eastern Africa. Oryx 37:280–281

Evans TD (1997) Preliminary estimates of the population density of the Sokoke scopes owl Otus ireneae Ripley in the East Usambara lowlands, Tanzania. Afr J Ecol 35:303–311

Fanshawe JH (1995) The effects of selective logging on the bird community of Arabuko-Sokoke Forest, Kenya

Fitzgibbon CD, Mogaka H, Fanshawe JH (1995) Subsistence hunting in Arabuko-Sokoke Forest, Kenya, and its effects on mammal populations. Conserv Biol 9:1116–1126

Glenday J (2005) Preliminary assessment of carbon storage and potential forestry based carbon offset projects in Arabuko-Sokoke Forest. http://www.cepf.net/Documents/final.asfreport.pdf. Accessed 10 Sept 2017

Glenday J (2008) Carbon storage and emissions offset potential in an African dry forest, the Arabuko-Sokoke Forest, Kenya. Environ Monit Assess 142:85–95

Habel JC, Braun J, Fischer C, Weisser WW, Gossner MM (2015) Population restoration of the nocturnal bird Athene noctua in Western Europe: an example of evidence based species conservation. Biodivers Conserv 24:1743–1753

Habel JC, Casanova ICC, Zamora C, Teucher M, Hornetz B, Shauri H, Mulwa RK, Lens L (2017) East African coastal forest under pressure. Biodivers Conserv 26:2751–2758

Kenya National Bureau of Statistics, KNBS (2010) 2009 Kenya population and housing census, vol IA. Population by Administrative Units, Nairobi, Kenya.

König C, Weick F, Becking J-H (1999) Owls—a guide to the owls of the world. Pica Press, Mountfield

König C, Weick W (2008) Owls of the world, 2nd edn. Christopher Helm, London

Lindenmayer DB, Franklin JF, Lõhmus A, Baker SC, Bauhus J, Beese W, Brodie A, Kiehl B, Kouki J, Martínez Pastur G, Messier C, Neyland M, Pallik B, Sverdrup-Thygeson A, Volney J, Wayne A, Gustafsson L (2012) A major shift to the retention approach for forestry can help resolve some global forest sustainability issues. Conserv Lett 5:421–431

Matiku P, Caleb M, Callistus O (2013) The impact of participatory forest management on local community livelihoods in the Arabuko-Sokoke Forest, Kenya. Conserv Soc 11:112

Maxwell SL, Fuller RA, Brooks TM, Watson JEM (2016) Biodiversity: the ravages of guns, nets and bulldozers. Nature 536:143

Mittermeier RA, Turner WR, Larsen FW, Brooks TM, Gascon C (2011) Global biodiversity conservation: the critical role of hotspots. In: Zachos FE, Habel JC (eds) Biodiversity hotspots. Springer, Berlin, pp 3–22

Mogaka H (1991) Local utilisation of Arabuko Sokoke forest reserve. KIFCON report, Karura Forest Station

Mori E, Ancillotto L, Menchetti M, Strubbe D (2017) The early bird catches the nest: possible competition between scops owls and ring-necked parakeets. Anim Conserv 20:463–470

Müller J, Thorn S, Baier R, Sagheb-Talebi K, Barimani HV, Seibold S, Ulyshen MD, Gossner MM (2016) Protecting the forests while allowing removal of damaged trees may imperil Saproxylic insect biodiversity in the Hyrcanian beech forests of Iran. Conserv Lett 9:106–113

Muriithi S, Kenyon W (2002) Conservation of biodiversity in the Arabuko Sokoke Forest, Kenya. Biodivers Conserv 11:1437–1450

Myers N, Mittermeier RA, Mittermeier CG, Da Fonseca GA, Kent J (2000) Biodiversity hotspots for conservation priorities. Nature 403:853

Newton I (1994) The role of nest sites in limiting the numbers of hole-nesting birds: a review. Biol Conserv 70:265–276

North MP, Franklin JF, Carey AB, Forsman ED, Hamer T (1999) Forest stand structure of the northern spotted owl's foraging habitat. For Sci 45:520–527

O'Grady J, Reed DH, Brook BW, Frankham R (2004) What are the best correlates of predicted extinction risk? Biol Conserv 118:513–520

Ongugo PO, Mogoi JN, Obonyo E, Oeba VO (2008) Examining the roles of community forest associations (CFAS) in the decentralization process of Kenyan forests. Paper presented to the IASC Conference, Cheltenham, England, 11–19 July 2008.

Oyugi J, Brown JS, Whelan CJ (2007) Effects of human disturbance on composition and structure of Brachystegia woodland in Arabuko-Sokoke forest, Kenya. Afr J Ecol 46:374–383

Panfil SN, Harvey CA (2015) REDD+ and biodiversity conservation: a review of the biodiversity goals, monitoring methods and impacts of 80 REDD+ projects. Conserv Lett 9:143–150

Roberge JM, Mikusinski G, Svensson S (2008) The white-backed woodpecker: umbrella species for forest conservation planning? Biodivers Conserv 17:2479–2494

Robertson SA, Luke WRQ (1993) Kenya coastal forests; the Report of the NMK/WWF Coast Forest Survey WWF Project 3256. World Wide Fund for Nature, Nairobi

Sala OE, Chapin FS, Armesto JJ, Berlow E, Bloomfield J, Dirzo R, Huber-Sanwald E, Huenneke LF, Jackson RB, Kinzig A, Leemans R, Lodge DM, Mooney HA, Oesterheld M, Poff NL, Sykes MT, Walker BH, Walker M, Wall DH (2000) Global biodiversity scenarios for the year 2100. Science 287:1770–1774

Seibold S, Brandl R, Buse J, Hothorn T, Schmidl J, Thorn S, Müller J (2015) Association of extinction risk of saproxylic beetles with ecological degradation of forests in Europe. Conserv Biol 29:382–390

Stattersfield AJ, Crosby MJ, Long AJ, Wege DC (2005) Endemic bird areas of the world: priorities for biodiversity conservation. BirdLife series 7. BirdLife International, Cambridge

Stokland J, Siitonen J, Jonsson BG (2012) Biodiversity in dead wood. Cambridge University Press, Cambridge

Tobias JA, Şekercioğlu ÇH, Vargas FH (2013) Bird conservation in tropical ecosystems: challenges and opportunities. Key Top Conserv Biol 2:258–276

Virani MZ (1994) Ecology of the endangered Sokoke Scops owl (Otus ireneae). Master thesis, University of Leicester

Virani MZ (2000) Home range and movement patterns of Sokoke Scops Owl Otus ireneae. Ostrich 71:139–142

Virani MZ (2008) Diet composition of Sokoke Scops Owl Otus ireneae in Arabuko-Sokoke Forest. Scopus 27:6–9

Virani MZ, Njoroge P, Gordon I (2010) Disconcerting trends in populations of the endangered Sokoke Scops Owl Otus ireneae in the Arabuko-Sokoke Forest, Kenya. Ostrich 81:155–158

White F (1983) The vegetation of Africa: natural recourses research, vol 20. UNESCO, Paris

Zimmermann DA, Turner DA, Pearson DJ, Willis I, Pratt HD (1996) The birds of Kenya and northern Tanzania. Russel Friedman Books CC, Halfway House
Acknowledgements
We thank David Ngala (Gede, Kenya) and Katharina Lameter (Freising, Germany) for assistance in the field and Mike Teucher (Halle, Germany) for creating Fig. 1. Two anonymous referees provided very fruitful comments on a draft version of this article. The study was granted by the German Academic Exchange Service (DAAD). WU was supported by an institutional university Grant of UMK.
Additional information
This article belongs to the Topical Collection: Forest and plantation biodiversity.
Communicated by David Hawksworth.
Electronic supplementary material
Below is the link to the electronic supplementary material.
About this article
Cite this article
Cuadros-Casanova, I., Zamora, C., Ulrich, W. et al. Empty forests: safeguarding a sinking flagship in a biodiversity hotspot. Biodivers Conserv 27, 2495–2506 (2018). https://doi.org/10.1007/s10531-018-1548-4
Received:

Revised:

Accepted:

Published:

Issue Date:
Keywords
Coastal forest

East Africa

Playback call

Habitat model

Habitat quality

Endemic species

Sokoke Scops Owl

Human needs

Poverty