Abstract
Natural history collections from museums and private institutions can play an important role supporting decisions in biodiversity conservation. Seahorse populations have suffered a worldwide decline, while many areas remain data deficient including areas subjected to heavy commercial trading, such as the coasts of West Africa. In this work, seahorse collections from museums and public institutions in Macaronesia (Azores, Madeira and the Canary Islands) were initially reviewed (1) to identify specimens not previously determined, and (2) to correct species determinations from Macaronesia and adjacent West African coasts. The morphological data (3) were tested for phenotypic variation of seahorses within and between Macaronesia and adjacent West African coasts. The presence of Hippocampus hippocampus (short-snouted seahorse) and Hippocampus algiricus (West African seahorse) was confirmed for the area, including new sightings along previous geographical distribution ranges. Morphological analyses partitioned seahorse species and several morphotypes within and between Macaronesia and adjacent West African coasts. This phenotypic plasticity was associated with cranial morphology. Such differences are a useful tool for tracking seahorse populations of varying species and origins. New information presented here, is valuable for improving the management and conservation of seahorses, particularly in areas threatened by illegal trading or other anthropogenic activities.
Access options
Buy single article
Instant access to the full article PDF.
US$ 39.95
Tax calculation will be finalised during checkout.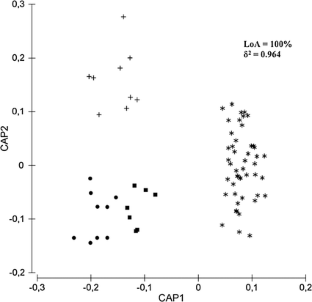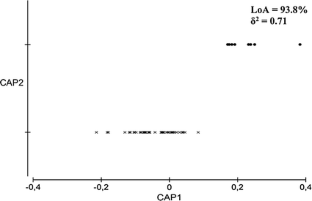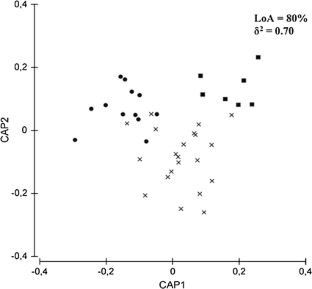 References
Abaad M, Tuset VM, Montero D, Lombarte A, Otero-Ferrer F, Haroun R (2016) Phenotypic plasticity in wild marine fishes associated with fish-cage aquaculture. Hydrobiologia 765:343–358

Afonso P, Porteiro FM, Santos RS, Barreiros JP, Worms J, Wirtz P (1999) Coastal marine fishes of São Tomé Island (Gulf of Guinea). Arquipélago Life Mar Sci 17:65–92

Afonso P, Porteiro FM, Fontes J, Tempera F, Morato T, Cardigos F, Santos RS (2013) New and rare coastal fishes in the Azores islands: occasional events or tropicalization process? J Fish Biol 83:272–294

Anderson MJ, Willis TJ (2003) Canonical analysis of Principal Coordinates: a useful method of constrained ordination for ecology. Ecology 84:511–525

Baldridge AK, Smith LD (2008) Temperature constraints on phenotypic plasticity explain biogeographic patterns in predator trophic morphology. Mar Ecol Prog Ser 365:25–34

Castro JJ, Divovich E, Delgado de Molina Acevedo A, Barrera-Luján A (2015) Over-looked and under-reported: a catch reconstruction of marine fisheries in the Canary Islands, Spain, 1950–2010. Fisheries Centre Working Paper #2015-26. University of British Columbia, Vancouver

Cisneros-Montemayor AM, West K, Boiro IS, Vincent ACJ (2015) An assessment of West African seahorses in fisheries catch and trade. J Fish Biol 88:751–759

Clarke KR (1993) Non-parametric multivariate analyses of changes in community structure. Aust Ecol 18:117–143

Clarke KR, Warwick RM (2001) Changes in marine communities: an approach to statistical analysis and interpretation. PRIMER-E, Plymouth

Czembor CA (2012) Hippocampus algiricus. The IUCN Red List of Threatened Species 2012: e.T41007A2950643. http://dx.doi.org/10.2305/IUCN.UK.2012.RLTS.T41007A2950643.en. Accessed 6 Dec 2016

Dawson CE (1986) Syngnathidae. In: Whitehead PJ, Bauchot ML, Hureau JC, Nielsen J, Tortonese E (eds) Fishes of the North-east Atlantic and the Mediterranean (FNAM), vol 2. UNESCO, Paris, pp 628–639

Dawson CE (1990) Syngnathidae. In: Quéro JC, Hureau JC, Karrer C, Post A, Saldanha L (eds) Checklist of the Fishes of the Eastern Tropical Atlantic (CLOFETA), vol 2. SEI & UNESCO, Paris, pp 658–664

Doughty P, Reznick DN (2004) Patterns and analysis of adaptive phenotypic plasticity in animals. In: DeWitt TJ, Scheiner SM (eds) Phenotypic plasticity: functional and conceptual approaches. Oxford University Press, Oxford, pp 126–150

Foster SJ, Vincent ACJ (2004) Life history and ecology of seahorses: implications for conservation and management. J Fish Biol 65:1–61

Foster SJ, Wiswedel S, Vincent ACJ (2016) Opportunities and challenges for analysis of wildlife trade using CITES data—seahorses as a case study. Aquat Conserv 26:154–172

Gemmell BJ, Sheng J, Buskey EJ (2013) Morphology of seahorse head hydrodynamically aids in capture of evasive prey. Nat Commun 4:2840

Heermann L, Beeck P, Borcherding J (2007) Two size classes of 0 + year perch: is phenotypic plasticity based on food resources? J Fish Biol 70:1365–1377

Hegrenes S (2001) Diet-induced phenotypic plasticity of feeding morphology in the orange spotted sunfish, Lepomis humilis. Ecol Freshw Fish 10:35–42

Kaczynski VM, Looney SW (2000) Coastal resources as an engine of economic growth and reduction of poverty in West Africa: policy considerations. Coast Manag 28:235–248

Koldewey HJ, Martin-Smith KM (2010) A global review of seahorse aquaculture. Aquaculture 302:1–22

Lourie SA (2003) Measuring seahorses. Project Seahorse Technical Report No. 4, Version 1.0. Fisheries Centre, University of British Columbia, Project Seahorse. Washington, DC

Lourie SA, Foster S, Cooper Vincent ACJ (2004) A guide to the identification of seahorses. Project seahorse and TRAFFIC North America. University of British Columbia and World Wildlife Fund, Washington, DC

Lourie SA, Pollom RA, Foster SJ (2016) A global revision of the seahorses Hippocampus Rafinesque, 1810 (Actinopterygii: Syngnathiformes): taxonomy and biogeography with recommendations for further research. Zootaxa 4146:1–66

McCarthy MA (1998) Identifying declining and threatened species with museum data. Biol Conserv 83:9–17

Monteiro LR, Furness RW (1997) Accelerated increase in mercury contamination in North Atlantic mesopelagic food chains as indicated by time series of seabird feathers. Environ Toxicol Chem 16:2489–2493

Newbold T (2010) Applications and limitations of museum data for conservation and ecology, with particular attention to species distribution models. Prog Phys Geogr 34:3–22

Novelli B, Otero-Ferrer F, Socorro JA, Caballero MJ, Segade-Botella A, Molina Domínguez L (2017) Development of short-snouted seahorse (Hippocampus hippocampus, L. 1758): osteological and morphological aspects. Fish Physiol. doi:10.1007/s10695-017-0339-2

Otero-Ferrer F (2012) Seahorses in Gran Canaria Island (Spain): ecology and aquaculture—combined tools for marine conservation issues. PhD dissertation, University of Las Palmas de Gran Canaria

Otero-Ferrer F, Izquierdo MS, Fazeli A, Holt WV (2014) Embryonic developmental plasticity in the long-snouted seahorse (Hippocampus reidi Ginsburg, 1933) in relation to parental preconception diet. Reprod Fertil Dev 28:1020–1028

Otero-Ferrer F, Herrera R, López A, Socorro J, Molina L, Bouza C (2015a) First records of Hippocampus algiricus in the Canary Islands (north-east Atlantic Ocean) with an observation of hybridization with Hippocampus hippocampus. J Fish Biol 87:1080–1089

Otero-Ferrer F, Herrera R, Socorro J, Tuset VM, Molina L (2015b) Spatial and seasonal patterns of European short-snouted seahorse Hippocampus hippocampus distribution in island coastal environments. Afr J Mar Sci 37:395–404

Padilla DK (1998) Inducible phenotypic plasticity of the radula in Lacuna (Gastropoda: Littorinidae). Veliger 41:201–204

Ponder WF, Carter GA, Flemonsm P, Chapman RR (2001) Evaluation of museum collection data for use in biodiversity assessment. Conserv Biol 15:648–657

Santos RS, Porteiro FM, Barreiros JP (1997) Marine fishes of the Azores: annotated checklist and bibliography. Bulletin of the University of Azores, Supplement 1, 244 p

Shaffer HB, Fisher RN, Davidson C (1998) The role of natural history collections in documenting species declines. Trends Ecol Evol 13:27–30

Smith LD, Palmer AR (1994) Effects of manipulated diet on size and performance of brachyuran crab claws. Science 264(5159):710–712

Tingley MW, Beissinger SR (2009) Detecting range shifts from historical species occurrences: new perspectives on old data. Trends Ecol Evol 24:625–633

Tuya F, Haroun RJ (2009) Phytogeography of Lusitanian Macaronesia: biogeographic affinities in species richness and assemblage composition. Eur J Phycol 44:405–413

Tuya F, Ribeiro-Leite L, Arto-Cuesta N, Coca J, Haroun R, Espino F (2014) Decadal changes in the structure of Cymodocea nodosa seagrass meadows: natural vs. human influences. Estuar Coast Shelf Sci 137:41–49

Van Wassenbergh S, Roos G, Genbrugge A, Leysen H, Aerts P, Adriaens D, Herrel A (2009) Suction is kid's play: extremely fast suction in newborn seahorses. Biol Lett 5:200–203

Vincent ACJ, Foster SJ, Koldewey HJ (2011) Conservation and management of seahorses and other Syngnathidae. J Fish Biol 78:1681–1724

Wandeler P, Hoeck PE, Keller LF (2007) Back to the future: museum specimens in population genetics. Trends Ecol Evol 22:634–642

Wikelski M, Thom C (2000) Marine iguanas shrink to survive El Niño. Nature 403:37–38

Wintzer AP, Motta PJ (2005) Diet-induced phenotypic plasticity in the skull morphology of hatchery-reared Florida largemouth bass, Micropterus salmoides floridanus. Ecol Freshw Fish 14:311–318

Wirtz P, Ferreira CEL, Floeter SR, Fricke R, Gasparini JL, Iwamoto T, Rocha L, Sampaio CLS, Schliewen UK (2007) Coastal fishes of São Tomé and Príncipe Islands, Gulf of Guinea (Eastern Atlantic Ocean)—an update. Zootaxa 1523:1–48

Wirtz P, Fricke R, Biscoito MJ (2008) The coastal fishes of Madeira Island—new records and an annotated check-list. Zootaxa 1715:1–26

Wirtz P, Brito A, Falcón JM, Freitas R, Fricke R, Monteiro V, Reiner F, Tariche O (2013) The coastal fishes of the Cape Verde Islands—new records and an annotated check-list (Pisces). Spixiana 36:113–142

Wirtz P, Bingeman J, Bingeman J, Fricke R, Hook TJ, Young J (2014) The fishes of Ascension Island, central Atlantic Ocean—new records and an annotated checklist. J Mar Biol Assoc UK. doi:10.1017/S0025315414001301

Woodall LC, Koldewey HJ, Santos SV, Shaw PW (2009) First occurrence of the lined seahorse Hippocampus erectus in the eastern Atlantic Ocean. J Fish Biol 75:1505–1512

Woodall LC, Koldewey HJ, Shaw PW (2011) Historical and contemporary population genetic connectivity of the European short-snouted seahorse Hippocampus hippocampus and implications for management. J Fish Biol 78:1738–1756
Acknowledgements
To the 'Museo de Ciencias Naturales de Tenerife', especially to Dr. M.F. Hernández and A. de Vera, the 'Instituto Canario de Ciencias Marinas' at Gran Canaria, especially to J.I. Santana, and the 'Instituto Español de Oceanografía' at Tenerife, especially to Dr. S. Jiménez, for the information concerning their seahorse collections. The EcoAqua Project (GA621341) gave support to this research.
Additional information
This article belongs to the Topical Collection: Coastal and marine biodiversity.
Communicated by Angus Jackson.
Electronic supplementary material
Below is the link to the electronic supplementary material.
About this article
Cite this article
Otero-Ferrer, F., González, J.A., Freitas, M. et al. When natural history collections reveal secrets on data deficient threatened species: Atlantic seahorses as a case study. Biodivers Conserv 26, 2791–2802 (2017). https://doi.org/10.1007/s10531-017-1385-x
Received:

Revised:

Accepted:

Published:

Issue Date:
Keywords
Atlantic Ocean

Biodiversity conservation

Hippocampus

Phenotypic plasticity

Preserved specimens

Polymorphisms