Abstract
Over the last century, changing public attitudes about the value of wildlife have triggered substantial changes in species management that have both benefited and hindered conservation efforts. Understanding and integrating contemporary public values is therefore critical for effective conservation outcomes. Using historic and contemporary examples, we highlight how public attitudes—expressed through the media and campaigns—are shaping the management of introduced and native species, as values shift towards animal welfare and mutualism. We focus on the issue of deliberate human-caused killing of wildlife, because protests against such management have disrupted traditional political and management structures that favoured eradication of wildlife across many jurisdictions and ecological contexts. In doing so, we show that it is essential to work with multiple stakeholder interest groups to ensure that wildlife management is informed by science, while also supported by public values. Achieving this hinges on appropriate science communication to build a better-informed public because management decisions are becoming increasingly democratised.
This is a preview of subscription content, log in to check access.
Access options
Buy single article
Instant access to the full article PDF.
US$ 39.95
Price includes VAT for USA
Subscribe to journal
Immediate online access to all issues from 2019. Subscription will auto renew annually.
US$ 199
This is the net price. Taxes to be calculated in checkout.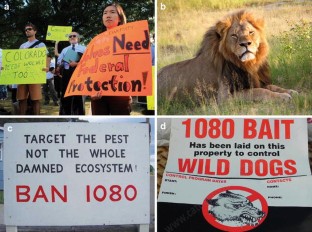 References
Agent Green (2016) Petiţie pentru interzicerea vânătorii de trofee. http://www.agentgreen.ro/petitie-pentru-interzicerea-vanatorii-de-trofee/. Accessed 7 Oct 2016

BBC News (1998) UK activists release 8,000 mink. http://news.bbc.co.uk/2/hi/uk_news/173600.stm. Accessed 7 Oct 2016

Bennett WL (2003) Communicating global activism. Inf Commun Soc 6:143–168

Decker DJ, Stedman RC, Larson LR, Siemer WF (2015) Hunting for wildlife management in America. Wildl Prof 9:26–29

Doherty TS, Ritchie EG (2016) Stop jumping the gun: a call for evidence-based invasive predator management. Conserv Lett 10:15–22

Dunlap TR (1981) DDT: scientists, citizens and public policy. Princeton University Press, New Jersey

Dunlap TR (1983) "The coyote itself": ecologists and the value of predators, 1900–1972. Environ Rev 7:54–70

Dunlap TR (1988) Ending the poisoning, 1963-1972. Saving America's wildlife: ecology and the American mind, 1850-1990. Princeton University Press, New Jersey, pp 127–141

Flores D (2016) Coyote America: a natural and supernatural history. Basic Books, New York

Jacobsen CA, Organ JF, Decker DJ, Batcheller GR (2010) A conservation institution for the 21st century: implications for state wildlife agencies. J Wildl Manag 74:203–209

Kellert SR, Black M, Rush CR, Bath AJ (1996) Human culture and large carnivore conservation in North America. Conserv Biol 10:977–990

Keough HL, Blahna DJ (2006) Achieving integrative, collaborative ecosystem management. Conserv Biol 20:1373–1382

Legislative Council (2016) General purpose standing committee No. 5. Parliament House, Sydney

Letnic M, Ritchie EG, Dickman CR (2012) Top predators as biodiversity regulators: the dingo Canis lupus dingo as a case study. Biol Rev 87:390–413

Macdonald DW, Jacobsen KS, Burnham D, Johnson PJ, Loveridge AJ (2016) Cecil: a moment or a movement? Analysis of media coverage of the death of a lion, Panthera leo. Animals 6:26

Manfredo MJ, Fulton DC, Pierce CL (1997) Understanding voter behavior on wildlife ballot initiatives: Colorado's trapping amendment. Hum Dimens Wildl 2:22–39

Manfredo MJ, Teel TL, Henry KL (2009) Linking society and environment: a multilevel model of shifting Wildlife value orientations in the Western United States. Soc Sci Q 90:407–427

McNulty F (1970) A reporter at large: the prairie dog and the black-footed ferret. The New Yorker, New York

Mech LD (1996) A new era for carnivore conservation. Wildl Soc Bull 24:397–401

Minnis DL (1998) Wildlife poliyc-making by the electorate: an overview of citizen-sponsored ballot measures on hunting and trapping. Wildl Soc Bull 26:75–83

National Project Steering Committee (2014) National wild dog action plan: promoting and supporting community-driven action for landscape-scale wild dog management. WoolProducers Australia, Barton

Pacelle W (1998) Forging a new wildlife management paradigm: integrating animal protection values. Hum Dimens Wildl 3:42–50

Russell JC (2014) A comparison of attitudes towards introduced wildlife in New Zealand in 1994 and 2012. J R Soc N Z 44:136–151

Sargeant M-L (2016) Stop the "doomed" dingo program: using a deadly capsule containing 1080 poison. Change.org, Inc. https://www.change.org/p/action-days-for-dingoes-justice-for-australian-native-animal. Accessed 6 Sept 2016

Schwartz D (2016) Death row dingoes set to be the environmental saviour of Great Barrier Reef's Pelorus Island. Landline

Siri P (2016) Save the endangered Norwegian wolves now! Change.org, Inc. https://www.change.org/p/save-the-endangered-norwegian-wolves. Accessed 7 Oct 2016

Sutterend T, Ulven E (2016) Norway reprieves 32 of 47 wolves earmarked for cull. The Guardian. https://www.theguardian.com/environment/2016/dec/20/norway-reprieves-32-of-47-wolves-earmarked-for-cull. Accessed 05 Jan 2016

Wagner G (1970) America—overkill season, vol 224. The Spectator, United Kingdom

Way JG, Bruskotter JT (2012) Additional considerations for gray wolf management after their removal from endangered species act protections. J Wildl Manag 76:457–461
Additional information
Communicated by David Hawksworth.
About this article
Cite this article
van Eeden, L.M., Dickman, C.R., Ritchie, E.G. et al. Shifting public values and what they mean for increasing democracy in wildlife management decisions. Biodivers Conserv 26, 2759–2763 (2017). https://doi.org/10.1007/s10531-017-1378-9
Received:

Accepted:

Published:

Issue Date:
Keywords
Public perception

Animal welfare

Conservation and wildlife management

Lethal pest control

Science communication