Abstract
Scientific conferences are more impactful when they foster novel ideas, create new networks, and promote inter-disciplinary collaboration. The field of conservation physiology is inherently cross-disciplinary, representing the application of physiological techniques and knowledge to address conservation issues. Ideally, knowledge transfer comes from both directions: conservation biologists seek input on physiological techniques that can contribute to the success of their programs, and physiologists collaborate with conservation biologists to plan relevant applications for their work. To assess whether the level of integration between conservation and physiology has been increasing since the formal naming of the discipline of conservation physiology in 2006, we reviewed abstracts from conferences of three societies: Society for Conservation Biology (SCB), Society for Integrative and Comparative Biology (SICB), and Society for Experimental Biology (SEB). Specifically, we searched for physiology-related keywords in abstracts from SCB meetings, and for conservation-related keywords in abstracts from SICB and SEB. Our results indicate that the percentage of presentations incorporating physiology at conservation meetings has remained relatively steady (2–3%). In contrast, the percentage of presentations citing conservation applications has been rising at both of the integrative biology societies' meetings and has reached 4.4 and 7.9% at SICB and SEB, respectively. We provide suggestions for why there may be discrepancies between conference types and ways to encourage the presence of physiological topics at future conservation meetings.
Access options
Buy single article
Instant access to the full article PDF.
US$ 39.95
Tax calculation will be finalised during checkout.
Subscribe to journal
Immediate online access to all issues from 2019. Subscription will auto renew annually.
US$ 119
Tax calculation will be finalised during checkout.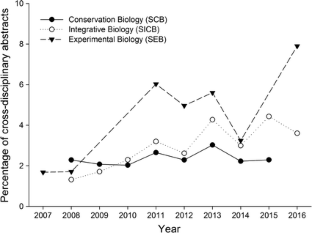 References
Alberts B (2013) Designing scientific meetings. Science 339:737. doi:10.1126/science.1236324

Cooke SJ, O'Connor CM (2010) Making conservation physiology relevant to policy makers and conservation practitioners. Conserv Lett 3:159–166. doi:10.1111/j.1755-263X.2010.00109.x

Cooke SJ, Suski CD (2008) Ecological restoration and physiology: an overdue integration. BioScience 58:957–968. doi:10.1641/B581009

Cooke SJ, Hinch SG, Donaldson MR et al (2012) Conservation physiology in practice: how physiological knowledge has improved our ability to sustainably manage Pacific salmon during up-river migration. Philos Trans R Soc B Biol Sci 367:1757–1769. doi:10.1098/rstb.2012.0022

Cooke SJ, Sack L, Franklin CE et al (2013) What is conservation physiology? Perspectives on an increasingly integrated and essential science. Conserv Physiol. doi:10.1093/conphys/cot001

Coristine LE, Robillard CM, Kerr JT et al (2014) A conceptual framework for the emerging discipline of conservation physiology. Conserv Physiol. doi:10.1093/conphys/cou033

Davy CM, Mastromonaco GF, Riley JL et al (2016) Conservation implications of physiological carry-over effects in bats recovering from white-nose syndrome. Conserv Biol. doi:10.1111/cobi.12841

Janin A, Léna J-P, Joly P (2011) Beyond occurrence: body condition and stress hormone as integrative indicators of habitat availability and fragmentation in the common toad. Biol Conserv 144:1008–1016. doi:10.1016/j.biocon.2010.12.009

Lennox R, Cooke SJ (2014) State of the interface between conservation and physiology: a bibliometric analysis. Conserv Physiol. doi:10.1093/conphys/cou003

Madliger CL, Love OP (2015) The power of physiology in changing landscapes: considerations for the continued integration of conservation and physiology. Integr Comp Biol 55:545–553. doi:10.1093/icb/icv001

Madliger CL, Cooke SJ, Crespi EJ et al (2016) Success stories and emerging themes in conservation physiology. Conserv Physiol. doi:10.1093/conphys/cov057

Oftedal OT (2002) Nutritional ecology of the desert tortoise in the Mohave and Sonoran deserts. In: Van Devender TR (ed) The Sonoran desert tortoise. University of Arizona Press, Arizona, pp 104–241

Salafsky N, Margoluis R, Redford KH, Robinson JG (2002) Improving the practice of conservation: a conceptual framework and research agenda for conservation science. Conserv Biol 16:1469–1479. doi:10.1046/j.1523-1739.2002.01232.x

Taylor HR, Soanes K (2016) Breaking out of the echo chamber: missed opportunities for genetics at conservation conferences. Biodivers Conserv 25:1987–1993. doi:10.1007/s10531-016-1159-x

Van Devender TR (2002) The Sonoran desert tortoise. University of Arizona Press, Arizona

Wikelski M, Cooke SJ (2006) Conservation physiology. Trends Ecol Evol 21:38–46. doi:10.1016/j.tree.2005.10.018
Acknowledgements
We thank two anonymous reviewers for input that improved our manuscript. OPL and SJC are supported by the Canada Research Chairs Program and the Natural Sciences and Engineering Research Council of Canada.
Additional information
Communicated by David Hawksworth.
Appendix
Appendix
The societies, venues, types of abstracts (oral/poster), and number of abstracts for conference programs we searched can be found in Table 2.
About this article
Cite this article
Madliger, C.L., Cooke, S.J. & Love, O.P. A call for more physiology at conservation conferences. Biodivers Conserv 26, 2507–2515 (2017). https://doi.org/10.1007/s10531-017-1364-2
Received:

Revised:

Accepted:

Published:

Issue Date:
Keywords
Conservation biology

Conservation physiology

Cross-disciplinary

Integration

Inter-disciplinary

Meeting