Abstract
Quantifying diversity is an old challenge for ecologists and is also a social demand given the increasing threats to natural areas. We sought to work on these issues by using data from 158 vegetation remnants (over 350,000 trees) in southeastern Brazil (Minas Gerais State—MG, nearly 600,000 km2). Specifically, we sought to answer the following questions. (1) How many trees and tree species currently exist in MG vegetation remnants? (2) How much of such biodiversity is present in each vegetation domain (Atlantic Forest, Cerrado and Caatinga) and vegetation type (Seasonally Dry tropical forest "semideciduous", Seasonally Dry tropical forest "deciduous", Rain Forest, Swamp, Cerrado and Cerradão) in MG? (3) How much has been lost in regards to tree amount and tree species? We built a 0.1-degree cell grid to estimate the number of trees via spatial regression and used Fisher's alpha and Fisher's log series to provide estimates on how many tree species there are and were in MG. We found the number of trees in Minas Gerais to be approximately 24.5 × 109, and the number of tree species to be between 3592 and 3743. The most abundant species distribution among the vegetation domains and vegetation types followed inversely the environmental heterogeneity of the classes. Consequently, the most abundant species in MG belonged to the Cerrado domain, where there was less environmental heterogeneity. The numbers of trees and tree species lost were estimated at 68.54 and 4.03–8.42% of the original values, respectively. We discuss that due to the consequences of human impacts that go back in the region for over a thousand years, other processes not considered in this study, such as habitat degradation by isolation, alterations of food webs, unsustainable use, and climate change, might have caused local extinctions and potentially increased the number of species lost. We believe our results may guide conservation initiatives by providing a base for future environmental laws, parks planning, and the development of more appropriate vegetation management techniques in MG. In addition, our results may inspire future quantitative ecological studies in the tropics.
Access options
Buy single article
Instant access to the full article PDF.
USD 39.95
Price excludes VAT (USA)
Tax calculation will be finalised during checkout.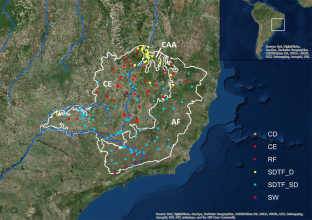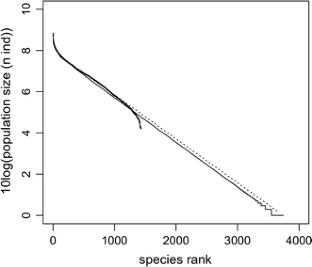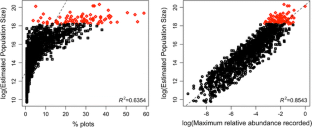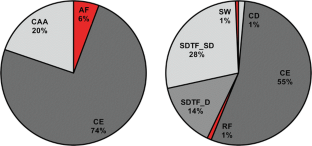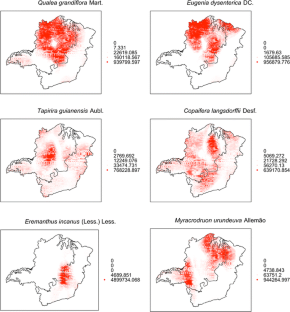 References
Achard F, Eva HD, Stibig HJ, Mayaux P, Gallego J, Richards T, Malingreau JP (2002) Determination of deforestation rates of the world's humid tropical forests. Science 297:999–1002. doi:10.1126/science.1070656

Apgaua DMG, Coelho PA, Santos RM, Santos PF, Oliveira Filho AT (2014) Tree community structure in a seasonally dry tropical forest remnant, Brazil. Cerne 20:173–182. doi:10.1590/01047760.201420021540

Augusto A, Tabanez J, Viana VM (2000) Patch structure within Brazilian Atlantic Forest fragments and implications for conservation. Biotropica 32:925–933. doi:10.1111/j.1744-7429.2000.tb00630.x

Bello C, Galetti M, Pizo MA, Magnago LFS, Rocha MF, Lima RAF, Peres CA, Ovaskainen O, Jordano P (2015) Defaunation affects carbon storage in tropical forests. Sci Adv 1:e1501105. doi:10.1126/sciadv.1501105

Beuchle R, Grecchi RC, Shimabukuro YE, Seliger R, Eva HD, Sano E, Achard F (2015) Land cover changes in the Brazilian Cerrado and Caatinga biomes from 1990 to 2010 based on a systematic remote sensing sampling approach. Appl Geogr 58:116–127. doi:10.1016/j.apgeog.2015.01.017

Bianchi CA, Haig SM (2013) Deforestation trends of tropical dry forests in central Brazil. Biotropica 45:395–400. doi:10.1111/btp.12010

Boyle B, Hopkins N, Lu Z, Garay JAR, Mozzherin D, Rees T, Matasci N, Narro ML, Piel WH, Mckay SJ, Lowry S, Freeland C, Peet RK, Enquist BJ (2013) The taxonomic name resolution service: an online tool for automated standardization of plant names. BMC Bioinform 14:1471–2105. doi:10.1186/1471-2105-14-16

Bridgewater S, Ratter JA, Ribeiro JF (2004) Biogeographic patterns, β-diversity and dominance in the cerrado biome of Brazil. Biodivers Conserv 13:2295–2318. doi:10.1023/B:BIOC.0000047903.37608.4c

Bueno E (1998) A viagem do descobrimento: a verdadeira história da expedição de Cabral. Objetiva, Rio de Janeiro

Cabral OMR, Rocha HR, Gash JH, Freitas HC, Ligo MAV (2015) Water and energy fluxes from a woodland savanna (cerrado) in southeast Brazil. J Hydrol Reg Stud 4:22–40. doi:10.1016/j.ejrh.2015.04.010

Canadell JG, Raupach MR (2008) Managing forests for climate change mitigation. Science 320:320–1456. doi:10.1126/science.1155458

Chazdon RL, Peres CA, Dent D, Sheil D, Lugo AE, Lamb D, Stork NE, Miller S (2009) The potential for species conservation in tropical secondary forests. Conserv Biol 23:1406–1417. doi:10.1111/j.1523-1739.2009.01338.x

Condit R (1995) Research in large, long-term tropical forest plots. Trends Ecol Evol 10:18–22. doi:10.1016/S0169-5347(00)88955-7

Costa FMCB, Oliveira Filho AT, Oliveira PS (1992) The role of extrafloral nectaries in Qualea grandiflora (Vochysiaceae) in limiting herbivory: an experiment of ant protection in cerrado vegetation. Ecol Entomol 17:363–365. doi:10.1111/j.1365-2311.1992.tb01071.x

Crowther TW, Glick HB, Covey KR, Bettigole C, Maynard DS, Thomas SM, Smith JR, Hintler G, Duguid MC, Amatulli C, Tuanmu M-N, Jetz W, Salas C, Stam C, Piotto D, Tavani R, Green S, Bruce G, Williams SJ, Wiser SK, Huber MO, Hengeveld GM, Nabuurs G-J, Tikhonova E, Borchardt P, Li C-F, Powrie LW, Fisher M, Hemp A, Homeier J, Cho P, Vibrans AC, Umunay PM, Piao SL, Rowe CW, Ashton MS, Crane PR, Bradford MA (2015) Mapping tree density at a global scale. Nature 525:201–205. doi:10.1038/nature14967

Eisenlohr PV, Oliveira-filho AT (2015) Revisiting patterns of tree species composition and their driving forces in the Atlantic Forests of Southeastern Brazil. Biotropica 47:689–701. doi:10.1111/btp.12254

Fauset S, Johnson MO, Gloor M, Baker TR, Monteagudo A, Brienen RJW, Feldpausch TR, Lopez-Gonzalez G, Malhi Y, ter Steege H, Pitman NCA, Baraloto C, Engel J, Pétronelli P, Andrade A, Camargo JLC, Laurance SGW, Laurance WF, Chave J, Allie E, Vargas PN, Terborgh JW, Ruokolainen K, Silveira M, Aymard GA, Arroyo L, Bonal D, Ramirez-Angulo H, Araujo-Murakami A, Neill D, Hérault B, Dourdain A, Torres-Lezama A, Marimon BS, Salomão RP, Comiskey JA, Réjou-Méchain M, Toledo M, Licona JC, Alarcón A, Prieto A, Rudas A, Van Der Meer PJ, Killeen TJ, Marimon Junior B-H, Poorter L, Boot RGA, Stergios B, Torre EV, Costa FRC, Levis C, Schietti J, Souza P, Groot N, Arets E, Moscoso VC, Castro W, Coronado ENH, Penã-Claros M, Stahl C, Barroso J, Talbot J, Vieira ICG, Van Der Heijden G, Thomas R, Vos VA, Almeida EC, Davila EA, Aragão LEOC, Erwin TL, Morandi PS, Oliveira EA, Valadão MBX, Zagt RJ, Van Der Hout P, Loayza PA, Pipoly JJ, Wang O, Alexiades M, Cerón CE, Huamantupa-Chuquimaco I, Di Fiore A, Peacock J, Camacho NCP, Umetsu RK, Camargo PB, Burnham RJ, Herrera R, Quesada CA, Stropp J, Vieira SA, Steininger M, Rodríguez CR, Restrepo Z, Muelbert AE, Lewis SL, Pickavance GC, Phillips OL (2015) Hyperdominance in Amazonian forest carbon cycling. Nat Commun 6:6857. doi:10.1038/ncomms7857

Felfili MC, Felfili JM (2001) Diversidade alfa e beta no cerrado sensu stricto da Chapada Pratinha, Brasil. Acta Bot Bras 15:243–254. doi:10.1590/S0102-33062001000200010

Fisher RA, Corbet AS, Williams CB (1943) The relation between the number of species and the number of individuals in a random sample of an animal population. J Anim Ecol 12:42–58. doi:10.2307/1411

Food and Agriculture Organization of the United Nations (2010) Global forest resources assessment. Main report. FAO, Rome

Galindo-Leal C, Câmara IG (2003) Atlantic Forest hotspots status: an overview. In: Galindo-Leal C, Câmara IG (eds) The Atlantic Forest of South America: biodiversity status, threats, and outlook. Center for Applied Biodiversity Science e Island Press, Washington, DC, pp 3–11

Gonçalves Alvim SJ, Korndorf G, Fernandes GW (2006) Sclerophylly in Qualea parviflora (Vochysiaceae): influence of herbivory, mineral nutrients, and water status. Plant Ecol 187:153–162. doi:10.1007/s11258-004-3286-9

Goodland RJA (1970) Plants of the cerrado vegetation of Brasil. Phytologia 20:57–78

Goodland R, Ferri MG (1979) Ecologia do Cerrado. Edusp/Livraria Itatiaia Editora Ltda, Belo Horizonte

Haddad NM, Brudving LA, Clobert J, Davies KF, Gonzalez A, Holt RD, Lovejoy TE, Sexton JO, Austin MP, Collins CD, Cook WM, Damschen EI, Ewers RM, Foster BL, Jenkins CN, King AJ, Laurance WF, Levey DJ, Margules CR, Melbourne BA, Nicholls AO, Orrock JL, Song DS, Townshend JR (2015) Habitat fragmentation and its lasting impact on Earth's ecosystems. Sci Adv 1:e1500052. doi:10.1126/sciadv.1500052

Haridasan M (2008) Nutritional adaptations of native plants of the cerrado biome in acid soils. Braz J Plant Physiol 20:183–195. doi:10.1590/S1677-04202008000300003

Harrison PA, Berry PM, Simpson G, Haslett JR, Blicharska M, Bucur M, Dunford R, Egoh B, Garcia-Llorente M, Geamǎnǎ N, Geertsema W, Lommelen E, Meiresonne L, Turkelboom F (2014) Linkages between biodiversity attributes and ecosystem services: a systematic review. Ecosyst Serv 9:191–203. doi:10.1016/j.ecoser.2014.05.006

Higuchi P, Oliveira Filho AT, Bebber DP, Brown ND, Silva AC, Machado ELM (2008) Spatio-temporal patterns of tree community dynamics in a tropical forest fragment in South-east Brazil. Plant Ecol 199:125–135. doi:10.1007/s11258-008-9418-x

Hoffmann WA, Orthen B, Nascimento PKV (2003) Comparative fire ecology of tropical savanna and forest trees. Funct Ecol 17:720–726. doi:10.1111/j.1365-2435.2003.00796.x

Hunke P, Mueller EN, Schröder B, Zeilhofer P (2014) The Brazilian Cerrado: assessment of water and soil degradation in catchments under intensive agricultural use. Ecohydrology 8:1154–1180. doi:10.1002/eco.1573

Instituto Brasileiro de Geografia e Estatística – IBGE (2004) Mapa de biomas brasileiros. IBGE, Rio de Janeiro

Instituto Brasileiro de Geografia e Estatística – IBGE (2012) Manual Técnico da Vegetação Brasileira. IBGE, Rio de Janeiro

Instituto Brasileiro de Geografia e Estatística – IBGE (2015) Estimativas populacionais para os municípios e para as Unidades da Federação brasileiros em 01.07.2015

Instituto Chico Mendes de Conservação da Biodiversidade – ICMBio (2013) i3Geo—Mapa Interativo http://mapas.icmbio.gov.br/i3geo/icmbio/mapa/externo/home.html?4m8d0k4n09f5rsoqok8j3djst7

Joly CA, Metzger JP, Tabarelli M (2014) Experiences from the Brazilian Atlantic Forest: ecological findings and conservation initiatives. New Phytol 204:459–473. doi:10.1111/nph.12989

Klink CA, Machado RB (2005) Conservation of the Brazilian Cerrado. Conserv Biol 19:707–713. doi:10.1111/j.1523-1739.2005.00702.x

Laurance WF, Nascimento HEM, Laurance SG, Andrade AC, Fearnside PM, Ribeiro JEL, Capretz RL (2006) Rain forest fragmentation and the proliferation of successional trees. Ecology 87:469–482. doi:10.1890/05-0064

Lehmann CER, Anderson TM, Sankaran M, Higgins SI, Archibald S, Hoffmann WA, Hanan NP, Williams RJ, Fensham RJ, Felfili J, Hutley LB, Ratnam J, San Jose J, Montes R, Franklin D, Russell-Smith J, Ryan CM, Duringan G, Hiernaux P, Haidar R, Bowman DMJS, Bond WJ (2014) Savanna vegetation-fire-climate relationships differ among continents. Science 343:548–552. doi:10.1126/science.1247355

Leitão-Filho HF, Morellato LPC (1997) Semideciduous forests of Southeastern Brasil - Serra do Japi. In: Davis SD, Heywood VH, Herrera-MacBryde O, Villa-Lobos J, Hamilton AC (eds) Centres for plant diversity: a guide and strategy for their conservation. IUCN, WWF, Washington, pp 381–384

Lima RAF, Mori DP, Pitta G, Melito MO, Bello C (2015) How much do we know about the endangered Atlantic Forest? Reviewing nearly 70 years of information on tree community surveys. Biodivers Conserv 24:2135. doi:10.1007/s10531-015-0953-1

Lorenzi H (1992) Árvores brasileiras: manual de identificação e cultivo de plantas arbóreas nativas do Brasil. Plantarum, São Paulo

Magnago LFS, Edwards DP, Edwards FA, Magrach A, Martins SV, Laurance WF (2014) Functional attributes change but functional richness is unchanged after fragmentation of Brazilian Atlantic Forests. J Ecol 102:475–485. doi:10.1111/1365-2745.12206

Malhi Y, Roberts JT, Betts RA, Killeen TJ, Li W, Nobre CA (2008) Climate change, deforestation, and the fate of the Amazon. Science 319:169–172. doi:10.1126/science.1146961

Marris E (2005) Conservation in Brazil: the forgotten ecosystem. Nature 437:944–945. doi:10.1038/437944a

Martin PA, Newton AC, Pfeifer M, Khoo M, Bullock JM (2015) Impacts of tropical selective logging on carbon storage and tree species richness: a meta-analysis. Forest Ecol Manag 356:224–233. doi:10.1016/j.foreco.2015.07.010

Mittermeier CG, Turner WR, Larsen FW, Brooks TM, Gascon C (2011) Global biodiversity conservation: the critical role of hotspots. In: Zachos FE, Habel JC (eds) Biodiversity hotspots: distribution and protection of conservation priority areas. Springer, Berlin, pp 3–22

Morellato LPC, Haddad CFB (2000) Introduction: the Brazilian Atlantic Forest. Biotropica 32:786–792. doi:10.1111/j.1744-7429.2000.tb00618.x

Murphy PG, Lugo AE (1986) Ecology of tropical dry forest. Annu Rev Ecol Syst 17:67–88. doi:10.1146/annurev.es.17.110186.000435

Myers N, Mittermeier RA, Mittermeier CG, Fonseca GAB, Kent J (2000) Biodiversity hotspots for conservation priorities. Nature 403:853–858. doi:10.1038/35002501

Nunes YRF, Fagundes M, Almeida HS, Veloso MDM (2008) Aspectos ecológicos da aroeira (Myracrodruon urundeuva Allemão- Anacardiaceae): fenologia e germinação de sementes. Rev Árvore 32:233–243. doi:10.1590/S0100-67622008000200006

Ojea E, Martin-Ortega J, Chiabai A (2012) Defining and classifying ecosystem services for economic valuation: the case of forest water services. Environ Sci Policy 19–20:1–15. doi:10.1016/j.envsci.2012.02.002

Oliveira-Filho AT (2006) Catálogo das Árvores Nativas de Minas Gerais - Mapeamento e Inventário da Flora Nativa e dos Reflorestamentos de Minas Gerais. UFLA, Lavras

Oliveira-Filho AT, Fluminhan-Filho M (1999) Ecologia da vegetação do Parque Florestal Quedas do Rio Bonito. Cerne 5:51–64

Oliveira-filho AT, Fontes MAL (2000) Patterns of floristic differentiation among Atlantic Forests in Southeastern Brazil and the influence of climate. Biotropica 32:793–810. doi:10.1111/j.1744-7429.2000.tb00619.x

Oliveira-Filho AT, Ratter JA (1995) A study of the origin of central Brazilian forests by the analysis of plant species distribution patterns. Edinb J Bot 52:141–194. doi:10.1017/S0960428600000949

Oliveira-Filho AT, Ratter JA (2000) Padrões florísticos das matas ciliares da região dos cerrados e a evolução das paisagens do Brasil Central durante o Quaternário tardio. In: Rodrigues RR, Leitão-Filho HF (eds) Matas Ciliares: Bases Multidisciplinares para Estudo, Conservação e Restauração. EDUSP, São Paulo, pp 73–89

Oliveira-Filho AT, Ratter JA (2002) Vegetation physiognomies and woody flora of the Cerrado Biome. In: Oliveira PS, Marquis RJ (eds) The Cerrados of Brazil: ecology and natural history of a Neotropical Savanna. Columbia University Press, New York, pp 91–120

Paula MD, Groeneveld J, Huth A (2015) Tropical forest degradation and recovery in fragmented landscapes—simulating changes in tree community, forest hydrology and carbon balance. Glob Ecol Conserv 3:664–677. doi:10.1016/j.gecco.2015.03.004

Pennington RT, Prado DE, Pendry CA (2000) Neotropical seasonally dry forests and Quaternary vegetation changes. J Biogeogr 27:261–273. doi:10.1046/j.1365-2699.2000.00397.x

Pennington RT, Lewis GP, Ratter JA (2006) An overview of the plant diversity, biogeography and conservation of neotropical savannas and seasonally dry forests. In: Pennington RT, Lewis GP, Ratter JA (eds) Neotropical savannas and seasonally dry forests: plant diversity, biogeography and conservation. CRC Press, Boca Raton, pp 1–29

Pereira JAA, Oliveira-Filho AT, Lemos-Filho JP (2007) Environmental heterogeneity and disturbance by humans control much of the tree species diversity of Atlantic montane forest fragments in SE Brazil. Biodivers Conserv 16:1761–1784. doi:10.1007/s10531-006-9063-4

Pereira JAA, Oliveira-Filho AT, Eisenlohr PV, Miranda PLS, Lemos Filho JP (2015) Human impacts affect tree community features of 20 forest fragments of a vanishing neotropical hotspot. Environ Manage 55:296–307. doi:10.1007/s00267-014-0387-7

Pitman NCA, Terborgh J, Silman MR, Nuñez P (1999) Tree species distributions in an upper Amazonian forest. Ecology 80:2651–2661. doi:10.1890/0012-9658(1999)080[2651:TSDIAU]2.0.CO;2

Pitman NCA, Silman MR, Terborgh JW (2013) Oligarchies in Amazonian tree communities: a ten-year review. Ecography 36:114–123. doi:10.1111/j.1600-0587.2012.00083.x

Preston FW (1960) Time and space and the variation of species. Ecology 41:611–627. doi:10.2307/1931793

Ratter JA (1992) Transitions between cerrado and forest vegetation in Brazil. In: Furley PA, Proctor J, Ratter JA (eds) Nature and dynamics of forest-savanna boundaries. Chapman & Hall, London, pp 417–429

Ratter JA, Bridgewater S, Ribeiro JF (2003) Analysis of the floristic composition of the Brazilian Cerrado vegetation III: comparison of the woody vegetation of 376 areas. Edinb J Bot 60:57–109. doi:10.1017/S0960428603000064

Ribeiro MC, Metzger JP, Martensen AC, Ponzoni FJ, Hirota MM (2009) The Brazilian Atlantic Forest: how much is left, and how is the remaining forest distributed? Implications for conservation. Biol Conserv 142:1141–1153. doi:10.1016/j.biocon.2009.02.021

Sano EE, Rosa R, Brito JLS, Ferreira LG (2010) Land cover mapping of the tropical savanna region in Brazil. Environ Monit Assess 166:113–124. doi:10.1007/s10661-009-0988-4

Santos JC, Leal IR, Almeida-Cortez JS, Fernandes GW, Tabarelli M (2011) Caatinga: the scientific negligence experienced by a dry tropical forest. Trop Conserv Sci 4:276–286

Santo-Silva EE, Almeida WR, Tabarelli M, Peres CA (2016) Habitat fragmentation and the future structure of tree assemblages in a fragmented Atlantic Forest landscape. Plant Ecol 217:1129–1140. doi:10.1007/s11258-016-0638-1

Scolforo JRS, Carvalho LMT (2006) Mapeamento e inventário da flora nativa e dos reflorestamentos de Minas Gerais. UFLA, Lavras

Scolforo JRS, Loeuille BFP, Altoé TF (2012) Caracterização da Candeia. In: Scolforo JRS, Oliveira AD, Davide AC (eds) Manejo sustentável da candeia : o caminhar de uma nova experiência em Minas, Gerais edn. UFLA, Lavras, pp 19–27

Scolforo HF, Scolforo JRS, Mello CR, Mello JM, Ferraz Filho AC (2015) Spatial distribution of aboveground carbon stock of the arboreal vegetation in Brazilian Biomes of Savanna, Atlantic Forest and Semi-Arid Woodland. PLoS ONE 10:1–20. doi:10.1371/journal.pone.0128781

Scott WA, Hallam CJ (2002) Assessing species misidentication rates through quality assurance of vegetation monitoring. Plant Ecol 165:101–115. doi:10.1023/A:1021441331839

Slik JWF, Arroyo-Rodríguez V, Aiba SI, Alvarez-Loayza P, Alves LF, Ashton P, Balvanera P, Bastian ML, Bellingham PJ, van den Berg E, Bernacci L, da Bispo PC, Blanc L, Böhning-Gaese K, Boeckx P, Bongers F, Boyle B, Bradford M, Brearley FQ, Hockemba MBN, Bunyavejchewin S, Matos DCL, Castillo-Santiago M, Catharino ELM, Chai SL, Chen Y, Colwell RK, Chazdon RL, Clark C, Clark DB, Clark DA, Culmsee H, Damas K, Dattaraja HS, Dauby G, Davidar P, DeWalt SJ, Doucet JL, Duque A, Durigan G, Eichhorn KAO, Eisenlohr PV, Eler E, Ewango C, Farwig N, Feeley KJ, Ferreira L, Field R, de Filho ATO, Fletcher C, Forshed O, Franco G, Fredriksson G, Gillespie T, Gillet JF, Amarnath G, Griffith DM, Grogan J, Gunatilleke N, Harris D, Harrison R, Hector A, Homeier J, Imai N, Itoh A, Jansen PA, Joly CA, de Jong BHJ, Kartawinata K, Kearsley E, Kelly DL, Kenfack D, Kessler M, Kitayama K, Kooyman R, Larney E, Laumonier Y, Laurance S, Laurance WF, Lawes MJ, Do Amaral IL, Letcher SG, Lindsell J, Lu X, Mansor A, Marjokorpi A, Martin EH, Meilby H, Melo FPL, Metcalfe DJ, Medjibe VP, Metzger JP, Millet J, Mohandass D, Montero JC, de Valeriano MM, Mugerwa B, Nagamasu H, Nilus R, Ochoa-Gaona S, Onrizal O, Page N, Parolin P, Parren M, Parthasarathy N, Paudel E, Permana A, Piedade MTF, Pitman NCA, Poorter L, Poulsen AD, Poulsen J, Powers J, Prasad RC, Puyravaud J-P, Razafimahaimodison J-C, Reitsma J, Dos Santos JR, Spironello WR, Romero-Saltos H, Rovero F, Rozak AH, Ruokolainen K, Rutishauser E, Saiter F, Saner P, Santos BA, Santos F, Sarker SK, Satdichanh M, Schmitt CB, Schöngart J, Schulze M, Suganuma MS, Sheil D, da Pinheiro ES, Sist P, Stevart T, Sukumar R, Sun I-F, Sunderland T, Suresh HS, Suzuki E, Tabarelli M, Tang J, Targhetta N, Theilade I, Thomas DW, Tchouto P, Hurtado J, Valencia R, van Valkenburg JLCH, Do TV, Vasquez R, Verbeeck H, Adekunle V, Vieira SA, Webb CO, Whitfeld T, Wich SA, Williams J, Wittmann F, Wöll H, Yang X, Yao CYA, Yap SL, Yoneda T, Zahawi RA, Zakaria R, Zang R, de Assis RL, Luize BG, Venticinque EM (2015) An estimate of the number of tropical tree species. Proc Natl Acad Sci USA 112:7472–7477. doi:10.1073/pnas.1423147112

Soares-Filho BS, Nepstad DC, Curran LM, Cerqueira GC, Garcia RA, Ramos CA, Voll E, McDonald A, Lefebvre P, Schlesinger P (2006) Modelling conservation in the Amazon basin. Nature 440:520–523. doi:10.1038/nature04389

Sobral M, Stehmann JR (2009) An analysis of new angiosperm species discoveries in Brazil (1990–2006). Taxon 58:227–232

Souza BC, Oliveira RS, Araújo FS, Lima ALA, Rodal MJN (2015) Divergências funcionais e estratégias de resistência à seca entre espécies decíduas e sempre verdes tropicais. Rodriguésia 66:21–32. doi:10.1590/2175-7860201566102

Sunderland T, Apgaua D, Baldauf C, Blackie R, Colfer C, Cunningham AB, Dexter K, Djoudi H, Gautier D, Gumbo D, Ickowitz A, Kassa H, Parthasarathy N, Pennington RT, Paumgarten F, Pulla S, Sola P, Tng D, Waeber P, Wilmé L (2015) Global dry forests: a prologue. Int Forest Rev 17:1–9. doi:10.1505/146554815815834813

Tabarelli M, Pinto LP, Silva JMC, Hirota MM, Bedê LC (2005) Desafios e oportunidades para a conservação da biodiversidade na Mata Atlântica brasileira. Megadiversidade 1(132):138

Tabarelli M, Peres CA, Melo FPL (2012) The 'few winners and many losers' paradigm revisited: emerging prospects for tropical forest biodiversity. Biol Conserv 155:136–140. doi:10.1016/j.biocon.2012.06.020

ter Steege H (1998) The use of forest inventory data for a national protected area strategy in Guyana. Biodivers Conserv 7:1457–1483. doi:10.1023/A:1008893920157

ter Steege H, Hammond DS (2001) Character convergence, diversity, and disturbance in tropical rain forest in Guyana. Ecology 82:3197–3212. doi:10.1890/0012-9658(2001)082[3197:CCDADI]2.0.CO;2

ter Steege H, Pitman NCA, Phillips OL, Chave J, Sabatier D, Duque A, Molino J-F, Prévost M-F, Spichiger R, Castellanos H, Von Hildebrand P, Vásquez R (2006) Continental-scale patterns of canopy tree composition and function across Amazonia. Nature 443:444–447. doi:10.1038/nature05134

ter Steege H, Pitman NCA, Sabatier D, Baraloto C, Salomão RP, Guevara JE, Phillips OL, Castilho CV, Magnusson WE, Molino J-F, Monteagudo A, Vargas PN, Montero JC, Feldpausch TR, Coronado ENH, Killeen TJ, Mostacedo B, Vasquez R, Assis RL, Terborgh J, Wittmann F, Andrade A, Laurance WF, Laurance SGW, Marimon BS, Marimon B-H Jr, Vieira ICG, Amaral IL, Brienen R, Castellanos H, López DC, Duivenvoorden JF, Mogollón HF, Matos FDA, Dávila N, García-Villacorta R, Diaz PRS, Costa F, Emilio T, Levis C, Schietti J, Souza P, Alonso A, Dallmeier F, Montoya AJD, Piedade MTF, Araujo-Murakami A, Arroyo L, Gribel R, Fine PVA, Peres CA, Toledo M, Aymard GA, Baker TR, Cerón C, Engel J, Henkel TW, Maas P, Petronelli P, Stropp J, Zartman CE, Daly D, Neill D, Silveira M, Paredes MR, Chave J, Lima Filho DA, Jørgensen PM, Fuentes A, Schöngart J, Valverde FC, Di Fiore A, Jimenez EM, Mora MCP, Phillips JF, Rivas G, van Andel TR, von Hildebrand P, Hoffman B, Zent EL, Malhi Y, Prieto A, Rudas A, Ruschell AR, Silva N, Vos V, Zent S, Oliveira AA, Schutz AC, Gonzales T, Nascimento MT, Ramirez-Angulo H, Sierra R, Tirado M, Medina MNU, van der Heijden G, Vela CIA, Torre EV, Vriesendorp C, Wang O, Young KR, Baider C, Balslev H, Ferreira C, Mesones I, Torres-Lezama A, Giraldo LEU, Zagt R, Alexiades MN, Hernandez L, Huamantupa-Chuquimaco I, Milliken W, Cuenca WP, Pauletto D, Sandoval EV, Gamarra LV, Dexter KG, Feeley K, Lopez-Gonzalez G, Silman MR (2013) Hyperdominance in the Amazonian tree flora. Science 342:1243092. doi:10.1126/science.1243092

ter Steege H, Pitman NCA, Killeen TJ, Laurance WF, Peres CA, Guevara JE, Salomão RP, Castilho CV, Amaral IL, Matos FDA, Coelho LS, Magnusson WE, Phillips OL, Andrade Lima Filho D, Carim MJV, Irume MV, Martins MP, Molino J-F, Sabatier D, Wittmann F, López DC, Guimarães JRS, Mendoza AM, Vargas PN, Manzatto AG, Reis NFC, Terborgh J, Casula KR, Montero JC, Feldpausch TR, Coronado ENH, Montoya AJD, Zartman CE, Mostacedo B, Vasquez R, Assis RL, Medeiros MB, Simon MF, Andrade A, Camargo JL, Laurance SGW, Nascimento HEM, Marimon BS, Marimon BH Jr, Costa F, Targhetta N, Vieira ICG, Brienen R, Castellanos H, Duivenvoorden JF, Mogollón HF, Piedade MTF, Aymard GA, Comiskey JA, Damasco G, Dávila N, García-Villacorta R, Diaz PRS, Vincentmi A, Emilio T, Levis C, Schietti J, Souza P, Alonso A, Dallmeier F, Ferreira LV, Neill D, Araujo-MuraKami A, Arroyo L, Carvalho FA, Souza FC, Amaral DD, Gribel R, Luize BG, Pansonato MP, Venticinque E, Fine P, Toledo M, Baraloto C, Cerón C, Engel J, Henkel TW, Jimenez EM, Maas P, Mora MCP, Petronelli P, Revilla JDC, Silveira M, Stropp J, Thomas-Caesar R, Baker TR, Daly D, Paredes MR, Silva NF, Fuentes A, Jørgensen PM, Schöngart J, Silman MR, Arboleda CN, Cintra BBL, Valverde FC, DiFiore A, Phillips JF, van Andel TR, von Hildebrand P, Barbosa EM, Bonates LCM, Castro D, Farias ES, Gonzales T, Guillaumet J-L, Hoffman B, Malhi Y, Miranda IPA, Prieto A, Rudas A, Ruschell AR, Silva N, Vela CIA, Vos VA, Zent EL, Zent S, Cano A, Nascimento MT, Oliveira AA, Ramirez-Angulo H, Ramos JF, Sierra R, Tirado M, Medina MNU, Van Der Heijden G, Torre EV, Vriesendorp C, Wang O, Young KR, Baider C, Balslev H, Castro N, Farfan-Rios W, Ferreira C, Mendoza C, Mesones I, Torres-Lezama A, Urrego Giraldo LE, Villarroel D, Zagt R, Alexiades MN, Garcia-Cabrera K, Hernandez L, Huamantupa-Chuquimaco I, Milliken W, Cuenca WP, Pansini S, Pauletto D, Arevalo FR, Sampaio AF, Sandoval EHV, Gamarra LV (2015) Estimating the global conservation status of more than 15,000 Amazonian tree species. Sci Adv 1:1–10. doi:10.1126/sciadv.1500936

Urban MC (2015) Accelerating extinction risk from climate change. Science 348:571–573. doi:10.1126/science.aaa4984

Yahara T, Javadi F, Onoda Y, Queiroz LP, Faith DP, Prado DE, Akasaka M, Kadoya T, Ishihama F, Davies S, Slik JWF, Yi T, Ma K, Bin C, Darnaedi D, Pennington RT, Tuda M, Shimada M, Ito M, Egan AN, Buerki S, Raes N, Kajita T, Vatanparast M, Mimura M, Tachida H, Iwasa Y, Smith GF, Victor JE, Nkonki T (2013) Global legume diversity assessment: concepts, key indicators, and strategies. Taxon 62:249–266. doi:10.12705/622.12

Zappi DC, The Brazil Flora Group (2015) Growing knowledge: an overview of seed plant diversity in Brazil. Rodriguésia 66:1085–1113. doi:10.1590/2175-7860201566411
Acknowledgements
The authors would like to thank numerous people for their assistance in field work, without whom a research at this scale would not have been possible. Additionally, we thank the Coordenação de Aperfeiçoamento de Pessoal de Nível Superior (CAPES) for the financial support (99999.006061/2014-01) and the Naturalis Biodiversity Center (The Netherlands) for the partnership and support.
Additional information
Communicated by Daniel Sanchez Mata.
This article belongs to the Topical Collection: Forest and plantation biodiversity.
Electronic supplementary material
Below is the link to the electronic supplementary material.
About this article
Cite this article
Terra, M.N., dos Santos, R.M., Fontes, M.A.L. et al. Tree dominance and diversity in Minas Gerais, Brazil. Biodivers Conserv 26, 2133–2153 (2017). https://doi.org/10.1007/s10531-017-1349-1
Received:

Revised:

Accepted:

Published:

Issue Date:

DOI: https://doi.org/10.1007/s10531-017-1349-1
Keywords