Abstract
Anthropogenic habitats, which are frequently occupied by otherwise endangered species of the open landscape, suffer from a lack of sustainability. Here, we analyzed one of the few sustainable anthropogenic habitats, roadside verges. We hypothesized that steppe-like habitats at upper parts of south-exposed slopes of roadside verges may serve as the only strongholds of threatened species ousted from the surrounding intensively cultivated landscape, with direct consequences for plant pollination and other ecosystem services. We examined bees and wasps alongside Highway 7 constructed 14–28 years ago in the northwestern Czech Republic. The sampling sites were located 4–17 m from paved road with traffic intensity of 9523 to 38,688 vehicles × 24 h−1, and they consisted of steppe-like habitats with patches of bare soil (sand, loess and claystone) that formed and were maintained spontaneously. The sites were not connected to any permanent grasslands or forests, and they were surrounded mostly by arable fields. We found 139 species of herbs (nine threatened) in vegetation surveys along transects. We identified 164 species of bees and wasps, with a dominance of 0.052 and a Fisher's alpha of 45.0; 32 species were threatened, including a second Czech record of Chrysis gribodoi spilota and four critically endangered species (Andrena florivaga, Halictus scabiosae, Sphecodes spinulosus and Nanoclavelia leucoptera). The captured specimens consisted of a higher number of loess specialists and other steppe species compared to specimens associated with other anthropogenic habitats that provide bare ground (sand pits and ash deposits). In conclusion, the formation of spontaneously maintained steppe-like habitats at roadside verges should be considered to be an appropriate tool supporting the biodiversity in the highly cultivated landscape of central Europe.
Access options
Buy single article
Instant access to the full article PDF.
USD 39.95
Price excludes VAT (USA)
Tax calculation will be finalised during checkout.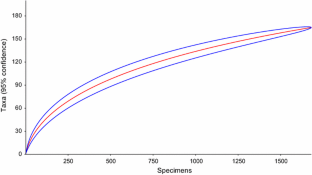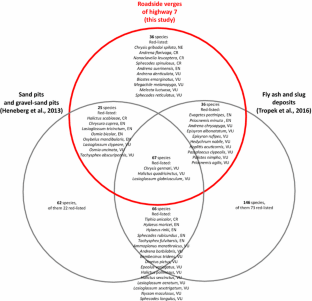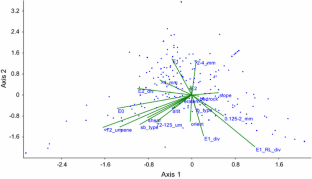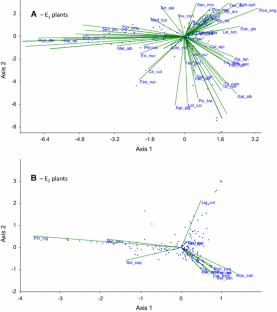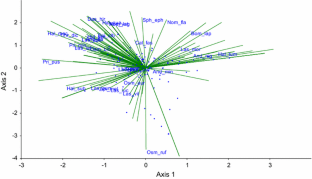 Notes
Three principal Czech phytogeographical regions are recognized, based on the dominant flora and vegetation that reflect specific regional geomorphological and climatic conditions: Thermophyticum, Mesophyticum and Oreophyticum. Mesophyticum is a region with flora and vegetation typical for the central European temperate zone, and it occurs in the supracolline and submontane belts. Thermophyticum includes warm areas with thermophilous flora and vegetation, and which is often characteristic for the sub-meridional floristic zone. It occurs in the lowland and colline belts. In contrast, Oreophyticum is a cold region with mountain flora and vegetation corresponding to forests of the boreal zone, with smaller areas above the timberline similar to habitats in the arctic zone. It occurs in montane, supramontane, subalpine and alpine belts (Kaplan 2012).

Cover according to Braun-Blanquet scale: r; 2 Jul 2013, Louny-Průmyslová, LN, 50.34°N, 13.81°E; the relevé was dominated by Leucanthemum pratense, Origanum vulgare and Sanguisorba minor. S. austriacum is not red-listed by Grulich (2012) as it is considered alien. Even though its alien status, S. austriacum was not recorded in the Czech Republic since 1924.

1F 8–10 Aug 2013, Louny-Průmyslová, LN, 50.34°N, 13.81°E.

1F 6–9 Jun 2013, Kvíc, KL, 50.21°N, 14.06°E.

2M + 1F 10–12 Aug 2013, Kvíc, KL, 50.21°N, 14.06°E; an unpublished record exists also from Heřmanův Městec from 2012 (J. Straka, pers. comm.).

2M 6–9 Jun 2013, Kvíc, KL, 50.21°N, 14.06°E.

All examined bare soil patches were formed in the soil of local origin, they did not form at sites overlaid with top-soil imported from elsewhere.
References
Bellmann H (1981) Zur Ethologie mitteleuropäischer Bauchsammlerbienen (Hymenoptera, Megachilidae): Osmia bicolor, O. aurulenta, O. rufohirta, Anthidium punctatum, Anthidiellum strigatum, Trachusa byssina. Veröff Landesstelle Natschutz Landschpfl Baden-Württ 53:477–540

Bogusch P, Straka J, Kment P (2007) Annotated checklist of the Aculeata (Hymenoptera) of the Czech Republic and Slovakia. Acta Entomol Mus Nat Pragae, Supplementum 11:1–300

Braun-Blanquet J (1932) Plant sociology: the study of plant communities. McGraw-Hill Book Company, New York

Cizek O, Zamecnik J, Tropek R, Kocarek P, Konvicka M (2012) Diversification of mowing regime increases arthropods diversity in species-poor cultural hay meadows. J Insect Conserv 16:215–226

Cruz-Sánchez MA, Asís JD, Gayubo SF, Tormos J, González JA (2011) The effects of wildfire on Spheciformes wasp community structure: the importance of local habitat conditions. J Insect Conserv 15:487–503

DeMers MN (1993) Roadside ditches as corridors for range expansion of the western harvester ant (Pogonomyrmex occidentalis Cresson). Landsc Ecol 8:93–102

Dvořák F (1992) Sisymbrium L. In: Hejný S, Slavík B (eds) Květena České republiky 3. Academia, Prague, pp 26–38

Ellenberg H (1988) Vegetation ecology of central Europe, 4th edn. Cambridge University Press, Cambridge

Farkač J, Král D, Škorpík M (2005) Red list of threatened species in the Czech Republic: invertebrates. AOPK ČR, Prague

Free JB, Gennard D, Stevenson JH, Williams IH (1975) Beneficial insects present on a motorway verge. Biol Cons 8:61–72

Garibaldi LA, Steffan-Dewenter I, Winfree R, Aizen MA, Bommarco R, Cunningham SA, Kremen C, Carvalheiro LG, Harder LD, Afik O, Bartomeus I, Benjamin F, Boreux V, Cariveau D, Chacoff NP, Dudenhöffer JH, Freitas BM, Ghazoul J, Greenleaf S, Hipólito J, Holzschuh A, Howlett B, Isaacs R, Javorek SK, Kennedy CM, Krewenka KM, Krishnan S, Mandelik Y, Mayfield MM, Motzke I, Munyuli T, Nault BA, Otieno M, Petersen J, Pisanty G, Potts SG, Rader R, Ricketts TH, Rundlöf M, Seymour CL, Schüepp C, Szentgyörgyi H, Taki H, Tscharntke T, Vergara CH, Viana BF, Wanger TC, Westphal C, Williams N, Klein AM (2013) Wild pollinators enhance fruit set of crops regardless of honey bee abundance. Science 339:1608–1611

Greenleaf SS, Kremen C (2006) Wild bees enhance honey bees' pollination of hybrid sunflower. Proc Natl Acad Sci USA 103:13890–13895

Grulich V (2012) Red list of vascular plants of the Czech Republic: 3rd edition. Preslia. 84:631–645

Hansen MJ, Clevenger AP (2005) The influence of disturbance and habitat on the presence of non-native plant species along transport corridors. Biol Cons 125:249–259

Harper-Lore B, Wilson M (2000) Roadside use of native plants. Island Press, Washington DC

Heneberg P (2001) Size of sand grains as a significant factor affecting the nesting of bank swallows (Riparia riparia). Biologia 56:205–210

Heneberg P, Bogusch P (2014) To enrich or not to enrich? Are there any benefits of using multiple colors of pan traps when sampling aculeate Hymenoptera? J Insect Conserv 18:1123–1136

Heneberg P, Řezáč M (2014) Dry sandpits and gravel-sandpits serve as key refuges for endangered epigeic spiders (Araneae) and harvestmen (Opiliones) of Central European steppes aeolian sands. Ecol Eng 73:659–670

Heneberg P, Bogusch P, Řehounek J (2013) Sandpits provide critical refuge for bees and wasps (Hymenoptera: Apocrita). J Insect Conserv 17:473–490

Holzschuh A, Steffan-Dewenter I, Kleijn D, Tscharntke T (2007) Diversity of flower-visiting bees in cereal fields: effects of farming system, landscape composition and regional context. J Appl Ecol 44:41–49

Hopwood JL (2008) The contribution of roadside grassland restorations to native bee conservation. Biol Cons 141:2632–2640

Hopwood J (2010) Invertebrate conservation guidelines: pollinators and roadsides: managing roadsides for bees and butterflies. The Xerces Society for Invertebrate Conservation, Portland

Hopwood J, Hoffman B, Lee-Mäder E, Charlap A, Preston R, Mozumder K, Fleury S (2015) Literature review: pollinator habitat enhancement and best management practices in highway rights-of-way. Federal Highway Administration, Washington DC

Humbert JY, Ghazoul J, Richner N, Walter T (2012) Uncut grass refuges mitigate the impact of mechanical meadow harvesting on orthopterans. Biol Conserv 152:96–101

Kahn JR, Franceschi D, Curi A, Vale E (2001) Economic and financial aspects of mine closure. Nat Resour Forum 25:265–274

Kaplan Z (2012) Flora and phytogeography of the Czech Republic. Preslia 84:505–573

Keller I, Largiader CR (2003) Recent habitat fragmentation caused by major roads leads to reduction of gene flow and loss of genetic variability in ground beetles. Proc Roy Soc Lond B 270:417–423

Kubát K (2002) Klíč ke květeně České republiky. Academia, Prague

Laurance WF, Clements GR, Sloan S, O'Connell CS, Mueller ND, Goosem M, Venter O, Edwards DP, Phalan B, Balmford A, van der Ree R, Arrea IB (2014) A global strategy for road building. Nature 513:229–232

Laurence D (2006) Optimisation of the mine closure process. J Clean Prod 14:285–298

Lebeau J, Wesselingh RA, Van Dyck H (2015) Butterfly density and behaviour in uncut hay meadow strips: behavioural ecological consequences of an agri-environmental scheme. PLoS ONE 10:e0134945

Lesbarreres D, Fahrig L (2012) Measures to reduce population fragmentation by roads: what has worked and how do we know? Trends Ecol Evol 27:374–380

Lowenstein DM, Matteson KC, Minor ES (2015) Diversity of wild bees supports pollination services in an urbanized landscape. Oecologia 179:811–821

Lüscher G, Jeanneret P, Schneider MK, Turnbull LA, Arndorfer M, Balázs K, Báldi A, Bailey D, Bernhardt KG, Choisis J-P, Elek Z, Frank T, Friedel JK, Kainz M, Kovács-Hostyánszki A, Oschatz M-L, Paoletti MG, Papaja-Hülsbergen S, Sarthou J-P, Siebrecht N, Wolfrum S, Herzog F (2014) Responses of plants, earthworms, spiders and bees to geographic location, agricultural management and surrounding landscape in European arable fields. Agr Ecosyst Environ 186:124–134

MacDonald PL, Gardner RC (2000) Type I error rate comparisons of post hoc procedures for I × J Chi Square tables. Educ Psychol Meas 60:735–754

Macek J, Straka J, Bogusch P, Dvořák L, Bezděčka P, Tyrner P (2010) Blanokřídlí České republiky. I. Žahadloví. Academia, Prague

Mallinger RE, Gratton C (2015) Species richness of wild bees, but not the use of managed honeybees, increases fruit set of a pollinator-dependent crop. J Appl Ecol 52:323–330

Moroń D, Skórka P, Lenda M, Rożej-Pabijan E, Wantuch M, Kajzer-Bonk J, Celary W, Mielczarek ŁE, Tryjanowski P (2014) Railway embankments as new habitat for pollinators in an agricultural landscape. PLoS ONE 9:e101297

Murray TE, Kuhlmann M, Potts SG (2009) Conservation ecology of bees: populations, species and communities. Apidologie 40:211–236

NAPPC (2010) Plight of the pollinator: save money, time and energy with IVM and energy rights-of-way for Wild pollinators. North American Pollinator Protection Campaign, San Francisco

Newbold T, Hudson LN, Hill SLL, Contu S, Lysenko I, Senior RA, Börger L, Bennett DJ, Choimes A, Collen B, Day J, De Palma A, Díaz S, Echeverria-Londoño S, Edgar MJ, Feldman A, Garon M, Harrison MLK, Alhusseini T, Ingram DJ, Itescu Y, Kattge J, Kemp V, Kirkpatrick L, Kleyer M, Correia DLP, Martin CD, Meiri S, Novosolov M, Pan Y, Phillips HRP, Purves SW, Robinson A, Simpson J, Tuck SL, Weiher E, White HJ, Ewers RM, Mace GM, Scharlemann JPW, Purvis A (2015) Global effects of land use on local terrestrial biodiversity. Nature 520:45–50

Noordijk J, Delille K, Schaffers AP, Sýkora KV (2009) Optimizing grassland management for flower-visiting insects in roadside verges. Biol Cons 142:2097–2103

Oleksa A, Gawroński R, Tofilski A (2013) Rural avenues as a refuge for feral honey bee population. J Insect Conserv 17:465–472

Parendes LA, Jones JA (2000) Role of light availability and dispersal in exotic plant invasion along roads and streams in the H. J. Andrews Experimental Forest, Oregon. Cons Biol 14:64–75

Podani J (2006) Braun-Blanquet´s legacy and data analysis in vegetation science. J Veg Sci 17:113–117

Potts SG, Willmer P (1997) Abiotic and biotic factors influencing nest-site selection by Halictus rubicundus, a ground-nesting halictine bee. Ecol Entomol 22:319–328

Prach K, Hobbs RJ (2008) Spontaneous succession versus technical reclamation in the restoration of disturbed sites. Restor Ecol 16:363–366

Rasmont P, Pauly A, Terzo M, Patiny S, Michez D, Iserbyt S, Barbier Y, Haubruge E (2006) The survey of wild bees (Hymenoptera, Apoidea) in Belgium and France. FAO, Rome

Roulston TH, Goodell K (2011) The role of resources and risks in regulating wild bee populations. Annu Rev Entomol 56:293–312

Schaffers A, Raemakers IP, Sýkora K (2012) Successful overwintering of arthropods in roadside verges. J Insect Conserv 16:511–522

Sotherton NW (1984) The distribution and abundance of predatory arthropods overwintering on farmland. Ann Appl Biol 105:423–429

Sotherton NW (1985) The distribution and abundance of predatory Coleoptera overwintering in field boundaries. Ann Appl Biol 106:17–21

Srba M, Heneberg P (2012) Nesting habitat segregation between closely related terricolous sphecid species (Hymenoptera: Spheciformes): key role of soil physical characteristics. J Insect Conserv 16:557–570

Straka J, Bogusch P, Tyrner P, Vepřek D (2004) New important faunistic records of Hymenoptera (Chrysidoidea, Apoidea, Vespoidea) from the Czech Republic. Klapalekiana 40:143–153

Straka J, Bogusch P, Tyrner P, Říha M, Benda D, Čížek O, Halada M, Macháčková L, Marhoul P, Tropek R (2015) Faunistic records from the Czech Republic – 380. Hymenoptera: Aculeata. Klapalekiana 50:77–91

Thomas CFG, Parkinson L, Griffiths GJK, Fernandez Garcia A, Marshall EJP (2001) Aggregation and temporal stability of carabid beetle distributions in field and hedgerow habitats. J Appl Ecol 38:100–116

Tropek R, Cerna I, Straka J, Kocarek P, Malenovsky I, Tichanek F, Sebek P (2016) In search for a compromise between biodiversity conservation and human health protection in restoration of fly ash deposits: effect of anti-dust treatments on five groups of arthropods. Environ Sci Pollut Res Int 23:13653–13660

Ullmann I, Heindl B (1989) Geographical and ecological differentiation of roadside vegetation in temperate Europe. Bot Acta 102:261–269

Vermuelen HJW (1993) The composition of the carabid fauna on poor sandy roadside verges in relation to comparable open areas. Biodivers Conserv 2:331–350

Vrdoljak SM, Samways MJ (2012) Optimising coloured pan traps to survey flower visiting insects. J Insect Conserv 16:345–354

Way JM (1977) Roadside verges and conservation in Britain: a review. Biol Cons 12:65–74

Westrich P (1996) Habitat requirements of the central European bees and the problems of partial habitats. In: Matheson A, Buchmann SL, O'Toole C, Westrich P, Williams IH (eds) The conservation of bees. Academic Press, London, pp 1–16

Wildlife Habitat Council (2005) Wildlife on Rights-of-Way: suggested best management practices. Wildlife Habitat Council, Silver Spring

Wilson JS, Messinger OJ, Griswold T (2009) Variation between bee communities on a sand dune complex in the Great Basin Desert, North America: implications for sand dune conservation. J Arid Environ 73:666–671

Wood TJ, Holland JM, Goulson D (2015) Pollinator-friendly management does not increase the diversity of farmland bees and wasps. Biol Cons 187:120–126

Wynhoff I, van Gestel R, Swaay C, van Langevelde F (2011) Not only the butterflies: managing ants on road verges to benefit Phengaris (Maculinea) butterflies. J Insect Conserv 15:189–206
Acknowledgements
The study was supported by the University of Hradec Králové project Specifický výzkum 2101/2015 (PB), Charles University project PRVOUK P31/2012 (PH), and by the Ministry of Agriculture of the Czech Republic project MZe RO0416 (MŘ). We thank the landlords for allowing access to the study sites and/or providing data on history of the particular sampling sites, and Jiří Hadinec (Charles University, Faculty of Science) for consultations on current and past status of Sisymbrium austriacum, and Jakub Straka (Charles University, Faculty of Science) for the data on recent records of Sphecodes spinulosus and Nanoclavelia leucoptera.
Additional information
Communicated by Jens Wolfgang Dauber.
Electronic supplementary materials
About this article
Cite this article
Heneberg, P., Bogusch, P. & Řezáč, M. Roadside verges can support spontaneous establishment of steppe-like habitats hosting diverse assemblages of bees and wasps (Hymenoptera: Aculeata) in an intensively cultivated central European landscape. Biodivers Conserv 26, 843–864 (2017). https://doi.org/10.1007/s10531-016-1275-7
Received:

Revised:

Accepted:

Published:

Issue Date:

DOI: https://doi.org/10.1007/s10531-016-1275-7
Keywords
Biodiversity conservation

Habitat conservation

Anthropogenic habitats

Linear infrastructure

Spontaneous succession

Wild pollinators