Abstract
Do fishers know best when it comes to identifying areas with rare and depleted fish species? The global conservation crisis demands that managers marshal all available datasets to inform conservation management plans for depleted species, yet the level of trust placed in local knowledge remains uncertain. This study compares four methods for inferring species distributions of an internationally traded, rare and depleted genus of marine fishes (Hippocampus spp.): the use of (i) fisher interviews; (ii) government research trawls, (iii) scientific diving surveys, and (iv) citizen science contributions. We analyzed these four datasets at the genus and individual species levels to evaluate our conclusions about seahorse spatial occurrence, diversity of species present and the cost effectiveness of sampling effort. We found that fisher knowledge provided more information on our data-poor fish genus at larger spatial scales, with less effort, and for a cheaper price than all other datasets. One drawback was that fishers were unable to provide data down to the species level. People embarking on conservation endeavors for data-poor species may wish to begin with fisher interviews and use these to inform the application of government research, scientific diving, or citizen science programs.
This is a preview of subscription content, log in to check access.
Access options
Buy single article
Instant access to the full article PDF.
US$ 39.95
Price includes VAT for USA
Subscribe to journal
Immediate online access to all issues from 2019. Subscription will auto renew annually.
US$ 199
This is the net price. Taxes to be calculated in checkout.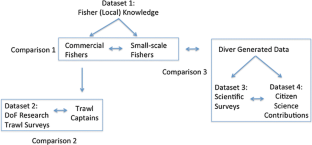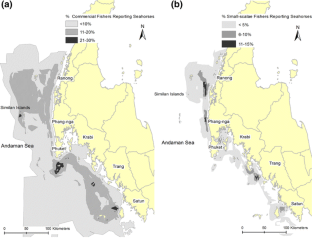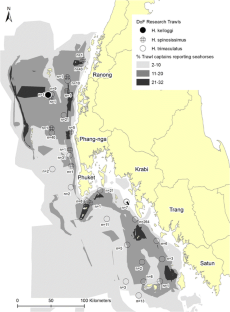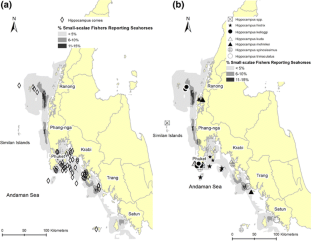 References
Anuchiracheeva S, Demaine H, Shivakoti P, Ruddle K (2003) Systematizing local knowledge using GIS: fisheries management in Bang Saphan Bay, Thailand. Ocean Coast Manag 46:1049–1068. doi:10.1016/j.ocecoaman.2004.01.001

Aylesworth L, Loh T-L, Rongrongmuang W, Vincent ACJ (2015) Approaches to locating cryptic and data-poor marine fishes for conservation. In: Fisheries Centre Working Paper Series, vol 100. University of British, Columbia, pp 1–29

Beaudreau AH, Levin PS (2014) Advancing the use of local ecological knowledge for assessing data-poor species in coastal ecosystems. Ecol Appl 24:244–256. doi:10.1890/13-0817.1

Beaudreau AH, Levin PS, Norman KC (2011) Using folk taxonomies to understand stakeholder perceptions for species conservation. Conserv Lett 4:451–463. doi:10.1111/j.1755-263X.2011.00199.x

Bender LC, Weisenberger ME, Rosas-Rosas OC (2014) Occupancy and habitat correlates of javelinas in the southern San Andres Mountains, New Mexico. J Mammal 95:1–8. doi:10.1644/13-MAMM-A-151

Bennett NJ, Dearden P (2014) Why local people do not support conservation: community perceptions of marine protected area livelihood impacts, governance and management in Thailand. Mar Policy 44:107–116. doi:10.1016/j.marpol.2013.08.017

Berkes F (2009) Evolution of co-management: role of knowledge generation, bridging organizations and social learning. J Environ Manag 90:1692–1702. doi:10.1016/j.jenvman.2008.12.001

Bohensky EL, Maru Y (2011) Indigenous knowledge, science, and resilience: what have we learned from a decade of international literature on "integration"? Ecol Soc 16:6

Braschler B (2009) Successfully implementing a citizen-scientist approach to insect monitoring in a resource-poor country. Bioscience 59:103–104. doi:10.1525/bio.2009.59.2.2

Byg A, Theilade I, Nielsen MR, Lund JF (2012) Local ecological knowledge and its relevance for management and research. Dev Briefs Policy 16:1–5

Cadrin SX, Howe AB, Correia SJ, Currier TP (1995) Evaluating the effects of two coastal mobile gear fishing closures on finfish abundance off Cape Cod. N Am J Fish Manag 15:300–315

Castellanos-Galindo GA, Cantera JR, Espinosa S, Mejía-Ladino LM (2011) Use of local ecological knowledge, scientist's observations and grey literature to assess marine species at risk in a tropical eastern Pacific estuary. Aquat Conserv Mar Freshw Ecosyst 21:37–48. doi:10.1002/aqc.1163

Chape S, Harrison J, Spalding M, Lysenko I (2005) Measuring the extent and effectiveness of protected areas as an indicator for meeting global biodiversity targets. Philos Trans R Soc Lond B Biol Sci 360:443–455. doi:10.1098/rstb.2004.1592

CITES (2012) Review of significant trade in specimens of Appendix-II species

CITES (2013) Building in-country capacity to undertake non-detriment findings with regard to Hippocampus species in Indonesia, Thailand and Viet Nam. Geneva

Crall AW, Newman GJ, Stohlgren TJ et al (2011) Assessing citizen science data quality: an invasive species case study. Conserv Lett 4:433–442. doi:10.1111/j.1755-263X.2011.00196.x

Dickinson JL, Zuckerberg B, Bonter DN (2010) Citizen science as an ecological research tool: challenges and benefits. Annu Rev Ecol Evol Syst 41:149–172. doi:10.1146/annurev-ecolsys-102209-144636

Douvere F (2008) The importance of marine spatial planning in advancing ecosystem-based sea use management. Mar Policy 32:762–771. doi:10.1016/j.marpol.2008.03.021

Gilchrist G, Mallory M, Merkel F (2005) Can local ecological knowledge contribute to wildlife management? Case studies of migratory birds. Ecol Soc 10:20

Golden AS, Naisilsisili W, Ligairi I, Drew JA (2014) Combining natural history collections with fisher knowledge for community-based conservation in Fiji. PLoS One. doi:10.1371/journal.pone.0098036

Hall GB, Moore A, Knight P, Hankey N (2009) The extraction and utilization of local and scientific geospatial knowledge within the Bluff oyster fishery, New Zealand. J Environ Manag 90:2055–2070. doi:10.1016/j.jenvman.2007.08.022

Hamilton RJ, Giningele M, Aswani S, Ecochard JL (2012) Fishing in the dark-local knowledge, night spearfishing and spawning aggregations in the Western Solomon Islands. Biol Conserv 145:246–257. doi:10.1016/j.biocon.2011.11.020

Johannes RE (1998) The case for data-less marine resource management: examples from tropical nearshore fin fisheries. Trends Ecol Evol 13:243–246

Johannes RE (2000) Ignore fishers' knowledge and miss the boat. Fish Fish 1:257–271. doi:10.1046/j.1467-2979.2000.00019.x

Katsanevakis S, Weber A, Pipitone C et al (2012) Monitoring marine populations and communities: methods dealing with imperfect detectability. Aquat Biol 16:31–52. doi:10.3354/ab00426

Koslow JA (2009) The role of acoustics in ecosystem-based fishery management. ICES J Mar Sci J du Cons 66(6):966–973

Lewis AE, Hammill M, Power M et al (2009) Movement and aggregation of Eastern Hudson Bay beluga whales (Delphinapterus leucas): a comparison of patterns found through satellite telemetry and Nunavik traditional ecological knowledge. Arctic 62:13–24

Lorenz M (1995) International co-operative programme on assessment and monitoring of air pollution effects on forests-ICP Forests. Water Air Soil Pollut 85:1221–1226. doi:10.1007/BF00477148

Lorenzen K, Steneck RS, Warner RR et al (2010) The spatial dimensions of fisheries: putting it all in place. Bull Mar Sci 86:169–177

Lunn KE, Dearden P (2006) Monitoring small-scale marine fisheries: an example from Thailand's Ko Chang archipelago. Fish Res 77:60–71. doi:10.1016/j.fishres.2005.08.009

Lymer D, Funge-Smith S, Miao W (2010) Status and potential of fisheries and aquaculture in Asia and the Pacific 2010. RAP Publication, Rome

Mackenzie DI, Nichols JD, Lachman GB et al (2002) Estimating site occupancy rates when detection probabilities are less than one. Ecology 83:2248–2255

Mallory ML, Gilchrist HG, Fontaine AJ, Akearok JA (2003) Local ecological knowledge of ivory gull declines in Arctic Canada. Arctic 56:293–298

McCauley DJ, Pinsky ML, Palumbi SR et al (2015) Marine defaunation: animal loss in the global ocean. Science. doi:10.1126/science.1255641

McClanahan L, Ferretti F, Baum JK (2012) From archives to conservation: why historical data are needed to set baselines for marine animals and ecosystems. Conserv Lett 5:349–359. doi:10.1111/j.1755-263X.2012.00253.x

Moller H, Berkes F (2004) Combining science and traditional ecological knowledge: monitoring populations for co-management. Ecol Soc 9:2

Morgan AC, Burgess GH (2005) Fishery-dependent sampling: total catch, effort and catch composition. In: Management techniques for elasmobranch fisheries, p 182

Mundy-Taylor V, Crook V, Foster S, et al (2014) CITES non-detriment findings guidance for shark species: a framework to assist Authorities in making non-detriment findings (NDFs) for species listed in CITES Appendix II

NOAA (2014) Indian Ocean-South-East Asian (IOSEA) Marine Turtle Memorandum of Understanding

Panjarat S, Bennett N (2012) Responses of fishers to a 25-year seasonal closed measure on the Andaman Coast of Thailand, University of Victoria, Victoria

Reid K (2007) Monitoring and management in the Antarctic—making the link between science and policy. Antarct Sci 19:267–270

Rosser AR, Haywood MJ (2002) Guidance for CITES scientific authorities: checklist to assist in making non-detriment findings for Appendix II exports. IUCN, Gland

Shepperson J, Murray LG, Cook S et al (2014) Methodological considerations when using local knowledge to infer spatial patterns of resource exploitation in an Irish Sea fishery. Biol Conserv 180:214–223. doi:10.1016/j.biocon.2014.10.013

Stake RE, Denzin NK, Lincoln YS (2005) The Sage handbook of qualitative research. Sage Publications, California

Stanley DR, Wilson CA (1990) A fishery-dependent based study of fish species composition and associated catch rates around oil and gas structures off Louisiana. Fish Bull 88(4):719–730

Stelzenm V, Lee J, South A et al (2012) Practical tools to support marine spatial planning: a review and some prototype tools. Mar Policy. doi:10.1016/j.marpol.2012.05.038

Thornton TF, Scheer AM (2012) Collaborative engagement of local and traditional knowledge and science in marine environments: a review. Ecol Soc 17:8. doi:10.5751/es-04714-170308

Tobias TN (2010) Living proof: the essential data collection guide for indigenous use and occupancy map surveys. Ecotrust Canada and Union of British Columbia Indian Chiefs (UBCIC), Vancouver

Turner RA, Polunin NVC, Stead SM (2015) Mapping inshore fisheries: comparing observed and perceived distributions of pot fishing activity in Northumberland. Mar Policy 51:173–181. doi:10.1016/j.marpol.2014.08.005

Turvey ST, Fernández-Secades C, Nuñez-Miño JM et al (2014) Is local ecological knowledge a useful conservation tool for small mammals in a Caribbean multicultural landscape? Biol Conserv 169:189–197. doi:10.1016/j.biocon.2013.11.018

Turvey ST, Trung CT, Quyet VD et al (2015) Interview-based sighting histories can inform regional conservation prioritization for highly threatened cryptic species. J Appl Ecol 52:422–433. doi:10.1111/1365-2664.12382

UNEP-WCMC (2012) Review of significant trade: species selected by the CITES animals committee following CoP15. UNEP-WCMC, Cambridge

Usher PJ (2000) Traditional ecological knowledge in environmental assessment and management. Arctic 53:183–193. doi:10.14430/arctic849

Van Strien AJ, Van Swaay CAM, Termaat T (2013) Opportunistic citizen science data of animal species produce reliable estimates of distribution trends if analysed with occupancy models. J Appl Ecol 50:1450–1458. doi:10.1111/1365-2664.12158

Vincent ACJ, Sadovy de Mitcheson YJ, Fowler SL, Lieberman S (2013) The role of CITES in the conservation of marine fishes subject to international trade. Fish Fish. doi:10.1111/faf.12035

Walters CJ, Holling CS (1990) Large-scale management experiments and learning by doing. Ecology 71:2060–2068
Acknowledgements
This is a contribution from Project Seahorse. The authors would like to thank the National Research Council of Thailand (Permit No. 0002/1306), Thailand Department of Fisheries, Phang-nga Provincial Marine Fisheries Station, Praulai Nootmorn, Tse-Lynn Loh, Sarah Foster, Sarah Harper, and Jennifer Selgrath. We are grateful for the support from numerous dive operators, fishers, and community groups who facilitated our search for seahorses.
Funding
This work was funded by the Ocean Park Conservation Foundation of Hong Kong, Riverbanks Zoo and Garden Conservation Fund, the Explorer's Club Exploration Fund, SciFund Challenge, Bottom Billion Fieldwork Fund, FBR Capital Investments, John G. Shedd Aquarium, Guylian Chocolates and an anonymous donor.
Ethics declarations
Conflict of interest
The authors declare they have no conflict of interest.
Ethical approval
This research was conducted in accordance with UBC Animal (Permit No. A12-0288) and Human (Permit No. H12-02731) Ethics protocols. All participants interviewed gave an informed consent to participate in this research as per UBC Human Ethics protocols.
Additional information
This article belongs to the Topical Collection: Coastal and marine biodiversity.
Communicated by Clinton Jenkins.
Electronic supplementary material
Below is the link to the electronic supplementary material.
About this article
Cite this article
Aylesworth, L., Phoonsawat, R., Suvanachai, P. et al. Generating spatial data for marine conservation and management. Biodivers Conserv 26, 383–399 (2017). https://doi.org/10.1007/s10531-016-1248-x
Received:

Revised:

Accepted:

Published:

Issue Date:
Keywords
Citizen science

Data-poor

Hippocampus

Local knowledge

Scientific surveys

Thailand