Abstract
Climate change vulnerability assessments (CCVAs) are important tools to plan for and mitigate potential impacts of climate change. However, CCVAs often lack scientific rigor, which can ultimately lead to poor conservation prioritization and associated ecological and economic costs. We discuss the need to improve comparability and consistency of CCVAs and either validate their findings or improve assessment of CCVA uncertainty and sensitivity to methodological assumptions.
This is a preview of subscription content, log in to check access.
Access options
Buy single article
Instant access to the full article PDF.
US$ 39.95
Price includes VAT for USA
Subscribe to journal
Immediate online access to all issues from 2019. Subscription will auto renew annually.
US$ 199
This is the net price. Taxes to be calculated in checkout.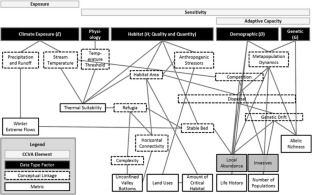 References
Adger WN (2006) Vulnerability. Glob Environ Chang 16:268–281. doi:10.1016/j.gloenvcha.2006.02.006

Akçakaya HR, Sjogren-Gulve P (2000) Population viability analyses in conservation planning: an overview. Ecol Bull 48:9–21

Beever EA, O'Leary J, Mengelt C et al (2015) Improving conservation outcomes with a new paradigm for understanding species' fundamental and realized adaptive capacity. Conserv Lett. doi:10.1111/conl.12190

Carlson SM, Cunningham CJ, Westley PAH (2014) Evolutionary rescue in a changing world. Trends Ecol Evol 29:521–530. doi:10.1016/j.tree.2014.06.005

Costa L, Kropp JP (2012) Linking components of vulnerability in theoretic frameworks and case studies. Sustain Sci 8:1–9. doi:10.1007/s11625-012-0158-4

Dawson TP, Jackson ST, House JI et al (2011) Beyond predictions: biodiversity conservation in a changing climate. Science 332:53–58. doi:10.1126/science.1200303

DeBiasse MB, Kelly MW (2016) Plastic and evolved responses to global change: what can we learn from comparative transcriptomics? J Hered 107:71–81. doi:10.1093/jhered/esv073

Deser C, Knutti R, Solomon S, Phillips AS (2012) Communication of the role of natural variability in future North American climate. Nat Clim Chang 2:775–779. doi:10.1038/nclimate1562

Elith J, Leathwick JR (2009) Species distribution models: ecological explanation and prediction across space and time. Annu Rev Ecol Evol Syst 40:677–697. doi:10.1146/annurev.ecolsys.110308.120159

Fordham DA, Brook BW, Moritz C, Nogués-Bravo D (2014) Better forecasts of range dynamics using genetic data. Trends Ecol Evol 29:436–443. doi:10.1016/j.tree.2014.05.007

Füssel H-M, Klein R (2006) Climate change vulnerability assessments: an evolution of conceptual thinking. Clim Chang 75:301–329. doi:10.1007/s10584-006-0329-3

Game ET, Kareiva P, Possingham HP (2013) Six common mistakes in conservation priority setting. Conserv Biol 27:480–485. doi:10.1111/cobi.12051

Gienapp P, Teplitsky C, Alho JS et al (2008) Climate change and evolution: disentangling environmental and genetic responses. Mol Ecol 17:167–178. doi:10.1111/j.1365-294X.2007.03413.x

Glick P, Stein BA, Edelson NA (2011) Scanning the conservation horizon: a guide to climate change vulnerability assessment. National Wildlife Federation, Washington

Harmon ME, Fasth B, Halpern CB, Lutz JA (2015) Uncertainty analysis: an evaluation metric for synthesis science. Ecosphere 6:1–12. doi:10.1890/ES14-00235.1

Harrisson KA, Yen JDL, Pavlova A et al (2016) Identifying environmental correlates of intraspecific genetic variation. Heredity. doi:10.1038/hdy.2016.37

Hendry AP (2016) Key questions on the role of phenotypic plasticity in eco-evolutionary dynamics. J Hered 107:25–41. doi:10.1093/jhered/esv060

Hinkel J (2011) Indicators of vulnerability and adaptive capacity: towards a clarification of the science–policy interface. Glob Environ Chang 21:198–208. doi:10.1016/j.gloenvcha.2010.08.002

IPCC (International Panel on Climate Change) (2007) Climate Change 2007: Synthesis Report. Contribution of Working Groups I, II, and III to the Fourth Assessment Report of the Intergovernmental Panel on Climate Change. IPCC, Geneva, Switzerland

IPCC (International Panel on Climate Change) (2014) Climate Change 2014: Synthesis Report. Contribution of Working Groups I, II, and III to the Fifth Assessment Report of the Intergovernmental Panel on Climate Change. IPCC, Geneva, Switzerland

Jones RN (2000) Managing uncertainty in climate change projections – issues for impact assessment. Clim Change 45:403–419. doi:10.1023/A:1005551626280

Lankford AJ, Svancara LK, Lawler JJ, Vierling K (2014) Comparison of climate change vulnerability assessments for wildlife. Wildl Soc Bull. doi:10.1002/wsb.399

Lee JR, Maggini R, Taylor MFJ, Fuller RA (2015) Mapping the drivers of climate change vulnerability for Australia's threatened species. PLoS One 10:e0124766. doi:10.1371/journal.pone.0124766

Manley PN, Zielinski WJ, Schlesinger MD, Mori SR (2004) Evaluation of a multiple-species approach to monitoring species at the ecoregional scale. Ecol Appl 14:296–310

McClure MM, Alexander M, Borggaard D et al (2013) Incorporating climate science in applications of the U.S. Endangered Species Act for aquatic species. Conserv Biol 27:1222–1233. doi:10.1111/cobi.12166

Nicotra AB, Beever EA, Robertson AL et al (2015) Assessing the components of adaptive capacity to improve conservation and management efforts under global change. Conserv Biol 5:1268–1278. doi:10.1111/cobi.12522

Pacifici M, Foden WB, Visconti P et al (2015) Assessing species vulnerability to climate change. Nat Clim Chang 5:215–224. doi:10.1038/nclimate2448

Parysow P, Gertner G (1997) Virtual experimentation: conceptual models and hypothesis testing of ecological scenarios. Ecol Model 98:59–71. doi:10.1016/S0304-3800(96)01937-0

Preston BL, Yuen EJ, Westaway RM (2011) Putting vulnerability to climate change on the map: a review of approaches, benefits, and risks. Sustain Sci 6:177–202. doi:10.1007/s11625-011-0129-1

Rowland E, Davison J, Graumlich L (2011) Approaches to evaluating climate change impacts on species: a guide to initiating the adaptation planning process. Environ Manag 47:322–337. doi:10.1007/s00267-010-9608-x

Schoener TW (2011) The newest synthesis: understanding the interplay of evolutionary and ecological dynamics. Science 331:426–429. doi:10.1126/science.1193954

Seebacher F, White CR, Franklin CE (2015) Physiological plasticity increases resilience of ectothermic animals to climate change. Nat Clim Chang 5:61–66. doi:10.1038/nclimate2457

Snover AK, Mantua NJ, Littell JS et al (2013) Choosing and using climate-change scenarios for ecological-impact assessments and conservation decisions. Conserv Biol 27:1147–1157. doi:10.1111/cobi.12163

Summers DM, Bryan BA, Crossman ND, Meyer WS (2012) Species vulnerability to climate change: impacts on spatial conservation priorities and species representation. Glob Chang Biol 18:2335–2348. doi:10.1111/j.1365-2486.2012.02700.x

Thompson LM, Staudinger MD, Carter SL (2015) Summarizing components of U.S. Department of the Interior vulnerability assessments to focus climate adaptation planning. U.S. Geological Survey, Reston

Tonmoy FN, El-Zein A, Hinkel J (2014) Assessment of vulnerability to climate change using indicators: a meta-analysis of the literature. Wiley Interdiscip Rev Clim Chang 5:775–792. doi:10.1002/wcc.314

Turner BL, Kasperson RE, Matson PA et al (2003) A framework for vulnerability analysis in sustainability science. Proc Natl Acad Sci 100:8074–8079. doi:10.1073/pnas.1231335100

Vedder O, Bouwhuis S, Sheldon BC (2013) Quantitative assessment of the importance of phenotypic plasticity in adaptation to climate change in wild bird populations. PLoS Biol 11:e1001605. doi:10.1371/journal.pbio.1001605

Wade AA, Beechie TJ, Fleishman E et al (2013) Steelhead vulnerability to climate change in the Pacific Northwest. J Appl Ecol 50:1093–1104. doi:10.1111/1365-2664.12137

Wade AA, Hand BK, Kovach RP et al (2016) Accounting for adaptive capacity and uncertainty in assessments of species' climate-change vulnerability. Conserv Biol. doi:10.1111/cobi.12764

Weeks ES, Walker S, Overton JM, Clarkson B (2013) The value of validated vulnerability data for conservation planning in rapidly changing landscapes. Environ Manag 51:1055–1066. doi:10.1007/s00267-013-0034-8

Williams SE, Shoo LP, Isaac JL et al (2008) Towards an integrated framework for assessing the vulnerability of species to climate change. PLoS Biol 6:e325. doi:10.1371/journal.pbio.0060325

Wilsey CB, Lawler JJ, Maurer EP et al (2013) Tools for assessing climate impacts on fish and wildlife. J Fish Wildl Manag 4:220–241. doi:10.3996/062012-JFWM-055
Acknowledgments
Helpful comments on earlier drafts were provided by T. Beechie, G. Chong, and P. Cross. This work was funded by a National Aeronautics and Space Administration ROSES Grant 12-ECOF12-0055. A US Geological Survey Mendenhall Fellowship partially supported RPK. GL and RPK were also partially supported by National Science Foundation-DEB 1258203. BKH received support from the Department of the Interior Northwest Climate Science Center. Any use of trade, firm, or product names is for descriptive purposes only and does not imply endorsement by the U.S. Government.
Additional information
Communicated by David Hawksworth.
About this article
Cite this article
Wade, A.A., Hand, B.K., Kovach, R.P. et al. Assessments of species' vulnerability to climate change: from pseudo to science. Biodivers Conserv 26, 223–229 (2017). https://doi.org/10.1007/s10531-016-1232-5
Received:

Accepted:

Published:

Issue Date:
Keywords
Conservation

Prioritization

Rigor

Uncertainty