Abstract
In the midst of global species loss, Indigenous languages and culture are experiencing similar declines. Current international policies and programs advocate the involvement of local and Indigenous people in sustaining biodiversity and culture, but the anticipated benefits are not always realized or assessed. This paper draws on three objectives of current international and Australian policy to explore the biological and cultural benefits of a collaborative cross-cultural biodiversity project of Indigenous rangers and university ecologists in remote northern Australia. Policies promoting blends of biological and cultural conservation from International to national scale share the following objectives: (1) involve Indigenous Peoples in biodiversity conservation; (2) maintain and develop Indigenous knowledge and culture; and (3) recognize and promote Indigenous natural and cultural resource management and traditional knowledge. This paper reflects on the project benefits in the context of these objectives, with the aim of informing future policy and program development. Biodiversity benefits of the cross-cultural project included new public records for a relatively poorly known but species rich area that are being used to inform local Indigenous land management, as well as specimens and tissue samples with which to explore the genetic diversity and evolutionary history of the region. Cultural benefits included compiling a local field guide that contains ten different languages and engaging young people to facilitate intergenerational transfer of threatened traditional knowledge. Promotion of the work at local to national fora addressed the third objective and enhanced Indigenous involvement. We demonstrate that top-down policy directives can be implemented to deliver on-ground mutual benefits for science and Indigenous communities.
This is a preview of subscription content, log in to check access.
Access options
Buy single article
Instant access to the full article PDF.
US$ 39.95
Price includes VAT for USA
Subscribe to journal
Immediate online access to all issues from 2019. Subscription will auto renew annually.
US$ 199
This is the net price. Taxes to be calculated in checkout.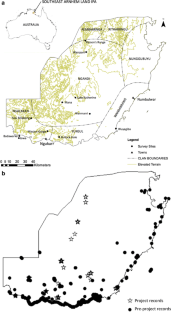 References
Acate Amazon Conservation (2015) Historic meeting of the remaining matsés elder shamans concludes with completion of first indigenous medicine encyclopedia. Acate, San Juan

Altman J, Markham F (2014) Submission 0136 to the Joint Select Committee on Northern Australia, inquiry into the development of northern Australia. Parliament of Australia, Canberra

Amano T, Sandel B, Eager H, Bulteau E, Svenning JC, Dalsgaard B, Rahbek C, Davies RG, Sutherland WJ (2014) Global distribution and drivers of language extinction risk. Proc R Soc Lond B 281:20141574

Anaya SJ, Wiessner S (2007) The UN Declaration on the rights of indigenous peoples: towards Re-empowerment. Third World Resurgence 206:15

Ansell S, Koenig J (2011) CyberTracker: an integral management tool used by rangers in the Djelk Indigenous Protected Area, central Arnhem Land, Australia. Ecolog Manag Restor 12:13–25

Australian Government (2015) Indigenous Affairs. http://www.dpmc.gov.au/indigenousaffairs/about/jobs-land-and-economy-programme/indigenous-environment-branch Accessed 22 Jan 2016

Baker BJ (2008) Word structure in Ngalakan. Center for the study of language and information, Stanford

Baker LM, Community Mutitjulu (1992) Comparing two views of the landscape: aboriginal traditional ecological knowledge and modern scientific knowledge. The Rangel J 14:174–189

Barrow PH (2009) The role of fire in the ecology of Leichhardt's grasshopper (Petasida ephippigera) and its food plants, Pityrodia spp. Charles Darwin University, Sydney

Bohensky EL, Butler JR, Davies J (2013) Integrating indigenous ecological knowledge and science in natural resource management: perspectives from Australia. Ecol Soc 18:20

Borrini-Feyerabend G, Pimbert M, Farvar T, Kothari A, Renard Y. (2004) Sharing Power: Learning by doing in co-management of natural resources throughout the world. International Institute for Environment and Development (IIED) and the World Conservation Union (IUCN)

Ceballos G, Ehrlich PR, Barnosky García A, Pringle RM, Palmer TM (2015) Accelerated modern human–induced species losses: entering the sixth mass extinction. Sci Adv 1:e1400253

Daniels C, Nelson E, Roy J, Dixon P, Ens E, Towler G (2012) Commitment to our country. In: Altman J, Kerins S (eds) People on country, vital landscapes, indigenous futures. Federation Press, Sydney, pp 174–189

Davidson-Hunt IJ, Turner KL, Mead ATP, Cabrera-Lopez J, Bolton R, Idrobo CJ, Miretski I, Morrison A, Robson JP (2012). Biocultural design: a new conceptual framework for sustainable development in rural indigenous and local communities. Surveys and perspectives integrating environment and society, 5.2

Davies J (2007) Walking together, working together: aboriginal research partnerships. Desert Knowledge Cooperative Research Centre, Alice Springs

Ens E (2012a) Conducting two-way ecological research. In: Altman J, Kerins S (eds) People on Country, vital landscapes. Indigenous futures. Federation Press, Sydney, pp 45–64

Ens EJ (2012b) Monitoring outcomes of environmental service provision in low socio-economic Indigenous Australia using innovative CyberTracker technology. Conserv Soc 10:42–52

Ens E, Rangers Yugul Mangi (2013) South eastern Arnhem Land baseline biodiversity survey. Australian National University, Canberra

Ens EJ, Finlayson M, Preuss K, Jackson S, Holcombe S (2012) Australian approaches for managing 'country' using Indigenous and non-Indigenous knowledge. Ecol Manag Restor 13:100–107

Ens EJ et al (2015) Indigenous biocultural knowledge in ecosystem science and management: review and insight from Australia. Biol Conserv 181:133–149

Evans N (2010) Dying words: Endangered languages and what they have to tell us. Wiley, West Sussex

Evans MC, Watson JEM, Fuller RA, Venter O, Bennett SC, Marsack PR, Possingham HP (2011) The spatial distribution of threats to species in Australia. Bioscience 61:281–289

Fogarty B (2012) Country as classroom. In: Altman J, Kerins S (eds) People on country, vital landscapes. Indigenous futures. Federation Press, Sydney, pp 82–93

Gambold NJ (2013) South East Arnhem Land Indigenous Protected Area plan of management 2013–2018. Darwin NT, Darwin

Gavin MC, McCarter J, Mead A, Berkes F, Stepp JR, Peterson D, Tang R (2015) Defining biocultural approaches to conservation. Trends Ecol Evol 30:140–145

Gorenflo LJ, Romaine S, Mittermeier RA, Walker-Painemilla K (2012) Co-occurrence of linguistic and biological diversity in biodiversity hotspots and high biodiversity wilderness areas. Proc Natl Acad Sci 109:8032–8037

Hill R, Grant C, George M, Robinson CJ, Jackson S, Abel N (2012) A typology of indigenous engagement in australian environmental management: implications for knowledge integration and social-ecological system sustainability. Ecol Soc 17:1–17

Hill R, Pert P, Davies J, Robinson CJ, Walsh F, Falco-Mammone F (2013) Indigenous land management in Australia: extent, scope, diversity, barriers and success factors. CSIRO Ecosystem Sciences, Cairns

Hill R, Davies J, Bohnet IC, Robinson CJ, Maclean K, Pert PL (2015) Collaboration mobilises institutions with scale-dependent comparative advantage in landscape-scale biodiversity conservation. Environ Sci Policy 51:267–277

Liebenberg L (2003) A new environmental monitoring methodology

Lowe L (1995) Preliminary investigations of the biology and management of Leichhardt's grasshopper, Petasida ephippigera White. J Orthoptera Res 4:219–221

Maffi L (2005) Linguistic, cultural, and biological diversity. Annu Rev Anthropol 34:599–617

McConvell P, Thieberger N (2001) State of indigenous languages in Australia—2001., 2Department of the Environment and Heritage, Canberra

McConvell P, Thieberger N (2006) Keeping track of Indigenous language endangerment in Australia. In: Cunningham D, Ingram DE, Sumbuk K (eds) Language diversity in the pacific: Endangerment and survival. Multilingual Matters, Clevedon, p 54

McDonald JA, Carwardine J, Joseph LN, Klein CJ, Rout TM, Watson JEM, Garnett ST, McCarthy MA, Possingham HP (2015) Improving policy efficiency and effectiveness to save more species: a case study of the megadiverse country Australia. Biol Conserv 182:102–108

Menkhorst P, Knight F (2010) Field guide to the mammals of Australia. Oxford Univeristy Press, Australia nad New Zealand

Moller H (2009) Matauranga Maori, science and seabirds in New Zealand. N Z J Zool 36:203–210

Moritz C, Ens E, Potter S, Catullo R (2013) The Australian monsoonal tropics: a unique opportunity to secure biodiversity benefits and secure benfits for Aboriginal communities. Pac Conserv Biol 19:343–355

Muller S (2012) Two Ways: bringing indigenous and non-indigenous knowledges together. In: Weir J (ed) Country, native title and ecology. Australian National University e-press and Aboriginal History Incorporated (Monograph 24), Canberra, pp 59–79

Northern Territory Government (2012) conservation status of animals of the Northern Territory. Schedule 1: Invertebrates Northern Territory, Darwin 49(2)285–294

Roberts RG, Jones R, Spooner NA, Head MJ, Murray AS, Smith MA (1994) The human colonisation of Australia: optical dates of 53,000 and 60,000 years bracket human arrival at Deaf Adder Gorge, Northern Territory. Quatern Sci Rev 13:575–583

Ross H, Grant C, Robinson CJ, Izurieta A, Smyth D, Rist P (2009) Co-management and Indigenous protected areas in Australia: achievements and ways forward. Australas J Environ Manag 16:242–252

Singh R, Pretty KJ, Pilgrim S (2010) Traditional knowledge and biocultural diversity: learning from tribal communities for sustainable development in northeast India. J Environ Plan Manag 53:511–533

Stephenson J, Moller H (2009) Cross‐cultural environmental research and management: Challenges and progress., 39Taylor & Francis, Milton Park, pp 139–149

Szabo S, Smyth D (2003) Indigenous protected areas in Australia: incorporating indigenous owned land into Australia's national system of protected areas. In: Cunningham H, Ingram DE, Jaireth K, Smyth D (eds) Innovative Governance—Indigenous peoples, local communities and protected areas. Ane Books, New Delhi

Telfer WR, Garde M (2006) Indigenous knowledge of rock kangaroo ecology in Western Arnhem Land, Australia. Hum Ecol 34:379–406

Turvey ST, Pettorelli N (2014) Spatial congruence in language and species richness but not threat in the world's top linguistic hotspot. Proc R Soc Lond B 281:20141644

Wilson CG, Barrow PH, Michell CR (2003) New locations and host plants for Leichhardt's grasshopper Petasida ephippigera white (Orthoptera: pyrgomorphidae) in the Northern Territory. Aust Entomol 30:167–176

Woinarski J, Mackey B, Nix H, Trill B (2007) The nature of northern Australia. Natural values, ecological processes and future prospects., 128ANU Press, Acton

Woinarski JCZ, Burbidge AA, Harrison PL (2015) Ongoing unraveling of a continental fauna: decline and extinction of Australian mammals since European settlement. Proc Natl Acad Sci 112:4531–4540
Additional information
Communicated by Peter Bridgewater.
About this article
Cite this article
Ens, E., Scott, M.L., Rangers, Y.M. et al. Putting indigenous conservation policy into practice delivers biodiversity and cultural benefits. Biodivers Conserv 25, 2889–2906 (2016). https://doi.org/10.1007/s10531-016-1207-6
Received:

Revised:

Accepted:

Published:

Issue Date:
Keywords
Indigenous biocultural knowledge (IBK)

Natural and cultural resource management (NCRM)

Traditional languages

Cross-cultural environmental management

Traditional ecological knowledge