Abstract
LIAS gtm, a new platform of the LIAS lichen information system, is presented. It allows for the visualization of phenotypic traits via geographic heatmapping of relative trait frequencies (RTFs) based on data derived from GBIF (occurrence data) and from LIAS light (taxon description data). The data are combined and referred to defined geographic areas of interest. Exemplarily, LIAS gtm provides distribution patterns of a selection of single, dual or multiple traits. The data are visualized for two lichen record hotspots, Scandinavia and Australia. Detailed technical information is provided on the platform web site itself.
Access options
Buy single article
Instant access to the full article PDF.
US$ 39.95
Tax calculation will be finalised during checkout.
Subscribe to journal
Immediate online access to all issues from 2019. Subscription will auto renew annually.
US$ 119
Tax calculation will be finalised during checkout.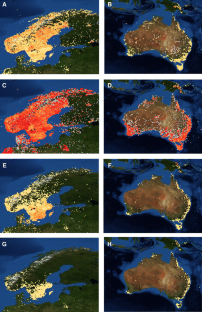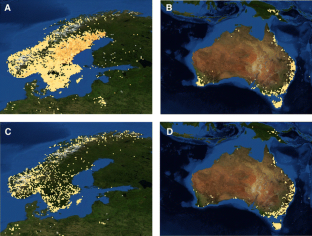 References
Cocchietto M, Skert N, Nimis PL, Sava G (2002) A review on usnic acid, an interesting natural compound. Naturwissenschaften 89:137–146

Elix J. A., Kalb K., Rupprecht J., Schobert R (2016) [last visited: 2016-03-28]. LIAS metabolites—A database for the rapid identification of secondary metabolites of lichens (Rambold G, ed.),.http://liaslight.lias.net/Identification/Navikey/Metabolites

Hauck M, Jürgens S-R, Leuschner Ch (2010) Norstictic acid: correlations between its physico-chemical characteristics and ecological preferences of lichens producing this depsidone. Environ Exp Bot 68(3):309–313. doi:10.1016/j.envexpbot.2010.01.003

Ingólfsdóttir K (2002) Molecules of interest. Usnic acid. Phytochemistry 61(7):729–736

Peršoh D, Beck A, Rambold G (2004) The distribution of ascus types and photobiontal selection in Lecanoromycetes (Ascomycota) against the background of a revised SSU nrDNA phylogeny. Mycological Progress 3(2):103–121

Rambold G. (lead editor; for detailed information see http://liaslight.lias.net/About/Impressum.html and http://liasnames.lias.net/About/Impressum.html) 2016 [last visited: 2016-03-28]. LIAS: A global information system for lichenized and non-lichenized ascomycetes (version Dec 2015). In: species 2000 & ITIS catalogue of life, 25th March 2016 (Roskov Y., Abucay L., Orrell T., Nicolson D., Kunze T., Flann C., Bailly N., Kirk P., Bourgoin T., DeWalt R.E., Decock W., De Wever A., eds.), http://www.catalogueoflife.org/col. Species 2000: Naturalis, Leiden, The Netherlands. ISSN 2405-8858

Rambold G, Elix JA, Heindl-Tenhunen B, Köhler T, Nash THIII, Neubacher D, Reichert W, Zedda L, Triebel D (2014) LIAS light—Towards the ten thousand species milestone. MycoKeys 8:11–16. doi:10.3897/mycokeys.8.6605

Triebel D., Bensch K (2016) [last visited: 2016-03-01]. LIAS names—A database with names of lichens, lichenicolous fungi and non-lichenized ascomycetes, http://liasnames.lias.net

Wikipedia contributors. 2016 [last visited: 2016-03-28]. 'Köppen climate classification', wikipedia, the free encyclopedia, https://en.wikipedia.org/w/index.php?title=K%C3%B6ppen_climate_classification&oldid=712316931

Zedda L, Rambold G (2015). The diversity of lichenised fungi: ecosystem functions and ecosystem services. Recent Adv Lichenol: 122–140
Additional information
This article belongs to the Topical Collection: Forest and plantation biodiversity.
Communicated by T.G. Allan Green.
About this article
Cite this article
Rambold, G., Zedda, L., Coyle, J.R. et al. Geographic heat maps of lichen traits derived by combining LIAS light description and GBIF occurrence data, provided on a new platform. Biodivers Conserv 25, 2743–2751 (2016). https://doi.org/10.1007/s10531-016-1199-2
Received:

Revised:

Accepted:

Published:

Issue Date:
Keywords
Biogeography

Ecoinformatics

Heatmapping

Lichen traits

LIAS gtm